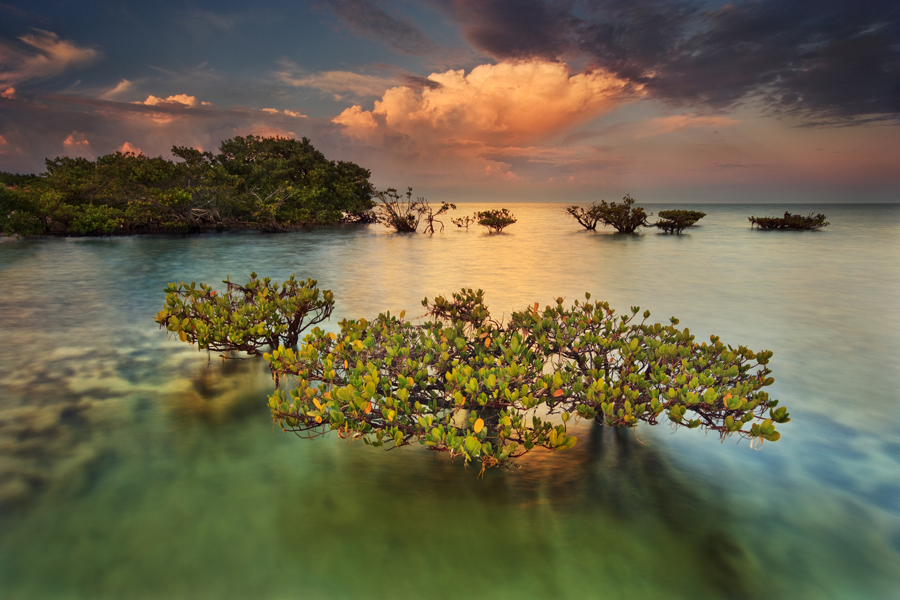 South of bustling downtown Miami and below the tranquil surface of the ocean lies a vast and colorful world known as Biscayne. Here, millions of strange and wonderful creatures thrive in a vibrant and diverse ecosystem. Biscayne's most prevalent residents are the clusters of undulating, limestone-secreting polyps that make up the coral reef, an alien-like landscape that attracts hundreds of species of fish, shrimp, crabs, and other animals. The public may explore this one-of-a-kind destination thanks to a group of locals who fought developers determined to dredge up thousands of acres to build bridges, highways, an airport, and a seaport in the 1960s. After a contentious and protracted battle, Congress created Biscayne National Monument in 1968, and in 1980, Biscayne National Park was established.
Today, the park's boundaries encompass nearly 173,000 acres, which include the northernmost islands of the Florida Keys and the northern section of the world's third-largest coral reef. With 95 percent of the park underwater, the only way to truly experience Biscayne is via boat, including a variety of glass-bottom boat tours. The adventurous may also try snorkeling, scuba diving, or kayaking. For those who prefer to remain on dry land, the Dante Fascell Visitor Center at Convoy Point offers a virtual journey beneath the waves via dioramas and films, as well as trails along the point's mangrove shoreline.
From otherworldly barrel sponges and colorful Christmas tree worms to the rare Schaus swallowtail butterfly, Biscayne's wildlife is amazingly diverse and includes many threatened and endangered species such as the West Indian manatee, eastern indigo snake, and peregrine falcon.

 
Field Notes
Visitors 508,000 in 2015; July is the most crowded month, November the least.
Camping $25 per night; includes tent site and boat docking. Boca Chita Key and Elliott Key both offer first-come, first-served campsites. Visitors to Elliott Key, the largest of the park's forty barrier islands, may explore the park's subtropical forest on a six-mile trail that runs the length of the island.
Must-See Boca Chita Key's sixty-five-foot ornamental lighthouse is regarded as the park's unofficial symbol. Built in the 1930s by Mark Honeywell, former owner of the island (and founder of the Fortune 100 Honeywell company), the lighthouse features an exterior of locally excavated coral rock and a stone spiral staircase. Make the relatively easy climb to the observation deck for great views of the ocean and the Miami skyline.
Must-Do Explore Biscayne's Maritime Heritage Trail, with six shipwreck sites whose origins span nearly a century.
Access to the sites is by boat only, and many of the wrecks are best suited to
scuba-based exploration. However, snorkelers may enjoy excursions to the Mandalay site and around the base of the 1878 Fowey Rocks Lighthouse, a new addition to the trail.
Insider Tip The calm waters along the park's mainland shore are ideal for beginner windsurfers.