Curly Girl Collective, the creator of the "world's largest natural beauty festival," started in 2010 in a Brooklyn apartment when a group of women who had been emailing each other about their respective natural hair journeys decided to finally meet in-person. Tracey Coleman, Melody Henderson, Charisse Higgins, Gia Lowe, and Simone Mair set out to change the narrative and conversation around beauty standards to include textured hair of all types. After hosting a number of smaller scale events around New York City, they launched the first CURLFEST in 2014. The natural beauty celebration now attracts more than 30,000 people across the world, and over the weekend, it was held the first time outside of NYC, empowering Atlantans with curls, coils, and kinks.
On Saturday, Candler Park was a one-stop shop for all things natural with sponsors including Target, Creme of Nature, Suave Professionals, Urban Skin Rx, PuffCuff—and that's not even half of the list. Influencers such as Yelle Skincare's Yandy Smith, artist Melissa A. Mitchell, and frobaby Karter Sylest joined the many beauty enthusiasts who flooded the park. It was easy to pick up new products to try—at Aunt Jackie's booth, attendees were lowered into a pit of boxes from a human "Curl Claw" for a chance to win curling jelly or styling gel. Sponsors on "Beauty Row" gave out free samples. If you needed a quick protective hairstyle, Kinkistry and Ampro Pro Styl Shine n' Jam offered quick braiding sessions with styles from feed-in braids to bantu knots.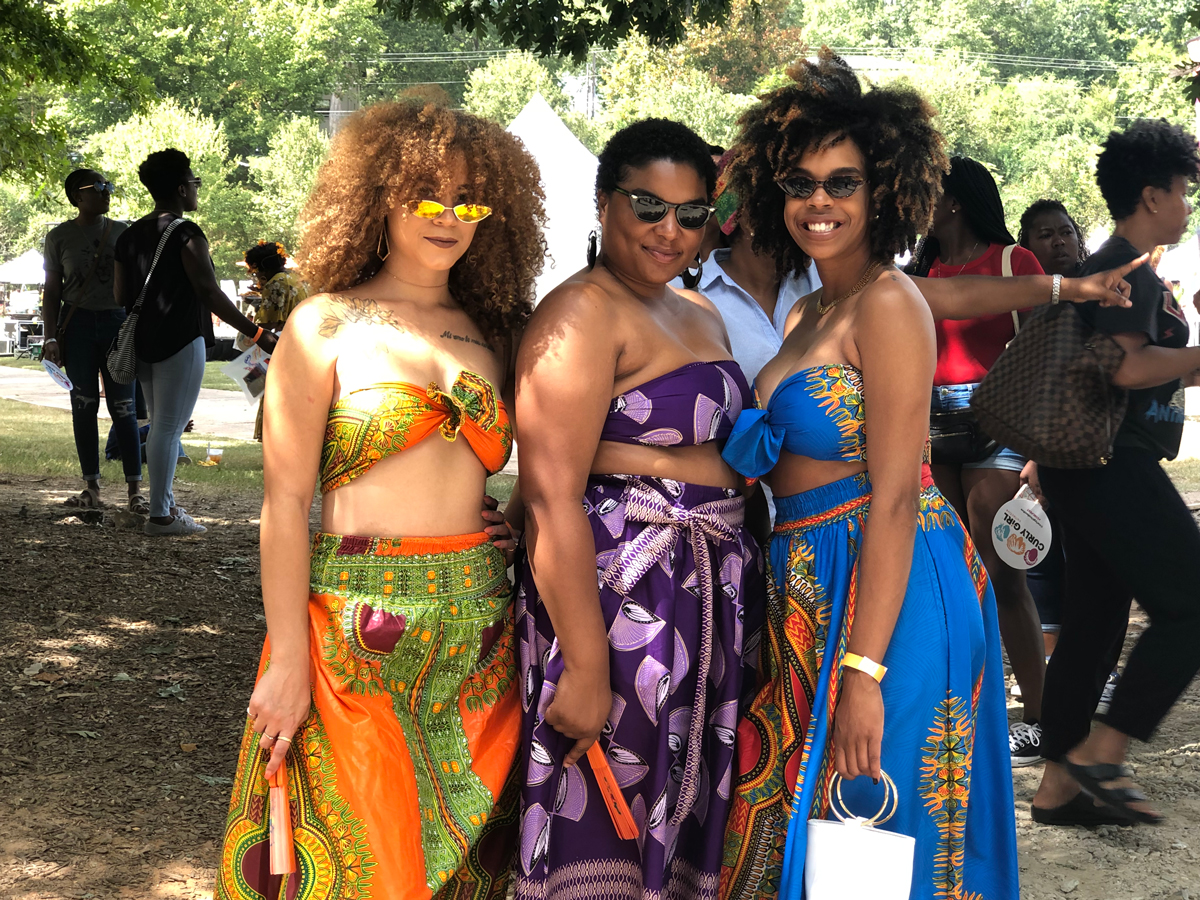 The park's basketball court was transformed into a marketplace selling African-inspired apparel and accessories from small businesses such as Kwabs Couture and Fresh to Def. And the celebration continued with live music, food, and live art presentations.
Even with so many elements packed into the event, "it feels like a black family reunion," noted attendee Mashai Smalls, who was visiting from Maryland. Here are a few things I learned from the festival's Atlanta debut.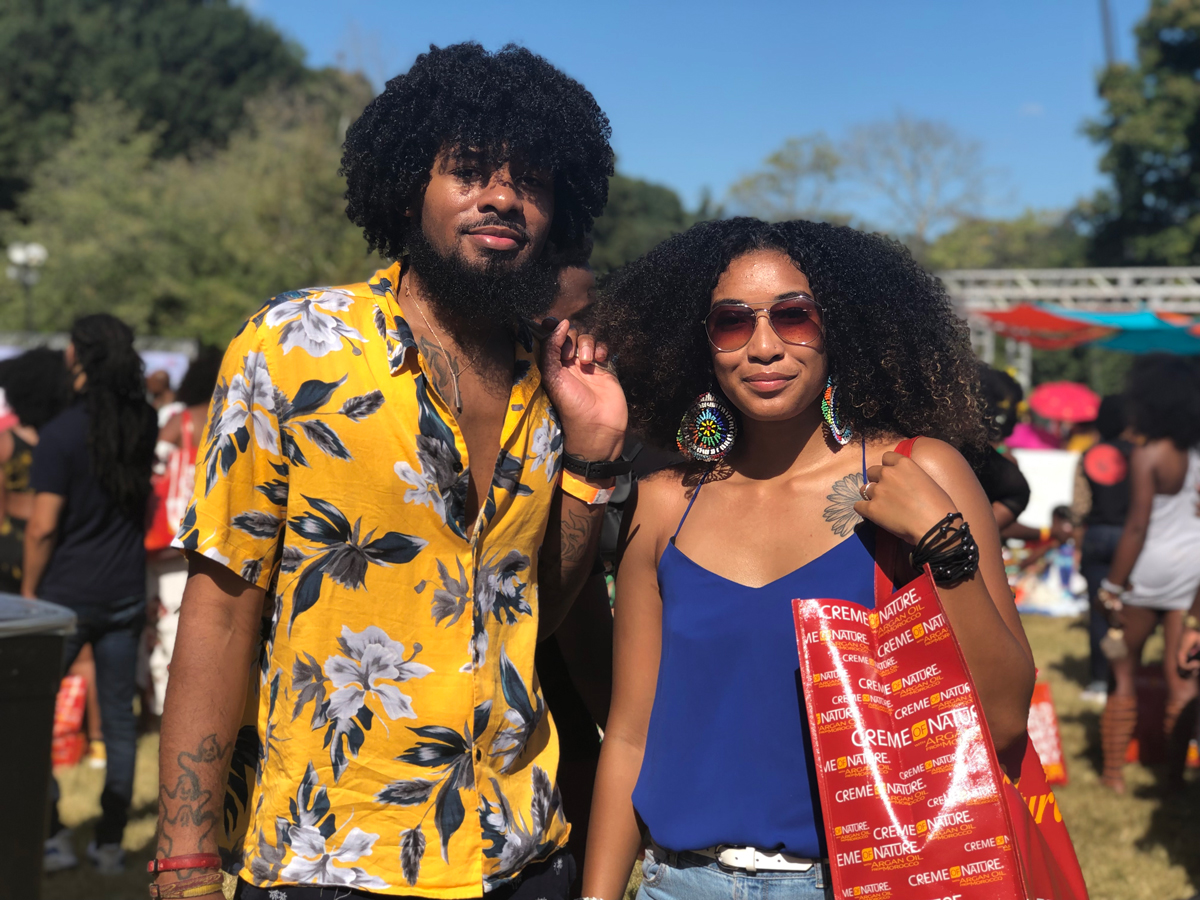 1. Know your hair's texture(s)
For many naturalistas, the almost part-time job of maintaining natural hair is time-consuming to say the least. And because one person can have various textures in their hair—there are 10 total—certain parts may require different levels of TLC. But the one thing that remains consistent across all hair types is moisturizing—it's your hair's friend, lover, teacher, all of the above. Deep conditioning should also be a staple in everyone's hair routine according to celebrity hairstylist Ursula Stephen.
2. Going to the salon vs. at-home hair care? Do both
The hairdresser can be a saving grace on many occasions. But when transitioning to natural by cutting or growing out relaxed hair, many people often allocate their funds for products, appliances, and DIYs instead of a trip to the stylist—which is okay! Suave Professionals panel moderator Danielle James mentioned she goes to her stylist once every six weeks for a trim, and in between visits at home, she keeps up with the care that her hair receives in the salon.
"It's good to have a stylist, because your hair needs that love and care," said Stephen. "You can't see the back, period."
While many of us find ways to maintain our kinks and coils by watching the latest hair hacks on YouTube, Stephen says it's also important to have a few products that professionals use salons to upkeep with not only your hair, but your scalp's overall health.
If you're in search of a hairstylist, Stephen encouraged the audience to seek professionals that love natural hair just as much as they value the crown on their head. Some stylists may not specialize in natural hair, so it's necessary to go to someone who knows what they're doing to promote healthy natural hair. "Healthy hair is good hair," Stephen said.
3. Natural hair can be a connection
Walking around the festival, one couldn't help but notice the flower crowns, tribal print clothing, big frilly dresses, and the number of hairstyles—of course. Twists and twist-outs, braids, tapered cuts, and fros—curly and stretched—were everywhere you turned.
"Everyone's hair is natural but it's different," attendee Jamei Lauren said. "It's your own individual, unique style."
And even though you might not have known the person you were standing behind at CURLFEST, the welcoming environment made it easy to strike a conversation with complete strangers. Smalls, the attendee from Maryland, and Lauren didn't know each other before attending the event. "We just met," Lauren said, laughing. "It really does connect people."
4. Do what works best for you
Both in life and in hair, what works for one person won't necessarily guarantee you the same outcome. Do what's best for you, and don't forget to have fun along the way. When fitness trainer Anowa Adjah called out to "anyone who has heart" in the audience to participate in a dance-off, Mila Hooper from Nashville, Tennessee, made her way toward the stage.
"It was like a confirmation of all the messages I'd been receiving that I was ignoring," she said. "Do your thing, be your whole self wherever you go. Wear flowers, do whatever you want because [people are] going to have something to say about it anyway."
5. Natural hair is a form of identity and expression
In the past, Euro-centric standards of beauty were not inclusive to the styles we see today among women of color. Where natural hair was a often statement before, it's become a staple today. Women from all walks of life wear and switch up hairstyles according to what feels right in that moment. There was a time when women fixed their hair to fit in at jobs or social settings, but we now have better ability to simply be. California recently became the first state to formerly ban discrimination based on natural hair styles.
"Your hair being straight or curly it doesn't change the color of your skin," said Camille Wright, vice president of marketing and communication for hair care company Ampro Industries. "If you're comfortable with the color of your skin, you should be comfortable no matter how you have your hair."
CURLFEST goes to show that it's not a "hair thing"—it's rooted much deeper than that—it's about self-image. The ways in which we approach beauty and what beauty looks like is changing to include people from all backgrounds, as it should be.