Home
Tags
Jeni Britton Bauer
Jeni's Splendid Ice Creams, the Ohio-based creamery that opened its first Atlanta location on the Westside last fall, will open two more outposts in the city this year. One, a standalone building, will sit just off Decatur Square at 545 North McDonough Street and open in late October. The other will fill a stall at Inman Park's Krog Street Market and aim for a mid-October opening.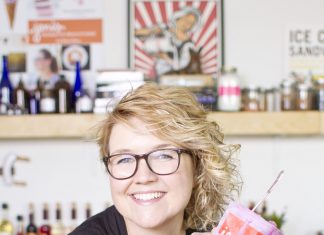 After much ado, the Ohio-based gourmet ice cream company
Jeni's Splendid Ice Creams
will open in the Westside Provisions District on October 23 with complimentary scoops for all. Located at 1198 Howell Mill Road, next to
Star Provisions
, the party goes from 7 p.m. to 10 p.m. and includes access to all flavors (numbering between twenty and twenty-five) being sold in the store. That means fall flavors like Cinderella Pumpkin and Sweet Potato with Torched Marshmallows are fair game! Founder and chief creative officer Jeni Britton Bauer will be there for the kickoff as well as for the store's first full day of regular operations (11 a.m. to 11 p.m.) on October 24.