Nestled along the southernmost stretch of North Carolina's coast, the Brunswick Islands are known for their tranquility. Bypassed for points to their north and south by development, much of these five barrier islands are pristine, covered with rolling dunes and waving shore grasses. But that respite isn't the only attraction. There's plenty of golf to play, cuisine to taste, celebrations to join, history to explore, and unique views to enjoy—and it's all an easy escape from Atlanta. Hop in the car and start the six-hour interstate drive, or catch a daily nonstop 90-minute flight from Hartsfield-Jackson at breakfast, and your toes can be in the sand by lunchtime.
While the Brunswick Islands offer enough adventures to fill several trips, these eight are the ones you won't find just anywhere.
Explore North Carolina's oldest standing lighthouse, Old Baldy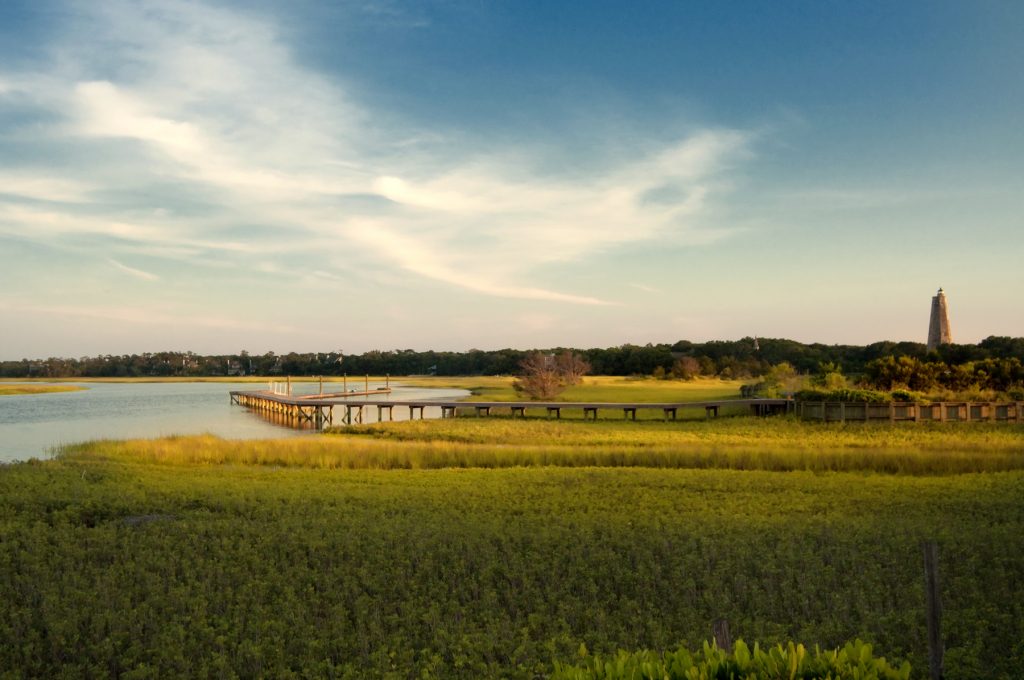 Standing at the Cape Fear River's mouth for more than two centuries, Old Baldy is the elder statesman of North Carolina's seven lighthouses. Today, instead of steering ships, it beckons visitors to automobile-free Bald Head Island. Follow the wooden stairs to its top, an easy climb that turns slightly more difficult if you continue up the ladder to the lantern room. Stop at Smith Island Museum, inside the keeper's cottage for a souvenir and local ecology lesson.
Climb the state's youngest lighthouse, Oak Island
Oak Island Lighthouse, across the Cape Fear River and within sight of Old Baldy when skies are their Carolina bluest, is the state's youngest lighthouse. Climbing its 153 feet requires a reservation and some nerve. Instead of stairs, you'll ascend a series of ship ladders to the top. There you'll find panoramic views of Caswell Beach. Its gentle slope makes for spectacular shelling. The best time to go is right after the tide changes, when whelks, sand dollars, and countless other varieties are exposed.
Try the original (and tasty) Calabash seafood
What the small fishing port of Calabash lacks in size, it makes up in flavor. Savor it by grabbing a seat at one of the self-proclaimed "Seafood Capital of the World" family-run restaurants. Most were started by local fishermen almost a century ago, when they began serving visitors the shrimp, crab, scallops, and fish they plucked from nearby waters. The unique preparation—a light breading and gentle fry—and generous portions make it popular and widely imitated.
Furry family members are welcome, too
Many of the islands' accommodations are pet-friendly, and dogs are welcome to splash and run in the water and sand as long as beach-specific regulations are observed. At Caswell Beach, for example, dogs can be off leash in the morning year-round and in the late afternoon and evenings, October through April. Oak Island allows dogs on leash year-round and off leash mid-October to mid-March.
Take part in the state's official Fourth of July Celebration
What started with a simple toast and a few cannon blasts in 1792 has become a 10-day celebration of our nation's birthday. The North Carolina 4th of July Festival welcomes about 50,000 people, who see firsthand why Coastal Living named the "Best Beach Town in America for the Fourth of July," to Southport each summer. Watch the parade, admire classic cars, and take part in plenty of family-friendly fun, beach activities, and a gigantic firework display on the waterfront.
Enjoy some solitude on one of the world's best beaches
Ponder your thoughts to a soundtrack of rolling waves and salt-air breezes on Sunset Beach, where the lack of development earned it a spot on National Geographic's list of the "21 Best Beaches in the World." Explore adjacent Bird Island, where the Kindred Spirit Mailbox has stood for more than 35 years. Write your experiences or thoughts on the notebooks inside, or read entries left by previous visitors.
Play all the golf you like, all in one place
You're never far from a tee in the Brunswick Islands. Nicknamed "North Carolina's Golf Coast," the islands are home to more than 30 golf courses, whose 120 miles of fairways wind through scenic stands of pine and oak and along quiet estuaries. Mild weather drives year-round play, and the variety of courses, designed by some of golf's biggest legends—Arnold Palmer, Willard Byrd, Fred Couples, and Rees Jones—means you won't have to play the same one twice.
See the real stars of Nicholas Sparks' books and movies
If the Brunswick Islands seem familiar at first glance, you can credit North Carolina resident and novelist Nicholas Sparks. His books are filled with plenty of local sights, with more than a dozen starring in their movie versions. All of the filming locations are easy to explore and enjoy, starting with a drink and sunset view at Southport's Old American Fish Co., where Katie Feldman worked as an Ivan's Fish Shack waitress in "Safe Haven."
Plan your one-of-a-kind beach vacation to the Brunswick Islands today and make memories you'll treasure for years to come.