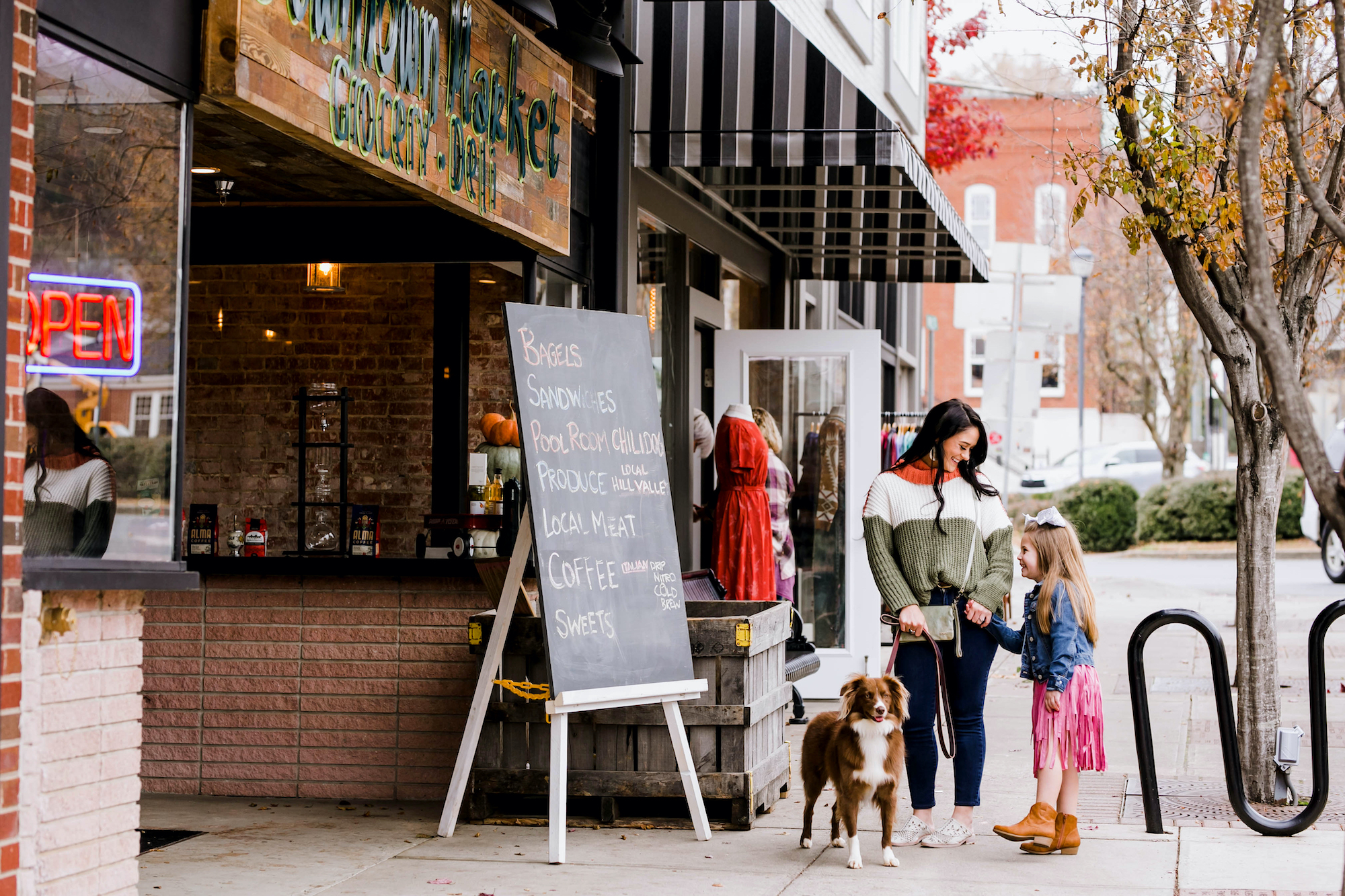 Between the many orchards, endless peaks and valleys, and three flowing rivers, Ellijay provides a breathtaking outdoor escape for visitors. While its beauty may take centerstage, Ellijay sweetens the pot with its downtown transformation. Stroll down the bricked sidewalks and you'll notice familiar favorites and freshly added storefronts that raise the retail bar. You'll hear the changes, too. Live music fills the air, further elevating Ellijay's appeal. 80 miles north of Atlanta and 65 miles east of Chattanooga, getting to Ellijay is as simple as it is enchanting. Shop, dine, and revel in this downtown renaissance.
What's New
First stop: The brand new Downtown Welcome Center. Located at 10 Broad Street in the heart of Downtown, this freshly-renovated historic home invites you to get a feel for the city you are about to explore. Before you leave, be sure to take a picture with the giant apple.
Step into a modern-day general store at Live the Trail. This unique spot in downtown Ellijay is full of one-of-a-kind handmade and homemade items. Need a gift for the camper, hiker, mountain biker, or trail runner in your life? At Live the Trail, you will find the most ingenious and practical items for the outdoorsman or woman on your list. Also, shop home décor, jewelry, and more at this adventure inspired shop.
Looch and Quiqley is the mountain boutique experience you've been searching for. Shop witty graphic tees, cute coffee mugs, handmade jewelry, leather goods, locally made candles, imported soaps, handcrafted hot sauces, fun trucker hats, and a variety of other gems.
Take time to explore Artful Ellijay. This family-owned business helps patrons turn their homes into the restful retreats they deserve. Shop chic and purposeful metal art, wall décor, lighting, home accents, and furniture. Don't miss the Instagram-worthy photo opportunity outside the building. Kelsey Montague, made famous by her stunning wing mural in Nashville, Tennessee, created a whimsical balloon painting outside Artful Ellijay. Go ahead, strike a pose!
Downtown Ellijay also prides itself on being pet friendly. Stop by Mountain Hounds for the perfect gifts and accessories that your furry friend will shake their tail over. If your pet needs a little sprucing, visit Pets On Main for a full-service grooming experience.
Rest tired feet at The Willows of Ellijay Day Spa. Upon entering this serene oasis, the focus is on pampering and relaxation. Choose from a variety of massages, facials, and enhancements.
Familiar Favorites
Ellijay is "Georgia's Mountain Biking Capital" with over 50 trails and growing. Cartecay Bike Shop has more than 45 years of experience under their belt and will help you pick a new bike to bring home or a rental for your stay.
Blue Ridge Mountain Outfitters motto is, "There is no bad weather, only bad gear." Gear up properly for outdoor adventures, including kayaking, fishing, hiking, camping, and everyday fashion.
A trip to downtown Ellijay isn't complete without a stop in Mountain Treasures. Check out their elegant rustic furnishings, ladies' apparel, Kavu bags, Sanuk sandals, jewelry, scented candles, and local art. Don't leave without a free local wine tasting.
Antique lovers will enjoy perusing Antiques on North Main. Owners Charles and Frances Reddick import beautiful English furniture, fine porcelain and majolica pottery, flow blue china, stained glass, and old bottles and tools. Also, shop estate jewelry and rustic finishes for your home.
End shopping adventures on a sweet note at The Bavarian Chocolatier. Choose from a variety of delicious treats made from scratch, daily.
Eat, Drink, and be Merry
You simply can't miss Cartecay Wine & Craft. This tasting room in downtown Ellijay delights both the palate and the ears. Tap toes to live music while enjoying Cartecay and other Georgia wines, local beers, and appetizers.
Experience homemade eats at Backporch Bistro. Located in the rear of the Ellijay Marketplace, Backporch serves tasty sandwiches, homemade soups, pulled pork burritos, and bowls. Take a seat on the spacious outdoor deck where local and regional musicians are often plucking tunes.
Indulge at Emily's Bar & Restaurant. This hot spot offers seasonal shareable plates, fresh seafood, and steaks. Chefs work with local farmers to source ingredients and have an ever-changing menu to highlight each season.
Ellijay Wood Fired serves up delicious wood-fired pizzas and delectable pastas. Whatever you choose from their amazing menu, you'll want to order a few courses to sit and savor.
Cantaberry is an Ellijay staple with a fresh new look. Enjoy a variety of homemade sandwiches, soups, and an ever-rotating selection of specials in their corner location right on the square.
Refuel at Ellijay Coffeehouse. In addition to the cozy interior, seating is available outside in two pet-friendly courtyards.
When You Go
Between trail explorations in "Georgia's Mountain Biking Capital," rest at Mulberry Gap, a family-owned mountain biking retreat.
Relax at Ellijay River House, a light and airy adults-only bed and breakfast located inside a 1915 Craftsman home. Relax in gorgeously decorated rooms and indulge in a scrumptious Southern breakfast on the veranda or riverfront deck.
Make memories beneath the stars with a stay at Elatse'yi, a mountain retreat with unique accommodations, including vintage Airstreams and a geodesic dome.
You can also choose from a variety of other equally welcoming options for R&R, like riverfront cabins, including many that are pet-friendly. Wherever you go in Ellijay, adventure awaits.