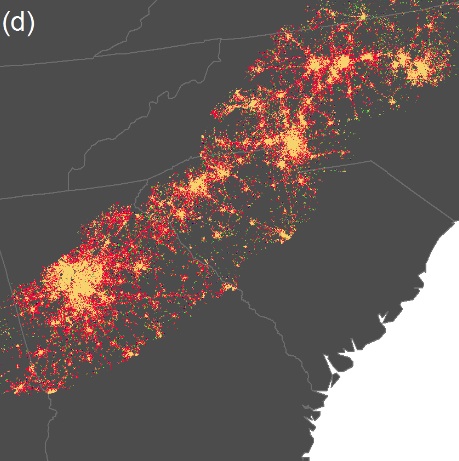 Here's my new favorite fact about our sprawl: the 28-county region that the U.S. Census bureau considers to be metro Atlanta has a bigger land area than the entire state of Massachusetts (8,376 square miles vs. 7,800).
If that's not mind blowing enough for you, consider this: Our regional footprint will expand even more over the next half century, with Atlanta spreading all the way to Chattanooga and eventually engulfing Charlotte.
According to projections by a team of researchers at North Carolina State University and published at Plos One this week, sprawl in the southeastern U.S. will continue over the coming decades, with urbanization increasing by 101 percent to 192 percent by 2060.
The researchers used not only population projections, but also calculations for "urban extent," i.e. new development. Don't conflate this use of "urban" with the notion of walkable urbanism; most of this will, in the words of the researchers, be "business as usual," auto-centric, low-density building and infrastructure. What will this mean for us? "A new, completely connected megalopolis … extending from Raleigh, to Atlanta." Economists and demographers have talked about a regional pairing of "Char-lanta" for a while. Evidently, we will literally be connected one day.
Of course, we all can guess that as sprawling metropolises converge with each other, it will turn our terrible traffic into something apocalyptic. It's also likely to create an environmental mess. Note the researchers: "Not only will habitats and corridors for wildlife be eliminated, but the continuous urban corridor will have a warmer climate than surrounding rural areas."
So, before you complain about the heat and traffic this weekend, just think what it will be like in 2060.
Development in the Southeast, 2009
Projected Development in the Southeast, 2060