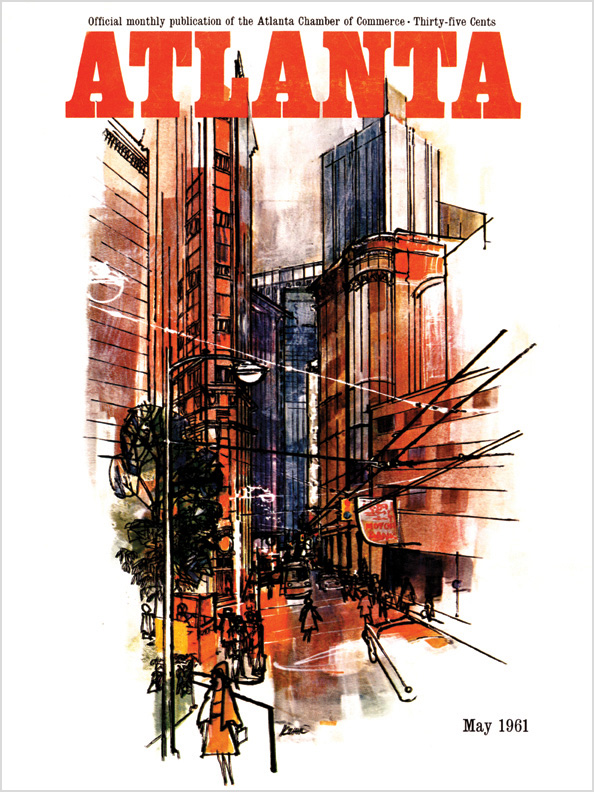 Atlanta magazine is the city's premier general interest publication, reaching a monthly audience of more than 400,000 readers. Since 1961, Atlanta has served as the authority on the metro area, providing a mix of long-form nonfiction, lively lifestyle coverage, in-depth service journalism, and literary essays, columns, and profiles. The city's only general-interest magazine, Atlanta is recognized regionally and nationally for journalism and design excellence, with more than 300 regional and national awards.
The magazine was founded in 1961 by the Atlanta Chamber of Commerce, but from its inception it was much more than a promotion piece for its namesake city. Founding editor Jim Townsend, described by Time as "the father of city magazines," set the standard from day one with cutting-edge design, powerful graphics, and investigative and creative articles by some of the emerging talents of the 1960s. The magazine's pages carried work by Anne Rivers Siddons, Bill Diehl, and others who would go on to be hugely successful novelists, under the art direction of Bob Daniels, who later left to serve as art director of Esquire.
Over the decades, the legacy of excellence has continued, with noted magazine writers such as Tom Junod, Luke Dittrich, Justin Heckert, and Paige Williams on staff, and contributors ranging from novelists such as Pat Conroy and Terry Kay to noted nonfiction authors such as Melissa Fay Greene and Steve Oney.
The Atlanta Chamber of Commerce sold the magazine in the 1970s. After a series of ownership changes during which the content and design continued to evolve, Emmis Publishing bought the magazine in 1993. Emmis also owned Texas Monthly, Indianapolis Monthly, Cincinnati magazine, Orange Coast, and Los Angeles magazine. In 2017, Emmis sold Atlanta magazine and its sister publications in Cincinnati, Orange Coast, and Los Angeles to Hour Media, whose publishing portfolio includes Hour Detroit, Sacramento magazine, Palm Beach Illustrated, and Naples Illustrated.
Our Mission Statement
Compelling, provocative, fair, and authoritative, Atlanta magazine has for six decades been a trusted voice and an indispensable guide, helping readers better understand and navigate the metro area. Across multiple platforms, we reflect the city and demystify the cultural, political, and economic capital of the South.
Helpful links:
A note about our content
As a member of the American Society of Magazine Editors (ASME), the principal organization for magazine journalists in the United States, Atlanta magazine adheres to ASME's standards for editorial independence. The editorial content posted to AtlantaMagazine.com is produced independent of the influence of advertisers. In order to help fund our award-winning editorial content, we also present a limited amount of articles produced and paid for by our advertising partners that we think readers may find informative, compelling, and interesting. On paid content, in compliance with Federal Trade Commission regulation 73 FTC 1307 (1968), we identify it clearly as such at the top with yellow-background "sponsored" labels noting the advertiser, a beige overall background color, and a different font than our editorial content. Additionally, content labeled "custom publication" are produced for stand-alone publications separate from Atlanta magazine but owned by the same company (example: Southbound magazine). No products/services receive editorial endorsement in exchange for payment, and no editorial content is submitted to advertisers for approval. You can read more about ASME's guidelines here. If you have any comments or questions, please contact our digital sales manager.