Pin Point Heritage Museum
Following the Civil War, a group of formerly enslaved people founded a small community on Ossabaw Island—which moved to the mainland after a series of hurricanes devastated the coast in the 1890s. The village of Pin Point (aka Pinpoint) remained a vibrant Black fishing community throughout the 20th century, centered around the A.S. Varn & Son Oyster and Crab Factory, where most residents worked. Today, the old Varn buildings have been beautifully restored and converted into this museum, which tells the specific story of Pin Point as well as the broader story of Gullah Geechee life on the Georgia coast—and offers sweeping views of the waving salt marsh, Moon River, and Skidaway Island just beyond. Descendants of Pin Point's founders still live in the surrounding neighborhood—just about a 15-minute drive from downtown Savannah.
Bleu Canoe Restaurant
Boasting an expansive outdoor patio with some covered seating, Clarkesville's Bleu Canoe serves Cajun American fare and an impressive list of New Orleans–style cocktails. Guests can enjoy freshly baked French bread, oysters, gumbo, and po'boys and can finish with a slice of praline cheesecake. The patio is dog friendly, and you may get a visit from the "house dogs," Freya and Bleu, or even the house cat, Thibodaux, named after a dish on the menu. Enjoy live music every Thursday, with a different band each week. Lowcountry boils are also frequent. Tip: It's only open Wednesday through Sunday.
Laurel Grove South Cemetery
Everybody goes to Savannah's Bonaventure—whose fine reputation is completely deserved. But Laurel Grove, on the other side of town, is just as historic, nearly as pretty, and a whole lot quieter. The northern and southern parts were established as two distinct cemeteries in 1850, for white and Black Savannahians respectively; today, they're separated by the I-16 feeder ramp. Laurel Grove North is more ornate, though you've got to have the stomach for a lot of Confederate iconography; attractions in the pastoral, deeply peaceful southern part include the resting place of civil rights leader W.W. Law, a shady cypress grove, and the usual Savannah smattering of Southern magnolias and azaleas whose neon-bright blooms frame the elegant old tombstones in early spring. 2101 Kollock Street, Savannah
Lulu & Tully Mercantile
Part home goods and furniture store and part art studio, Lulu & Tully Mercantile features handmade work from local artists—including paintings, jewelry, and pottery. Located in the back is an art studio, where owner Rabun Martin teaches unique painting classes, helping students use their fingers and a palette knife on wooden boards. Prepare to get messy! 11 North Main Street, Clayton
Wanderer Memory Trail
The United States banned the importation of enslaved people in 1807, but the transatlantic trade continued illegally until the eve of the Civil War: The Wanderer, one of the last known slave ships, came ashore at Jekyll Island in 1858 bearing nearly 500 captives. The smugglers were indicted though never convicted; the people they kidnapped were sold to plantations on Jekyll and beyond. Opened in 2018 on the backside of the island, this short, winding trail is meant to represent the journey of a young victim of the slave trade, from his capture in a village in central Africa to the auction in which he was sold; signs along the way tell the story, expressing both the violent tragedy of the American slave trade and the resilience of those who endured it.
Tubman Museum
It's named for Harriet, of course, but the Tubman Museum of African American Art + History + Culture is not only about one of America's great heroes. It takes an omnivorous, eclectic approach to Black history and culture: Founded in 1981 in a former warehouse/nightclub in downtown Macon, the museum boasts exhibitions on the creations of Black inventors and on Macon's centrality to American music—this is, after all, Little Richard's birthplace—as well as lecture series and annual events, including jazz and blues fests. Smokey Robinson headlines the upcoming All That Jazz Concert and Ball in January 2022.
Savoy Automobile Museum
Cartersville will further cement its reputation as "Museum City" when the 65,000-square-foot Savoy Automobile Museum opens in December. The attraction has been spearheaded by the same local organization behind the city's two Smithsonian-affiliated institutions: the Booth Museum, which offers the largest permanent exhibition space for Western art in the nation, and Tellus Science Museum, which showcases minerals, fossils, and transportation technology and includes a 120-seat digital planetarium. Already heralded by the automotive press as likely one of the nation's top car museums, the Savoy will include four galleries, a theater (with rotating stage), an on-site cafe, and a large outdoor pavilion for car shows, concerts, and events. The glitzy exhibition hall features a dramatic barrel ceiling and sleek red glass exterior. The founder's private auto collection ranges from novelties such as orphan classes to '50s tail fin cars and vintage Corvettes. However, collectors and manufacturers will be loaning both new and old vehicles. The goal is to change exhibits at least twice each year and always to allow visitors plenty of room to walk around each car. Not surprisingly, given the Booth connection, expect some dramatic auto-inspired art.
Berry College's Bald Eagles
Berry College's mascot is a Viking, but the school is perhaps better known for its bald eagles. First spotted in 2012, a pair nests near the athletic center every fall, and the female (now the second female, but the male is believed to be the original) lays eggs in late December or early January. The eggs hatch around February; if the eaglets survive, they usually fledge in May. Students and visitors can watch the action from a corner of the parking lot at the Steven Cage Athletic and Recreation Center. A few chairs are set up for that purpose, but bring your own binoculars. You'll have to show ID at the guard gate and wear a mask. Even easier, watch the eaglets on Berry's Eagle Cam.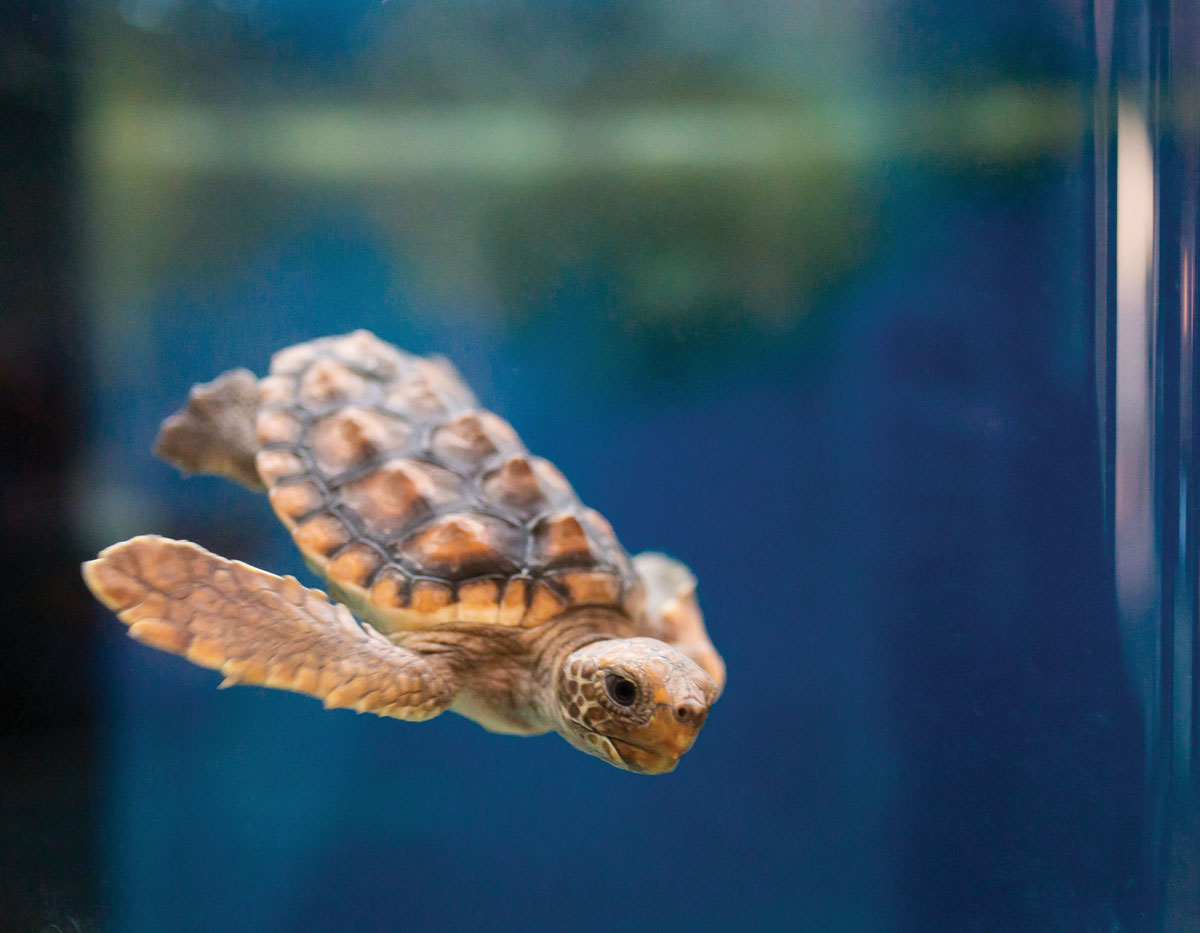 Sea Turtles
A former Jekyll Island power plant that, in the early 20th century, provided electricity to a private resort for America's upper crust—think Rockefellers and Vanderbilts—has been repurposed as the state's only sea turtle education and rehabilitation facility. Since 2007, the Georgia Sea Turtle Center has treated hundreds of chelonian patients, like Pumpernickel (car accident), Tres (barnacles), and Westie (pneumonia). The center is open to visitors year-round, but programming changes with the seasons. This month and next, sign up for the 15-person Turtles at Twilight after-hours tour, which starts once the center closes to the general public.
Chicken vs. Chicken
Who has the biggest chicken in Georgia? For the longest time, the honor was claimed by the Big Chicken, a Marietta KFC outlet designed in the shape of a 56-foot cock. Or is it a hen? Anyway, because records are made to be broken, a new contender has recently emerged in the small South Georgia town of Fitzgerald: a 62-foot chicken, whose wire frame will eventually fill out with greenery. When it's finished, the Fitzgerald creation (by a Tennessee sculptor known as Topiary Joe) will be the world's largest topiary chicken, with a small bed-and-breakfast in the belly of the bird. Until then, track the progression on the live Chicken Cam: youtu.be/h-4Kanwv-UE.
Buford Corn Maze
Founded in 2008, this agritourism attraction is located on a 32-acre family farm. The maze itself stretches over five acres, but there are also hayrides, pony rides, live animals, and corny (couldn't resist) games like jumping on giant popcorn pillows or rolling around in a "sandbox" of dried kernels. Open seasonally from September to November.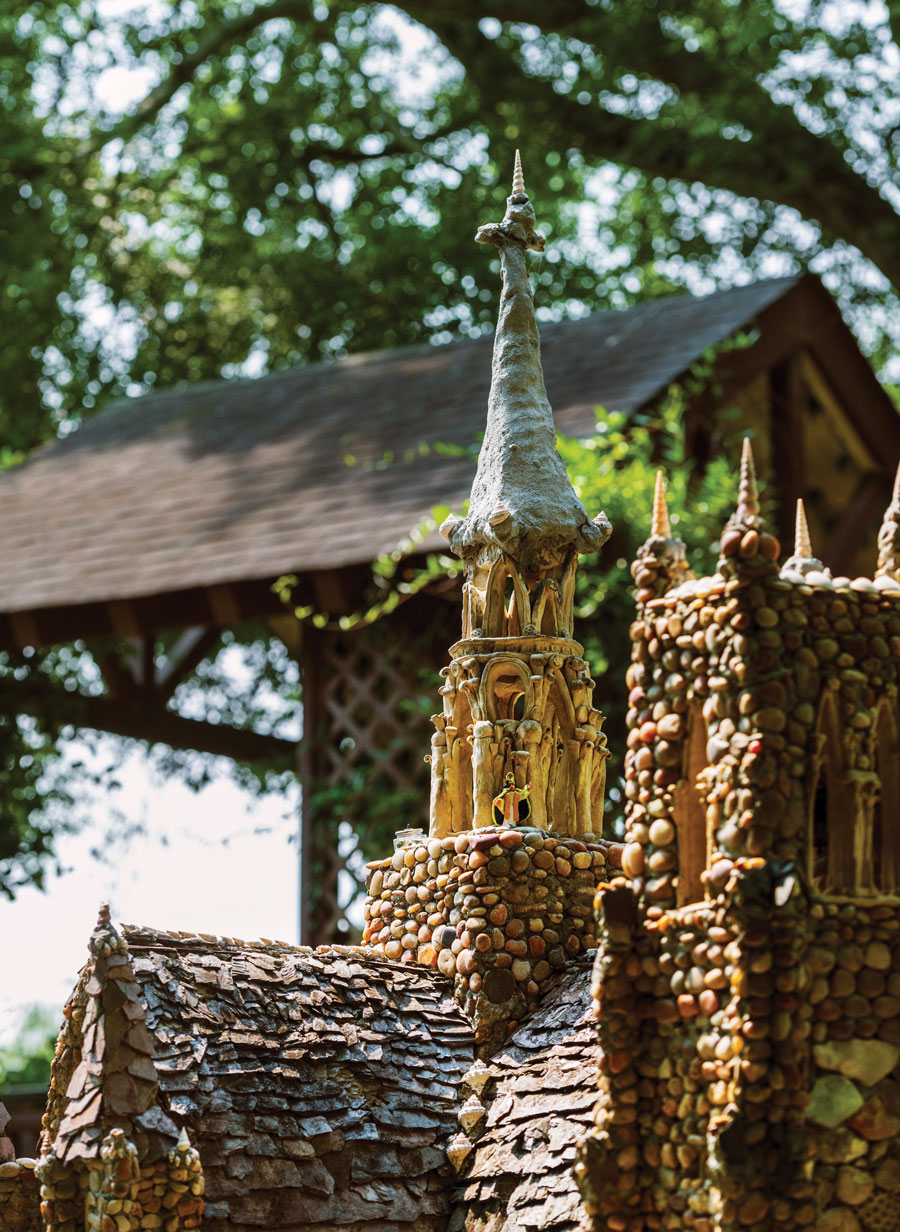 The Rock Garden
Hidden behind the Seventh-Day Adventist Church in Calhoun is a fantastical village crafted of rocks, bits of colored glass, marbles, tile, and shells. Dewitt "Old Dog" Boyd and his wife, Joyce, have been building it as a prayer garden since 2007—dedicated to their "Rock," Jesus Christ. The glass crosses and Bible verses no doubt inspire Christian visitors, but you don't have to share the founders' faith to be awed by this fairy world of turrets, bridges, and castles. Garden paths lined with ferns, hydrangeas, and roses wind past 20-some structures like tiny replicas of Notre Dame Cathedral and the Roman Coliseum, Biblical sites like Bethlehem and Jerusalem, villages, a seaport, bridges, and all manner of castles, from a Japanese pagoda to Camelot. Several buildings have little nooks where children can step inside. Entry is free, though donations for maintenance are welcome. There are tree-shaded outdoor tables, a gazebo with chairs, and portable toilets on site.
Savannah speakeasies
Prohibition-era Savannah doesn't enjoy the same infamy as Chicago or New York, but it was known as the Bootleg Spigot of the South and was a major smuggling hub for the rest of the country, says Travis Spangenburg, creative and production manager of Savannah's American Prohibition Museum.
The city was well practiced by the time national Prohibition rolled around; Georgia was the first state in the Southeast to go dry, 12 years before the rest of the country. Big-time couriers would anchor ships offshore and move liquor (whiskeys and scotches from Europe, rum from the Bahamas) to land on speedboats. "Our marshes were basically unnavigable for federal agents," Spangenburg explains. "There were convenient roads that would shoot up to New York City, Chicago, down the coast, New Orleans. Once you got it on land, you could do pretty well getting rid of it." Al Capone even had a Savannah mechanic on payroll to repair shot-up rumrunners.
The Prohibition Museum tour takes guests through a history of moonshine and "blind pigs," meandering toward its own speakeasy-style bar, Congress Street Up, which serves period-appropriate cocktails for what Spangenburg calls "educational drinking." His favorite is the Brown Derby, a mix of bourbon, grapefruit, and honey, but for a quintessential Savannah drink, try the Revolutionary War–era Chatham Artillery Punch, a blend of rum, brandy, bourbon, lemon, sugar, and Champagne. The bar is open to passersby (no museum ticket required) on Fridays and Saturdays after 6:30 p.m.
For a more performative speakeasy experience, head to Mata Hari, located behind an unmarked door in the alley between River and Williamson streets, as hidden as anything in the Historic District can be. To get in, you need a physical key (held by members) or a password (held by nearby hotel concierges). Pop in for an absinthe-based cocktail and a burlesque show (visit thedowntowndelilahs.com for times and tickets), but if you're looking for a low-key, off-the-beaten-path vibe, Savannah has plenty of dives that are speakeasy in spirit. Try Abe's on Lincoln, covered floor-to-ceiling with napkin sketches of the Railsplitter himself; the Black Rabbit, a hole in the wall just south of Forsyth Park; Lone Wolf Lounge, which serves some of the best cocktails in the city; or Betty Bombers, a bar inside American Legion Post 135 that our deputy editor recommends for "good vibes and cheap beer."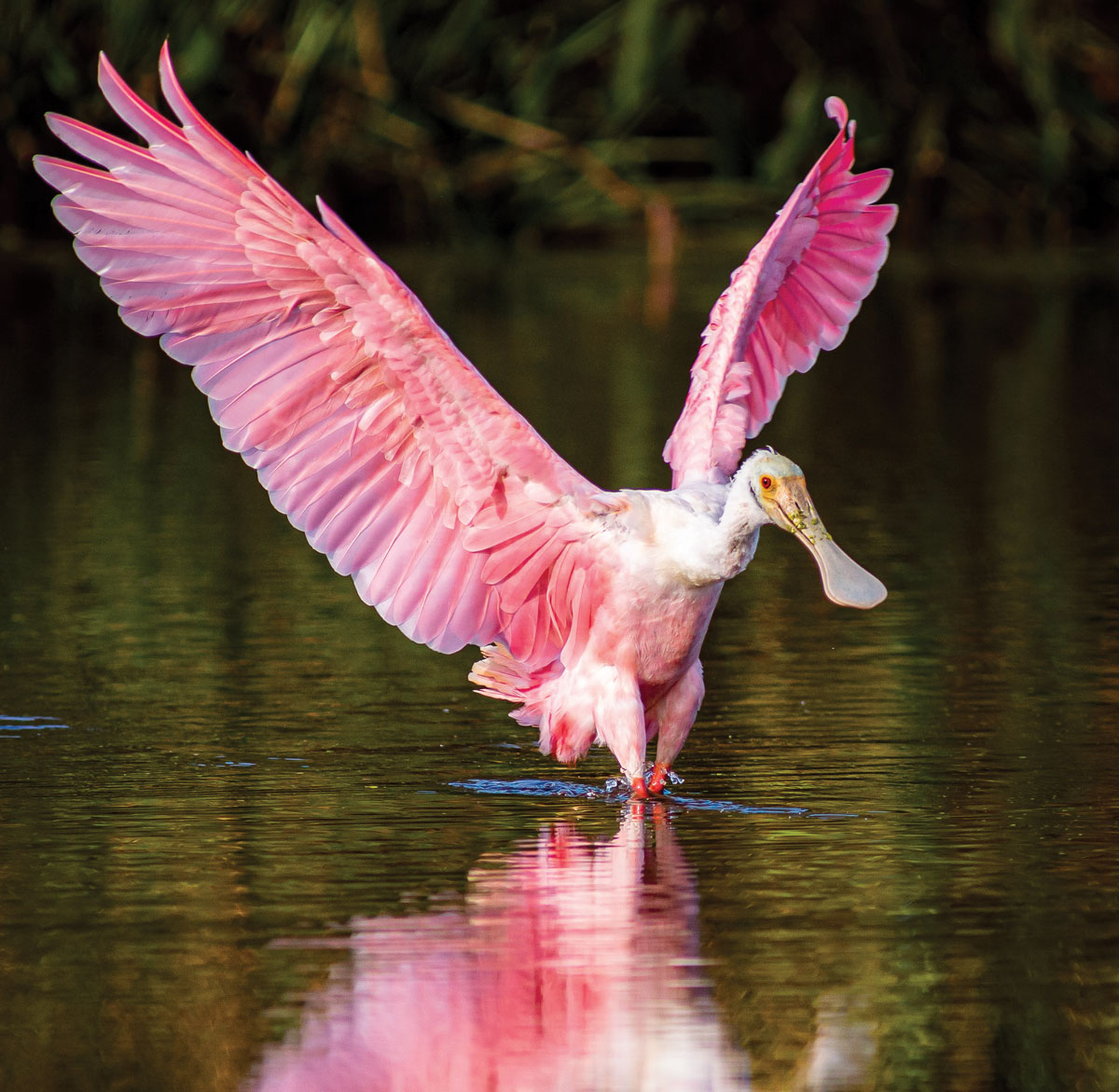 Roseate Spoonbills
These migratory birds' bright pink plumes make them look like flamingos, but they're about a foot shorter and have long beaks with paddle-shaped tips that resemble spoons. They were common in Georgia until the 19th century, when the demand for women's plumed hats virtually extinguished them here. The federal Migratory Bird Treaty Act of 1918 stopped the carnage, but spoonbills didn't begin wandering back here until the 1980s. The Georgia Department of Natural Resources discovered the first nest of spoonbills near Crooked River State Park in Camden County in 2011. Now, they regularly winter on the Georgia coast. Watch for them along the Department of Natural Resources' Colonial Coast Birding Trail.
Civilian Conservation Corps Cabins at F.D. Roosevelt State Park
In the 1920s, President Franklin Roosevelt frequented Warm Springs for the naturally heated pools that relieved his polio. At more than 9,000 acres, Georgia's largest state park is nearby and was named after him. Fittingly, the Depression-era Civilian Conservation Corps, founded by FDR, built some of the park facilities, which remain intact. Swim in the historic stone-lined Liberty Bell–shaped pool, or stay in one of 11 original CCC stone or log cabins. Renovated in 2015, the cottages have kitchens and cozy working fireplaces. A few have adjoining private decks with panoramic views of Pine Mountain Valley.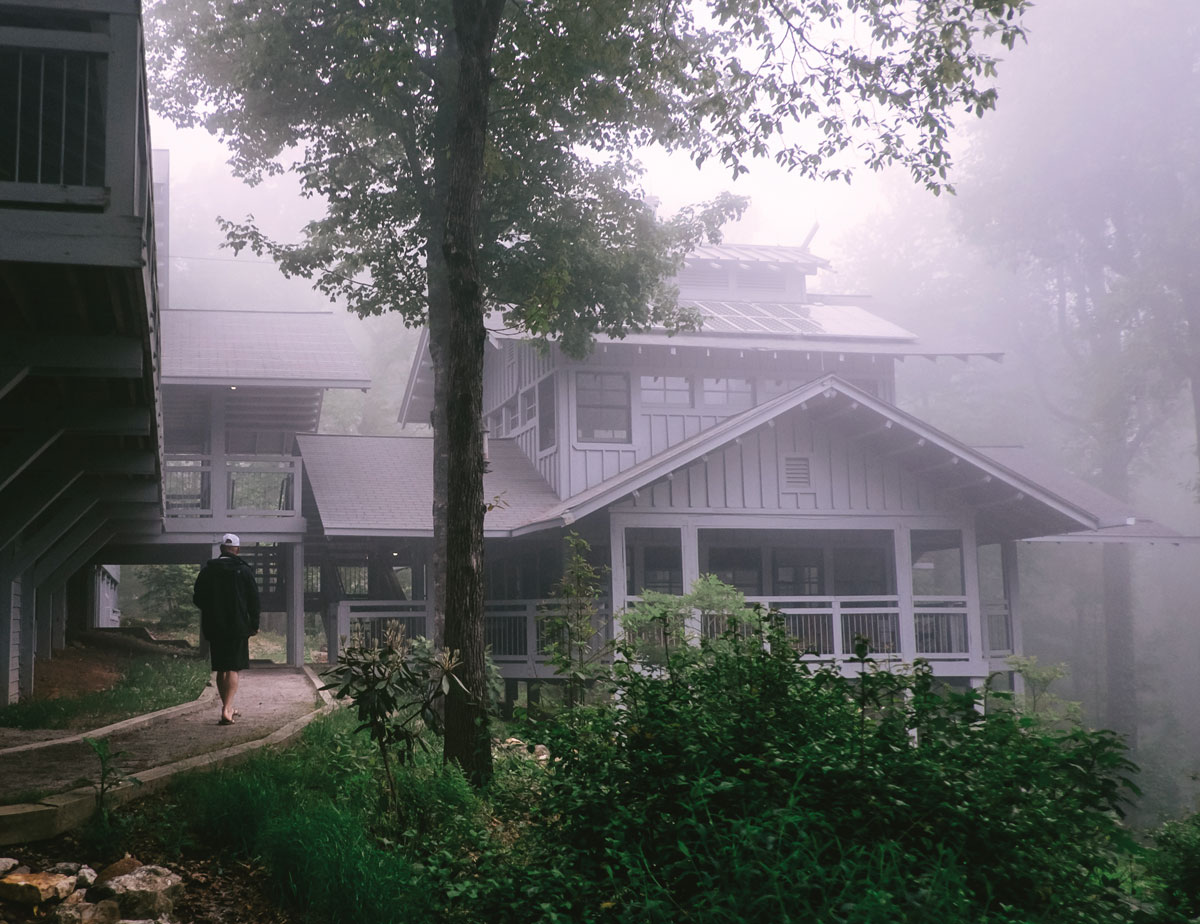 Len Foote Hike Inn
The only way to reach Georgia State Parks' Len Foote Hike Inn is a moderate, five-mile hike that starts at the top of Amicalola Falls. Waiting for you will be a bunk bed with furnished linens, family-style dining, and bathrooms with hot showers and composting toilets—you can plug in a hair dryer, but laptops and cellphones are prohibited in public spaces (and likely without signal). Springer Mountain, the southern terminus of the Appalachian Trail, is a popular day hike if you're spending the weekend. "Walkups" are allowed, but reservations are highly recommended.
Ma Rainey House & Blues Museum
Gertrude "Ma" Rainey, widely acknowledged as the "Mother of the Blues," was born in Columbus and returned there in 1935 after the deaths of her mother and sister. In fact, in 1900, when she was 14, she made her stage debut at the city's grand Springer Opera House, which is still in operation. For decades, she traveled the country, performing with musical legends like Louis Armstrong, Duke Ellington, and Thomas Dorsey. Her unique sound has influenced female artists from Bessie Smith to Bonnie Raitt. In 1923, she built a home for her mom on Fifth Avenue in Columbus, where Rainey herself eventually retired. In 2005, supporters began renovating the decrepit house and eventually turned it into a museum. They restored the original wooden floors and mantels, as well as Rainey's own Tiger Eye Oak bedroom furniture. Now, displays, photos, and artifacts trace the history of her life, as well as the musical genre she helped create.
Folk Pottery Museum of Northeast Georgia
This museum is the star of the Sautee Nacoochee community center, located in a tranquil valley not far from bustling Helen. Built in 2006, the modern building of glass and native yellow pine has deep porches and a sloping roof meant to feel like an open pottery shed. It traces the region's long heritage of potter families like the Meaders, Hewells, and Fergusons, as they transitioned from producing functional vessels to more decorative pieces like the famous face jugs in the 20th century. Many local folk potters are still active, and would-be collectors can pick up a map to visit nearby kilns. Easier still, visit during the center's annual Labor Day weekend Folk Pottery & Arts Festival, when dozens of regional artists and potters set up booths around the grounds.
Noble Hill-Wheeler Memorial Center
If you recently visited the National Center for Civil and Human Rights or read our July issue, you may have learned about the Rosenwald schools. These were nearly 5,000 schools built for Black children across 15 states during the early 20th century, spearheaded by Booker T. Washington and his friend Julius Rosenwald, the millionaire president of Sears, Roebuck, and Co., who helped fund the project. Noble Hill, built in 1923, was the first such school in Northwest Georgia. Though the two-classroom schoolhouse closed in 1955, the facility was restored in 1989—a project championed by Georgia Supreme Court Justice Robert Benham and Dr. Susie Wheeler, a Noble Hill graduate and longtime educator who supervised Bartow County's Black schools for two decades starting in 1946 and who received the Governor's Award for the Arts and Humanities in 2007. One of the delights of visiting the center today is meeting the knowledgeable curator, Valerie Coleman, a relative of Dr. Wheeler's and a descendant of Webster Wheeler, who was chief contractor for the school and whose family donated the land and building for a heritage museum. Coleman guides visitors through displays documenting Black life from the late 1800s to mid-1900s, with cases of artifacts ranging from the marker of an enslaved person's grave to midcentury schoolbooks. The museum is one of nearly 20 notable sites along Bartow County's African American Heritage Trail, with stops such as an enslaved person's cabin, landmarks of a thriving 19th-century Black business district, and a grave marker for Melvinia "Mattie" Shields McGruder, a freed slave and ancestor of Michelle Obama. For more information, download the free guidebook at bartowcountyga.gov. (Tip: Schedule a tour of the school before visiting to be sure Coleman is available.)
---
Georgia Superlatives
At Atlanta magazine, we try hard to check all our facts—but establishing national preeminence is hard to prove. Who are we to dispute these claims?
Historic Banning Mills
An attraction for adventure and nature lovers complete with, of course, treehouses and log cabins, Historic Banning Mills is located in the Snake Creek Gorge near Whitesburg. It holds the Guinness World Record for the World's Longest Zipline Canopy Tour and Tallest Freestanding Artificial Climbing Wall.
Memory Park Christ Chapel
Townsend's Memory Park Christ Chapel claims to be the smallest church in America. Originally built in 1949 and restored in 2017 after a fire, it is just 190 square feet, with tiny pews and stained-glass windows. Intersection of U.S. Hwy 17 and Harris Neck Road, Darien
The Elephant Grave
Born in 1899, Moultrie native William F. Duggan ran away to join the circus when he was 12. In 1950, he purchased his own circus but died before ever seeing it perform. His son commissioned a replica of Nancy, William's baby elephant, to be carved out of marble from Tate, Georgia, as a marker for William's grave. Located in Moultrie's Pleasant Grove Primitive Baptist Church Cemetery, it is the only life-size elephant grave marker in the world. 2221 GA-37, Moultrie
---

RushSouth Whitewater Park
The RushSouth Whitewater Park along the Chattahoochee River goes right through downtown Columbus and is the longest urban whitewater-rafting route in the world.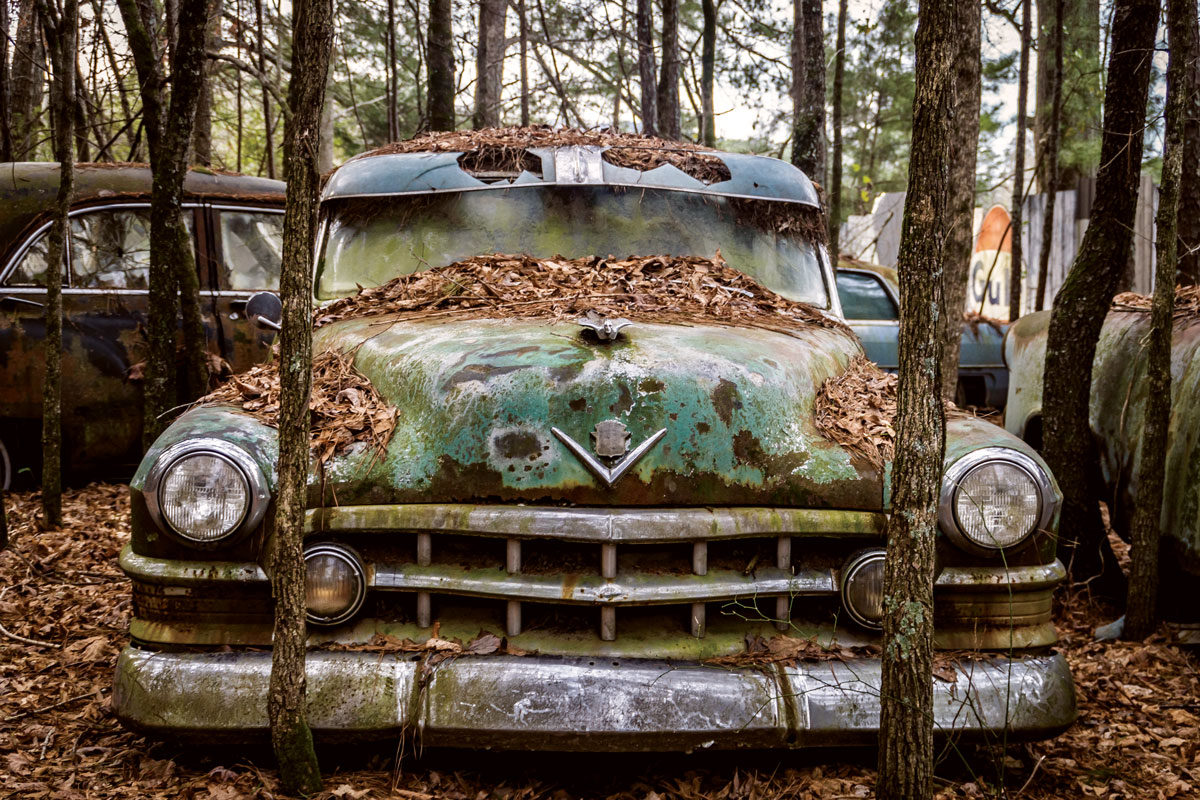 Old Car City
Old Car City claims to be the world's largest classic-car junkyard. Scattered among 30-plus acres of pines are winding trails lined with more than 4,000 classic cars buried beneath honeysuckle and pine straw. Hunt for Bel Airs, T-Birds, Corvairs, Camaros, VW vans, and F-100s. The accompanying "museum" of Styrofoam cups covered in ink drawings surely deserves some doodling-hall-of-fame status.
Elatse'Yi
Georgia State Parks now offers cozy yurts at half a dozen properties, including Cloudland Canyon and Sweetwater Creek. But we're particularly charmed with this private glamping retreat near Carter's Lake, which offers a cabin, a geodesic dome, and two vintage Airstream trailers, one with an attached tree loft and the other perched beneath a pavilion with an open-air "living room." Depending on which accommodations you choose, there are private outdoor showers and a bathtub, outdoor kitchens, and nearby farm animals. The hosts provide fresh eggs from their own chickens. Elatse'Yi is Cherokee for "green earth" and can be spelled many ways, including the Anglicized version, Ellijay, which is about 20 minutes away.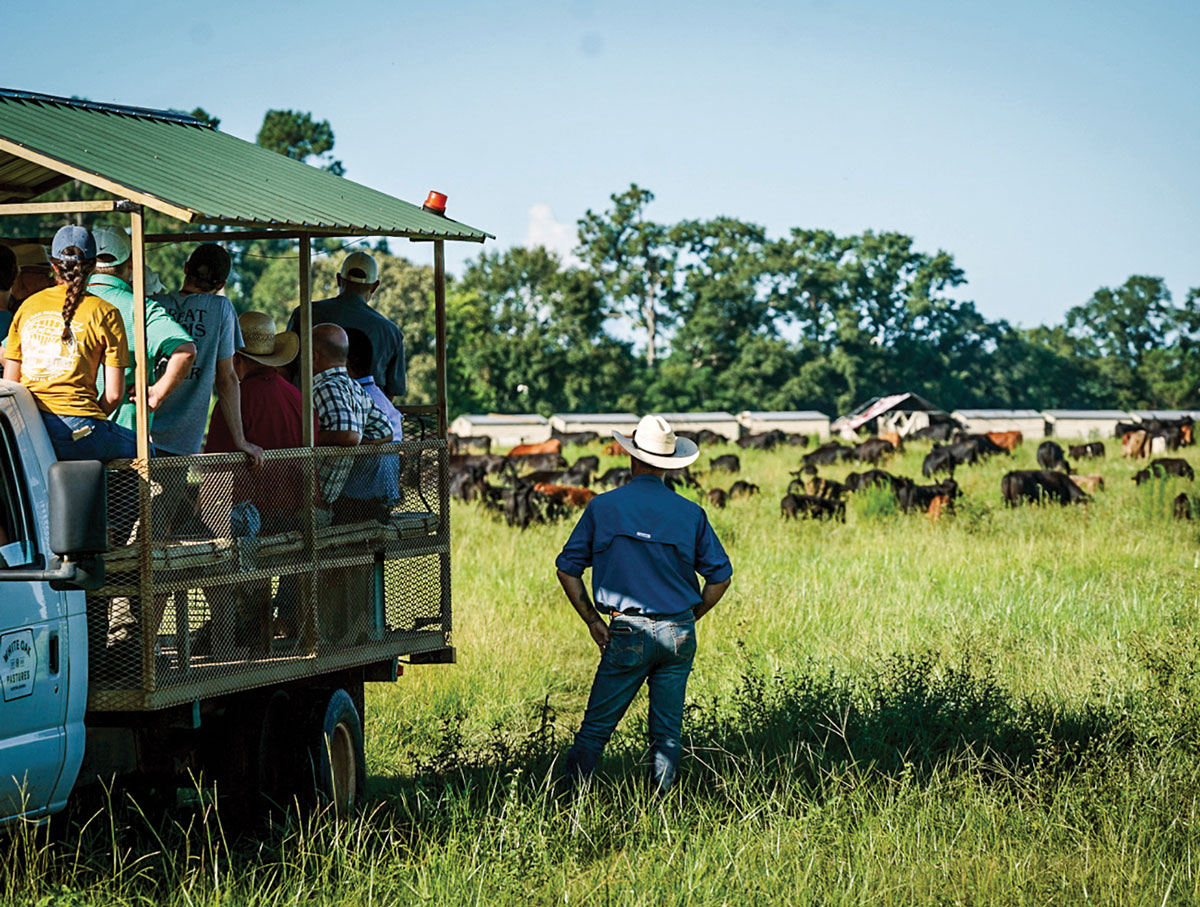 White Oak Pastures Farm & General Store
With a population in the low hundreds, Bluffton is pretty much the definition of a one-horse town—but there are plenty of cows, productively employed at this 150-plus–person operation, committed to regenerative agriculture, animal welfare, and zero-waste practices. See for yourself on a farm tour that includes a peek at the beef and poultry abattoirs (there's also a vegetable garden, chickens, bees, mushrooms, and many other sites and activities). Stay overnight in a rented house or small cabin; shop at the general store in downtown Bluffton, which offers meat, poultry, and merch; or grab a meal at the Farmers Table—where the burgers and steaks are probably better than anything within a hundred miles.
Downtown Lakemont
Take a day trip and stay for lunch at this small stretch of shops on Old 441 South. The Open Door at Alley's Ol' Store offers an extensive deli-style menu—from fresh sandwiches, salads, and sides to cakes and casseroles to go. Dine inside, on the porch, or across the street at a covered picnic table and bench swing next to Tiger Creek. The store carries work by local artists, canned and bottled goods, clothing, and groceries from "wine to worms." For well-curated gifts and home goods, walk next door to Isadora Popper. With its bath and body products, stationery, candles, clothing, and darling "little ones" section of children's goods, the store is a great place to score some unique stocking stuffers. Other places worth visiting include Ladybug Landing, with work from local artists as well as clothing and home goods, and Lakemont Gallery, with a collection of paintings, pottery, wood crafts, and furniture.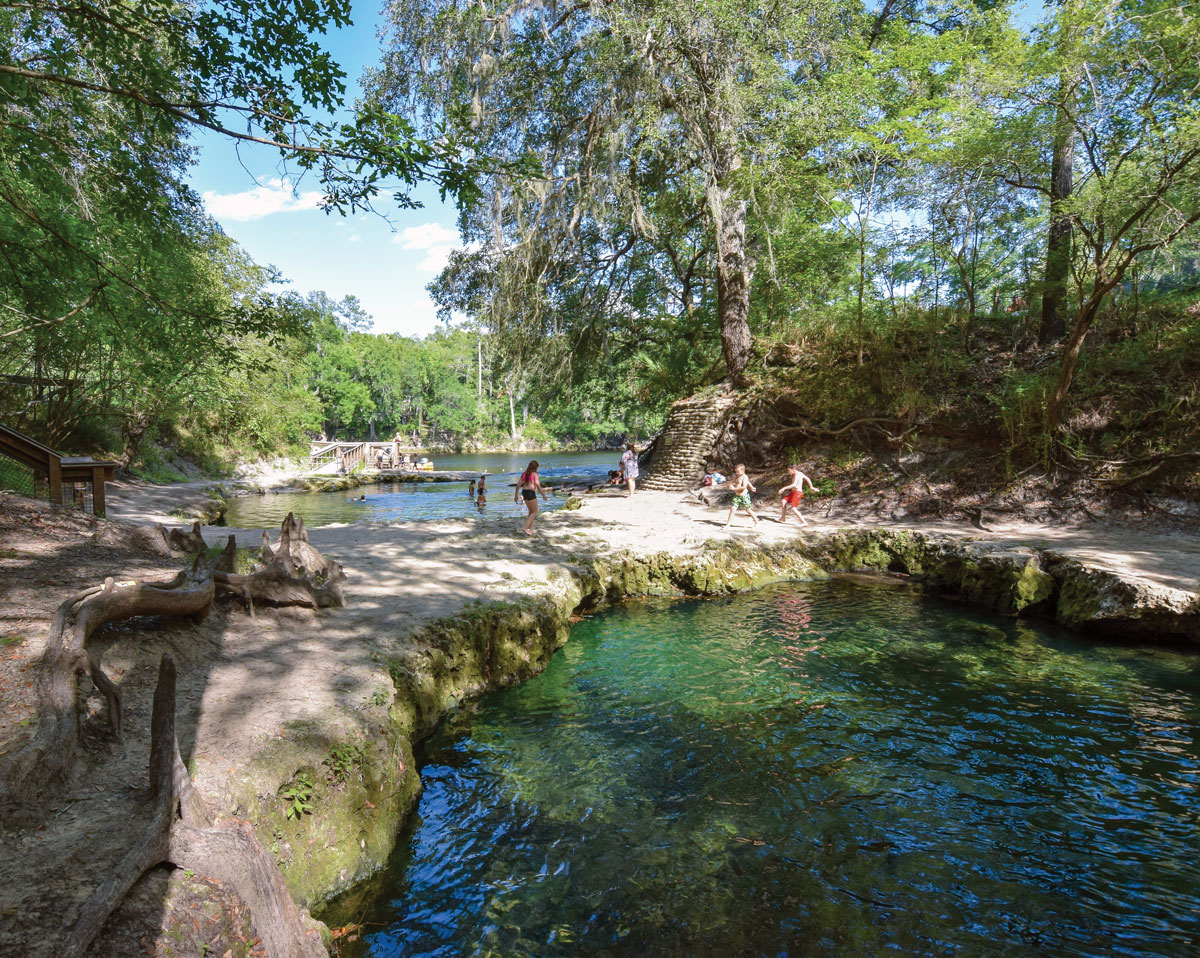 Suwannee River Wilderness Trail
A canoer could spend two weeks or more paddling all 170 miles of the Suwannee River Wilderness Trail, considering the sights and surprises they'd encounter along the way—crystal-clear springs, rope swings and tree jumps, and campgrounds that tempt you to stay an extra night.
Colored like tea by tannins from decaying vegetation, the blackwater river starts in Georgia at the Okefenokee Swamp, snakes through North Florida, and empties out in the Gulf of Mexico. Cypress trees mix with pines and live oaks and, in the fall and spring, burst with shades of green as paddlers move on down Florida's third-longest river past state parks, private paddle-up and RV camps, and laid-back river getaways.
So, where does one begin? By the Stephen C. Foster State Park near Fargo, Georgia, next to the Okefenokee? The state park with the same name on the Florida side of the state line? Just north of Big Shoals State Park, near what are said to be the Sunshine State's wildest river rapids? The simple answer is to just pick a spot and make plans to visit again (or join a guided tour by local outfitters).
Thanks to the Florida Park Service and river supporters, some of the Suwannee's rustic paddle-up campgrounds offer screened-in camping platforms with a ceiling fan and power outlet (first come, first served) and clean bathrooms with warm showers—all for the price of a donation that you feel is appropriate. Even better: The camps are only accessible by boat or, in some cases, hiking, which means smaller crowds (and a better chance of enjoying some quiet). Unfortunately, there aren't any such accommodations on the Georgia side.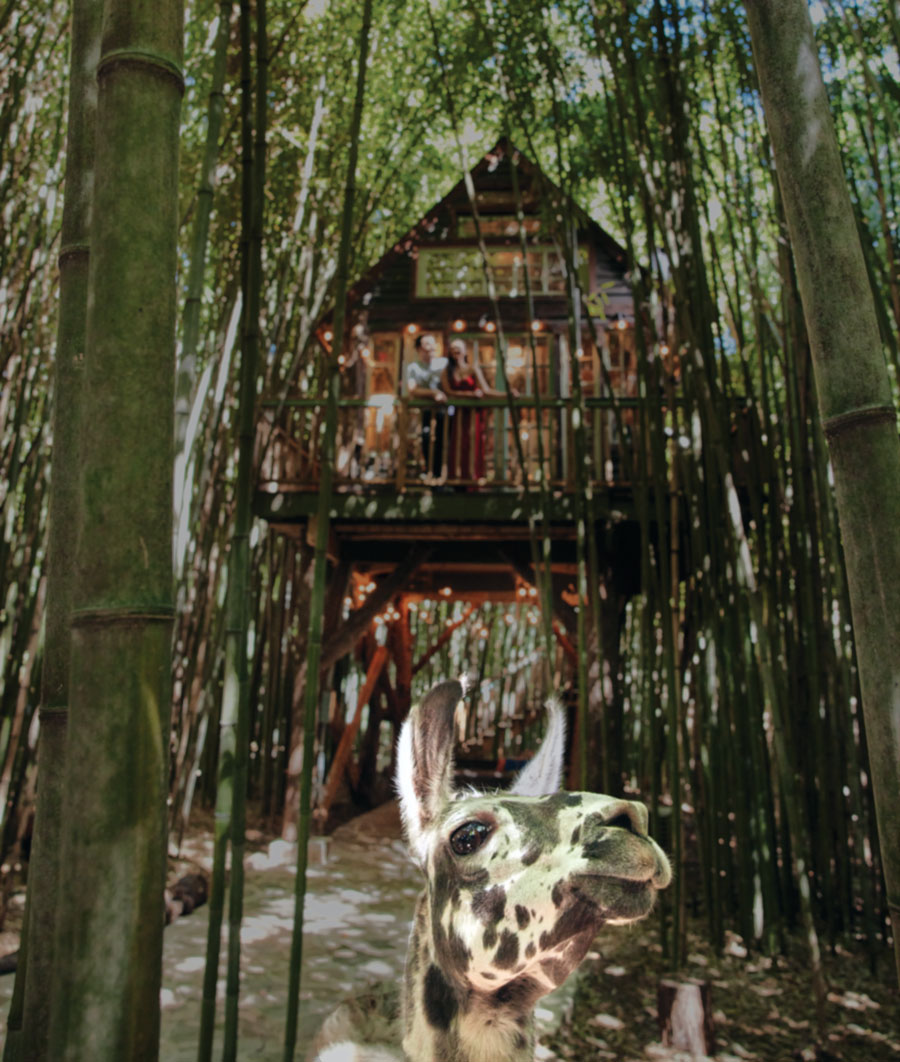 Atlanta Alpaca Treehouse
It sounds like vacation as Mad Libs: Stay in a treehouse, amid a bamboo forest, on an alpaca farm. But the experience is real, and it is spectacular, at this rustic Airbnb–animal sanctuary in the wilds of DeKalb County. Lodgers can choose among three secluded guest houses including the Alpaca Treehouse, while those wishing merely to drop by for a visit can purchase a $50 "experience" ticket to spend an hour among the camelids; there's also something called llama yoga. It's close to East Atlanta Village but, vibes-wise, worlds away.
Conasauga River Snorkeling Hole
You don't have to visit the Pacific Northwest to swim alongside abundant aquatic life. According to the U.S. Forest Service, you can literally see more fish closer to home at the Conasauga River Snorkeling Hole—located roughly 60 miles north of Ellijay near the state line. (You'll park in Ocoee, Tennessee.)
The river is one of the most biodiverse waterways in the country, with more than 75 native species of darters, bass, and, in deeper waters, freshwater drum. On a sunny day—visibility is best when several days have passed without rain—families set up camp along the banks and relax in between snorkeling sessions.
The Georgia Conservancy offers guided trips. To go on your own, pack a lunch and beverages, bring a snorkel, slip on some comfortable river sandals or aqua shoes, and hop in the water. Some visitors wear wetsuits; however, the initial chill wears off quickly. You'll be facedown and making friends underwater in no time. When you're finished, hike the flat out-and-back trail along the river and eat lunch on one of the rocky banks.
Buc-ee's
These massive mega–gas stations are hardly hidden—billboards will alert you for miles ahead of your arrival and the glow of the electric yellow sign marking each location can probably be seen from space—but they're still unfamiliar to many Atlantans. The Texas-based chain opened its first Georgia location in Warner Robins in fall 2020. Inside, you'll find the nicest, cleanest restrooms on the road and enough unique snack options to keep you satisfied for days. The walls are literally lined with Buc-ee's proprietary jerky, trail mixes, caramel corn, yogurt-dipped pretzels, candies, nuts, and Beaver Nuggets, the shop's signature sweet, crispy corn puffs that simultaneously crunch and melt in your mouth. Make a quick lunch out of a jalapeño-cheddar kolache or a warm barbecue brisket sandwich, and don't skip the fudge counter. A third of the more than 50,000-square-foot store is dedicated to food; the other side hawks retail featuring Buc-ee's adorable beaver mascot on every item imaginable, along with kitchen and home decor, soaps, candles, toys, and other gifts. Plan to spend at least an hour exploring, but it's well worth it.
---
Three Spots for Railfans
Blue Ridge Scenic Railway
Choose among vintage, climate-controlled, or open-air cars for a 26-mile round trip in the Appalachian foothills along the Toccoa River—especially scenic in the fall. The journey includes a two-hour layover in the neighboring towns of McCaysville, Georgia, and Copperhill, Tennessee, where you can stand with one foot in each state.
Southeastern Railway Museum
Sprawling over 35 acres in Duluth, this museum has about 90 artifacts like Pullman cars, steam locomotives, sleeper cars, red cabooses, and even one of the Atlanta airport's original "people movers." Ride in a caboose or on an old amusement-park train.
Historic Sam Shortline Railroad
This 1949 train is technically a state park offering several different routes, including ones between Americus, Plains, and Archery—all towns connected to President Jimmy Carter. There's a Thomas the Tank Engine outing for kids, and adults enjoy events like the wine-and-cheese or murder mystery dinner rides.
---

Steffen Thomas Museum of Art
In the late 1950s, German-American artist Steffen Thomas—whose busts, statues, and stonework were already strewn about Atlanta's public spaces, from the Capitol building (Eugene Talmadge statue) to Colony Square in Midtown (Trilon)—had an idea for the then unfinished carving on the side of Stone Mountain: a depiction of a mother nurturing and holding a child with the head of an adult. The mother represented the Union; the manchild, the New South. Thomas's leanings toward unity and a healed South figure prominently in his stone, clay, glass, and tile work, all encased in the single largest collection of it at the Steffen Thomas Museum of Art, located randomly in a field near Buckhead, the town, not the neighborhood threatening to secede from Atlanta.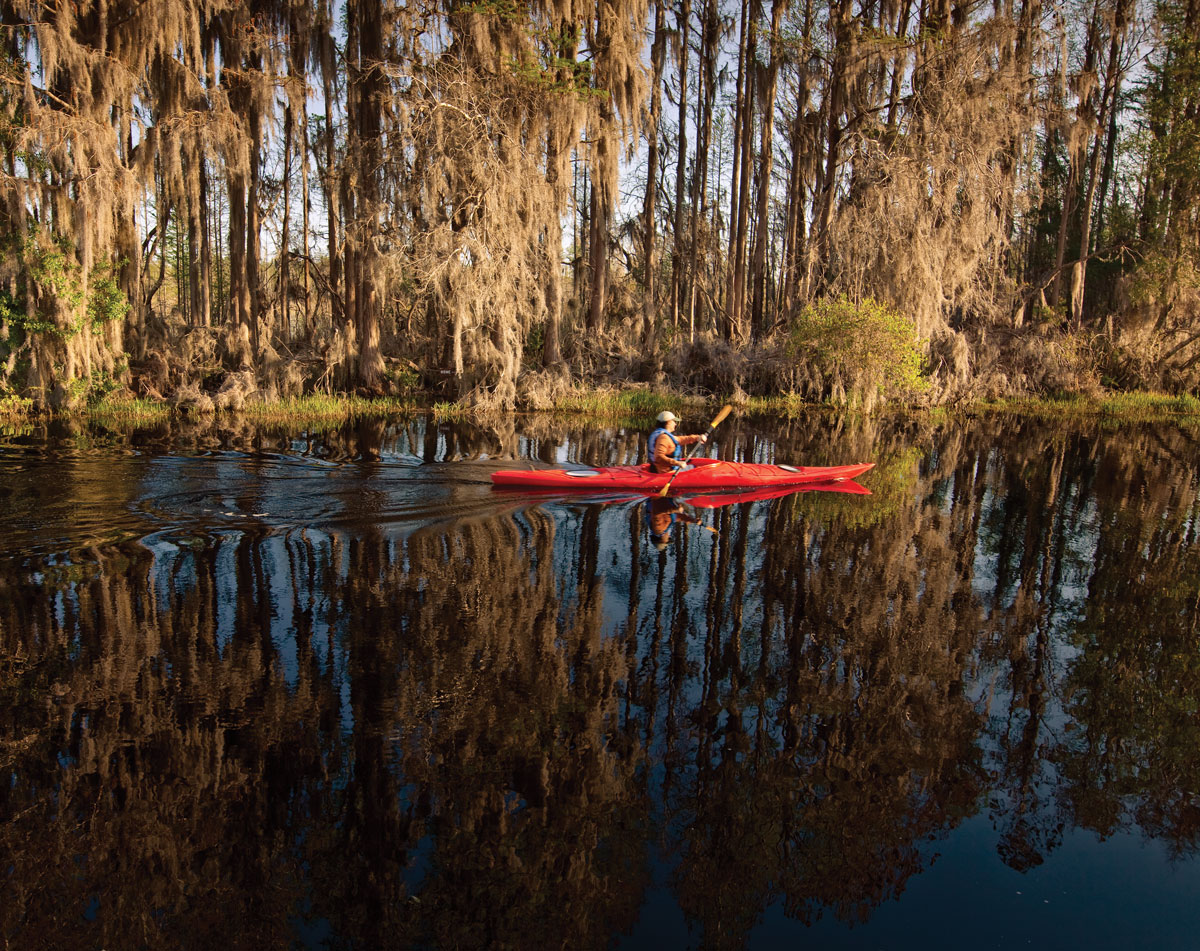 Floyds Island at the Okefenokee Swamp
Deep in the Okefenokee Swamp, far from a cellphone signal and accessible only by boat, sits a retreat that can be yours for a night—if you're lucky enough to score a camping permit and able to make the five-hour paddle (including a stop for lunch) to Floyds Island.
Unfortunately named after a U.S. Army general who destroyed a Seminole village here in the 1830s, the small island offers a roomier camping experience than the wooden platforms where paddlers sleep above the Okefenokee's reptile residents. Spanish moss shades a circa 1925 hunting cabin built for executives of the logging company that nearly stripped the swamp bare in the early 20th century.
Built around the same area where the Seminole village once stood, the cabin today serves as shelter for campers. A firepit isn't far away; neither are primitive accommodations (a compost toilet and pump gurgling up groundwater from the aquifer below). Hang up your wet gear, cook up some carb-heavy meals, relax under the stars, and try not to go sleepwalking among the alligators.
Eisenhower Shopping Plaza
Savannah visitors burned out on shrimp, grits, and tourists should make haste for the splendid strip mall at the corner of Eisenhower and Hodgson Memorial, where the best tacos in town (on house-made tortillas at Taqueria El San Luis) are just the beginning of the gustatory options: See also pan-Asian favorites (pho, bulgogi) at the Noodle Bowl, Vietnamese groceries at Viet Huong, Korean and Japanese home-style cooking at YoHaNe, Middle Eastern snacks and spices at Al Madinneh . . . and that's not even all.
Captain Derek's Dolphin Adventure
On U.S. Highway 80, approaching Tybee Island, yellow signs beckon drivers—and their dogs—toward the Lazaretto Creek marina, where, for $25, they can embark on an hourlong boat ride starting just below the mouth of the Savannah River. The boats on Captain Derek's ("pet-friendly") Dolphin Adventure clock speeds of 15 miles per hour (creating a wake for bottlenose dolphins to surf) as they cruise toward Georgia's tallest and smallest lighthouses—Tybee Island Light Station and Cockspur Island Lighthouse, respectively—before looping back. Passengers are welcome to bring drinks, snacks, and, yes, dogs. (But only dogs: The company was forced to amend its "pet-friendly" policy after reluctantly hosting an albino python.) On a recent tour, a 12-year-old Jack Russell mix was the only pet aboard; he loved sunbathing on the deck and peeking his head over the side of the boat a la car window, but was apathetic toward the dozens of dolphins nearby. The vessels are open-air and never filled to capacity, but drive a minute or two past Captain Derek's to find Captain Mike's Dolphin Tours offering much of the same, plus Jet Skis and kayaks for those who prefer to adventure on their own.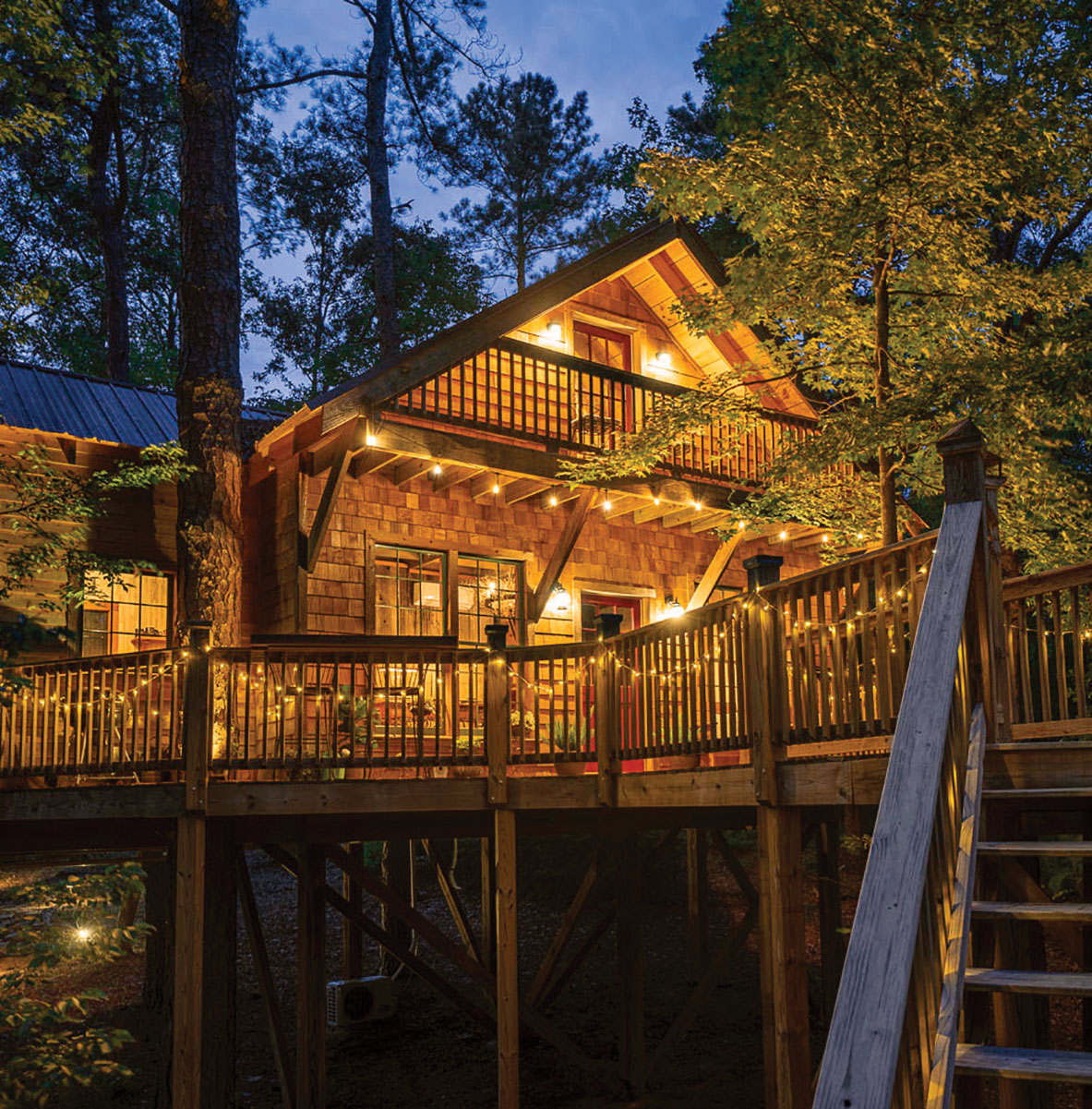 Trinity Treehouse
The crown of its Arabia Mountain canopy, the cozy-chic Trinity Treehouse was hand-built for tree rompers and art lovers who want off-the-grid seclusion with modern flourishes like heating, air, running water, and Wi-Fi, if connection with ground dwellers is a must. Go for the 2,500-acre nature preserve that abuts the treehouse and for the stunning art—from the hosts' visits to 11 African countries—that adorns walls of century-old barn wood. Stay for the fuzzy socks.
Berry's Tree Farm
Near the mouth of the 206-acre Berry's Tree Farm, there's a single decorated fir, where, recently, two families gathered to celebrate a marriage proposal that had taken place there moments before. The families were listening to the ubiquitous holiday hymn "Go Tell It on the Mountain," a fitting soundtrack for the Covington tree farm, where it's Christmas year-round. When the "choose and cut" season begins at the end of November, add train rides, a petting zoo, a concession stand, and, naturally, photo ops with Santa to the experience.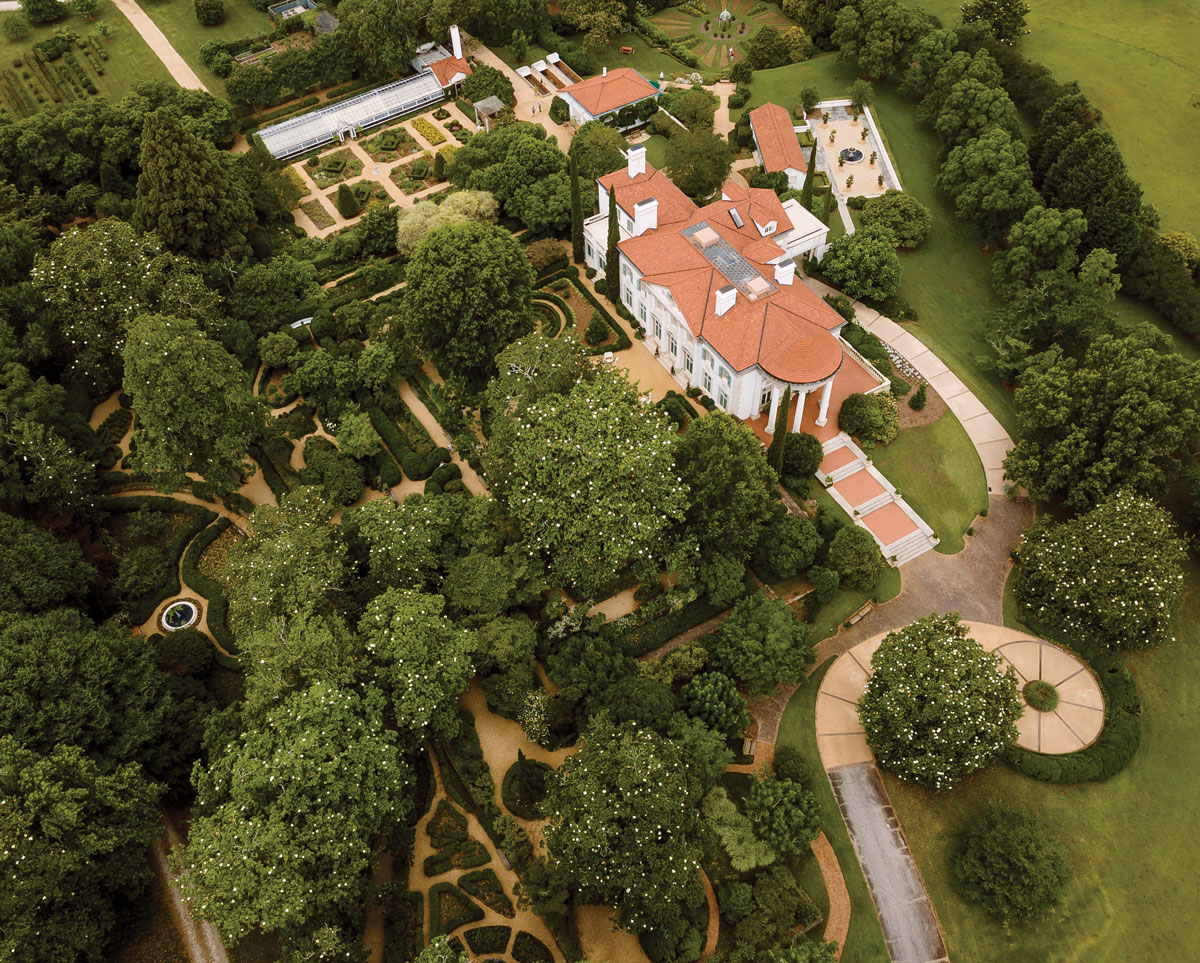 The Other Callaway Gardens
Atlantans are familiar with Pine Mountain's Callaway Resort & Gardens, founded in 1952 by Virginia and Cason Callaway and named for his mother, Ida. But Cason lost his family's first formal gardens to his brother, Fuller—Hills & Dales Estate, their childhood home and grounds in LaGrange. When their mother died in 1936, the two men agreed to submit sealed bids for her house, and Fuller's was the highest. Since 2004, this spectacular estate, with its circa 1916 Neel Reid mansion, has been open to the public. The surrounding antebellum gardens, originally designed by Sarah Ferrell, wife of Judge Blount Ferrell, were likely built by enslaved persons and are considered one of the Southeast's most significant pre–Civil War gardens. The Callaway family have limited historical documents from the Ferrells and are continuing their research. However, so far they have been unable to identify any key early Black gardeners.
Because the property is primarily supported by a family foundation, it is not nearly so commercial—or as well known—as most house museums. The 31-room mansion is remarkably intact, from elaborately carved mantels and gilded coffered ceilings to Fuller's wife, Alice's, collection of bird sculptures. The kitchen still has 1941 metal cabinetry and a rare Monel table that was original to the home. The 19th-century gardens reflect the Victorian era's love of boxwood-lined paths and rare tree specimens like a giant China fir and ginkgos. Ferrell, who was very devout, had the word "God" outlined in boxwood near the entrance, and her "Church Garden" has a harp, organ, pews, and an offering plate, all created in boxwood. Ida and then Alice added more modern elements—like a field of red spider lilies and an extensive herb garden.
Today, the house and gardens are meticulously maintained, and the estate offers programming such as storytelling, wreath-making, and gingerbread house workshops. Enjoy a bit of grandeur without the hassle of Biltmore Estates.
Sweet Grass Dairy and Cheese Shop
Some of the best cheese in the country (Green Hill, Thomasville Tomme) comes from this family-run operation near the Georgia-Florida line. Check out the cute little brick-lined storefront in downtown Thomasville, where you can buy artisan groceries to take home or dine off a menu of family-friendly, dairy-forward faves—nobody ever felt unhappy in the presence of a basket of fried cheese curds.
Barbie Beach
Twenty-five years ago, the death of a rose bush left Steve and Lynda Quick with a bare spot in their front yard, just off Highway 16 in Turin. The Centennial Olympics were being held in Atlanta, so the Quicks decided to cover the space with a 24-square-foot tribute to the U.S. women's beach volleyball team, bringing in sand, a laminated printout of the Olympics rings, a ping-pong ball and net, and six naked Barbies to re-create the scene. The dolls have since celebrated Pride, battled Covid (a pink and black spiky ball), hosted a Fourth of July parade, and honored those killed on 9/11. The Quicks' collection also includes a few zombie Barbies, gifts from the producers of The Walking Dead, which films in nearby Senoia.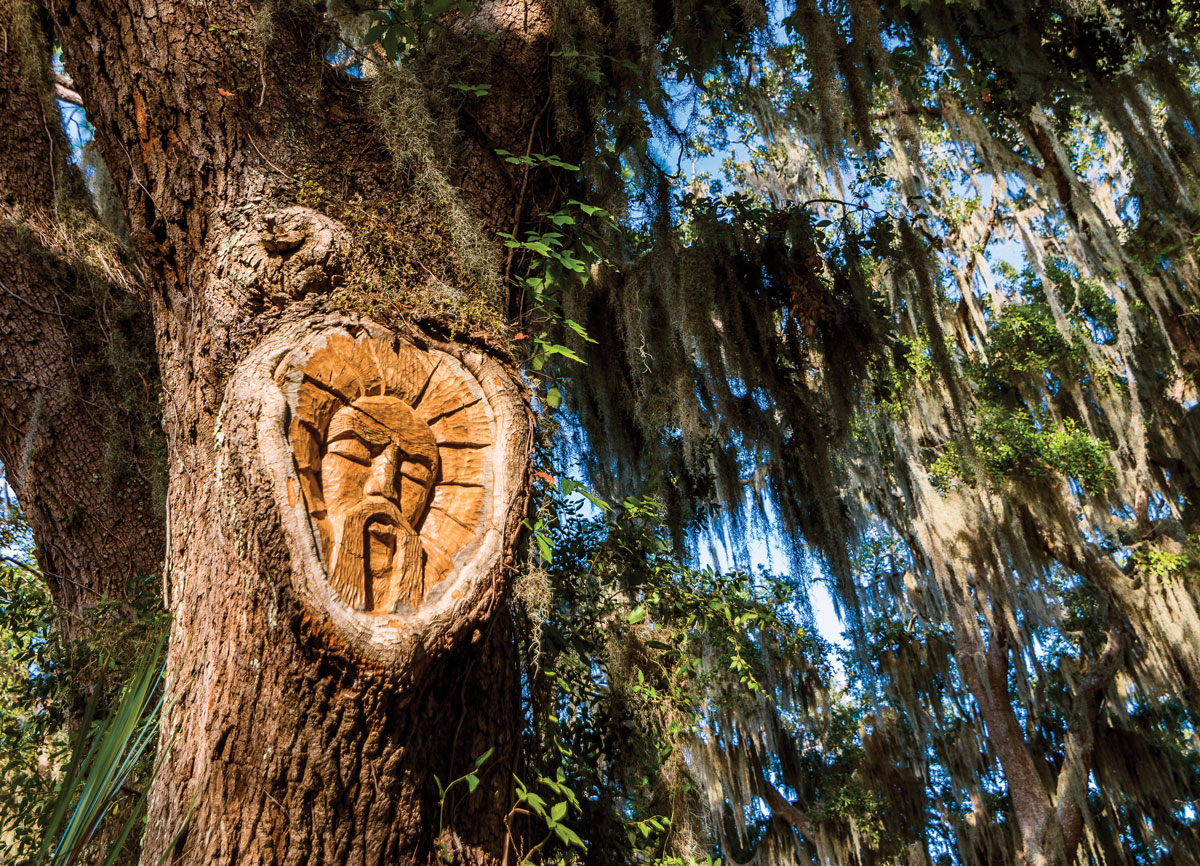 The Tree Spirits of St. Simons Island
In the 1980s, artist Keith Jennings carved 20 faces into the trunks of the island's majestic live oaks. Meant to memorialize ancient sailors who lost their lives at sea in boats built from St. Simons trees, their mournful expressions have weathered and transformed with the decades. But you'll have to hunt for them. The local visitors bureau has created a map with clues for finding the carvings on public land. (FYI, no trees were harmed by the carvings. They were all created in scars left by lightning strikes or fallen branches.)
This article appears in our November 2021 issue.