75 Best Restaurants
When we set out to determine who should be included in this year's 50 Best Restaurants issue, one thing became immediately clear:
We needed way more than 50 spots. To properly reflect the Atlanta of today—its many cultures, neighborhoods, and iterations of dry-fried eggplant—a reckoning was in order. But even settling on 75 restaurants was hard. One of the first questions we asked ourselves: Would we drive across town to eat there? In determining the top 10 specifically, we thought less about where we most want to eat when we're celebrating than where we most want to eat, period. We ended up with a no. 1 pick that's been open for nearly 10 years yet has never before topped this list. As for the 30 newcomers, they've been around for as little as four months and as long as four decades, specializing in everything from vegan wraps to modern French cuisine, $1.50 tacos to a $165 tasting menu. And yes, all of them are worth the drive—especially that Oaxacan joint in Suwanee.
Editor's note: This list was published before the pandemic, and some of the offerings at the restaurants listed here may have changed in the interim—in fact, that's pretty much guaranteed. Best to call ahead, or check a restaurant's website or Instagram for details on current menus and accommodations. (We've removed restaurants that have closed.) And keep your eyes out for Atlanta magazine's October 2021 issue, when we'll publish a fresh list of Atlanta's Best New Restaurants.
Edited by Mara Shalhoup
Contributions from Mike Jordan, Christiane Lauterbach, and Jennifer Zyman
Video of LanZhou Ramen by Cori Carter
Photograph by Andrew Thomas Lee
At Miller Union, Georgia native Steven Satterfield gathers every misguided notion about Southern food and tosses them in the compost heap. What's left: dishes that are understated revelries (that silky farm egg in lush celery cream, oh my) and honest explorations of the modern South (see: Seasonal Vegetable Plate). That they're served in the most unpretentious high-end restaurant in Atlanta—equally suitable for the laziest of lunches or the most special occasion—makes the fried pork chop with creamed greens and the duck breast with hoecakes and strawberry even more exceptional. When Satterfield won the James Beard Award for Best Chef in the Southeast in 2017, he was only the second Atlanta chef in 10 years to bring home the honor. At Miller Union, he has proudly picked up where his mentor, chef Scott Peacock, left off; Satterfield spent a decade working for Peacock at Watershed, the iconic restaurant that similarly modernized Southern food in that era. With Miller Union hitting the 10-year mark in November, Satterfield and co-owner/general manager/sommelier Neal McCarthy have firmly established their Westside gem as a beacon of Southern hospitality, both in the warm, all-welcoming dining room and in the inclusive, equitable kitchen. Behind the scenes and on the plate, Miller Union is a vision of an evolving South.
---
Photograph by Cori Carter
Busy Bee
Atlanta would be a lesser town without Busy Bee, which provided sustenance to Civil Rights leaders, including Martin Luther King Jr. Since 1947, the woman-owned institution has reliably served heaping helpings of soul food: smothered pork chops, oxtails, fried chicken, collards, and cornbread dressing. Old-school politicos and R&B stars alike continue to file into the tight quarters on the outskirts of Atlanta's HBCU complex, seeking lunch or early dinner (it closes at 7 p.m.). There's no better serving of history.
---
Photograph by Cori Carter
Tassili's Raw Reality
There are 40 ounces of kale packed into the Mandingo wrap at Tassili's Raw Reality, which has occupied the colorful ground floor of a two-story duplex in West End since 2011. Lest you scoff at its $25 price tag, take note that this wrap could easily feed you for three days—and that it's so magical you'll actually want to spend three days eating it. What makes it so good? Maybe it's the superspicy, soy-marinated kale. Maybe it's the sweet coconut corn and the couscous flecked with raisins and goji berries. Maybe it's the sticky-crunchy combination of hemp hearts, almonds, and agave. Maybe it's the aforementioned magic. Don't overthink it. Just patiently wait your turn in the slow-moving line to the counter, and fixate on the beatific diners scarfing down various wraps ($9 to $14 for the normal-sized ones). That will soon be you.
---
Photograph by Andrew Thomas Lee
Empire State South
It's been eight years since celebrity chef Hugh Acheson opened Empire State South and challenged Atlanta's notion that Southern food is something preciously preserved in the past. A lot has changed since then, but Empire State South remains a destination restaurant in a part of Midtown that has too few of them. Among its most iconic dishes is the texturally enchanting farm egg on crispy rice with beef and mushroom sausage, shiitake, and corn. Equally seductive are the wine and cocktail programs, each among the very best in the city. The terrace overlooking a bocce court ringed by Adirondacks is a splendid gathering spot for an impromptu al fresco meal or a planned event. In short, Empire State South, no longer trendy, is more inviting than ever.
---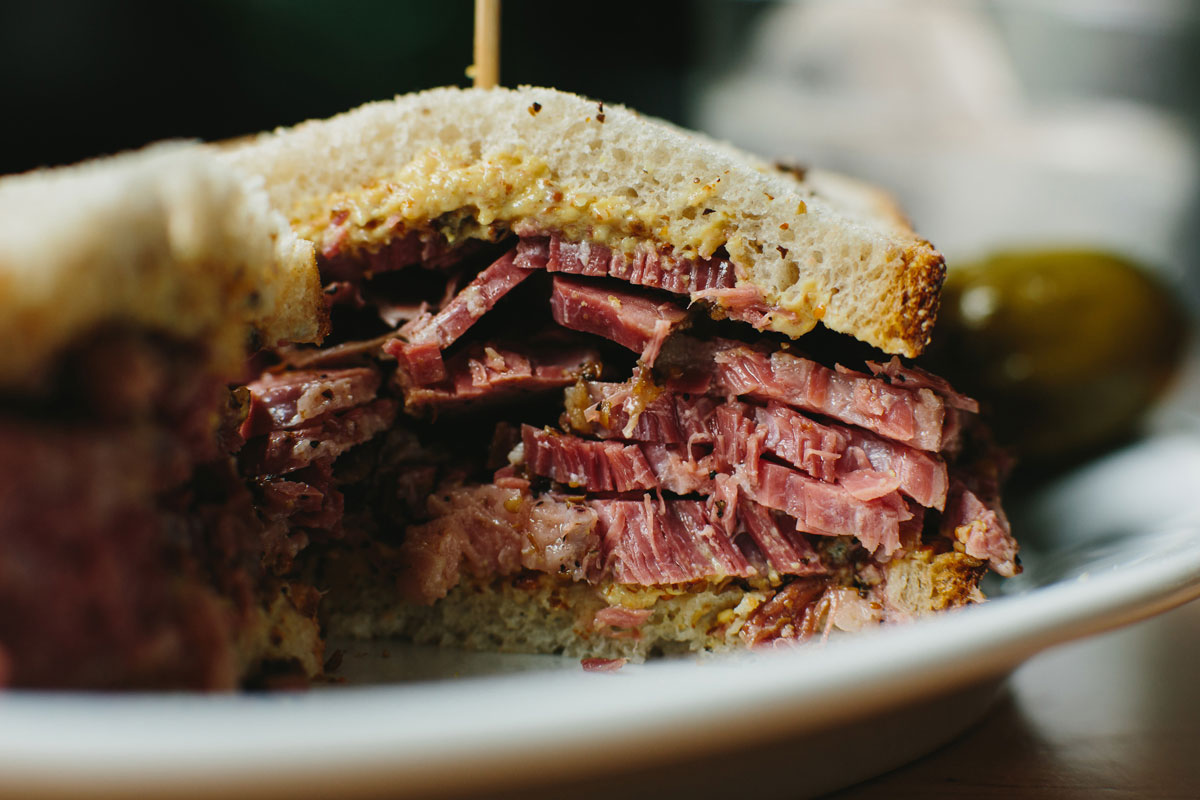 Photograph by Andrew Thomas Lee
The General Muir
There was once a time when you couldn't get a good matzo ball soup in town. Now, you can find a sublime bowl in a glamorous space that evokes vintage Manhattan. In seven years, the General Muir has become indispensable for its upscale Jewish deli–inspired menu: If you have a hankering for piled-high pastrami on rye or chopped liver with pletzel bread, there is no better place.
---
Photograph courtesy of Green Olive Media
One Eared Stag
When chef Robert Phalen opened One Eared Stag back in 2011, Inman Park was a far sleepier place. The neighborhood has since been transformed by an influx of restaurants, but One Eared Stag's quiet corner retains its subdued charm. A taxidermied deer (yes, with a missing ear) proudly looms over the handsome bar. In the farmhouse-chic dining room, you'll find dishes that range from quirky (the ever-changing "dumpster salad" could include bacon, fried bread, and Manchego) to revelatory (Carolina Gold rice comes with pastured chicken, kimchi, and raw egg yolk, and beef tongue pie with black truffle and rutabaga). For brunch, order the off-menu "chef's breakfast": five little dishes (perhaps including a peppery biscuit sandwich and thick-cut bacon protruding from a mason jar of grits) served on a silver platter with a cold can of Schlitz.
---
Photograph courtesy of Jackmont Hospitality
Chicken + Beer
There is no better restaurant co-owned by a rapper and named for a seminal album—especially if, like the intro track from Ludacris's Chicken-n-Beer, you prefer your comfort food "Southern Fried." That the restaurant is located in the world's busiest airport is just one more reason to show up to Hartsfield-Jackson early. Ludacris and his partner, restaurant group Jackmont Hospitality, don't peddle "airport wings" (the flavorless variety created solely to sustain a captive, security-cleared audience); these whole wings rival those you'll find at any restaurant in Atlanta, the world's wing capital. If or when Luda and company decide to expand the franchise beyond Hartsfield-Jackson, and members of the general public have an easier time getting hold of the short-rib mac and cheese, it will be even clearer that this food holds its own against restaurants far beyond Concourse D.
---
Photograph by Heidi Geldhauser
La Tavola
For nearly two decades, La Tavola has quietly enchanted Virginia-Highlanders—who are perfectly happy keeping this underappreciated beauty all to themselves. If only every neighborhood could be home to a high-quality Italian spot that harbors such a creative streak. Whether you're in the mood for straightforward spaghetti and veal meatballs, deeply murky and oceanic zuppa di pesce, or just the housemade buttermilk ricotta and a glass of Sicilian red at the bar, you'll be right at home.
---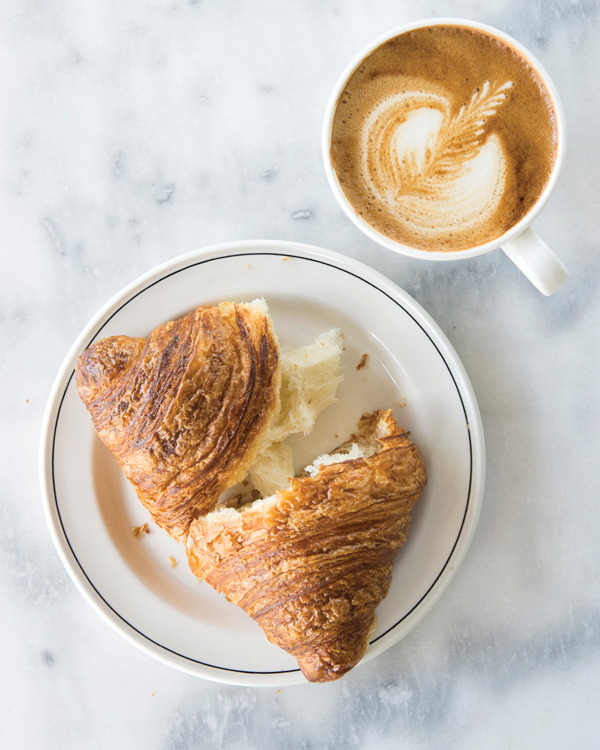 Photograph by Caroline C. Kilgore
Bread & Butterfly
If you miss Billy Allin's now-shuttered Cakes & Ale (and who doesn't?), know that you can now find the master of simplicity himself behind the stove at his ever-so-French, all-day cafe. Pop in for a croissant and a cafe au lait before work, treat yourself to a fine lunch of shrimp remoulade or trout salad, or linger over a dinner of garlic sausage over lentils or truffled penne au gratin with Gruyère and Parmesan. The tiny bar and the various dining areas smack of Paris at its most romantic.
---
Photograph by Tuan Huynh
The Federal
The Federal is where to eat before heading to the Fox or any other Midtown destination. Not that it can't be a destination on its own. This bistro-steakhouse from Shaun Doty and Lance Gummere offers well-sourced, cast iron–seared cuts, as well as some of Doty's signature dishes, such as his pork schnitzel with onion salad, peanuts, and parsley. The double patty covered in American cheese and a thick slice of griddled onion, available only at lunch, might be the best burger in Midtown.
---
Photograph courtesy of No. 246
No. 246
In eight years, this Ford Fry Italian spot has become an incubator for talent: Chefs who cut their teeth here have gone on to helm such innovative restaurants as Banshee and 8Arm. Executive chef Drew Belline's textbook pasta runs the gamut from cacio e pepe (the ultimate exercise in simplicity) to a gut-warming rigatoni Bolognese. Roasted chicken gets a hint of sweetness from agrodolce and a hint of wood fire from the charred broccoli, which is impossible to stop eating.
---