75 Best Restaurants
When we set out to determine who should be included in this year's 50 Best Restaurants issue, one thing became immediately clear:
We needed way more than 50 spots. To properly reflect the Atlanta of today—its many cultures, neighborhoods, and iterations of dry-fried eggplant—a reckoning was in order. But even settling on 75 restaurants was hard. One of the first questions we asked ourselves: Would we drive across town to eat there? In determining the top 10 specifically, we thought less about where we most want to eat when we're celebrating than where we most want to eat, period. We ended up with a no. 1 pick that's been open for nearly 10 years yet has never before topped this list. As for the 30 newcomers, they've been around for as little as four months and as long as four decades, specializing in everything from vegan wraps to modern French cuisine, $1.50 tacos to a $165 tasting menu. And yes, all of them are worth the drive—especially that Oaxacan joint in Suwanee.
Editor's note: This list was published before the pandemic, and some of the offerings at the restaurants listed here may have changed in the interim—in fact, that's pretty much guaranteed. Best to call ahead, or check a restaurant's website or Instagram for details on current menus and accommodations. (We've removed restaurants that have closed.) And keep your eyes out for Atlanta magazine's October 2021 issue, when we'll publish a fresh list of Atlanta's Best New Restaurants.
Edited by Mara Shalhoup
Contributions from Mike Jordan, Christiane Lauterbach, and Jennifer Zyman
Video of LanZhou Ramen by Cori Carter
Photograph by Andrew Thomas Lee
At Miller Union, Georgia native Steven Satterfield gathers every misguided notion about Southern food and tosses them in the compost heap. What's left: dishes that are understated revelries (that silky farm egg in lush celery cream, oh my) and honest explorations of the modern South (see: Seasonal Vegetable Plate). That they're served in the most unpretentious high-end restaurant in Atlanta—equally suitable for the laziest of lunches or the most special occasion—makes the fried pork chop with creamed greens and the duck breast with hoecakes and strawberry even more exceptional. When Satterfield won the James Beard Award for Best Chef in the Southeast in 2017, he was only the second Atlanta chef in 10 years to bring home the honor. At Miller Union, he has proudly picked up where his mentor, chef Scott Peacock, left off; Satterfield spent a decade working for Peacock at Watershed, the iconic restaurant that similarly modernized Southern food in that era. With Miller Union hitting the 10-year mark in November, Satterfield and co-owner/general manager/sommelier Neal McCarthy have firmly established their Westside gem as a beacon of Southern hospitality, both in the warm, all-welcoming dining room and in the inclusive, equitable kitchen. Behind the scenes and on the plate, Miller Union is a vision of an evolving South.
---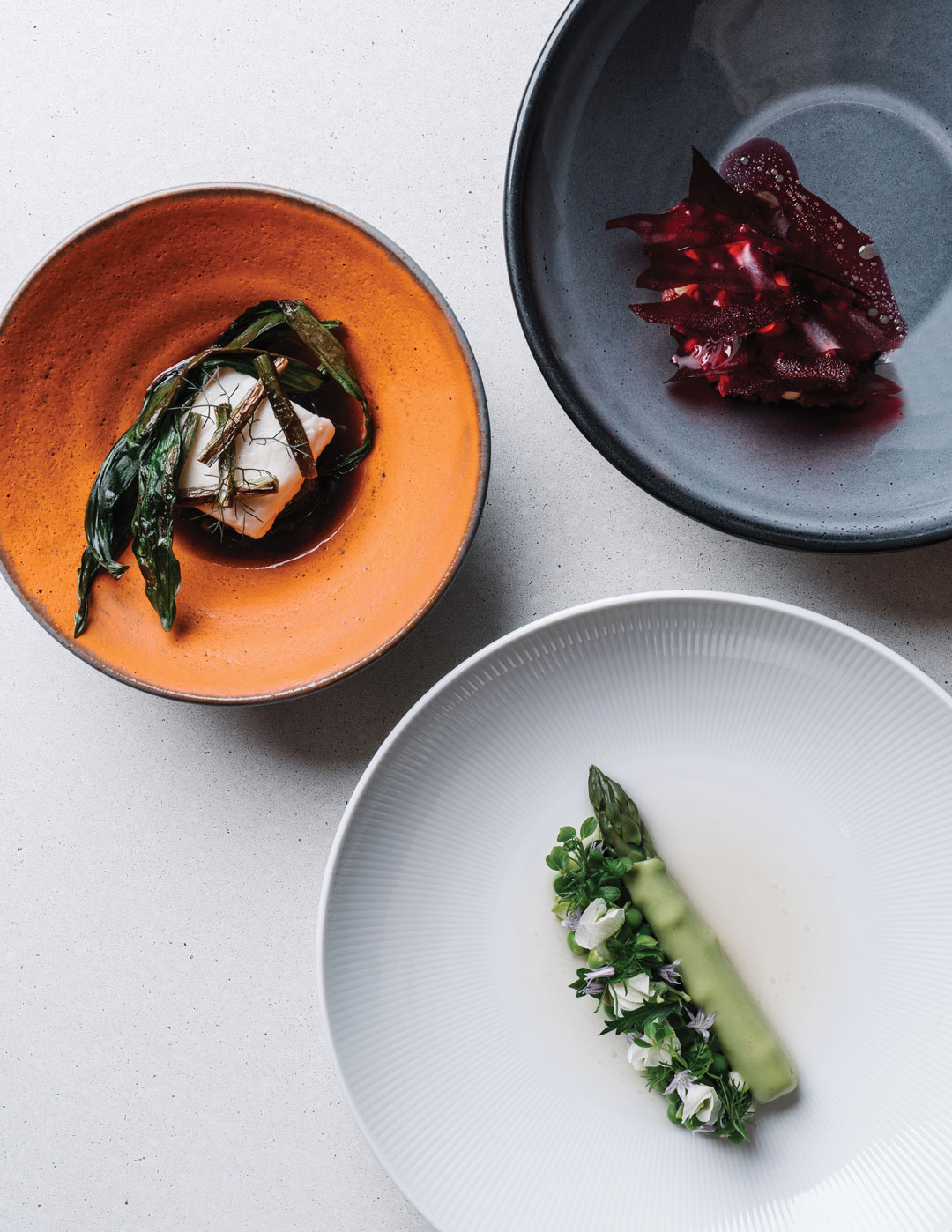 Photograph by Andrew Thomas Lee
2
2.

Staplehouse

Ever since it opened, Staplehouse has been Exhibit A in the argument that Atlanta is finally ready for the kind of cutting-edge restaurants that flourish in other cities: ambitious, purposeful, personality-driven food served in irreverently casual dining rooms instead of on white tablecloths. The restaurant's previous eight- to 10-course tasting menu, which shifted from night to night, featured delicate interludes of decadent proteins—like a course of king crab mingled with Cara Cara orange, fennel, turnip, sunflower, and sorrel—while the kitchen, under executive chef Ryan Smith, proved itself equally adept with vegetables, reaping the benefits of our bountiful farms while bucking deep-fried stereotypes. Speaking of adept: Since the onset of the coronavirus pandemic, Staplehouse has gracefully met the moment, closing its dining room and reconfiguring into a market that offers charcuterie, composed dishes, smoked meats, pastries, and pantry items to go, plus meal kits for two that change weekly—like dry-aged ribeye from Tennessee's Bear Creek Farm with candied celery jus and potato and celeriac gratin. A consistent staple of best-of lists, this fine-dining restaurant ended up more recently on a list of our favorite meals for takeout—no less ambitious, and a lot more affordable.
---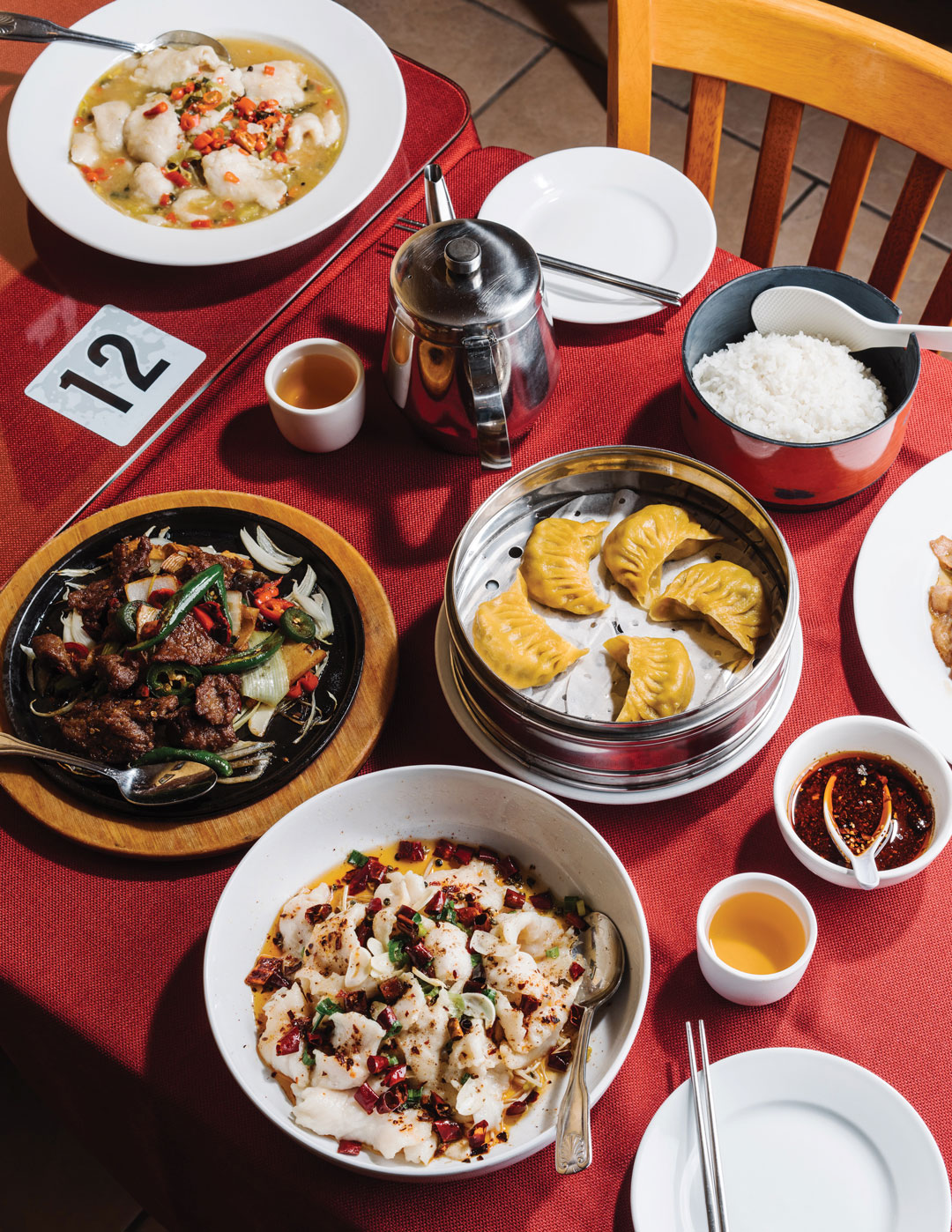 Photograph by Andrew Thomas Lee
3
3.

Masterpiece

The average human tongue has 10,000 tastebuds, and we have discovered a way to stimulate each and every one of them with just two bites of food. The first bite: Masterpiece's dry-fried eggplant (Eggplant with Chilli Powder and Pepper Ash Powder), which sits at the pinnacle of every iteration we've encountered of the beloved Sichuan dish. The exterior is crackly-crisp and salty, the interior creamy and sweet, the level of ma la (numbing spice) precisely calibrated with a liberal but not obnoxious dose of fragrant, crunchy Sichuan peppercorns. The second bite: Masterpiece's Dong Po Pork, a braised brick of pork belly lacquered in a mahogany-hued glaze that tastes as if it were a syrup extracted from a mythical tree. The first bite will blow your mind with its electric intensity. The second will transport you to another dimension of taste by simultaneously mellowing and somehow extending the pleasure of the first. Rui Liu, a certified master chef from northeastern China, came to America on an O-1 visa given only to "individuals with extraordinary achievement." Just wait til you bite into the other 125 dishes on his menu.
---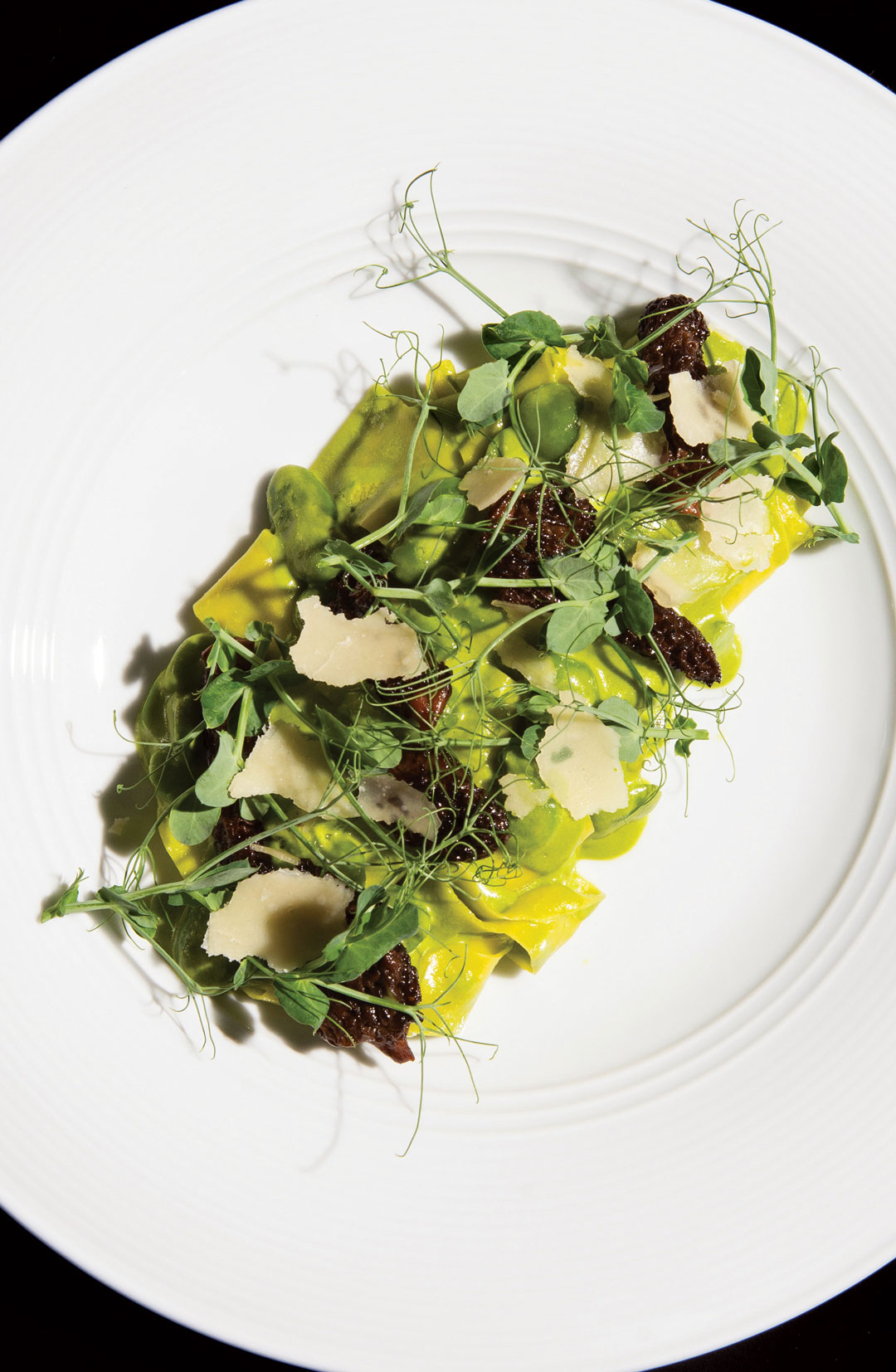 Photograph by Caroline C. Kilgore
4
4.

Spring

In 2016, a clever little restaurant sprang onto the scene and broke all the rules. It was situated practically on top of the railroad tracks in a remote corner of Marietta Square, a destination not exactly known for culinary risk-taking. The dining room, though upscale, was spare to the point of austerity (and not in an intentionally minimalist sort of way). If the space was unusually small, the menu was freakishly so: four starters, four mains. So, how is Spring not only open three years later but also one of our top 10 restaurants? The answer is as simple as the decor: chef Brian So's food. Pappardelle with green garlic cream, morels, fava beans, and Parmesan is a joyous celebration of the restaurant's namesake. You'll also find our favorite fish dish in town: pan-roasted halibut with squash, wax beans, asparagus, and beurre blanc. It might sound basic, but don't be fooled: Nothing about Spring is as basic as it seems.
---
Photograph by Andrew Thomas Lee
5
5.

Sushi Hayakawa

You don't have to spend $185 to eat at Sushi Hayakawa, but if you can, you should. Not only is that your entry fee to the restaurant's 14-course, two-and-a-half-hour honkaku (authentic) omakase (a Japanese feast in which the diner lets the chef steer); it also gets you front-and-center seats at Atsushi "Art" Hayakawa's sushi counter. Hayakawa is the most delightful character in Atlanta's food scene, a master of his craft who's as skilled at handling fish and rice as he is at charming his guests. During a recent visit, he greeted a diner and quickly recalled a litany of details about the man's life. "How long has it been since I've seen you?" Hayakawa asked. "Seven years," the man responded. If you can't swing the honkaku omakase, try to get a spot at the sushi bar, where you can choose from a $135 or $95 tasting menu. The former will get you premium nigiri (the fish is flown in from Japanese markets) that Hayakawa gently brushes with his housemade soy sauce—and, if you're lucky, his signature dish of monkfish liver and scallops.
---
Photograph by Caroline C. Kilgore
6
6.

Bacchanalia

The three chapters of Bacchanalia say as much about the changing nature of fine dining as they do about the changing nature of Atlanta. In chapter one, Bacchanalia resided in posh digs in Buckhead, then the epicenter of the city's food scene. Even before the brigade of Atlanta's high-end restaurants (and high-end everything) began its trek toward less-exclusive zip codes, Bacchanalia entered its second chapter, boldly moving in 1999 to a repurposed warehouse in a then sleepy part of town: the Westside. It was a smart move—the area subsequently exploded in growth. In 2017, Bacchanalia began its third chapter, ditching its rarefied home for a more relaxed space even farther west. Chef Anne Quatrano and her husband, Cliff Harrison, haven't merely stayed ahead of the curve—they've drawn the curve. And though Bacchanalia's elegantly simple food—crafted with impeccably sourced ingredients (many of them from Quatrano's own farm)—hasn't changed much in 26 years, it's no less influential. There's a reason why chefs at the top two restaurants on this list worked in Quatrano's kitchen. Bacchanalia has defined the way we eat (and where).
---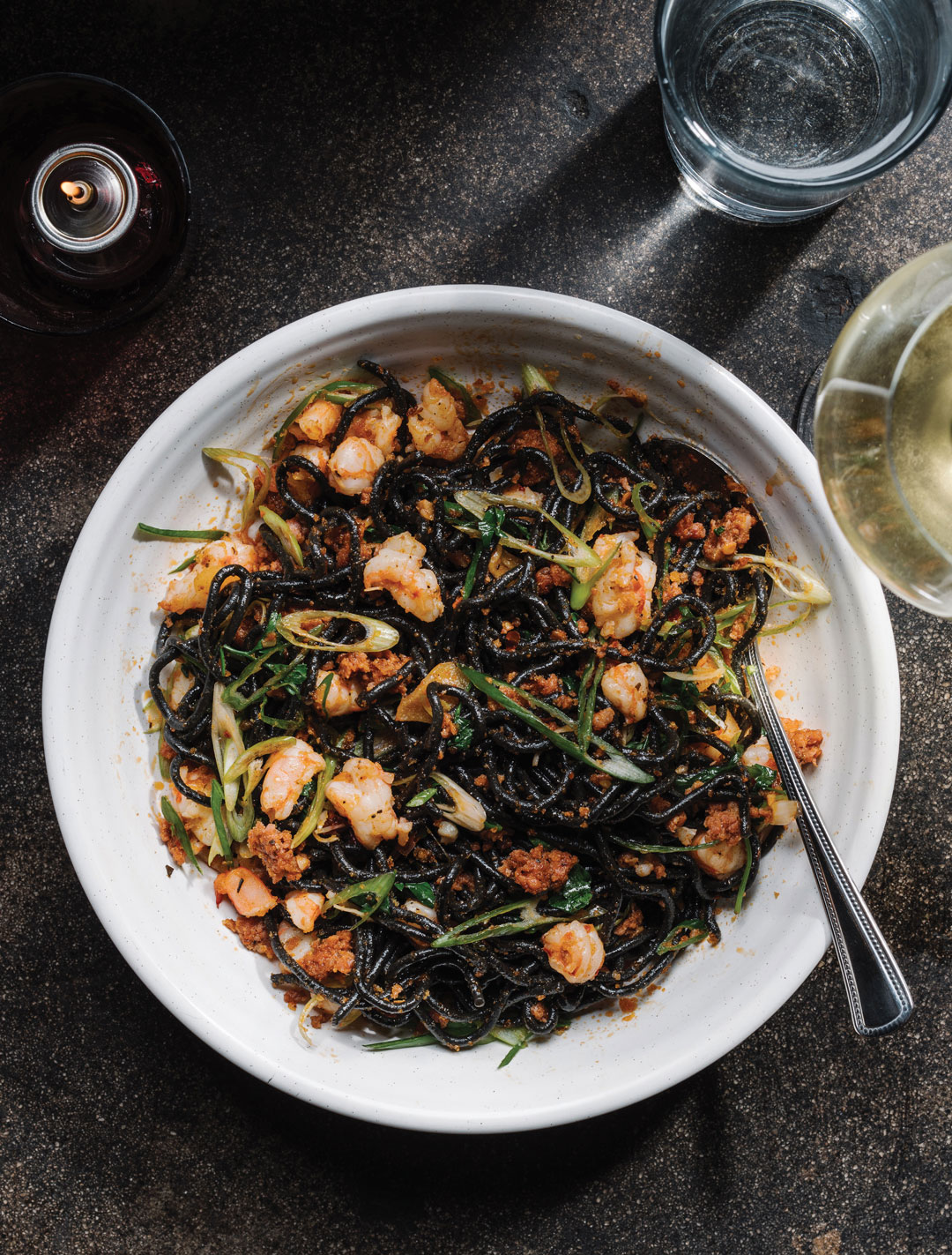 Photograph by Andrew Thomas Lee
7
7.

Boccalupo

Bruce Logue is a new breed of pasta royalty. Instead of confining himself to narrow traditions, he creates cult favorites: black spaghetti with red shrimp, hot Calabrian sausage, and scallions; 20-yolk tagliatelle with mushrooms and kale kimchi; and pan-fried white lasagna with creme fraiche and jalapeño pesto. BoccaLupo's appetizers are creative and smart (think octopus and mortadella spiedino or wild calamari in brodetto), its scene intimate yet lively (tucked away in a calm corner of an otherwise oversaturated Inman Park), and its beverage program as accomplished as everything Logue sets his mind to. Head for the covered patio or the minuscule bar, both among the best spots in the city for conversation.
---
Photograph by Andrew Thomas Lee
8
8.

B's Cracklin' BBQ

Every cloud has a silver lining, even the cloud of smoke that began billowing from the roof of B's Cracklin' on the morning of March 6, 2019, when a fire consumed Atlanta's best barbecue restaurant. For better or worse, smoke and fire are integral to pitmaster/proprietor Bryan Furman's success story. His first location in Savannah also burned down in 2015, and the amount of support he received back then allowed him to reopen in four months. Of course, both smoke and fire are critical to preparing his masterful, pecan wood–smoked ribs (cut from heritage-breed hogs raised in Georgia and South Carolina) and brisket. That barbecue is so persuasive that one bank offered to help fund the resurrection of the Atlanta B's as soon as possible, the Atlanta Hawks volunteered to temporarily hire Furman's staff members until he rebuilds, and a Riverside resident raised nearly $19,000 for B's through a GoFundMe campaign. Furman and his wife/co-owner, Nikki, say B's will reopen in a new, larger Riverside location. (Update: In October 2019, the Furmans opened a B's Cracklin' outpost in the new, BeltLine-adjacent Kroger in Old Fourth Ward; a larger, stand-alone B's is still in the works.) Furman certainly isn't letting the setbacks sour his mood—he's still got plenty to be thankful for, including recent acknowledgments from the James Beard Foundation and Food & Wine, a personal visit from Martha Stewart weeks before the blaze, and other developments he says will make 2020 "a big year for us."
---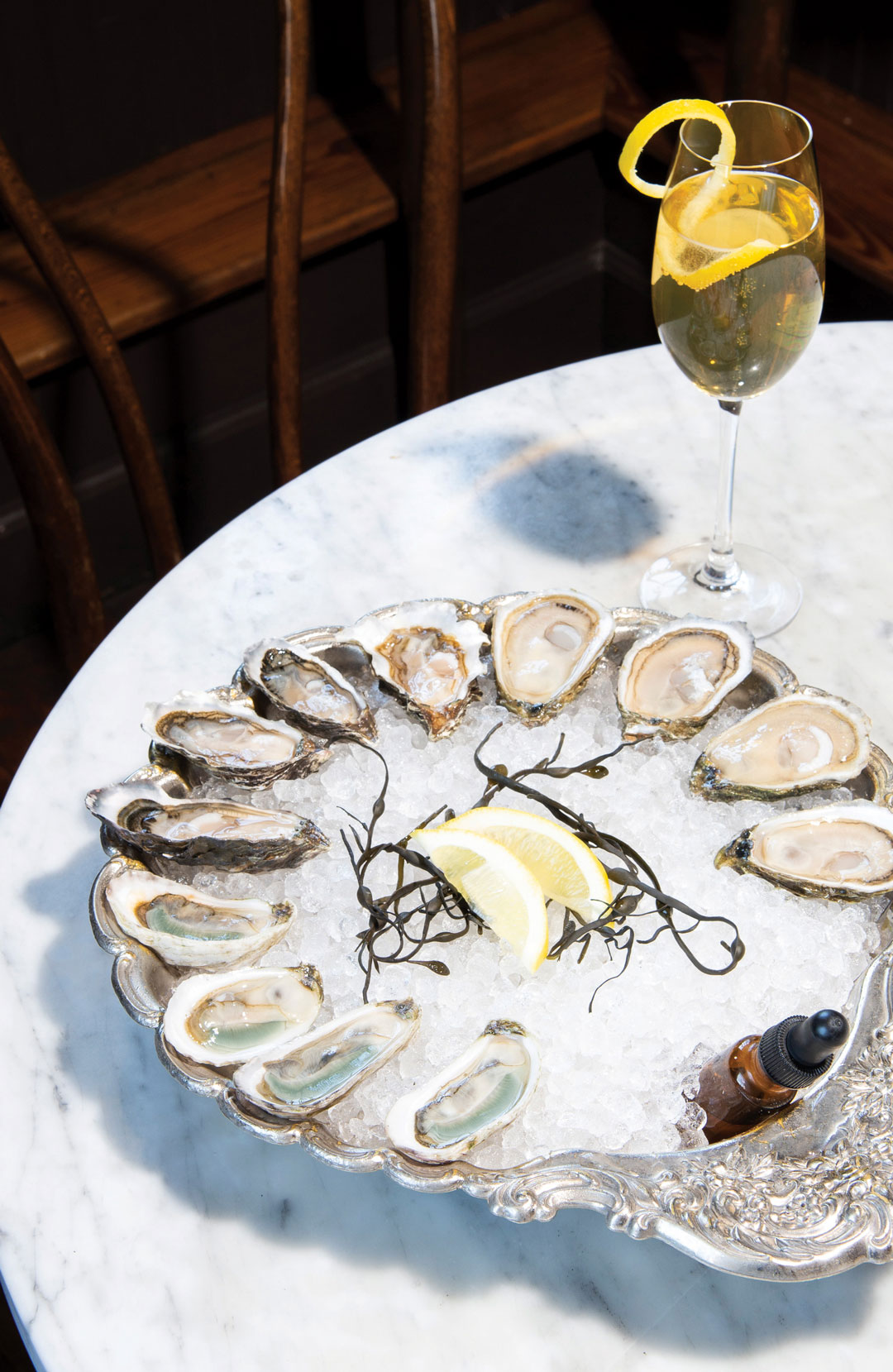 Photograph by Caroline C. Kilgore
9
9.

Kimball House

Yes, the oyster program is the best around, down to co-owner and bivalve evangelist Bryan Rackley's impressively specific tasting notes ("green beans & cantaloupe . . . for real"). And Miles Macquarrie's cocktails absolutely deserve that outpouring of national praise. But there's more to Kimball House than Kumamotos and Sazeracs. The composed dishes at this dapper former train depot are playfully conceived and seriously delicious—and don't receive enough of the spotlight. Executive chef Brian Wolfe's decadent spin on cheesesteak includes Brie, bordelaise, and foie gras. The vegetable sides—such as a $10 stir fry of mushroom, turnip, broccoli, radish, and greens, glammed up with ají amarillo butter—get as much respect from the kitchen as the $110 steak dinner. From grouper collar to bar steak, lemon-pepper chicken skins to caviar and Carolina Gold rice middlins, there's nothing Kimball House can't do.
---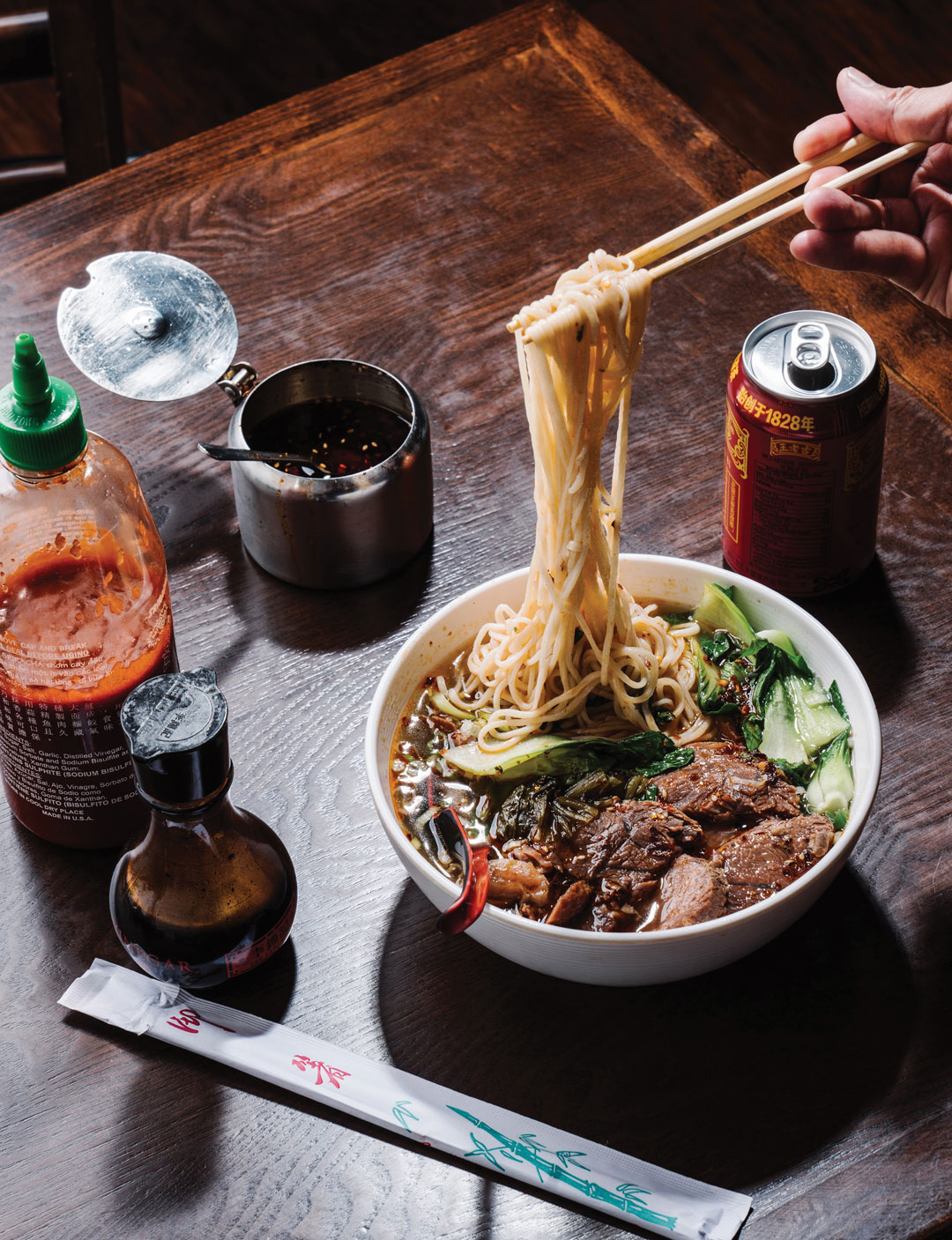 Photograph by Andrew Thomas Lee
10
10.

LanZhou Ramen

The city of Lanzhou is the noodle capital of China, and Buford Highway strip-mall joint LanZhou Ramen is the noodle capital of metro Atlanta. It's not in every city that you can find Lanzhou-style, hand-pulled noodles, which are nothing short of an art form. You can (and should) observe their creation by gazing into LanZhou's kitchen through a picture window that dramatically frames the hypnotic act of rolling, stretching, and spinning the cascading tendrils of springy dough. The resulting noodles—or, if you prefer, the thicker, knife-cut ones—show up in bowls of fragrant beef broth brimming with wilted greens and tender meat, or stir-fried with your choice of three spice options: regular, spicy, or laced with cumin seeds. These noodles are so long that your server will arm you with a pair of scissors. Of course, you might rather just slurp them until the end of time.
---