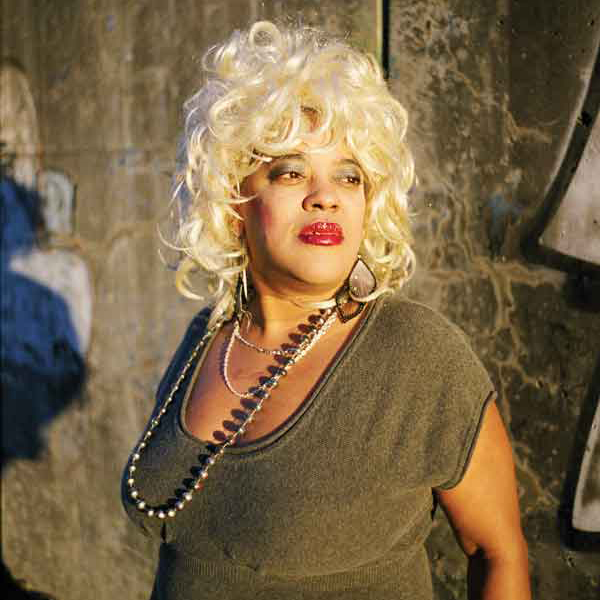 The aluminum cans do not stand a chance.
In a move that combines burlesque with recycling, Blondie Strange crushes Budweiser empties flatter than platters between her breasts without flinching, dismounts the stage, and pulls a Sharpie from behind the bar to autograph them for the hooting frat boys, intown scenesters, and gamy night crawlers who are waving dollar bills. Most of the unconventional sirens of the Clermont Lounge strut some trademark gimmick, tic, distinguishing tattoo, or cesarean scar, but Blondie's trick—a gesture of unbowed, Hellzapoppin'-style showmanship that yields a lasting and curious souvenir for fans—has established her as the most famous stripper in a city renowned for its adult entertainment.
"I only work with Budweiser and PBR cans," she says, referring to the brands of choice in this sticky, threadbare Ponce de Leon landmark that adamantly refuses to pour microbrew drafts into frosted mugs.
Over the years, Blondie has had to develop a thick skin. A visually arresting black woman who is part Cherokee, French, and German, she stands around five foot four or taller, depending on the strappy stilettos, and weighs about 145 pounds, with a bust of pendulous boulders that she wields like stage props, party favors, and, in more assertive moods, Shiva-like weapons of mass destruction. A youthful, "black-don't-crack" fifty-four, she is not as seasoned as her Methuselah-like myth suggests, nor is she the eldest ecdysiast in the Clermont lineup—Porsha in the Little Bo Peep getup is in her mid-sixties. However, Blondie has been stripping for thirty-five years, longer than most of her lissome industry peers have been alive. She writes poems, dispenses den mother advice in a husky voice, and, in public, always wears a wig. The platinum shade started as a concession to mainstream ideals of beauty and has evolved into an impudent twist on minstrelsy. "It's always helped me stand out from the crowd," she says, patting the feathered bangs.
And she did, back when she was the "only colored girl dancing for a bunch of rednecks and bikers," helping to integrate a forest's worth of poles as a XXX-rated civil rights pioneer. She still does, in fact. In Atlanta's multitude of exotic dancers, Blondie Strange is the most exotic of them all. A documentary titled AKA Blondie, which filmmakers Jon and Brantly Watts hope to premiere at the Atlanta Film Festival in 2012, is expected to burnish her brassy-gilt legend and, she hopes, enable her to retire, or at least command a better pay grade among the ranks of bohemian sex workers—more like Annie Sprinkle or Dolores French.
She was born Anita Rae Strange in Dayton, Ohio. "Yes, that's my real name: Strange!" she says, bugging her eyes. "Kids made fun of that, but I grew into it." Most of her upbringing, though, took place in Bicknell, Indiana, where Blondie developed a taste for corn-fed boys and farmers' daughters. (Her mom was single and eventually became an evangelist.) Her orientation could be described as emphatically pansexual but finicky. "I've always been attracted to spirit, not parts, and bisexual wasn't cool back then," she says. "I like strength, intelligence, and a full figure in women, and I like sensitivity in men. I'm up for both, including gay guys. There aren't many men I can't get into bed, even the gay ones."
She excelled in English and studied tap, ballet, and jazz. "I never wanted marriage, kids, all that—I wanted a different kind of life," she says. "I didn't wear many clothes in my regular dance classes anyway, and I wasn't shy about my body. Why would I be? I looked great: perky tits, tiny waist, nice legs, but not much ass to jiggle for a black girl. Well, I'm mixed, anyway—light-skinned. Stripping seemed like an easy way to make more money than waiting tables."
At nineteen she took her first dancing job at the Vixen in Evansville, Indiana, and soon lit out for sunnier weather, including brief stints in Nashville and Chattanooga. "Those were not places that wanted blacks," she says, casting her eyes uncharacteristically downward in a way that hints at old hurts.
In Atlanta she bounced around a few clubs before mincing, in 1978, into the Clermont, which had been a fleshpot since the Al Capone era but opened in its current incarnation in 1965. "I was afraid white people wouldn't like me. I'd started bleaching my hair when I was nineteen," she says. "I just love Marilyn Monroe, especially in Gentlemen Prefer Blondes." With great propriety, she ordered orange juice with grenadine. "It was a different time—women weren't supposed to walk with cigarettes," she says of the meeting. "Something told me not to order an alcoholic drink that day, and I think that impressed them." She showed them how she could move, how she offered novelty in a place that valued attitude.
"Blondie's star began rising in a new direction during the late eighties and early nineties, when the Clermont started booking live music acts," says journalist Doug DeLoach, a commentator in AKA Blondie. "Acts like the Opal Foxx Quartet with Benjamin Smoke, and Rock-A-Teens, Southern Culture on the Skids, poet Deacon Lunchbox, and DJ Romeo Cologne made the Clermont into a de facto Hipster Central for urban kids and college students, as well as young people from outside the Perimeter. Blondie was exposed to an entirely new audience. Bands would invite Blondie up to read a poem between songs, and she sometimes served as informal emcee. She'd already been writing poetry; suddenly she had this milieu and support network that gave her the confidence to present her work to the poetry crowd in other venues."
Blondie began reading Charles Bukowski and Allen Ginsberg while developing her own voice as a tangy demimondaine, penning verse about her brother—who died of AIDS—and poems with titles such as "Ma Massuh an' Me" and "The Tears Behind the Laughter." She considers "Tears" one of her best works and notes that it is "registered in the Library of Congress." She inspired a comic strip and T-shirts, and she penned an advice column for some local indie zines—an irresistible mix of salt-of-the-earth homilies and "BJ pointers." Blondie was featured in Marilyn Suriani's lovely book Dancing Naked in the Material World, and she appeared on The Sally Jessy Raphael Show in 1992, where her poem "The Late Night Review" choked up the audience.
The Clermont has become a tourist stop for a certain phylum of celebrity. Blondie says she has performed for Kid Rock, Marilyn Manson, Margaret Cho, Anthony Bourdain, and numerous professional wrestlers. "When Jon Stewart showed up, I just beat the hell out of him with my titties, and he just loved it," she says. DeLoach recalls accompanying the pneumatic Tura Satana of Russ Meyer's Faster, Pussycat! Kill! Kill! to the Clermont. "As soon as she and Blondie saw each other, it was this surreal meeting of like-minded artists, of kindred spirits."
One of many literary legends about Blondie is that she inspired William S. Burroughs to scribble an impromptu beatnik poem on a cocktail napkin. She does not recall such a tribute but does not rule it out. "I am a superstar," she says, "blessed by God and grateful."
Not long before Southern gothic author Larry Brown died, I hauled him from the Margaret Mitchell House down Ponce de Leon and introduced him to Blondie as a "famous writer." She sniffed and said, "Well, I've actually been published." She disappeared into the cramped dressing room and emerged with some poems, handwritten on notebook paper, and presented them to him with the words: "Call me if you need any writing advice." Brown, tongue lolling, toasted her with his shot glass and, turning to me, said, "Dayum! I guarantee that lady will be in my next novel."
She resides at the Stratford Arms and, like so many dancers, unwinds in the gay bars—Blake's, Friends, and the Model T—where she synergizes with the campy, over-the-top hauteur of drag queens while flaunting her "real womanliness." She has marched in Atlanta's Gay Pride parade. "Hate is not a Christian value," she says.
With all of these credentials tucked into her G-string, Blondie straddles a peculiar nexus of Atlanta's hallmarks, its funkier civic identifiers that the straitlaced Bubba Babbitts would prefer to whitewash: integration and the generative creativity of miscegenation; the salty scut work of the sex industry; and unapologetic gay pride.
"She is so much a part of Atlanta, and Atlanta is indelibly part of her," says Jon Watts, her film biographer. "That's why I want this documentary's debut to be here, despite other offers we've had."
Blondie is ready for her close-up.
"What I want to say is, 'Listen, cracker, I am here!'"
Photograph by Tatum Shaw. This article originally appeared in our May 2011 issue.