He collected chicken figurines. He was a baby whisperer. He looked forward to riding in a 1963 Ford Falcon for the Inman Park Festival Parade. He, too, was giddy about seeing the solar eclipse of 2018. Our Congressman had an uncanny ability to make total strangers and coworkers feel at ease, whether he was lingering at a three-year-old's birthday party, signing books at the Barnes & Noble on Moreland Avenue, or shaking hands and giving hugs along the Pride Parade route.
Yes, John Lewis was an icon, but he was also one of us. In his more than three decades of representing Georgia's 5th District, it seems that almost every local has a story of crossing paths with the Congressman. For his 80th birthday in February and, again, as we celebrated his life in July, the magazine asked readers to share their memories of the late and beloved John Lewis.
Zöe Cato, 26, graphic designer
For many years, my mom drove John Lewis in the Inman Park Parade. It was her favorite day of the year. She told me so many times how he drew such a positive energy from the crowd, way more than anyone else. Everyone wanted to shake his hand and thank him, causing big gaps in the parade. Karen Heim, the director, kept having to "scold" him to stay in the car. My mom would always be like, Congressman, please get back in the car. She said people would hand him their babies like he was the Pope.
Mom had a really cool car. It was a '63 Ford Falcon. For the parade, you would just sign up with your car and then they would assign you someone on lineup day. One year, a couple of days before the parade, my mom saw John Lewis. She was getting her nails done at a salon, and he was getting a pedicure. She went up to him and shook his hand and was like, I'm driving in the parade. I would be honored if I could have you in my car. And he was like, Oh, that'd be great. But I already have a car that I'm supposed to be in. And then, when everyone was lining up, and the car that John Lewis was supposed to be in was not an American-made car, he was like, Oh, I'm sorry. I need to be in an American-made car. And my mom overheard that and just kind of ran over and was like, Hi, I have a Ford. She ended up driving him that year and just kept driving him ever since then.
Last year, I was planning on driving him with her, but my mom passed away two months before the parade. My brother and I took over to drive. She was right. The whole time, people were just screaming at us and shaking his hand and coming up and thanking him. I guess Karen—whom he always called the "Parade Lady"—had informed the Congressman about our mom's passing, because when he came to the car, he shook our hands and said, Sorry for your loss. It was always very nice riding with your mom.
Ricardo Horne, 32, college administrator
It was August 2018, and I knew that Zora Neale Hurston's book, Barracoon, had come out. I live in Old Fourth Ward, and I had to pass by the Edgewood Barnes & Noble to get home. As I walked over to where the book was, I noticed that there were about five people lined up and there was a guy wearing a suit, sort of looking like security. Everyone was facing toward this other man at the end of the table.
I asked a Barnes & Noble employee, Oh, who's here? Is someone signing the book? And he told me it was John Lewis. I don't know why he was signing the books or if it was an official event. I asked a stupid question—Do you think he would sign my book? And the guy was like, Yep, that's what he's been doing since he's been here. I rehearsed what I was going to say. But once it was my turn, I was just stuck. I stumbled through it and thanked him for all that he'd done. He was so gracious.
I had my phone out, so he was like, Did you want a picture? Just give it to my guy here. He's taking photos. And the guy that I thought was security apparently was doubling as a photographer. Rep. John Lewis shook my hand, and then the guy snapped a photo. And that was the end of the magic. I got in my car and immediately felt afraid that something was going to happen to the picture. So, I texted it to everyone I knew. Months later, when I voted for him in the midterms, I kept the sticker and placed it below his signature. It's just that Georgia peach sticker, but, to me, it meant something.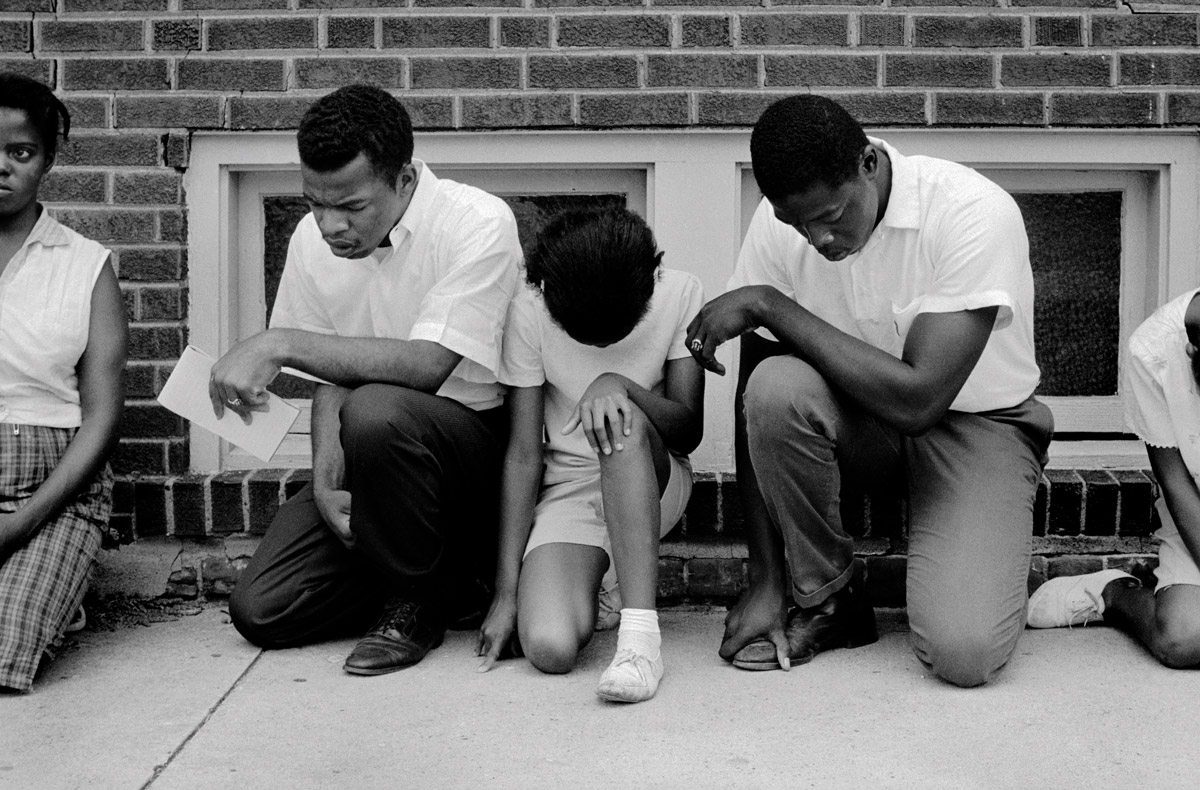 Amanda Civins, 39, attorney
It was June 2008, and the Young Dems of Atlanta were having a Get Out the Vote kickoff event. I think that if you donated money to the Young Dems, you got to go to see the civil rights exhibit Road to Freedom at the High Museum for free.
It wasn't advertised that John Lewis was going to be there. I'm not sure if it was planned or if it was just an impromptu visit. We were in the exhibit hall walking around, and it got really quiet. He walked in with some of his staff and someone had a video camera and was recording him.
The photography exhibit included images of the Freedom Riders and the sit-ins at the lunch counters. He was walking around with some of his staff and this video crew, and he was explaining what each photo was and his involvement in the photos. Slowly, everyone who was in the exhibit hall just gathered around him and followed him from photo to photo. It was totally silent. We were just mesmerized. Only he could tell the story as someone who was actually there. At the end, the exhibit hall just erupted into applause.
Heather Luyk, 31, nonprofit professional
I was at an eclipse-viewing event organized by Central Atlanta Progress. It was a hot day, and there were crowds of people in Woodruff Park. Congressman Lewis was just casually walking around in a suit with a nametag.
He wasn't wearing protective glasses when I saw him, but he had some with him. I asked to take a picture. I went to take it, and then I turned and said, Actually, can you put those glasses on? It felt funny to ask him to do that. He just kind of chuckled and said, Of course. And so we both put them on. A lot of people have photos with John Lewis, but, you know, not many people have photos with him during a solar eclipse wearing glasses. So, I feel pretty lucky. He is an icon and a civil rights hero with so many accomplishments, and yet he was still down to have fun and take a silly picture!
Manuel Portillo, 23, recent college grad
I had just turned 18 and was a senior at North Atlanta High School working for VOX ATL. I had no idea who Mr. Lewis was at the time. I was chosen with a couple of other students in the district to accompany him for a tour on the 50th anniversary of Bloody Sunday. We toured throughout Alabama with the rest of the delegation.
I was brought to tears on the steps of the Alabama State Capitol when Peggy Wallace Kennedy, daughter of former Alabama governor George Wallace, asked Mr. Lewis for redemption for her father's racist remarks: "segregation now, segregation tomorrow, segregation forever."
I ended up interning for him in Atlanta, and he'd always keep his door wide open. From down the hallway, you could see how many awards and trophies he had. He had them lined up on the windowsill. He had a cabinet full of them. He was overrun by them. They were on the floor. They even spewed out into the hallway outside of his door. There was just so much. It overran his office. Souvenirs overran his home, too, because Mr. Lewis also collects chicken figurines. He loves antiquing.
Of course, he wasn't able to be there all the time, and constituents would come in to talk to one of the staffers about a need or desire. But if he was in office, most of the staff knew that, basically, they didn't have to talk to any constituents because he wanted to talk to them. If there was a constituent that had something planned with his staff, Mr. Lewis would step in. He was like, I'll talk to them directly. He loved talking to constituents. He almost always wanted somebody to run against him for reelection, just so he could go out and canvass. He was about the action.
Maurice Baker, 50, communications executive
I've met John Lewis many times over the past 25 years and collaborated on workforce initiatives with his office through my role at Georgia Natural Gas. But my favorite story is that, one day, I was driving along Fifth Street by Georgia Tech and saw him walking by. I rolled down my window and yelled, We love you, John Lewis! Without missing a beat, he put his arm up and replied in his deep voice, John Lewis loves you! That made my day. I've lived in other states and districts, where you'd never meet your Representative. But here he is, a national figure, and everybody feels like they know him.
Michael German, 69, former GA HUD director
We knew each other over the years because he is from Troy, Alabama, and I'm from Montgomery. I got to know him when he was with the Voter Education Project. In the early '80s, I was in Atlanta working with FEMA. They offered me the job as the division director in Seattle, and I said yes. I came home and told my wife, We're moving to Seattle!
[About that time,] I had to be at City Hall for some reason. I probably went to pay something, and I ran into John. I was really ecstatic, I said, We're moving to Seattle! And he said, I wouldn't do that if I was you . . . I'm going to run for Congress. I listened to the way he said it to me, and I went home and told my wife, I'm not going to take the job because John's going to run for Congress. He won and I became his district manager.
Our relationship was always personal. John came to my house for my daughter's third birthday party. We're talking about babies, a lot of folks, and John was there in the middle of it all. He stayed till the end, he had fun, he partied. And when I say "party," he wasn't drinking or anything—he doesn't drink—but he stayed there till the end, just one of the folks. And wherever he was, he could make himself feel at home. You felt like he was at home.
Dustin Baker, 33, IT professional
In 2016, I was a delegate for Georgia at the DNC. We had a breakfast with all the Georgia delegates, and Lewis was there with some of the other people that had worked on the March comic books [an autobiographical graphic novel trilogy, which Lewis created with writer Andrew Aydin and artist Nate Powell]. Afterward, he had his comic books out, and you could buy a set and stand in line and he would sign them. I told him that looking back on my experiences, growing up gay in Northeast Georgia, and hearing about the way that he had been treated growing up, I felt very inspired. Things were changing in my hometown of Blairsville. I told him it was really hard growing up and people weren't always nice. They would call you names, they would bully you. But looking back on the experiences that Congressman Lewis had growing up fighting for civil rights was very inspiring to me. He got up and came around the table, and he hugged me, told me he was sorry that happened. He called me "young brother," which really just hit a nerve with me, because you think back to the '60s and that's what the civil rights leaders would have called each other. And it just made me feel like we were all part of a common struggle fighting for equality—whether it's racial equality or LGBT equality or immigration rights. It touched me.
If you go back to the Defense of Marriage Act, I knew he was an ally. It was never a question. If you go back to DOMA in '96 and you listen to his House floor speech, he went way far out for the LGBT community at a time when it was not even popular in Democratic circles. I really want to make sure that he gets remembered for his contributions, from sticking his neck out in '96 to coming out in the baking sun of Atlanta well into his '70s, running up and down the Pride Parade hugging people. I just want to make sure people don't forget that.
Amy Dodgen, 44, pilot
It was October 2018, and there was going to be a rally for Stacey Abrams at Ebrik Coffee Room in Decatur, and John Lewis was going to be speaking. I really wanted my three daughters (then ages five, seven, and five months) to hear him speak.
It was crowded, and my baby started crying really hard, so we had to take her out. As we were leaving through the rear exit, he was just coming in. He didn't really have a big entourage. I knew he was on his way to do something important, but we stopped and introduced ourselves. He took the time to talk to us, talk to my daughters.
He held my baby to take a picture. He was concerned. He wanted to hold the baby right. He's like, We can't drop the baby! She didn't cry when he was holding her. He had a great way with her. I remember he was immaculately turned out and had a really nice suit on, and I was thinking, Oh, I hope the baby doesn't mess up his suit. But she didn't—thank goodness. He didn't know who we were, and he just had all the time in the world for us.
Interviews have been edited for length and clarity.
This article appears in our September 2020 issue.