For over 50 years, Construction Resources and our family of businesses have been Atlanta and the Southeast's leading distributor of luxury design-oriented building products, selling the most frequently upgraded products in the most well-invested areas of the home. CR provides builders, designers, remodelers, general contractors, property managers and homeowners with all major specialty building and design products, along with best-in-class installation and aftermarket services.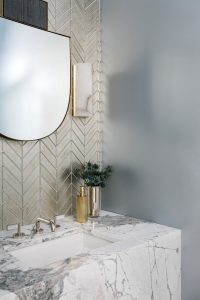 At Construction Resources, we understand that a home renovation is more than just a project; it's a transformation of your living space that reflects your personal style, enhances functionality, and increases the overall value of your home. That's why we're committed to providing our customers with a one-stop solution for all their home renovation needs. Our Design Centers and Showrooms are elegantly designed to spark your imagination, showcasing a stunning array of products from more than 60 renowned brands spread over 10 diverse product categories including, countertops, appliances, tile, flooring, glass and mirror and more. By carefully curating the best materials and cutting-edge technology, we ensure that our customers have access to an exceptional range of options to suit their unique design tastes and requirements. Let our team of experienced design consultants, project managers and craftsmen work closely with you through every step of the process. We will help you conceptualize, design, and execute a renovation project that is tailored to your specific needs and vision. 
At Construction Resources, we understand the importance of a well-executed consultation process to ensure the success of your project. Our comprehensive approach begins with providing you with an in-depth education, reviewing all available options to help you make informed decisions for your specific needs. The consultation process then dives deeper into the selection of products, including a thorough examination of material specifications to guarantee the best fit for your project's requirements. 
Our attention to detail doesn't stop there, to ensure a smooth and accurate process, our team also coordinates all necessary measurements and provides precise quoting for your peace of mind. Your project's timeline is important to us, which is why we prioritize scheduling and make certain that installation and delivery align with your expectations. With Construction Resources by your side, we work together to bring your plans into sharp focus, guiding you through every step of the process with expert advice, unmatched quality, and a commitment to a seamless experience. 
Construction Resources has been awarded several industry awards such as Best All Encompassing Design Destination, Best Countertop Store, Best Flooring Showroom, Best Luxury Appliance Showroom, Best of Design Awards, National Association of Remodeler's 'Supplier of the Year' and the Greater Atlanta Home Builders Association's Associate Member of the Year.  
Construction Resources is also proud of our long-standing commitment to social responsibility and community involvement. As a family of businesses, we are committed to using our experience and skills to make a genuine impact in our local communities. For the past 5 years, Construction Resources has been a proud sponsor of Sunshine On A Ranney Day (SOARD). SOARD is a non-profit organization that reimagines and builds custom rooms for children with special needs. Through the help of partnerships and donors, Sunshine On A Ranney Day is able to provide families in need with no-cost wheelchair-accessible bathrooms, dream bedrooms and in-home therapy rooms that will forever change the lives of these children and their families. This organization's contribution to the Atlanta community has made a huge impact on children's lives and has changed the way we look at home renovation projects. Construction Resources has partnered with Sunshine On A Ranney Day to provide countertop fabrication and installation labor for these renovations. We are extremely grateful for the opportunity to give back to our community with this incredible organization and their inspiring mission. 
Don't let your dream renovation project remain a dream any longer. Choose Construction Resources, and witness stunning transformation coupled with dedicated customer service. Book an appointment today and let our experienced professionals guide you through every step of your home renovation journey – transforming your living space into the sanctuary you've always envisioned. Construction Resources' robust offering, exceptional service and years of trusted experience and expertise in the business make us the trusted design partner in the Southeast for your specialty building product and material needs.  
Appliances | Countertops | Fireplaces | Garage Doors | Lighting | Shower Doors & Mirrors | Tile & Flooring | Sinks & Faucets | Outdoor Living 
Construction Resources – Design Center (Countertops, Shower Doors & Mirrors, Tile & Flooring)
224 Rio Circle, Decatur, GA 30030 
Construction Resources Lighting (Fireplaces, Garage Doors, Lighting)
252 Rio Circle, Decatur, GA 30030 
Sewell Appliance – Appliances, Outdoor Living 
7455 Trowbridge Road, Sandy Springs, GA 30328 
CR Flooring – Tile & Flooring 
4969 Roswell Road #130
Sandy Springs, GA 30342 
CR Design Studio – Coming Soon
3089 Roswell Road, Atlanta, GA 30305 
404.378.3132 
ConstructionResourcesUSA.com