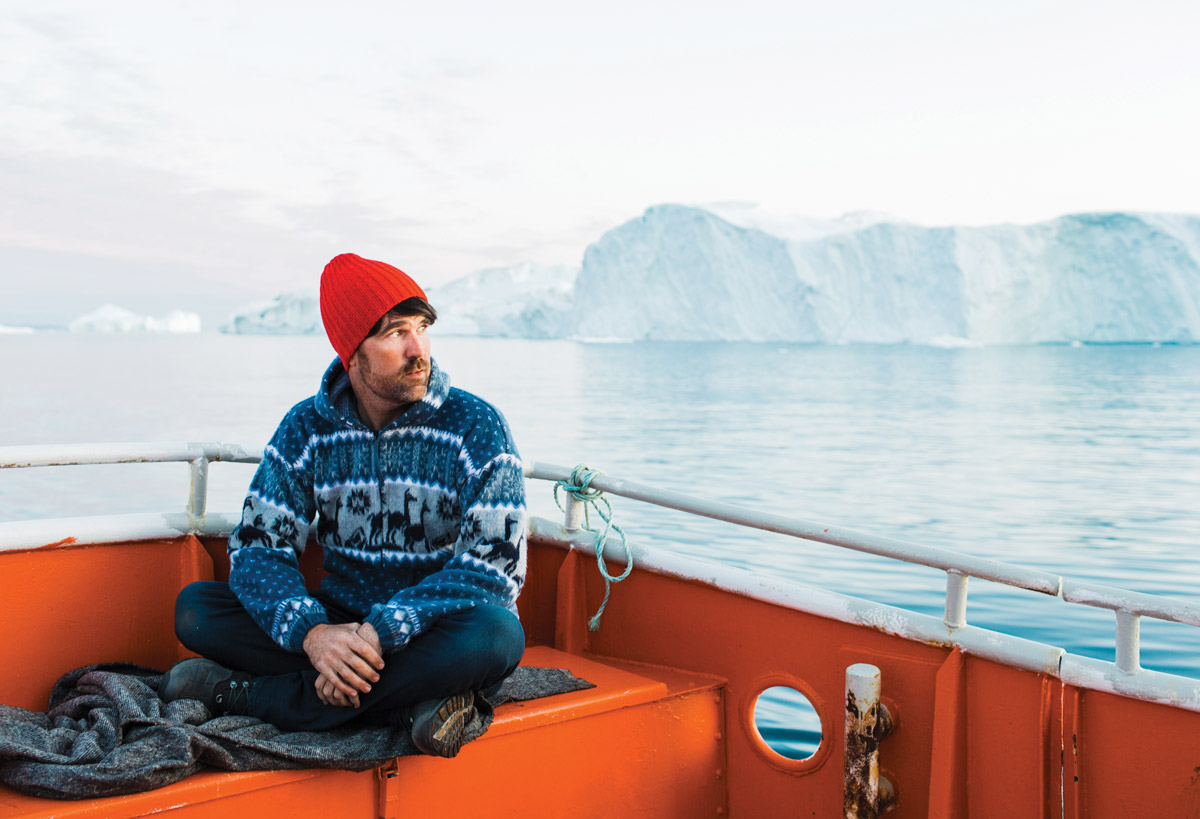 It may come as a surprise to viewers of his HGTV shows or his 130,000 Instagram fans, but exuberant designer Brian Patrick Flynn is truly a homebody. The midcentury house in Atlanta he shares with his husband, Hollis Smith (a costumer with Marvel Studios), may be magazine-chic, but its primary function is as a place to relax. "We both are super busy," says Brian, who typically travels as much as seven months out of the year. But this year, of course, has been different. "I have projects I'd be working on in Texas, Pennsylvania, and Arkansas. Those will all push back most likely until fall, and when that time comes, I'll just play calendar Tetris and make it all work." Until then, find them cozied up in their favorite place.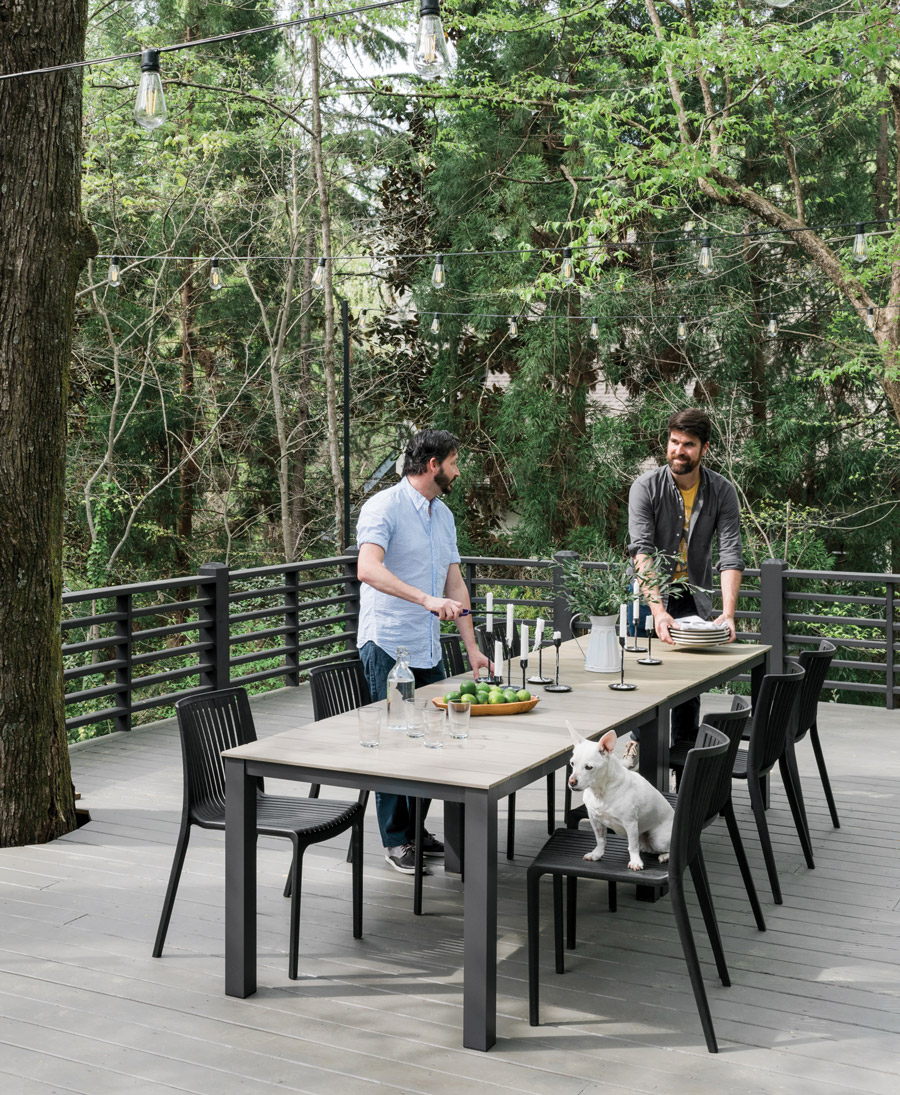 This '60s house in a woodsy setting joins a recognizable list of Flynn-Smith homes, starting in 2004 with a Castleberry Hill loft, then an East Lake midcentury—featured in this magazine—and their vacation homes: a mountain house in Ellijay, Georgia (shown in Magnolia Journal and Country Living) and an attic apartment in the improbable location of Reykjavik, Iceland, which was on the cover of House Beautiful. (Google their wedding, a beyond dramatic affair in Antarctica on giant icebergs featured by People and Harper's Bazaar, as proof the pair doesn't do things halfway.)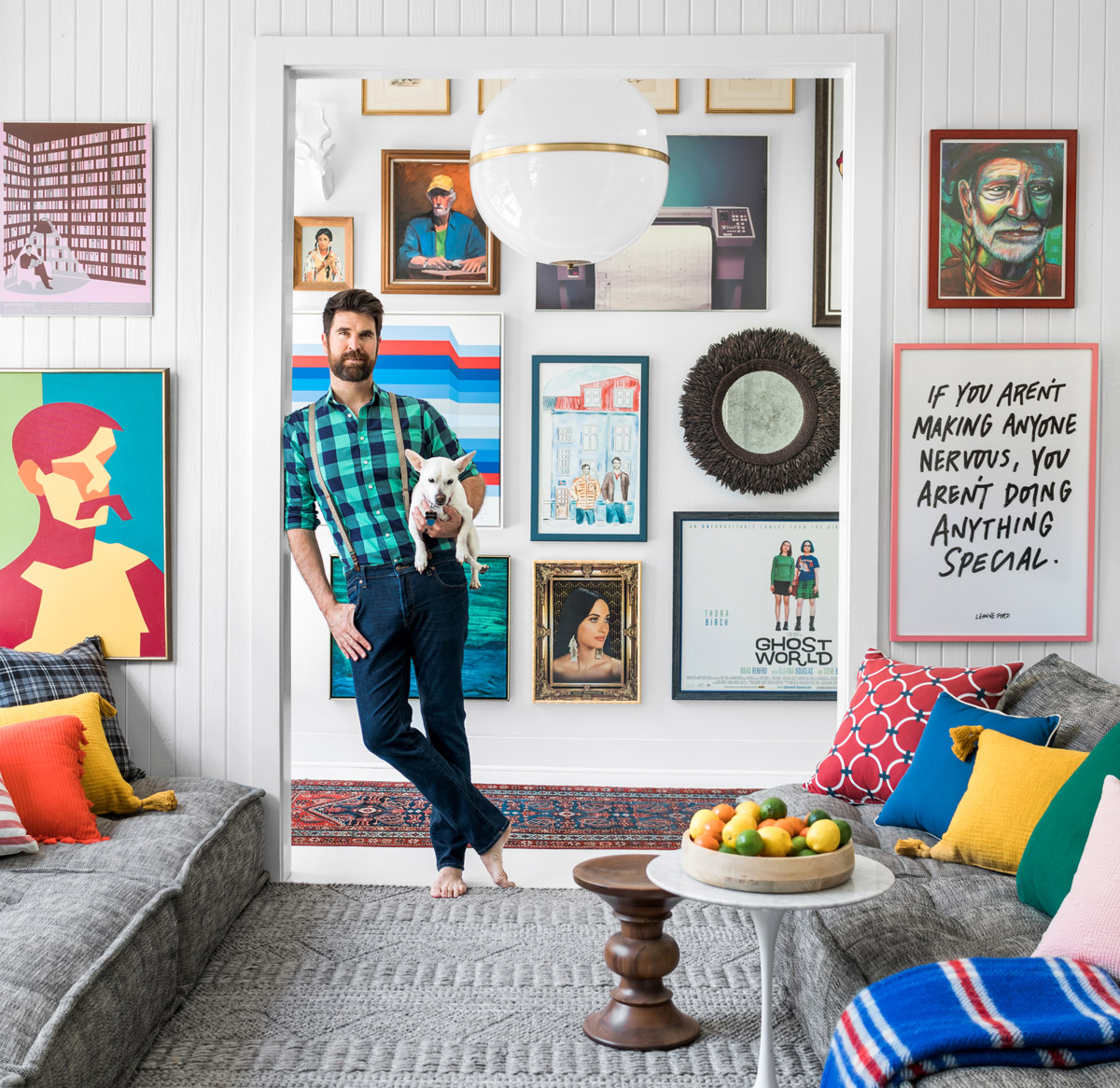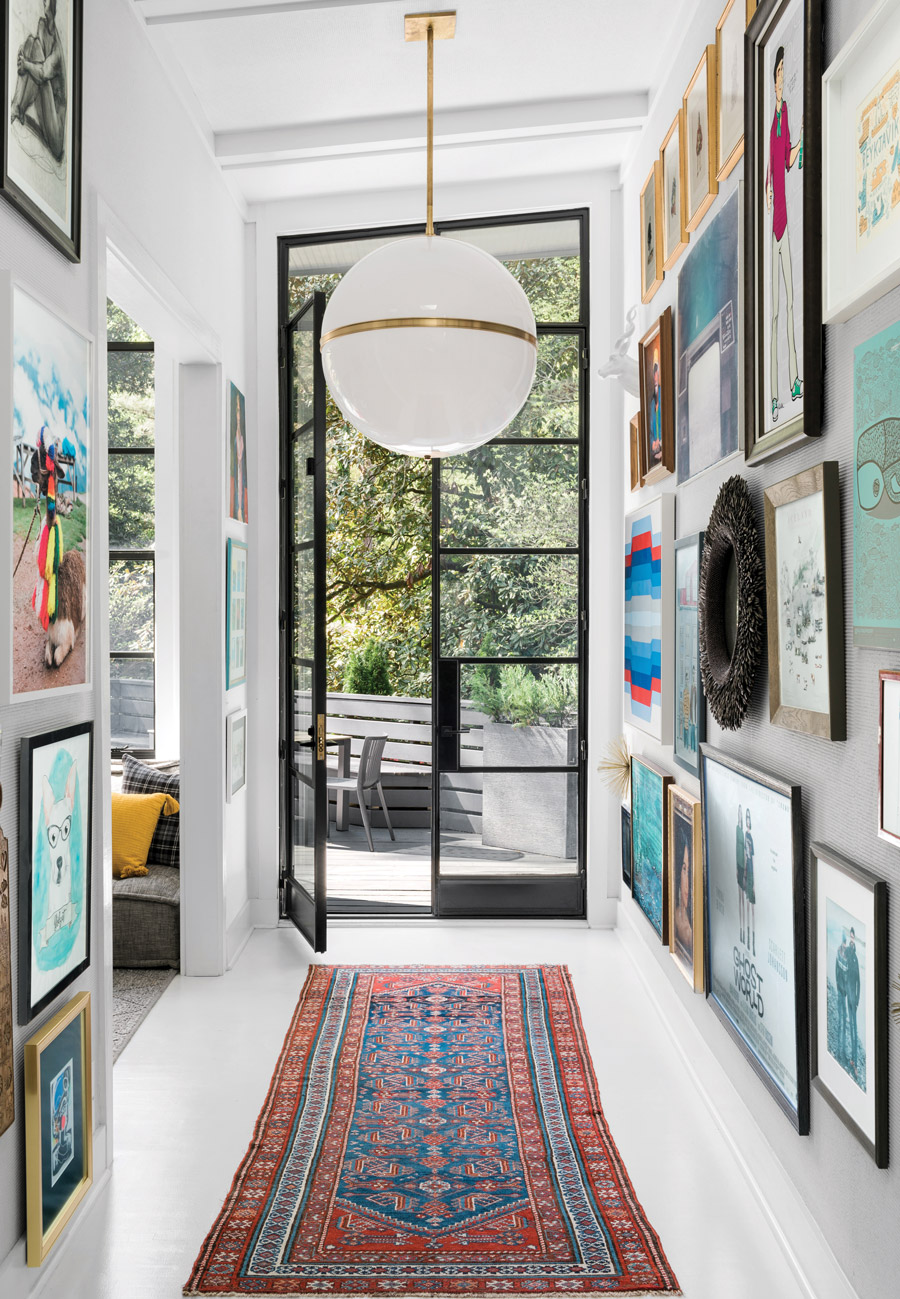 Brian is known for an eclectic dynamic. "I like to mix the midcentury look with other styles," the designer says. "In this case, the industrial-steel windows are a bit unexpected, and the white painted floors are a little more 'NYC loft.'" He decided to paint the exterior black. "It just looks more current, like the house belongs to someone who pushes the envelope," he says, and a lot of the rooms are cozy and dark, too. The glossy white floors and reflective white cabinets in the kitchen lighten things up.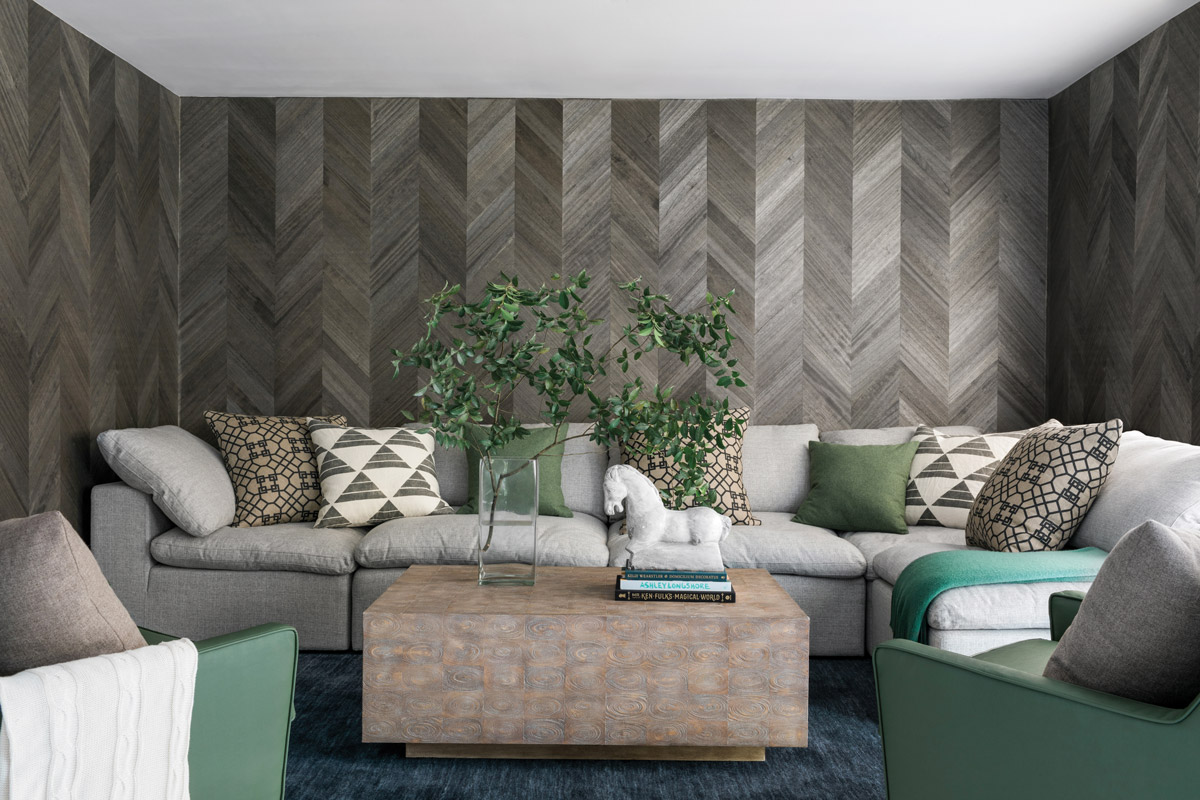 A love of contrasts and quirky combinations is most evident in the entryway, where the Florida-born designer channels his affinity for Scandinavian style with an oversized contemporary light fixture, all-white surfaces, and an entertaining mix of art collected by the couple over the years. "The gallery wall is such a conversation starter," he says. "It's super unpretentious because we've got found objects I picked up for free mixed in with remarkably pricey high art." Op Art by Gina Julian out of Nashville hangs near a lithograph of a 1970s printer used as set decoration on one of Hollis's TV shows. Pop culture is a recurring theme. 
Every home he and Hollis have created is different, and Brian doesn't hesitate to change things out, admitting that each design "mistake" ultimately sends him in the direction of his true style. There's a sense of permanence with this home that makes it more than a design lab, however. "We're gone a lot," he admits, "but as long as we're in Atlanta, this is our forever house."
RESOURCES | Interior designer: Brian Patrick Flynn, flynnsideout.com. Contractor: Walter Hope, Architectural Wood (now retired). On the cover (photo 4 – gallery wall) Mustache man art, '70s analog printer art, and vintage portrait in yellow baseball cap: City Issue, cityissue.com. Custom Iceland watercolor: Blush & Honey Paper, blushandhoneypaper.com. Ebony coconut shell mirror: R.Hughes, ADAC, r-hughes.com. "Willie": Karen Musgraves, karenmusgraves.com. Kacey Musgraves poster: kaceymusgraves.com. Text art: Leanne Ford, leanneford.com. Plaid blanket: Geysir, Reykjavik, geysir.com. Globe chandelier: Truax, Brian Patrick Flynn for Crystorama, crystorama.com. Rug: Joanna Gaines, Magnolia Home and Loloi, shop.magnolia.com. Runner: Moattar, ADAC, moattar.com. White floor paint: Sherwin-Williams "Extra White," sherwin-williams.com. Sofas: Classic Home, classichome.com. Metal windows and doors: Forge Fine Steel, forgefinesteel.com. Kitchen Cabinetry: Ikea, ikea.com. Countertops: Caesarstone, caesarstone.com. Lighting: Design Within Reach, dwr.com. Chairs: Room & Board, roomandboard.com. Table: Wayfair, wayfair.com. Dining room Table and chairs: Williams-Sonoma, williams-sonoma.com. Pendants: Brian Patrick Flynn for Crystorama. Wallpaper: Thibaut, thibautdesign.com. Photography artwork: Rustic White, rusticwhite.com. Family room Wall covering: Thibaut. Sectional: Stock & Trade Design Co., stockandtrade.com. Coffee table: Duralee, robertallendesign.com. Rug: Wayfair. Chairs: Norwalk Furniture, norwalkfurniture.com. Guest bedroom Wallpaper: Thibaut. Artwork: Blayne McCauley, blayneart.com. Bed: Room & Board. Lamps: Aerin, aerin.com. Guest bathroom Design: Design Galleria, designgalleria.net. Solid surface: Cambria, cambria.com. Sconces: Jonathan Adler, jonathanadler.com. Master bedroom Wallpaper: Thibaut. Bed: Room & Board. Bedside chests: Dwell Studio, dwellstudio.com. Lamps: City Issue.
This article appears in our Summer 2020 issue of Atlanta Magazine's HOME.