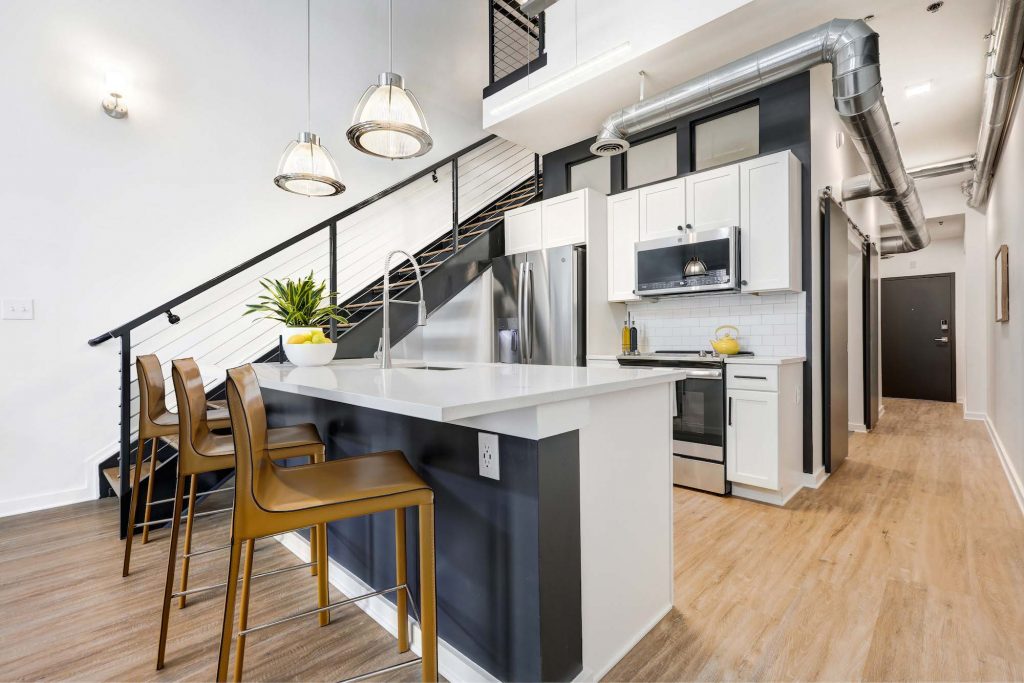 At the convergence of Midtown and West Midtown stands a condominium tower that boasts an enviable Atlantic Station address and unrivaled access to arguably the best entertainment in the city: District Lofts. The hive of 147 condos touts a reimagined interior, blending a contemporary design style with rugged industrial charm, offering residents an urban experience complete with modern conveniences. From residences equipped with the latest in tech to expansive yet cozy floor plans with dreamy views of the city, District Lofts delivers a lifestyle ripped from the pages of a magazine, and Atlanta is catching on to the advantage. The condos are now one of the most popular lofts on the market, with natives and relocators alike all clamoring for ownership, and with West Midtown experiencing a boom, here's why it's high time to invest in a piece of District Lofts.
Discover a coveted intown lifestyle
The 30363, otherwise known as Atlantic Station, is an oft-mentioned example of densifying Atlanta. The project is undergoing an extensive reinvention, adding unique eateries, entertainment, and retail to its long list of tenants, in addition to new office space. Atlantic Station will be the site of two highly anticipated workplaces: Atlantic Yards and T3 Foundry Park. The former is the area's answer to Ponce City Market, with green roofs and an industrial aesthetic, and the latter is a 224,000 square foot creative office space scheduled to open later this year. A revamped Atlantic Green is also set to arrive, where weekly community gatherings such as Yoga in the Park will find a home, and a recently announced dual-branded hotel is in the works. Adding to its appeal, residents of District Lofts can hitch a ride on the complimentary Atlantic Station shuttle headed to the nearby Arts Center station for a quick journey Downtown and beyond. A true live-work-play lifestyle is just steps away for District Lofts residents, who are located in this prime corridor of 24/7 activity.
High design at a price you'll love
Take a peek at the current Atlanta condo market, and you'd be hard pressed to find luxury and affordable in one listing, unless you're looking at a District Lofts residence. Although prices start in the high $300,000s, the building doesn't leave luxury at the door. Inside, residents are met with quartz countertops, industrial pendant lighting, and neutral-toned prefinished hard surface flooring. In keeping with traditional loft elements, exposed ductwork and wide-open living spaces complement high-design features like bright, sleek islands that set the stage for entertaining friends in the kitchen or uniquely crafted tubs in the bathroom that are ideal for soaking. District Lofts is the home for those seeking an ultra-modern environment that merges seamlessly with tasteful charms of the past. As the residential market on the western edge of Midtown skyrockets, District Lofts is proof that attainable luxury in Atlanta's urban core exists.
State-of-the-art is standard
Is home where the heart is or is it where Alexa knows your voice? In today's world, the answer is both, with technology becoming an increasingly active part of our personal lives, particularly in the home. District Lofts is the pinnacle of the tech-infused lifestyle in intown Atlanta, offering residents Amazon Alexa-enabled units, keyless entry, and smart thermostats, all at the ready to simplify the average daily routine, from unlocking doors to turning off the lights. District Lofts dwellers can expect nothing but the best in cutting-edge features to greet them at the front door. As tech takes over, the loft community is on the front line of the tech revolution, offering a true lock-and-leave lifestyle that isn't easily replicated. Whether you're telling Alexa to dim the lights or using your smartphone to readjust the temperature, the ease of a lifestyle steeped in luxury connectivity is hard to give up.
Districts Lofts is now selling two- and three-bedroom units from the high $300,000s and is exclusively represented by Engel & Völkers Atlanta. Learn more at owndistrictlofts.com.