Over the past thirty years, Reynolds Lake Oconee has established itself as one of Georgia's most iconic lakeside addresses. Founded in 1988 as a golfing destination, the Greensboro gated community became associated with luxury after a Ritz-Carlton resort opened on its grounds in 2002. (Country star Carrie Underwood upped the glam factor by renting out the entire resort for her 2010 nuptials.) Today, the 12,000-acre property continues to evolve, offering new and updated amenities while retaining its timeless charms: the majesty of Georgia's second largest lake, the beauty of the surrounding countryside, and Oconee National Forest. Find out what it's like to call Reynolds Lake Oconee home—or home away from home.
Life on the lake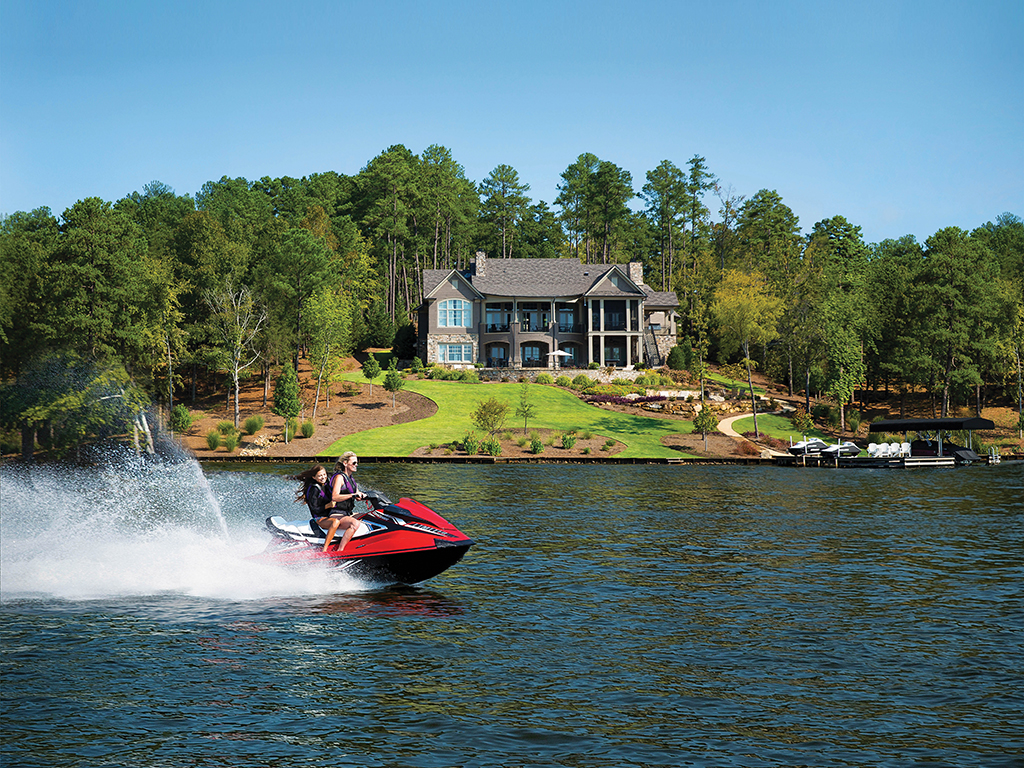 In 1979, Georgia Power dammed the Oconee River and created a 20,000-acre reservoir—Georgia's second largest—spanning broad open water and quiet coves. The following decade, developers began bringing their vision for this lake-centric golf community to life. Four marinas offer boat storage and launch service along with boat and jet-ski rentals and fishing equipment. The lake holds a whopping 433 pounds of fish per acre, of which approximately thirty-six is largemouth bass. Bass fishing is such a beloved tradition that Reynolds hosts a bi-annual member/guest tournament. But anglers will also find plenty of white bass, bream, crappie, and catfish.
The most popular social pastime on Oconee is pleasure-boating—with or without a gleeful kid clinging to a tube in your wake. Looking for a more serene experience? Rent kayaks or paddleboards, or off the water, take a stroll or bike ride on one of the property's twenty-one miles of trails, enjoying plenty of glimpses of the community's glassy blue heart.
One sport still reigns
True to its roots, Reynolds remains a golfer's paradise, with six championship courses designed by some of the biggest names in the game: Jack Nicklaus, Tom Fazio, Rees Jones, Bob Cupp, Jim Engh. The rolling Piedmont terrain affords ample variety across 117 total holes, while the lake is a breathtaking backdrop (and occasional challenge). The Nicklaus-designed Great Waters course, perennially listed as one of America's top 100 golf courses by Golf Digest, is currently undergoing a complete reinvention that will modernize the twenty-seven-year-old course while staying true to its original layout; it is slated to reopen this fall. At the Reynolds Kingdom of Golf presented by TaylorMade, club members and guests can access the latest technology in club fitting and instruction at a sixteen-acre practice facility.
… but there's another game in town
In early 2018, Reynolds Lake Oconee debuted the Sandy Creek Sporting Grounds, a 100-acre facility that includes a twenty-station sporting clays course. Furnished with a shotgun and a guide, guests strike out on an adventure across scenic countryside that would be at home on an English manor, past stations that launch clay targets at a variety of speeds, trajectories, angles, elevations, and distances. Justin Jones, the renowned Welsh shooter and international course designer, helped devise authentic touches such as Scottish-style grouse butts (low walls) built by local stone masons. Off the course, you can test your aim on the five stand (a compact sporting clays range) or on air-rifle or archery ranges. The grounds are also home to a forty-acre lake for canoeing, kayaking, or catch-and-release fishing.
The good life meets family life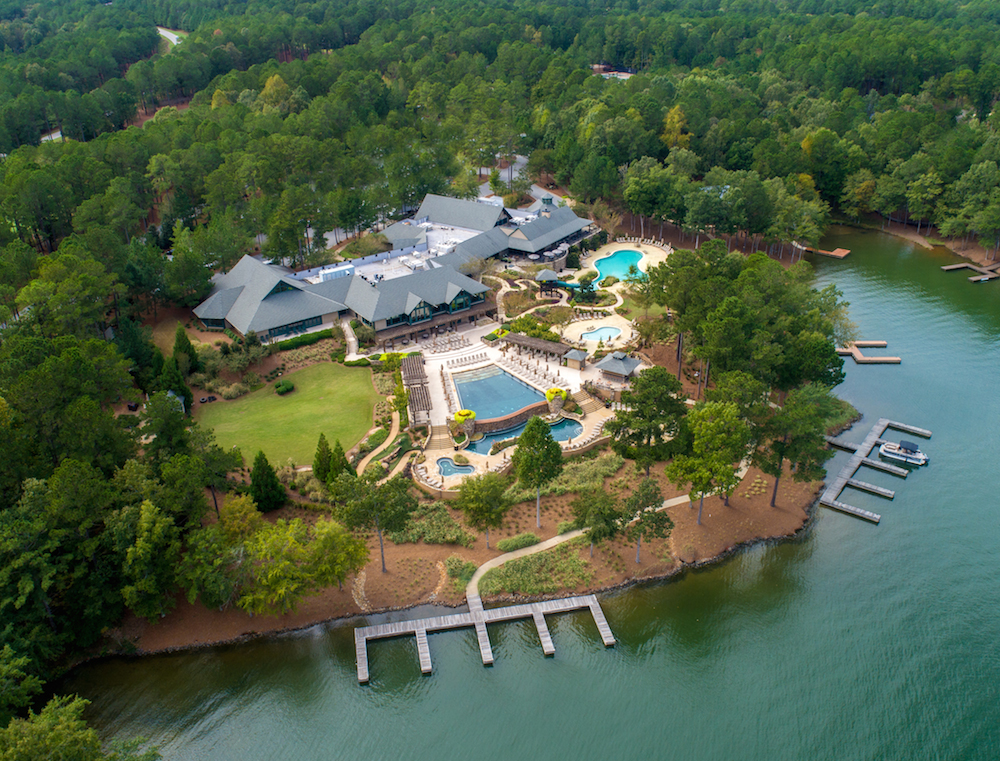 In addition to older families and retirees enjoying the relaxed pace of lake living, plenty of younger families call Reynolds Lake Oconee home. The award-winning Lake Oconee Academy charter school is nearby, and with Atlanta's airport a little more than an hour away, young professionals can fly out for the week and return for the weekend. Kids can participate in supervised activities such as swim team or adventure camps, while all ages enjoy the Lake Club Wellness Center and Tennis Center, which boasts ten tennis courts, a family pool with a twenty-foot waterslide, an adult-only infinity pool (with tiki bar), and much more.
Reynolds offers five distinctive clubhouse restaurants, including the National Tavern, a gastropub on the ninth hole of The National-Bluff course. Residents can also make the most of The Ritz-Carlton Reynolds, Lake Oconee which offers three restaurants, including a white-tablecloth steakhouse, along with an award-winning spa. Outside the gates, the nearby towns of Eatonton, Milledgeville, Madison, Washington, and Greensboro infuse the area with historic charm, while Athens's gameday tailgates and vibrant music scene are within an hour's drive. Of course, less than a mile away are everyday conveniences such as an upscale Publix and an eight-theater cinema.
Home options range
Some 4,000 members call themselves weekend, seasonal, or permanent residents of Reynolds Lake Oconee, which offers a mix of single-family houses, cottages, condominiums, and homesites—on the water, on a golf course, or nestled in the woods. Condos and cottages range from $200,000 to $500,000, while single-family homes run from about $500,000 to $4 million (fancy a six-bedroom on the water with five fireplaces and a 1,000-bottle wine cellar?). Homesites start at $100,000 and surpass $1 million, and while some residents choose to build custom homes, Reynolds' Signature Home Collection aims to make the building process streamlined and predictable with nineteen pre-approved floor plans. For a glimpse of the Reynolds lifestyle, prospective members can book a Lifestyle Package that includes up to three nights at The Ritz-Carlton or a fully furnished cottage or condominium, plus a real estate tour and other experiences.