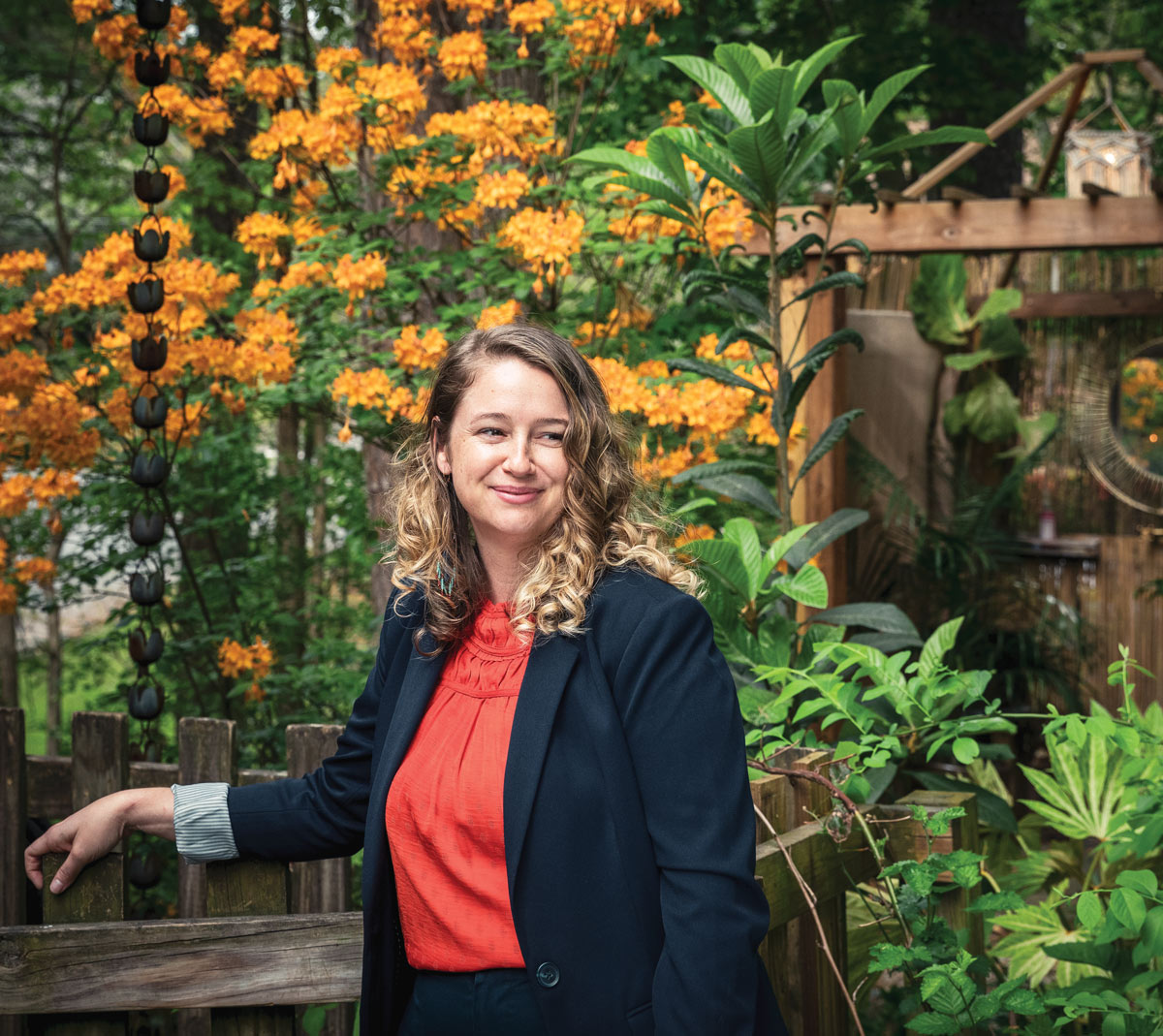 Landscape designer Brandy Hall is an advocate of permaculture, a science that integrates human activities into natural surroundings to establish ecosystems that are self-sustaining. In other words, she believes your yard should take care of itself.
Her firm, Shades of Green, creates environmentally friendly residential and commercial landscapes that require less irrigation, fewer chemicals, and limited maintenance. Her projects have ranged from an organic fruit orchard that produces beer yeasts for Monday Night Brewing to the site design for Cottages on Vaughan, a tiny home enclave in Clarkston.
Hall says demand for her services increased more than 50 percent last year, due to clients spending more time at home and growing interest in ecofriendly features such as rain gardens, rainwater-harvesting systems, low-mow lawns, and edible landscapes.
The 1930s cottage she shares with her husband and four-year-old daughter in Pine Lake has been the perfect "research lab," she says. A pollinator garden with bee-friendly plants like echinacea, mountain mint, black-eyed Susans, and butterfly milkweed helps nearby plants thrive. Hall also grows edible and native plants like blueberries, persimmons, paw paws, ferns, and oak leaf hydrangeas. A 300-gallon cistern collects rainwater from the roof, which is distributed by a drip irrigation system, providing enough water for her .1-acre yard. The family also composts food and yard waste for fertilizer and recycles water from their outdoor shower, which sits on a gravel base that captures runoff.
"We even set up a tub for our daughter to play and bathe in while we're in the garden," says Hall. The family uses nontoxic, organic soap to protect plants.
Permaculture is not only environmentally sound but also economically savvy. "I had one client with very traditional horticulture and landscaping who was spending $4,000 a month to irrigate his acre to acre-and-a-half home property," Hall says. "We installed a large rainwater reserve and harvested rain from the house into a cistern, and he recouped his investment in three months."
Hall's top three tips for DIY permaculture
1. Manage water. Improper irrigation and poor drainage can damage soil and home foundations. Use less irrigation by replacing grass with wildflowers like yarrow and clover and by installing rain barrels, outdoor showers, and rain gardens—depressed areas with native plants designed to collect water runoff.
2. Enrich the soil. Hall recommends composting yard waste and kitchen scraps to enrich soil and planting beds. She also suggests purchasing organic compost in bulk from a garden or landscape center and using sheet mulching and leaves to amend soil.
3. Plant edible or native plants. Growing fruits, herbs, and vegetables reduces reliance on conventionally grown food. Native plants require less water, are less susceptible to disease, and attract desirable insects, reducing the need for artificial pest control. (For example, ladybugs eat aphids.)
This article appears in our June 2021 issue.