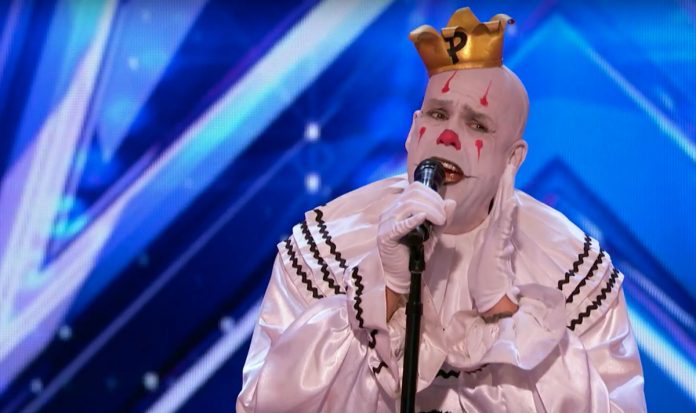 Screenshot via YouTube
Last night the world discovered what Atlantans have known for years: There is no clown quite like Puddles. On America's Got Talent, his rendition of Sia's "Chandelier" even brought the perennially-cynical Simon Cowell to his feet.
Puddles is the alter-ego of Mike Geier, who at 6-foot-8 can't go anywhere in town without being recognized, make-up or no. Geier's been singing in Atlanta for years, most conventionally as the lead singer of Kingsized, whose annual Elvis birthday bash at Variety Playhouse is the stuff of legend, and if you haven't caught one, you need to.
So where did Puddles—the morose clown with the voice of an angel—come from? Well, there's been a lot written about Puddles over the years, but if you have to read just one story, check out this one, by Atlanta magazine alumnus Justin Heckert, whose story includes one of the best lines ever: "Clowns have a rep for being crazy drivers, which Puddles reinforced."
He's also no stranger to viral video fame—his YouTube channel is an endless playlist of cover songs, including this version of Lorde's "Royals" that has racked up 19 million views since it was published in 2013.
Want to see Puddles? He plays across the county: http://www.puddlespityparty.com/dates/