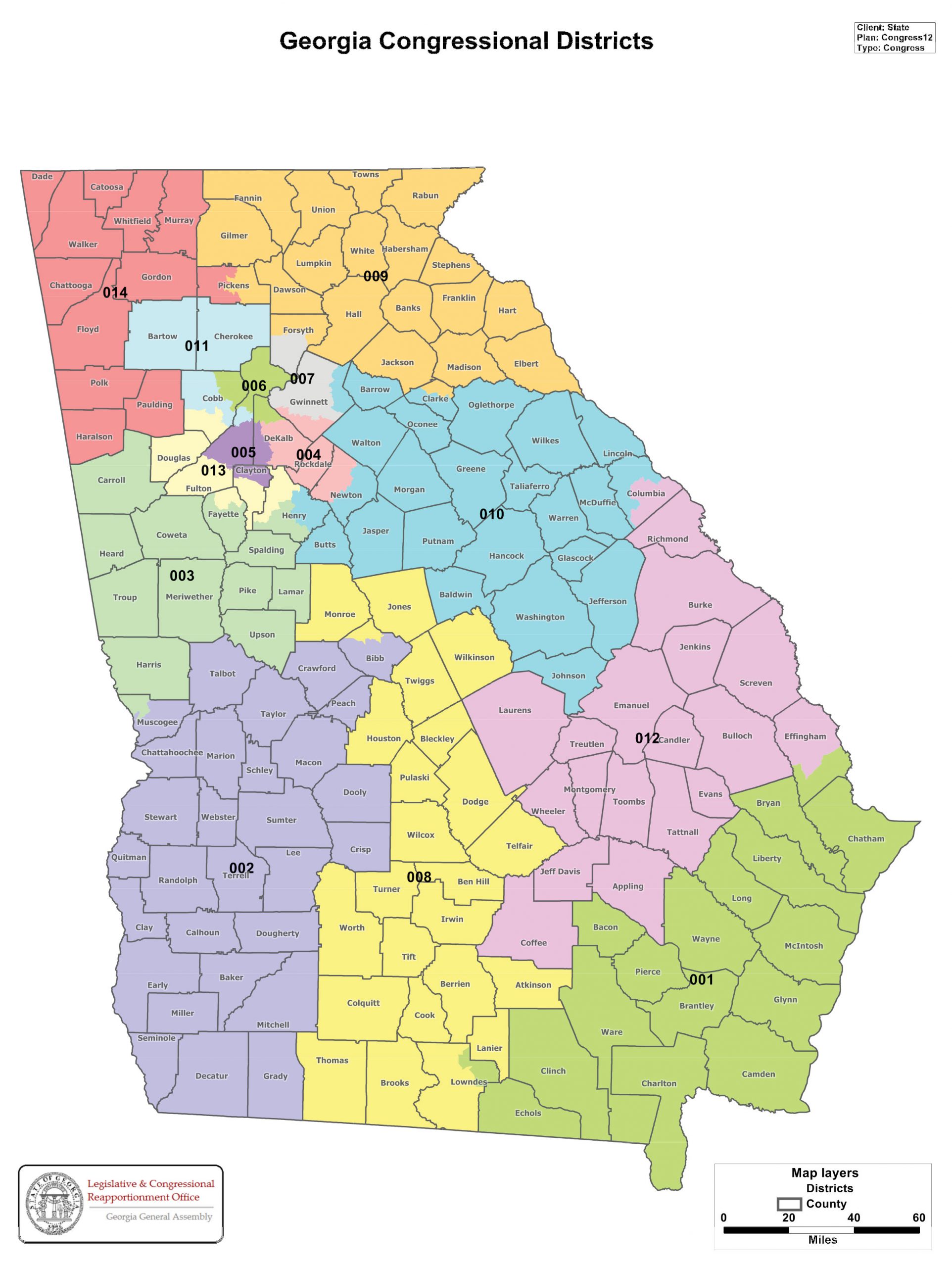 Two years ago, Janet Grant and her husband moved to Decatur from St. Louis to enjoy retirement. Her career as a healthcare executive behind her, Grant could now pursue a lifelong interest in local politics and civic engagement. While researching her Gold Dome representatives, she was surprised to discover she lived in what political junkies call a "bacon strip": One mile wide and 17 miles long, her state House district starts in moderate North Druid Hills, continues through true blue Decatur, and stretches south to just short of deep red Henry County, touching six different cities and nine zip codes in the process.
"Never in my life have I lived in a district like that," says Grant, who afterward joined Fair Districts GA, a nonpartisan redistricting reform group. "I went to a meeting where Becky Evans, my House representative, was speaking. It was at the Ellenwood library, probably 30 minutes from my house. That was still in my district."
Welcome to the wild world of redistricting, the once-a-decade process where state lawmakers—specifically, the majority party; in this case, Republicans—create political maps laying out the boundaries of Georgia's congressional, state legislative, and, in some cases, local districts.
Sometime in September, Georgia representatives and senators expect to receive the results from the 2020 U.S. Census. Data in hand, they'll return to the Capitol (joined by legislative staffers and outside consultants and lawyers) for a specially convened legislative session to adjust political districts based on the state's population growth.
In a perfect world, lawmakers would hand off the task to an independent body that would create compact, contiguous districts that are adequately representative of racial demographics. Or they'd feed the data into a computer to create nonpartisan and competitive districts. In reality, the GOP majority under the Gold Dome will—just like the Democrats did before they lost control of the Georgia General Assembly after the 2001 redistricting—trade horses to hold on to their seats, freeze out their rivals (including those in their own party), and tighten their grip on power.
For Republicans, that likely means gerrymandering districts in north metro Atlanta, where Republicans recently lost once reliable state House and Senate seats, to draw U.S. Representatives Carolyn Bourdeaux and Lucy McBath, both Democrats who represent congressional districts six and seven, into one district and force a primary between them. In some instances, says Charles Bullock, a University of Georgia political science professor and author of the book Redistricting: The Most Political Activity in America, Republican lawmakers might even agree to make some districts easier for Democrats to win—say, for example, by swapping out an area with mostly white voters for another area home to Latinx voters. Doing so could make the Democrats' district safer but also bolster prospects for Republicans in an adjoining district or two. "When you're doing these maps, you're thinking about what politics is going to look like in 10 years," says Bullock. "You're not saying, Let's draw a map that will work for us in the next election. It's, What will allow the party to maintain control for the next decade?"
Democrats and redistricting advocates will keep watch on whether proposed congressional and state legislative maps take into account Georgia's increasingly diverse population: Since 2011, the Asian American population alone has risen by 40 percent, state Senator Gloria Butler, D-Stone Mountain, says, while the white population has grown by only 2 percent. Should gerrymandering reformers or members of the public feel the approved maps are unfair toward people of color or other groups, they can ask a judge to force lawmakers to draw new boundaries.
Cycle after cycle of such creative mapmaking reduces competition—in 2016, Georgia led the country in uncontested state legislative races. In swing states like Ohio (and, after the 2020 presidential election, arguably Georgia), gerrymandered districts make it impossible to address critical issues like Medicaid expansion, reproductive rights, and gun control. By splitting Decatur into four districts, lawmakers left Grant and other residents without one lawmaker to focus on the entire city's needs. According to an analysis by Fair Districts GA and the Princeton Gerrymandering Project, two-thirds of Georgia's 85 small cities are divided into multiple House districts—often with split representation.
Despite the state redistricting committee's gestures of transparency and civic engagement made during public meetings in June and July, most of lawmakers' work will be out of the public's sight, and because the General Assembly exempted itself from Georgia transparency laws, holding individual lawmakers accountable is nearly hopeless. When the political theater will begin remains uncertain. House Speaker David Ralston, R–Blue Ridge, said in April he thinks lawmakers won't convene until "frost is on the pumpkin"—in other words, after November.
Karuna Ramachandran of Asian Americans Advancing Justice–Atlanta, a member of the Georgia Redistricting Alliance, says she and other activists have repeatedly asked lawmakers (or their advisers) if they have already drawn up draft maps and are simply waiting for official data to fine-tune their preferred boundaries. Her group would like ample notice in order to prepare and present their own maps for consideration—and for other members of the public to do the same. They have received no response, she says. "It can feel like a losing battle with redistricting," says Ramachandran. "But there's a lot we can do. Dig in locally, collect your people, collect your data, and use [those strengths]. Take that to your elected officials and make sure they hear you—with your own data."
Know the lingo
If you are:
Packing: Concentrating reliably Democratic or Republican voters in one district to reduce their influence in others
Cracking: Breaking up the opposing party's advantage in a district and diffusing the support to different districts
Pairing: Drawing two incumbents in neighboring districts into the same district, forcing one to resign or launch a primary challenge
This article appears in our September 2021 issue.