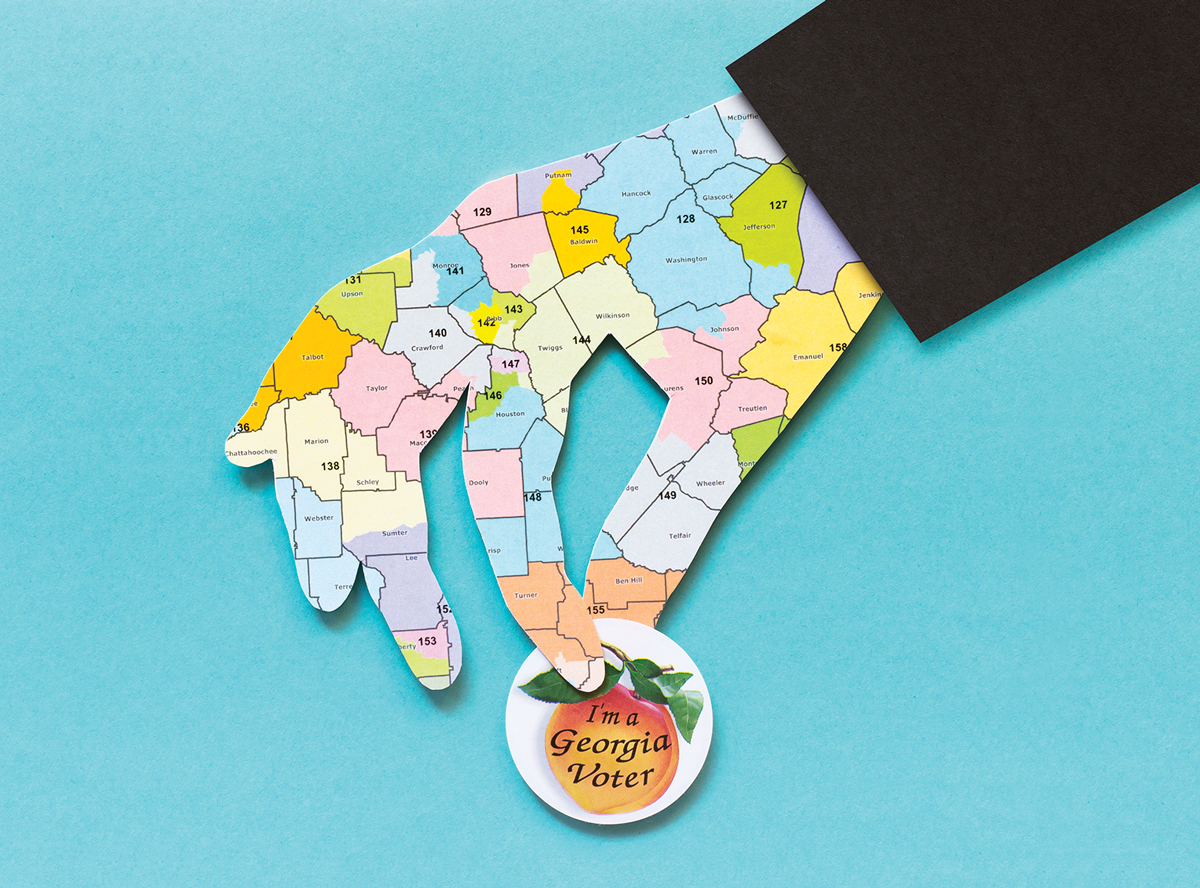 After Joyce Chandler and Brian Strickland, two white Republican state representatives in metro Atlanta, barely won re-election against Democrats in 2014, their colleagues in the General Assembly didn't take it as a sign to step up minority outreach. Instead, they pulled out their maps.
When the state Legislature convened the following January, as part of a "midcycle" redrawing of more than 15 House seats, lawmakers decided to swap out heavily black and Latino areas in Chandler and Strickland's suburban districts with nearby precincts that leaned Republican. Two years later, Strickland again eked out a victory.
The creative mapmaking appeared to be yet another political power play, one practiced just as deftly by Democrats during their more than 150 years of control over the General Assembly. But according to a federal lawsuit filed last October, the 2015 effort was an "assault on voting rights" that amounted to racial gerrymandering—an unconstitutional act. By removing minority voters' homes from the two districts to protect the Republican House majority, the lawsuit says, the Legislature diluted those residents' voting strength, effectively "denying them the opportunity to elect their candidates of choice." Backed by the National Democratic Redistricting Committee, former attorney general Eric Holder's group, the plaintiffs want a judge to order a new map of state House districts, add an additional majority-minority district in metro Atlanta, and seek the court's or federal officials' okay prior to redistricting changes.
To the victor go the spoils, and no prize is more coveted or exploited by a state's dominant party than the ability to redraw legislative districts and cement its hold on power. While redistricting is typically done in the wake of the decennial national census, Georgia lawmakers carve out new districts whenever the mood strikes them. By utilizing demographic data, legislators can predict down to the neighborhood where an incumbent may be vulnerable. It's both art and science, made difficult by self-segregation of Democrats into cities and Republicans into suburbs. Software programs like Maptitude, which the General Assembly has used, come loaded with granular census data that, when combined with election results, allow mapmakers to view racial makeup and political leanings.
"If your party controls the redistricting process and you get the maps you want, you have probably shaped the partisan makeup of the Legislature for 10 years," says Charles Bullock, a University of Georgia political science professor who wrote Redistricting: The Most Political Activity in America.
A series of U.S. Supreme Court rulings in the 1960s forced states across the country, including Georgia, to make sure state legislative and U.S. congressional districts represented an approximately equal number of people. And until 2013's landmark Shelby v. Holder Supreme Court ruling, Georgia and eight other Southern states were required to seek federal approval for redistricting maps.
Taken to extremes, redistricting becomes gerrymandering, which opponents say leads to noncompetitive races and factionalization. Discouraged by the likelihood of a fair fight, would-be challengers from the opposing party opt to save the filing fee and not run a candidate. As a result, the only opponent an incumbent faces is from his or her own party during the primary. It's a trend that helped Georgia lead the nation in uncontested state legislative races in 2016, reformers say. Public trust and participation in the political process decline, allowing complacency and corruption to take root. This dynamic, says Sara Henderson of government watchdog Common Cause of Georgia, spurs lawmakers to cater to their base—think bills about guns, abortion, and immigration—and an entire segment of voters goes unrepresented. Consider that roughly 46 percent of the state voted for Clinton in the 2016 presidential election, yet Democrats occupy just 35 percent of the legislative seats. The result, says state Sen. Elena Parent, D-Atlanta: Too many people come from districts that are not representative of the electorate, and they are unable to compromise. "It's a vicious cycle," she says.
For the past two years, a coalition of Democrats and Common Cause—and some Republicans—have urged a solution: follow California, Colorado, and 11 other states in allowing an independent commission to handle redistricting. Under a proposal by Parent—whose district was combined with another Democrat's while she served in the House in 2011—a 14-member commission made up of five voters whose political party won the last gubernatorial election, five voters whose party came in second, and four people who do not identify with a political party would draw the maps. It's not a novel idea; in the mid-2000s, then governor Sonny Perdue, a Republican, was open to the idea of creating an independent redistricting commission.
Good luck convincing the Republican majority to hand over the keys to the car. That's why Emmet Bondurant, a powerhouse elections lawyer, believes the status quo can best be changed by the courts. In a federal lawsuit against North Carolina, Bondurant argued successfully that the state's Republican-controlled legislature used so-called partisan gerrymandering to create Republican-leaning congressional maps. On January 9, a panel of judges ordered North Carolina to present a new map of congressional districts for approval. Bondurant notes it's possible to create fair districts; one of his witnesses in the North Carolina case, a University of Michigan professor named Jowei Chen, has created an algorithm that draws compact, contiguous districts that are blind to party preference. The Supreme Court is expected to rule later this year on a case from Wisconsin that could determine whether states can practice partisan gerrymandering, making the practice of diluting votes based on voting habits more difficult. Other lawsuits, including Bondurant's if the ruling is contested, are waiting in the wings.
Kaleb McMichen, a spokesman for House Speaker David Ralston, R-Blue Ridge, declined to say whether his boss would entertain Parent's proposal. He also pointed to Ralston's past observation that Democrats weren't interested in reform when their own party pushed gerrymandered maps while in control. GOP leaders appear confident they will command a lead when redistricting begins anew after the 2020 Census.
Last November, Democrats picked up two Republican-leaning seats in the Georgia House. In December, Democrat Jen Jordan won a Senate seat representing the Smyrna area, breaking the Republicans' supermajority in the upper chamber. Political observers have long predicted that metro Atlanta's growing black and Latino populations—two groups that lean Democratic—could end Republicans' stranglehold on the Gold Dome. The GOP might just prefer to entrust the power of mapmaking to a neutral group rather than the Democrats, Bullock says. He sees no other way the majority party would relinquish control.
"You can trust an independent party more than your enemy," Bullock says.
This article originally appeared in our February 2018 issue.