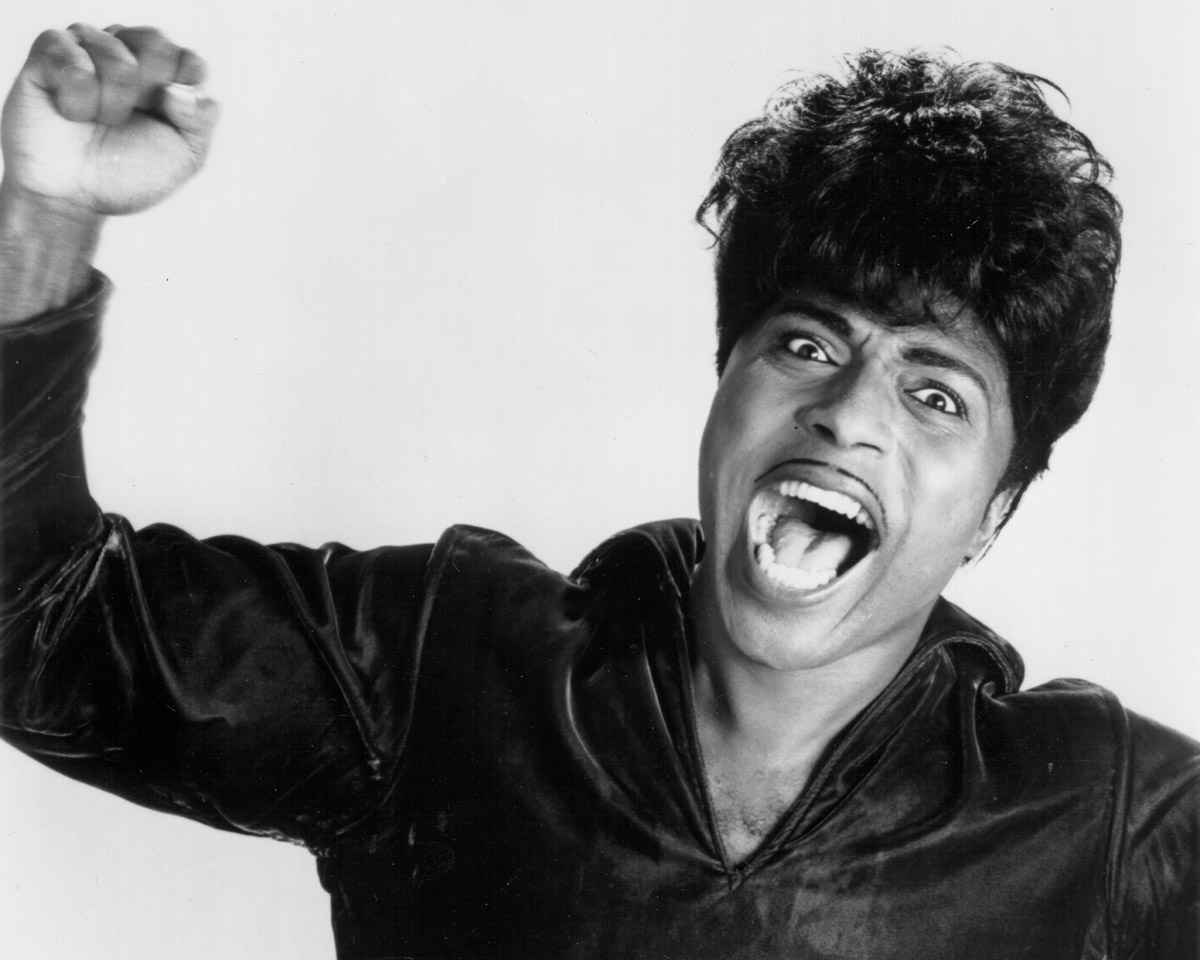 Little Richard troweled on plenty of No. 31 pancake foundation to "feel pretty."
So when he furiously assaulted the piano, working up a sweat, his makeup streamed in rivulets down between the ivories, which a luckless barback at Atlanta's Royal Peacock or some other chitlin' circuit venue later had to clean key by key. It made a mess, but everyone agreed the "architect of rock 'n' roll" was worth the trouble.
Little Richard was one of the first 10 inductees into the Rock 'n' Roll Hall of Fame, and Rolling Stone ranked him No. 8 on its list of "Immortals," citing three of his hits— "Tutti Frutti," "Long Tall Sally," and "Good Golly, Miss Molly"—among the top 500 songs of all time. The entertainer died of cancer May 9 in Tullahoma, Tennessee. He was 87.
"He shaped musicians like Bob Dylan, the Beatles, Jimi Hendrix, and Prince, and influenced how people dress and how they define themselves today," says David Kirby, author of Little Richard: The Birth of Rock 'n' Roll. "He dreamed up a world that nobody thought possible, dreamed up you and me."
Known for his hellzapoppin' showmanship as well as his unschooled talent, Little Richard was flamboyant, from the top of his mile-high pompadour to his red shoes. He transformed rhythm-and-blues with elements of jubilee gospel and boogie-woogie for a new sound that made listeners' hips swivel. "Keith Richards observed that when Little Richard came on the scene, it was as if the world changed suddenly from monochrome to Technicolor," Kirby says.
Born Ricardo Penniman in Macon, Little Richard was also possibly the world's most lovable egomaniac. In patter between songs, he would exclaim: "I'm beautiful!", "I'm not conceited —I'm convinced!", and "The beauty is still on duty!" That unassailable self-love proved one of the few constants in a career known for its zig-zagging contradictions, as he tracked glittery stardust all over the South's switchback dirt trail between the Saturday night juke joint and the Sunday morning church service. He was both sacred and profane, an ordained evangelist and a wild-man hedonist. Through it all, he never wavered in his conviction that he was a "blessed and beautiful child of God."
"Richard was the freest spirit that I ever knew," says Macon jazz musician Tommy Goodwin. "He was the ultimate libertine."
This strength likely figured into the artist's very survival, as well as his stagecraft. Plug his particulars into any actuarial table—the runt of a family of 12 black children born into Depression-era poverty in a small, segregated Southern town; eyes and legs that were slightly mismatched in size, resulting in a permanently mischievous leer and a limp; sexual ambiguity and a penchant for drag; and plenty of cheeky attitude—and the odds-on projections would likely have doomed Penniman as hate-crime statistic. ("I was what they called a freak," Little Richard would say of himself.)
So how did this incandescent oddball transcend the bullies, Klansmen, and workaday enforcers of conformity to become an international superstar, and, in his words "the king— and queen—of rock 'n' roll"?
"He was just too charming," says Kirby. "In his heyday, he was a threat to everything parents, preachers, and principals stand for, but he coated that threat in happiness, sass, and gobs of makeup."
Penniman washed dishes at a Macon bus station, where he banged out ditties on the pots and pans, arriving somehow at his signature battle cry: Awopbopaloobop, Alopbamboom! He picked up the novelty song "Tutti Frutti" at the Tic Tock, a lounge that catered to middle Georgia's LGBTQ community. The original bawdy lyrics—let's just say they revolved around "booty"—had to be sanitized for the public in 1955.
"People called rock 'n' roll 'African music,'" Penniman wrote in Rolling Stone when he received the "Immortal" designation. "They called it 'voodoo music.' They said that it would drive the kids insane. . . . Only it was worse back then, because, you have to remember, I was the first black artist whose records the white kids were starting to buy. And the parents were really bitter about me. We played places where they told us not to come back, because the kids got so wild."
In a repressed social climate, the music liberated their bodies, and their spirits followed.
"All new music changes the world, but no music changed the world the way this song did," asserts Kirby. "To quote the Book of Genesis, there was a firmament in the midst of the waters. It's a huge song musically, but it's also a seminal text in American culture, as much as Uncle Tom's Cabin, 'Song of Myself,' and the great documents of the Civil Rights era are. In a sense, it's America's Other National Anthem. . . .  I hear America singing, and it sounds like Little Richard!"
Gary Montgomery, an impresario with Left Lane Entertainment, says he prayed with Penniman shortly before his death from cancer. "He was so outrageous in the 1950s," he says. "Look at him. Where did that come from? He was not little but larger than life, pounding a piano like a thunderstorm. Richard left a huge mark on our world. Now the beauty is off duty."
Candice Dyer is a frequent Atlanta contributor and the author of Street Singers, Soul Shakers, Rebels with a Cause: Music from Macon.