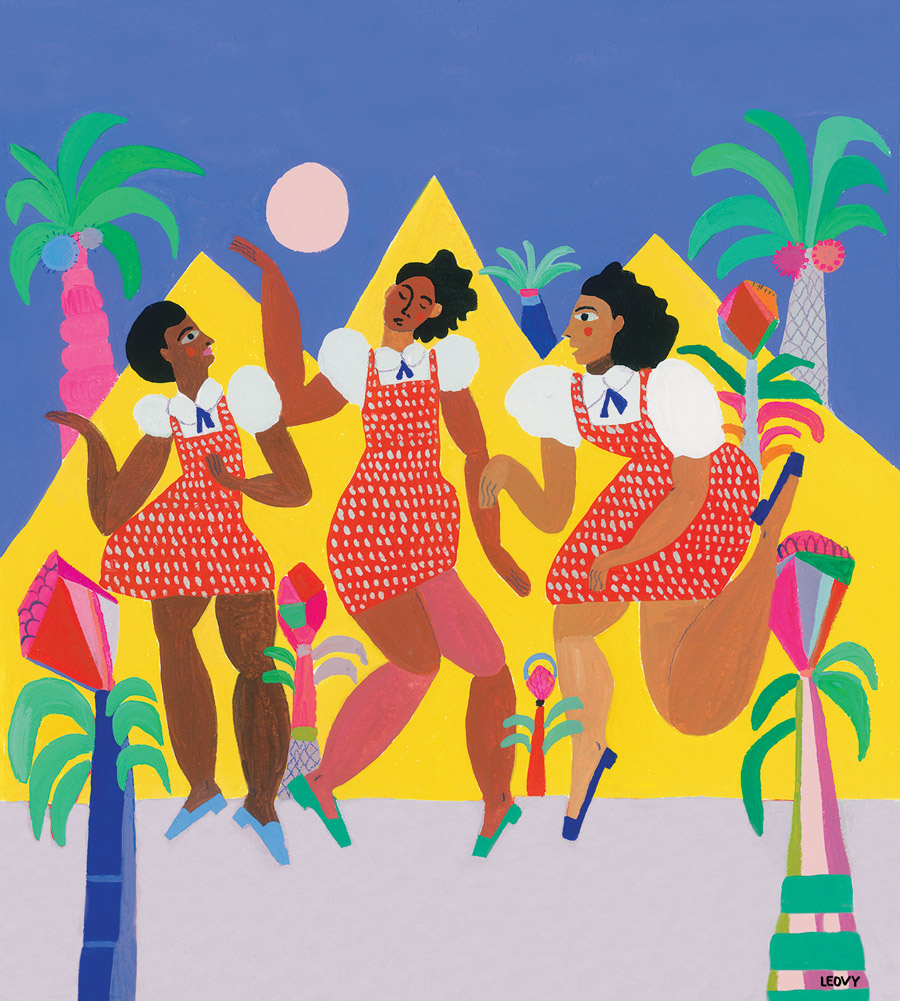 It's 1986, and Paulina is the queen bee at Aburi Girls' Senior High School in Ghana. She and her clique are abuzz with anticipation for a visit from the Miss Ghana pageant recruiter. Paulina is a shoo-in, and winning will put her one step closer to marrying her athlete boyfriend and moving to America, home of White Castle and Calvin Klein. But her plan is thrown into jeopardy when Ericka, a mixed-race girl, transfers from Ohio.
Director Tinashe Kajese-Bolden will bring Jocelyn Bioh's School Girls; or, the African Mean Girls Play to life at True Colors Theatre Company, February 11 to March 8, as part of its She Griots season, in which black women star in or have written all shows. Kajese-Bolden says she is excited to work with the all-female ensemble, familiar territory for the actor-director who won a 2017 Suzi Bass Award for Synchronicity Theatre's Eclipsed, a play about sexual violence against women during the Liberian Civil War.
School Girls, her latest directorial work, is based on an incident that happened in Ghana, where pageant officials selected Yayra Erica Nego—a biracial, American woman who was born and raised in Minnesota—as their representative for the 2011 Miss Universe contest, allegedly believing her lighter complexion would give them a better chance at winning.
DeKalb County native Ellen Ifeoluwa George portrays Paulina, a beautiful dark-skinned girl with a caustic wit, who, beneath that armor, longs for affirmation. In a time when Madonna and Princess Diana are the beauty standards, she sees Ericka's lighter skin as a threat.
George says that she can relate to Paulina's struggle with her complexion because she has been teased for her skin tone: In elementary school, she says, she was called racial slurs; one of her first university professors told her she would mostly be hired to play prostitutes and strippers.
Growing up, she participated in a lot of sports, especially cheerleading: "I was one of the darkest girls on the squad." As a "young and naive" middle-schooler, she would cheer for basketball games but not football, "because it was outside, and I didn't want to get darker," she says. "Luckily, I have amazing parents who encouraged me to embrace and love myself."
Augusta native Isake Akanke, who also worked with Kajese-Bolden in Eclipsed, will play Gifty, one of the girls in Paulina's pack.
"Beauty comes from within; it's in how you treat yourself and how you treat others," says Akanke. "I love when we as women are at our natural, most authentic selves. There's the glitz and glam but also the gutter that comes with being a woman."
Kajese-Bolden's goal is to get the cast talking about those things in the rehearsal room—body image, body shaming, beauty standards—so their performances will inspire the audience to continue those conversations after the curtain closes.
"I hope that it leaves people feeling excited that, even in conflict, there is a kernel of commonality that we can lean on."
School Girls; or, the African Mean Girls Play will be on stage at Kenny Leon's True Colors Theatre February 11 to March 8.
This article appears in our February 2020 issue.