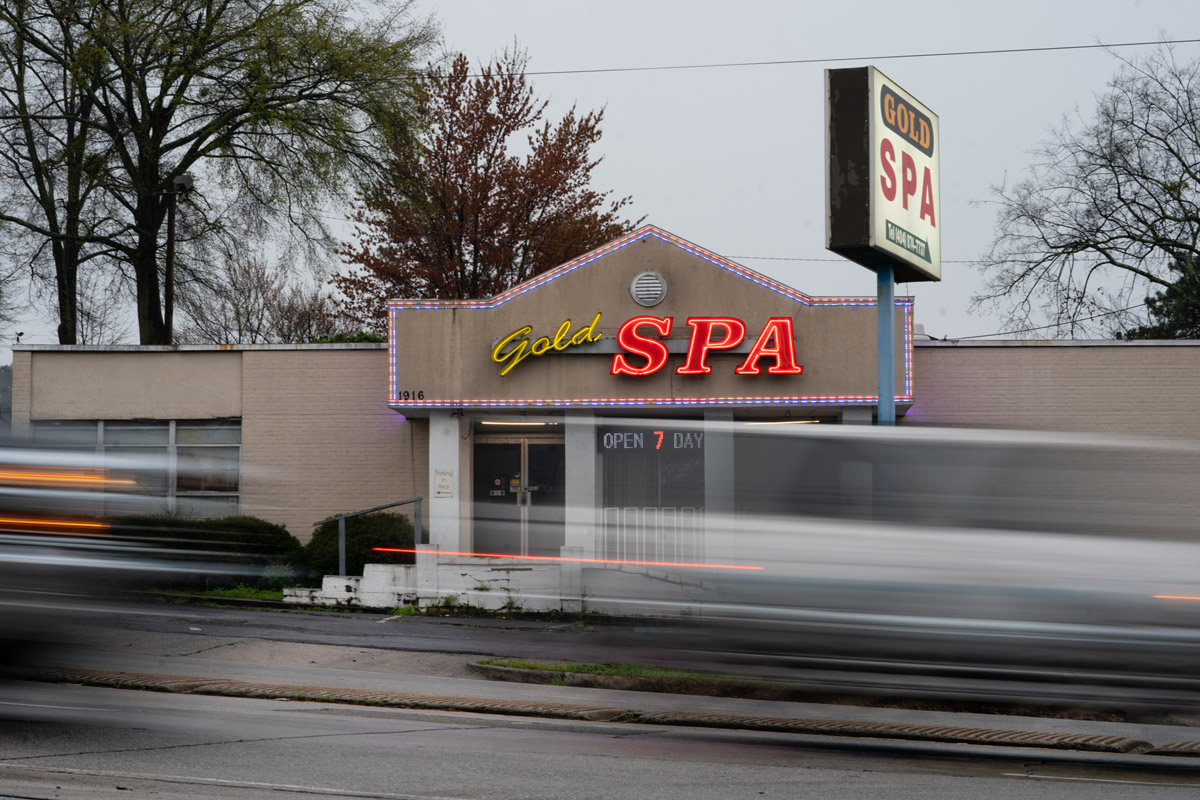 This is a breaking news situation; this story was last updated at 2 p.m. on March 19.
What happened:
At about 4:50 p.m. on March 16, a man, who police identified as 21-year-old Robert Aaron Long, of Woodstock, arrived at Young's Asian Massage on Highway 92 near Bells Ferry Road in Cherokee County and allegedly shot five people. Two Asian women, one white woman, and one white man were killed. Authorities identified the victims as Delaina Ashley Yaun, 33, of Acworth; Daoyou Feng, 44; Xiaojie Tan, 49, of Kennesaw; and Paul Andre Michels, 54, of Atlanta. The surviving victim, Elcias Hernandez-Ortiz, of Acworth, is at WellStar Kennestone Hospital in stable condition as of Wednesday morning, according to Cherokee County Sheriff's Office Captain Jay Baker.
Almost an hour later and about 30 miles away, Atlanta Police responded to a robbery call at Gold Spa in Piedmont Heights. Three Asian women were shot and killed. Another Asian woman was shot and killed at Aromatherapy Spa across the street. Video surveillance footage showed Long's car parked outside the businesses at the time of the shootings. On Friday, the Fulton County Medical Examiner's Office released the names of the four victims: Soon Chung Park, 74; Hyun Jung Grant, 51; Suncha Kim, 69; and Yong Ae Yue, 63.
At about 8 p.m., Long was stopped by police in Crisp County, about 150 miles south of Atlanta. Georgia state troopers used a PIT maneuver to stop Long's SUV, and he was arrested and booked into the Crisp County Detention Center.
The Atlanta Journal-Constitution reports that Long purchased a gun at Big Woods Goods in Holly Springs hours before the shootings.
Who are the victims:
Xiaojie Tan, the owner of Young's Asian Massage and Wang's Feet & Body Massage in Kennesaw, was killed two days before her 50th birthday. Originally from Nanning, China, she moved to Florida in 2006 with her husband, Michael Webb, and her daughter Jami, USA Today reports. She became a nail technician, then went on to own her own businesses, moving to Georgia in 2010 and opening a nail salon on the Marietta Square. Daughter Jami, who graduated from UGA in 2019, told USA Today that her mother would always ask her customers where they'd traveled to and was putting together a retirement travel wish list. "She loved to make friends with all her customers," Jami said. She told the newspaper the family had yet to tell her grandmother about Tan's death, as they were worried it would make her ill.
Delaina Ashley Yaun was visiting Young's Asian Massage as a date night with her husband, who survived the shooting. The couple, who married last year, have an 8-month-old daughter and a 14-year-old son, and Tuesday was "their first evening out" since having the baby, Yaun's grandfather told the AJC. She worked at a Waffle House in Acworth. Her sister, Dana Toole, told the Guardian that Yaun was outgoing and always helped others. A friend told the paper that she "loved wrestling with her son and cheering him on during his cross country matches." A GoFundMe for the family has raised more than $33,000.
Daoyou Feng worked at Young's Asian Massage. The AJC spoke with a customer who said Feng had only been working at the spa for a few months, and said "he could tell she was warm and easy to get along with."
Paul Andre Michels was a handyman and did repairs at Young's Asian Massage, the Guardian reports. His brother told the paper that he and Michels, two of nine children, were "basically twins" and that Michaels "was just a regular guy, very good-hearted, very soft-natured." An Army veteran, he previously owned a home security business and told his brother that "he was actually transitioning into owning a spa."
Elcias Hernandez-Ortiz, an auto repair shop owner and mechanic, survived the shooting at Young's Asian Massage and was hospitalized at WellStar Kennestone Hospital with gunshot injuries. His wife, Flor Gonzalez, told the Washington Post that she thinks her husband might "have been heading to a shop next to the spa to send money to their parents in Guatemala." The paper reports he was wounded in the forehead, throat, lungs and stomach; on a GoFundMe page to raise money for his medical bills, Gonzales described the injuries: "He was shot in the forehead down to his lungs and into his stomach. He will be needing facial surgery." The fund has raised more than $99,000. The couple has a 9-year-old daughter.
Hyun Jung Grant (nee Kim) worked at Gold Spa and lived in Duluth with her two sons. The Daily Beast interviewed her oldest, Randy Grant, 23, who said he had a close relationship with his mother. "I could tell her anything. If I had girl problems or whatever. She wasn't just my mother. She was my friend," he told the news outlet. He said she immigrated from South Korea for "regular immigrant reasons" and loved dancing and getting sushi at Haru Ichiban. "She was a single mother of two kids who dedicated her whole life to raising them," Randy said. Randy set up a GoFundMe to raise money for he and his brother to stay in their home "for at least one more month;" the brothers are the sole family members living in the United States. "Losing her has put a new lens on my eyes on the amount of hate that exists in our world. As much as I want to grieve and process the reality that she is gone, I have a younger brother to take care of and matters to resolve as a result of this tragedy. Frankly, I have no time to grieve for long," Randy wrote on the fundraising page. The fund has raised more than $700,000 so far, and Randy updated the page Friday with a message of gratitude: "I will live the rest of my days grateful for what has essentially given my family a second chance . . . Thank you everyone and please share whatever care and kindness you have shown here to anyone you know that feels scared or unsure about the world we live in. . . . My mother can rest easy knowing I have the support of the world with me."
What investigators are saying:

On March 17, a joint press conference was held with the Cherokee County Sheriff's Office, Atlanta Police Department, Georgia State Patrol, and Atlanta Mayor Keisha Lance Bottoms. Cherokee County Sheriff Frank Reynolds said Long had been transferred to the Cherokee County Adult Detention Center and was interviewed by Cherokee County and Atlanta police, along with the FBI. "[Long] made indicators that he has some issues, potentially sexual addiction, and may have frequented some of these places in the past," Reynolds said.
Bottoms said at the press conference that Long was en route to Florida "perhaps to carry out additional shootings" when he was stopped by police. Baker said that Long intended to target "some type of porn industry" in Florida, and that a 9 mm firearm was found in his vehicle.
"The suspect did take responsibility for the shootings," Baker said. "He does claim that it was not racially motivated. He apparently has an issue, what he considers a sex addiction, and sees these locations as . . . a temptation for him that he wanted to eliminate." Both Baker and Reynolds, however, stressed that the investigation is still in the very early stages.
Necessary context: A dramatic rise in hate crimes toward Asian Americans:

There has been an increase in the past year of racist attacks toward Asian Americans during the Covid-19 pandemic. Stop AAPI Hate released data today stating that of the 3,800 hate incidents reported to the group in 2020, which was higher than the amount reported in 2019, more than 68 percent were reported by women, or more than 2.3 higher than incidents reported by men. And the Center for the Study of Hate and Extremism at California State University San Bernardino stated that hate crimes toward Asian Americans grew last year by 150 percent, despite the amount of hate crimes overall decreasing by 7 percent.
On March 15, Georgia state Senator Michelle Au addressed the state Senate about the increase in hate crimes toward Asian Americans. "All I'm asking right now, as the first East Asian state senator in Georgia, is simply to fully consider us as part of our communities. Recognize that we need help, we need protection, and we need people in power to stand up for us against hate," she said. On March 17, she released a statement saying, "Our AAPI community has been living in fear this past year in the shadow of escalating racial discrimination and attacks. This latest series of murders only heightens that terror."
"Whatever the motivation was for this guy, we know that the majority of the victims were Asian," Bottoms said at the press conference. "We also know that this [violence against Asian Americans] is an issue that is happening across the county. It is unacceptable, it is hateful, and it has to stop." She added that the city "[has] not seen a significant uptick in formal complaints within the city of Atlanta, but obviously this is a large metropolitan region. We're hearing the stories, we're seeing them on television, we're seeing them on social media, so we're certainly are aware, and we stand ready to provide any additional resources." Early in the pandemic, we reported about a Chinese restaurant on Buford Highway that was receiving racist prank phone calls. Stop AAPI Hate also has a report on incidents in Georgia that were reported to their organization last year.
Controversy surrounding Cherokee County Sheriff's Office Captain Jay Baker:
During Wednesday morning's press conference, Baker described Long's mindset and actions as, "He was pretty much fed up, at the end of his rope, and this was a very bad day for him and this is what he did." The statement sparked outrage and controversy; Bianca Jyotishi, Georgia manager for the National Asian Pacific American Women's Forum, told the AJC that the comments downplayed the seriousness of the killings and were "unconscionable and blatantly offensive." Twitter users then found what appeared to be a Facebook account for Baker, with a post allegedly from Baker from April 2020 advertising a racist and anti-Asian T-shirt, encouraging others to buy it. The Facebook page has since been deleted and Baker has not commented. The Cherokee County Sheriff's Office released a statement on Thursday apologizing for "any heartache Captain Baker's words may have caused." He has been removed as the spokesman for the case, WSB-TV reports.
A fake Facebook screenshot:
There is a fake screenshot circulating on social media, a Facebook post of anti-China rhetoric attached to Long's name and photo. According to New York Times tech reporter Davey Alba, Facebook has confirmed the screenshot is a fake and is "removing it from the platform for violating its policies."