This February, we saw the spring-thawing of Atlanta's film industry. Already, there are a multitude of projects abound, with more celebrities than you can count. (A little football game at the beginning of the month didn't hurt in bringing out the stars, either.) Here's what's filming and their production codes.
Just because you see a post-apocalyptic set somewhere in the metro area, don't assume it's for The Walking Dead this month. Zombieland 2 (production code: Z2), the follow-up to the 2009 hit, has begun production starring Woody Harrelson, Jesse Eisenberg, and Emma Stone. Zombieland 2 was spotted in Macon in early February before coming back to Atlanta. Signs were spotted on Wildcat Road in Decatur on February 13. The next day, crews were out near Pinewood Atlanta Studios. Between February 15 and 17, the production moved over to Newnan. Filming was back near Pinewood on the 19th and at the Coweta County Fairgrounds on the 20th. Between February 22 and 23, downtown Jackson was transformed into zombie wasteland.
Last year, Dwayne "The Rock" Johnson, Karen Gillian, Kevin Hart, and Jack Black came to Atlanta to film Jumanji: Welcome to the Jungle. Now they're back for the sequel, the yet-to-be-titled Jumanji 3 (LOUIE), which also will reportedly feature Danny DeVito, Awkwafina, and Danny Glover. At the end of January, filming took place at Blackhall Studios. Between February 4 and 7, winter scenes were shot in Newnan. Crews were next spotted in Midtown on Valentine's Day. A snowy scene was set up in Ansley Park on February 16. They were back in Ansley Park on February 21.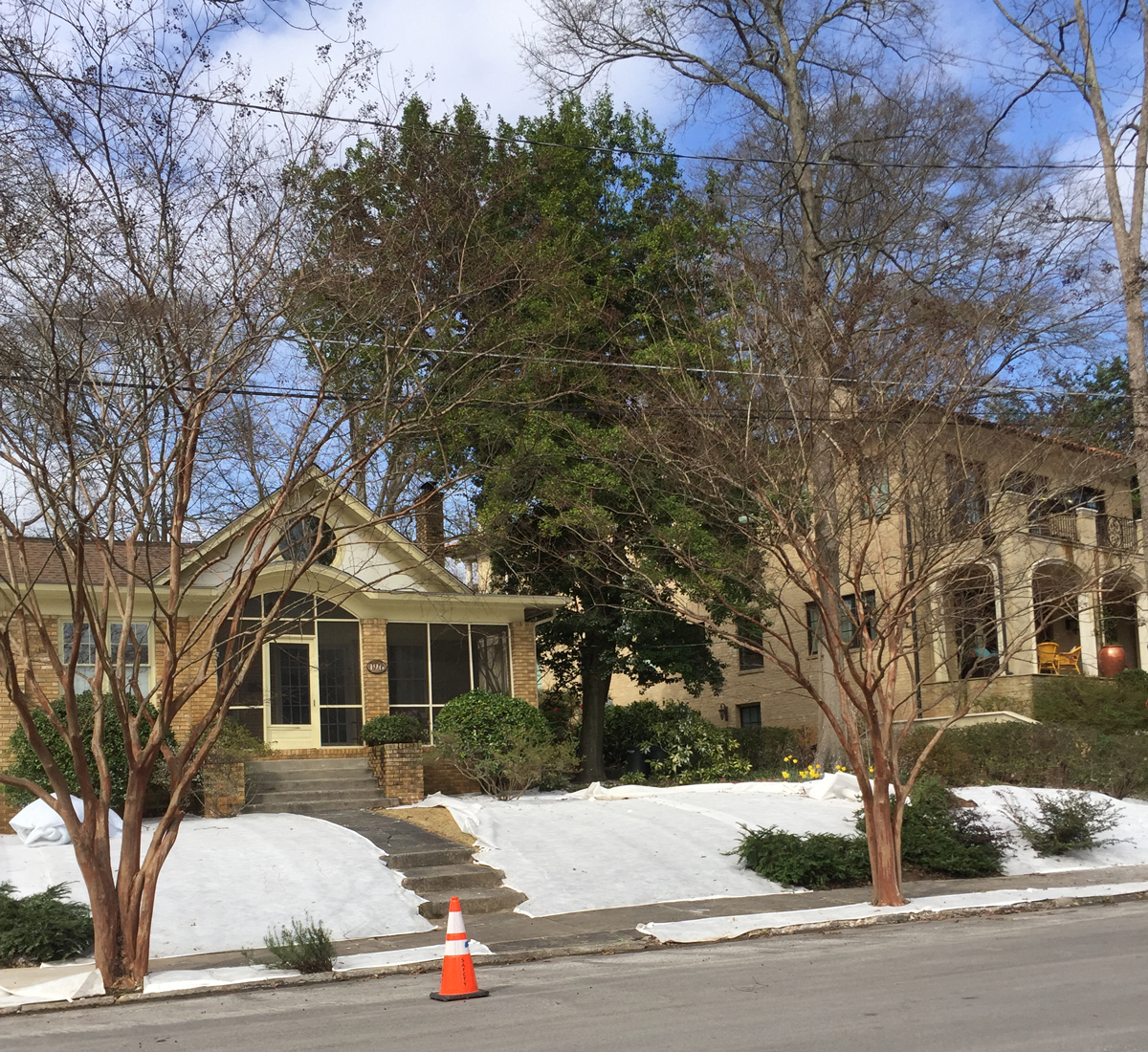 HBO is developing a series based off Stephen King's novel, The Outsider (CANT/MUST). The story follows an investigation into a young boy's murder that quickly turns supernatural. Starring Ben Mendelsohn, the show was first spotted in Stone Mountain on February 2. Signs were posted in North Druid Hills on February 5, and a basecamp was set up in Tucker at First Christian Church of Atlanta on Tucker Road. Crews took a trip down to Newnan for the 8th, shooting at the abandoned hospital building. Filming then took place in Douglasville at the old jail between the 12th and 13th. We saw signs placed on Ponce De Leon and Moreland Avenues, as well as at the corner of Boulevard and Ralph McGill Boulevard on February 19. Filming took place on the 20th in a residential area in Poncey-Highland. The next day, production was set up on Emory's Briarcliff campus. Most recently, we spotted a basecamp in the Perimeter Center area on February 23.
TNT has a new series, Beast Mode (K.O.), inspired by the life of boxing trainer Ann Wolfe. We found signs for this production in Decatur on College Avenue on February 1. Also, crews filmed in Fayetteville between February 5 and 6.
Will Smith's and Martin Lawrence's Bad Boys for Life (GFP) continued on into February. Between the 3rd and the 4th, filming took place near Atlanta University Center and just across I-20. After that, crews took over Pratt-Pullman Yard. A scene was shot near the Buckhead Library on February 11. The next day, and on February 15, filming was downtown, near Georgia State University. Signs were spotted off of I-85 at Jimmy Carter Boulevard on the 22nd. Most recently, from February 25 until the end of the month, the 17th Street bridge in Midtown has been used for some stunt and pyrotechnic work.
CHECK THIS OUT! Channel 2 Action News cameras were there as "Bad Boys For Life" crews shot a dramatic scene last night near Atlanta Station in midtown Atlanta – https://t.co/Jj1SE9DsoA pic.twitter.com/vQN7Woj7Oa

— WSB-TV (@wsbtv) February 26, 2019
The DC Universe streaming series Doom Patrol (GRANT) filmed into February as well. After finishing January in Centerville, signs were spotted at Moreland Avenue and I-20 on February 3. The next day, a scene was filmed in Conyers. Between the 6th and the 7th, filming took place in Decatur. On the 12th, crews worked out of Piedmont Park.
Apple's Amazing Stories (PUGET) was spotted at Emory's Briarcliff campus on January 31. From the 1st until the end of the week, filming took place near South Fulton Parkway and Cedar Grove Road in Union City. Most recently, on February 22, signs were posted downtown on Jessie Hill Jr. Drive and John Wesley Dobbs Avenue.
FOX's The Resident (TR) placed signs along North Avenue near Georgia Tech on February 5. The series then shot in Conyers on the 9th. Production then moved to Midtown, returning to the Woodruff Arts Center, a common location for the show, on February 12. On the 14th, crews were back in Conyers.
Little (NEA), the sequel/remake of Big, was spotted on Covington Square on February 8. The next day, on the 9th, the film was in Loganville. Lodge 49 (LODGE 49), back for a second season on AMC, filmed in Doraville on February 4 and on February 14. CBS's MacGyver (EYE) was out in Stonecrest on the 4th and in downtown Atlanta on February 7. Oprah's Greenleaf (GL) filmed in Lithonia on February 6 and at an apartment complex in Norcross on the 26th. The CW's Dynasty (CROSS EYE) ended January on soundstages in Norcross. On February 2, crews worked in Suwannee. Three days later, on the 5th, filming took place in downtown Norcross. After that, on February 7, the series moved out to Johns Creek for filming. Since then, production has been on and off in Norcross on February 8, 12, and 15, as well as between the 19th and the 21st.
And finally this month, Georgia did very well at the 91st Academy Awards. Locally filmed Black Panther came home with three wins for Best Costume Design, Best Production Design, and Best Original Score. Another of our made-in-Georgia films, First Man, won the award for Best Visual Effects. Atlanta-native Spike Lee received his first Academy Award, Best Adapted Screenplay for BlacKkKlansman, jumping into the arms of another Atlanta mainstay celebrity, Samuel L. Jackson, upon reaching the stage. Lee also mentioned his undergrad at Morehouse College (of which Jackson is also an alum and shouted, "the House!" as he announced Lee's award) and his grandmother's time at Spelman College during his acceptance speech. Lastly, Spider-Man: Into the Spider-Verse, starring yet another Atlanta-native, Shameik Moore, won Best Animated Feature.