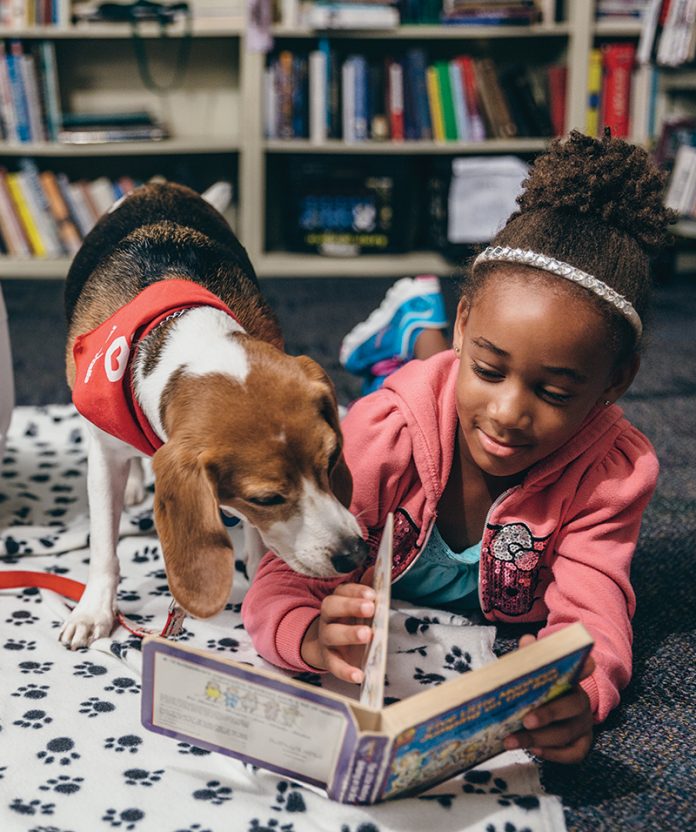 Photograph by Ben Rollins
As soon as eight-year-old Alexandra Gutierrez kicks off her sparkly pink Hello Kitty shoes and plops down on the paw-print blanket in a back room at the Alpharetta branch of the Atlanta-Fulton Public Library, Echo the beagle settles down at her knee. With his head on his paws and his big brown eyes staring intently, Echo seems to be listening to every word of Green Eggs and Ham. He interrupts occasionally, his contented doggy sighs assuring Alexandra that he is paying rapt attention, a big fan of Dr. Seuss.
When she finishes the book, Alexandra reaches for a bag of treats and asks Echo to do some tricks. He gladly shakes hands, dances, gives a high five, and answers "Speak!" (in a library-worthy hushed bark, of course).
Echo's most remarkable skill is not an ability to dance, but to sit patiently as children read to him. He's a canine recruit in READing Paws, a program that pairs early readers with trained therapy dogs. The theory is brilliantly simple: Shyness, anxiety, or learning difficulties can make reading aloud in a classroom of peers traumatizing. So why not have children practice reading to dogs, who "listen" without judgment and never tease—no matter how often you might struggle with a word or accidentally miss a page? There's science to back up this concept: A Johns Hopkins study showed that children reading alone first had elevated blood pressure, indicative of stress. With Fido on hand, however, the children were calm and their blood pressure returned to normal.
READing Paws is an affiliate of R.E.A.D. (Reading Education Assistance Dogs), a pioneering program developed by Intermountain Therapy Animals in Salt Lake City. Participating dogs and their handlers go through additional training to work with young readers. Dogs can learn to "look" at pictures, to follow as pages are turned, or to respond to prompts from their handlers, who can then interject with a little coaching: "Rover didn't understand that last part; can you read it slower?"
The program has chapters in Georgia, Florida, Alabama, Tennessee, and Nevada (a member moved, missed the program, and started a chapter there). The Georgia READing Paws dogs and handlers hold regular sessions in libraries throughout metro Atlanta, make bookstore appearances, and work in several schools, where dogs are paired with students selected by teachers or staff for a variety of reasons. Merilee Kelley, the chairman of READing Paws, and her dog, Erica, met weekly with a girl who did not have particular trouble reading but did have trouble at home. "Her family life was so tough; the teacher realized she needed consistency somewhere, and spending time with the dog for an entire year let her build a trusting relationship she could depend on," Kelley says.
Elaine Bryan, a Georgia Perimeter College professor, and Nellie Grace, a ninety-pound Great Pyrenees, visit Alcova Elementary School in Gwinnett County once a week—now in their third year. "It's really great to see how they respond," says Bryan, who works with the same students throughout a school year. "Nellie knows them and kind of gives each child what they want and need." Some of the young readers love to lounge against the big dog as they read; one child prefers to sit formally in a chair. Bryan says she has observed steady improvement in the children's reading skills; one student's tests improved so much, the child moved out of the program. Bryan is looking for ways to document the results more formally.
The Georgia READing Paws corps includes more than a dozen dogs, among them retired racing greyhound Sweetie Pie, toy poodles Pearlie Mae and Chloe, and a pit bull called Nanuk. Each canine has a webpage where young fans can learn the dog's backstory and even send emails. (If you want to chat about Dr. Seuss with Echo, it's echo@readingpaws.org.)
In person, Echo perks up his ears as Alexandra asks, "Would you eat green eggs and ham, Echo?"
The beagle cocks his head—contemplating either the question or the word eat—then settles back to hear
the rest of the story.