Home
Authors
Posts by Jennifer Rainey Marquez
The pandemic changed everything. We've never thought more about how and where we want to live—and how we can make room for everyone. What are the options now in metro Atlanta?
From an extra-hip hotel in Miami to a pint-sized boutique inn in Ocean Springs, Mississippi, these nine spots shine.
After a pandemic-prompted lull, new hotels (and freshly revamped ones) have begun to open at a whirlwind pace. From megawatt high-rises to intimate bed-and-breakfasts, here are some of our favorite new lodgings.
After a year of cancelled plans, missed holidays, and Zoom toasts, it's time to dream big again (well, almost). If congratulations are in order, these Southern destinations offer the perfect setting to celebrate (or do over!) life's milestones and special occasions.
DIY fashion mogul Mimi G was tired of rifling through piles of bolts at cluttered, musty fabric stores. She designs eye-catching, sexy patterns, and she longed for a fabric shopping experience that felt more like browsing the racks at a chic clothing boutique. She and fellow sewing influencer Brittany Jones launched Melanated Fabrics online, then opened a brick-and-mortar location in Atlanta.
On April 1, 2020, Lauren Spanjer Bricks's world changed in an instant. That day, the U.S. Food & Drug Administration granted an Emergency Use Authorization for a COVID-19 PCR test developed by Ipsum Diagnostics, a Sandy Springs–based company that Bricks co-founded in 2016.
"I want to live in a city where everyone can succeed," says Wendy Stewart. As the Atlanta market president for Bank of America, Stewart is in a unique position to help encourage that success, a responsibility she takes seriously.
Can you even call yourself a Southerner if you don't spend at least a quarter of the year griping about the heat (and don't forget the humidity)? But during a season when the forecast seems permanently set to "scorching," you can still find pockets of delicious coolness—and we don't mean the blast radius around your air-conditioning vent.
The Covid-19 pandemic has been catastrophic for public-transit agencies across the nation. Even when the pandemic does end, it's possible that our work and travel patterns will be disrupted permanently. Then, there's the economic impact of the pandemic and its corresponding effect on tax revenue, a major source of funding for many transit agencies, including MARTA.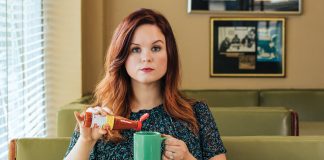 Atlanta comedian Blaire Erskine discusses becoming internet famous for her deadpan spoofs of 2020 tropes