See all Best of Atlanta 2019 winners
Yes, this Little Five Points spa offers the usual high-quality services like massages, facials, body wraps, flotation therapy, and esthetics. But extra touches like a "cloud room"—equipped with cozy chairs and tea service for relaxing post-treatment—as well as low-cost community neighborhood wellness days and an overall positive vibe make this space feel grounded, intimate, and, in the words of owner Natalie Phoenix, "magical."
"Rest" isn't a familiar concept to a lot of gym rats. But at this interval-training studio on the BeltLine, breaks are a big part of the 50-minute boxing, functional training, weightlifting, and cardio workouts. You'll be coached every step of the heart-pumping way by attentive and knowledgeable staffers who pay close but kind attention to form and keep you on track.
Best New Circuit Training: F45 Decatur
If you follow Mark Wahlberg on Instagram, you might spot him after a visit to his local F45. The buff actor is an investor in the functional-training chain, which recently opened a studio in Decatur. This program gets points for variety, with more than a dozen stations in a given interval workout and boredom-killing sessions on the weekends with a live DJ.
Best 24-Hour Studio: Hotworx
At most 24-hour studios, the focus is on convenience rather than innovation. While Hotworx offers some traditional equipment in a small but open room, the main draw is the heat workouts in infrared saunas that run at about 125 degrees. Sign up online for a 15-minute, high-intensity cycling session led by an instructor on a screen. Or try a yoga class. Or a plyometrics class. All are available, day or night. Locations in Decatur, Peachtree City, Sandy Springs, and Smyrna.
The beauty of this chic, mother-daughter–owned nail bar in Studioplex Alley is in the details, from the floor-to-ceiling, BeltLine-facing windows to the minimalist-meets-modern nail art and its Instagram-worthy, still-life moodboards. Services include manicures with acrylics, gels, or powders, eyebrow waxing, lash extensions, and the indulgent "pamper yourself" organic pedicure using fresh orange and honey.
HOT HACK
Lacquer Nail Bar has a "happy hour" with 15 percent discounts on nail services, every Monday through Thursday from 10:30 a.m. to 2 p.m.
How do you make a good thing even better? A makeover, of course. The Atlanta institution overhauled its Buckhead location in March, adding new shampoo bowls with neck and lumbar support as well as state-of-the-art lighting and enhanced stylist stations with charging outlets, all to improve comfort and convenience for the salon's hundreds of daily patrons.
Best Studio for the Mobility-Impaired: Studio Bungee
Gyms can be intimidating places for people with injuries and mobility issues. But this Marietta studio is the definition of inclusive, offering workouts that utilize giant bungee cords that strap to the body so that you bounce and float while you work out, saving your joints from taking a pounding during cardio and weight training.
Dr. Diane Alexander, cofounder of the first all-woman physician plastic-surgery practice in Atlanta, has opened a new Buckhead spa offering a wide range of treatments, including buzz-worthy CoolSculpting and Platelet Rich Plasma (the "vampire facelift"). Skin products for sale include SkinCeuticals, UMA Oils, and the sought-after French line, Biologique Recherche. Designed by Atlanta's Smith Hanes Studio, the spa walls display art by the likes of Harriet Leibowitz, Todd Murphy, Gregory Colbert, and Vee Speers—making it a beautiful place to get beautiful.
Bikram yoga—where you always perform the same 26 poses, in the same sequence, in stifling heat—can seem very strict, with rules about where your mat goes and when you can drink water. Co-owned by actor and musician Cleveland Willis, this Decatur studio appeals to purists by staying true to the discipline. But it's also warmly welcoming to newbies and the balance-challenged.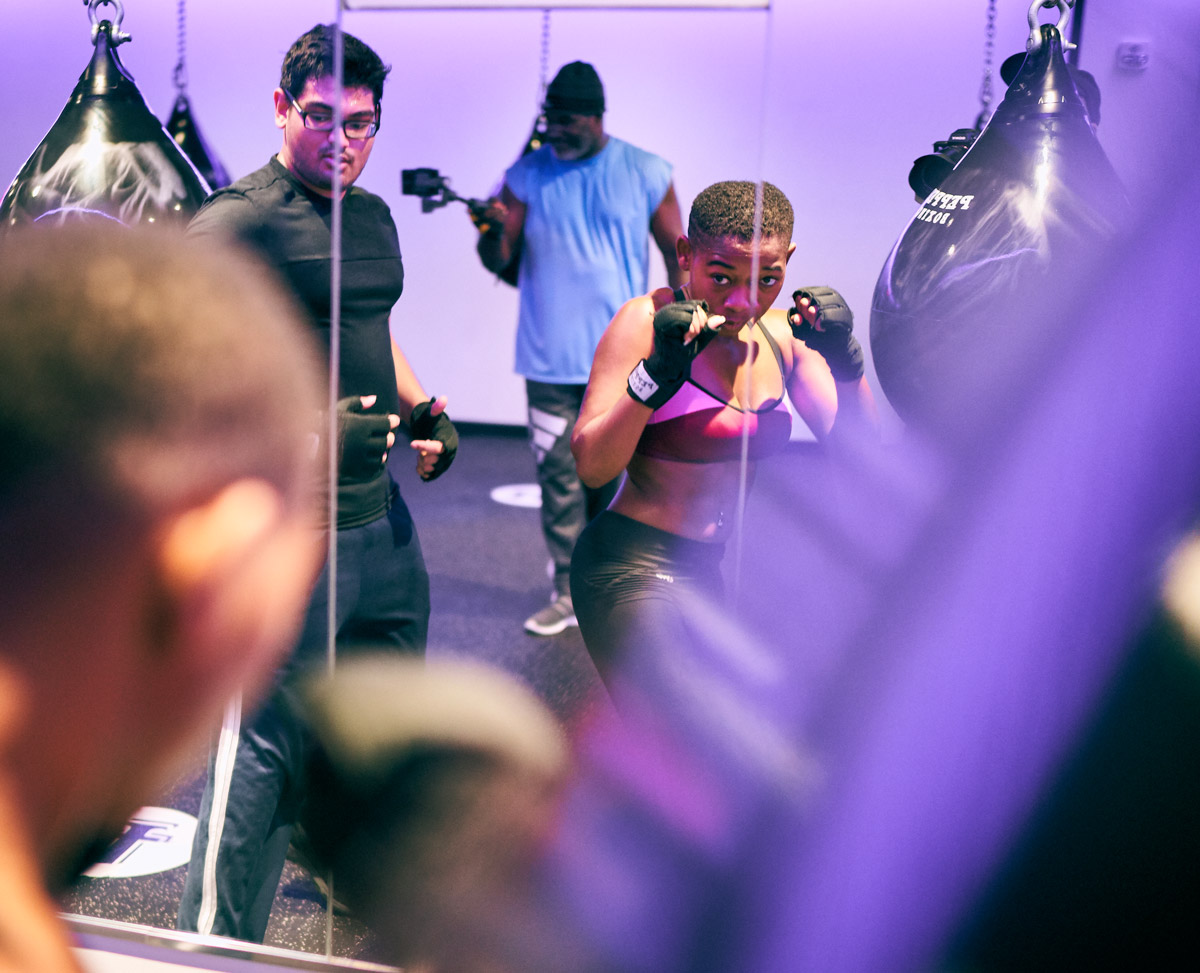 Near SunTrust Park, a new fitness studio combines boxing—with a teardrop-shaped, water-filled heavy bag—and weighted-bar exercises for a full-body workout. The set-up is in a circle, so clients never lose sight of their instructor as they "pepper" the bag, shadowbox, and strength-train for a sweaty, low-lit, high-energy 50 minutes.
Maybe you've seen the viral video that shows a group of women in a fitness studio, bouncing maniacally on mini-trampolines—like they're galloping on invisible horses—while leaning on a T-shaped handlebar. This East Cobb workout is a lot like that, utilizing the Jumping PROFI Trampoline fitness system, which is said to engage more than 400 muscles for fast and slow jumps, traditional aerobic steps, and "sprints." Unlike other trampoline classes we've tried, this one really lets you enjoy the bounce—and the calorie-torching benefits that go along with it.
Yoga strength classes have been around for a while, but dynamo Sue Sultzer brings fresh sequences and high-energy beats to this stretching-meets–HIIT training class at YogaWorks in Buckhead. She starts with a few warrior poses, then adds weights for upper body, squats, core, and cardio bursts. It's like a bootcamp (she was in the military, after all) with a friend who likes to kick your butt.
Best Cult Facial: Aviary
Forty-year-old, Paris-based Biologique Recherche spa has developed a cult-like following for its luxe skincare products and signature treatments, offered only at a limited number of spas hand-selected by the brand. You can now get the $210, 60-minute facial complete with individual skin analysis, cryotherapy, sculpting massage, and a customized cocktail of the brand's coveted serums at the Aviary at Studioplex in the Old Fourth Ward.
At this new boutique fitness studio on the Westside, you can find the first Biocircuit machines in America. Open the app, and the chic industrial studio's treadmills, stationary bikes, and weight-training machines automatically adjust to your personal settings. The full workout is two laps around and lasts about 30 minutes.
With its "LA celebrity color meets NYC street chic style" vibe, Sirène is a go-to for visiting A-listers (Rachel McAdams is a fan) and locals alike. Owner and Melrose & McQueen alum Dyana Nematalla excels at working with textured hair and teaching clients how to maintain their styles at home. Plates of fresh pastries and cheeses and glasses of wine and sparkling waters add to the welcoming vibe of the exposed brick and blush-toned space at King Plow.
Part well-appointed living room, part beauty apothecary, and part yoga/meditation studio, this Westside wellness maison sells branded bath salts, body oils, lotions, and our favorite takeaway, a one-of-a-kind signature scent, which you can build at the botanical blending bar with the guidance of owner November Nichols or one of her apprentices. Bespoke fragrances start at $70 for one ounce.
Best New Megaformer: Pilates studio Third Eye Tribe
Megaformer classes—which use bench-like machines with two stationary platforms on either end and a moving platform in the middle—are cropping up in Atlanta like spin studios did in the earlier aughts. The workouts create strong bodies through slow movements and time under tension. This Buckhead studio stands out for its newest-model machines, kind instructors, welcoming attitude for newcomers—and cold towels, post-workout.
HOT HACK
The merch at fitness studios can get boring—do you really need another pair of black workout pants?—but not at Third Eye Tribe in Buckhead. Check out its wide assortment of leggings. Our personal favorites: the animal prints.
Best New Local Skin Care Product: Triple Threat Serum, Pure MD by Amanda Gorecki
Healing Waters medical spa owner and skincare guru Amanda Gorecki has another hit on her hands. With a new formula released earlier this year, the potent anti-aging skin serum has already become the brand's best seller due to its custom blend of Vitamins C and E, silky texture, and ability to brighten and smooth even the dullest of skin.
The storied French brand's outpost at Avalon in Alpharetta, which opened in May, is one of only six freestanding Chanel Fragrance and Beauté boutiques in the U.S. It's anchored by a white-tiled beauty bar offering exclusive and signature fragrance samples plus one-on-one consultations.
Superlative Services
Nail art by Alayna Hoang at Nouvelle Nail Salon
While the popular salon moved into new digs at Westside Provisions District, owner Alayna Hoang is still churning out some of the city's most distinctive and whimsical nail art.
Blowouts by Rhema Harris at Blo Blow Dry Bar (Buckhead)
Skilled with every texture, length, and style of hair, Harris can tame and shape even the most unruly of locks in 45 minutes flat.
Brandon Lacey's playlists at Solidcore
All of the coaches of this full-body workout—which takes place on a souped-up, resistance-based Megaformer Pilates machine—are top notch, but Lacey stands out for his music. He keeps in mind his regulars' favorites as he curates his playlists, which can range from OutKast to trap to the occasional funk classic.
MMA at Team Octopus
Get ready to rumble: Team Octopus is a mixed martial arts and fitness academy that offers Brazilian jiu-jitsu, Muay Thai, fitness kickboxing, MMA, boxing, kids' jiu jitsu, strength and conditioning, and a fitness boot camp.
Readers' Choice
This article appears in our December 2019 issue.