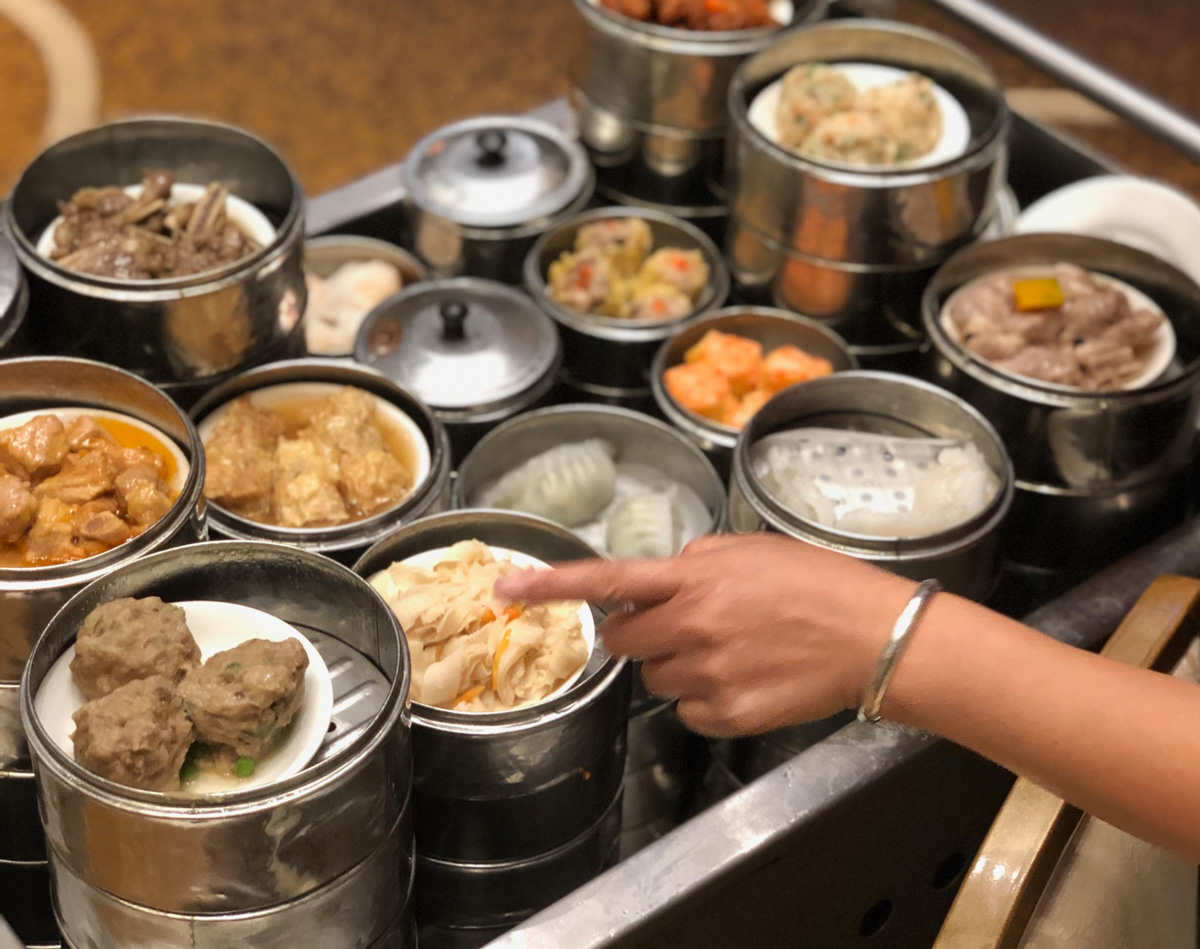 When I moved back to Atlanta from San Francisco in the mid-2000s, one thing I never understood was how weird our dim sum scene was. No place seemed to stay good for very long, and there were a lot of flash-in-the-pans that never gained enough of a foothold to dominate. I always fell back on Royal China in Chamblee. If you were a regular, you know Royal China's decor had seen better days. The restaurant's interior was kind of a grimy, reddish pink and so worn out, I started to avoid it, despite the still delicious dishes on the menu.
But then Royal China closed its Chamblee Dunwoody Road restaurant this past April and reopened 18 miles north in a former sporting goods store near the Costco off of Venture Drive in Duluth. Entering though the new doors, I may have let out some oohs and ahhs. It's not only fancier than the previous location, but so much more beautiful than most of what is out there, with high ceilings and gold and sparkling accents everywhere you look. There are three separate rooms, two of which shimmer with chandeliers that resemble pixelated flowers, and a one side room off the bar. There's also an enormous screen and what looks like all the AV equipment you could possibly need for any event from bar mitzvah to wedding banquet.
Royal China serves all the classic dim sum dishes such as har gow (shrimp dumplings), sticky rice, congee, clams in black bean sauce, and chicken feet. If you get there early, the carts come often and hot. It doesn't seem too difficult to accommodate a group, and larger parties make it easier to order a range of classic Cantonese dishes—dry-fried beef chow fun, salt and pepper calamari, lobster stir-fried with scallion and ginger, and chow mein with vegetables and soy sauce—from the encyclopedia-like menu.
The Peking duck is a showstopper; a waiter brings the duck on a rolling cart and carves it, leaving nothing but the crisp skin. Soft, pillowy buns are served alongside hoisin sauce, shaved green onions, and batons of cucumber meant to lighten the richness of your sandwich.
Fillings are flavorful and abundant in dumplings like the har gow, where chopped chunks of shrimp nearly burst out of the rice paper wrapper, which is sometimes over-steamed.
Most of my favorite things are fried. Think golden shrimp spring rolls or a "lollipop" of breaded shrimp paste formed around a short stick of sugarcane. Both are especially good when swiped through a little dish of red chili and soy sauce.
Between the over-the-top decor, the abundance of dishes, and the thick menu with helpful pictures for the uninitiated, Royal China is a gem. It makes the drive from Atlanta to Duluth worth it—so worth it, in fact, that I returned three weekends in a row, each time bringing more people with me. And if the waits—they can reach upwards to an hour on the weekends if you arrive during prime time—are any indication, it's already a success. If the wait is too long, you can always pop over to the Costco next door and knock out some errands. 3960 Venture Drive, Duluth, 770-216-9933