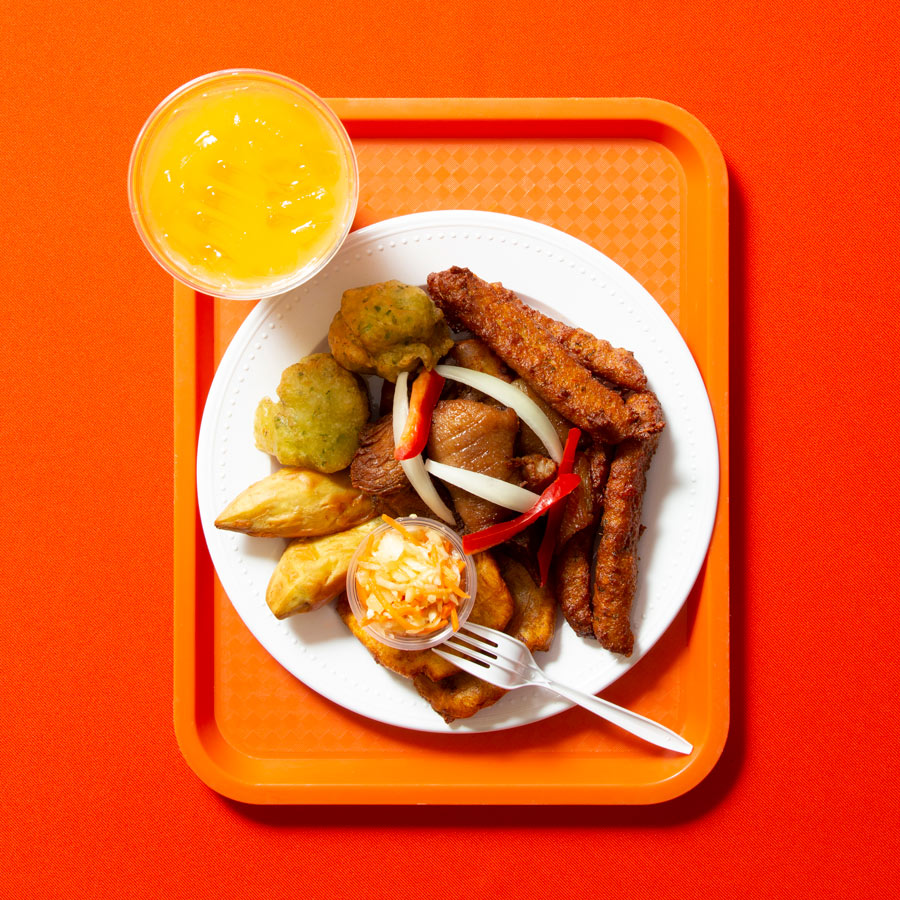 "Griyo is the identity of any Haitian restaurant," says Francois Nau. Sometimes spelled griot, the word refers to pork that's been marinated in fresh herbs and sour orange, boiled until fork-tender, then fried—and it's the centerpiece at Jojo Fritay, the Kennesaw restaurant Nau runs with his wife, Edith, and daughter Jo. "If you don't speak Creole, griyo will make you speak it quickly," he says.
The Naus serve their pork a la carte or with rice and beans, but the best way to get it is on a mixed platter with other fried Haitian delicacies: Ask for the griyo fritay (and, while you're at it, the passion fruit juice). The restaurant is named after Jo and her own daughter, Jolie, and its familial vibes extend to diners, too—while the dining room is closed, the Naus lament not being able to watch customers' faces as they eat. But the food travels well. 1200 Ernest W. Barrett Parkway Northwest, Kennesaw, 678-540-2341

On the plate:
[Top left] Two types of fritters get their bright flavor from fresh garlic, parsley, green onion, and thyme. Made with wheat flour, the marinad is fluffy and breadlike.
[Top right] Dough for the other fritter, akra, incorporates ground yuca and malanga. The root vegetables lend it a chewy, glutinous quality.
[Center] Proper griyo requires bone-in lean meat with skin and a little fat on it, Nau says; pork picnic shoulder is the best cut for the job. Before frying, Nau marinates then boils the meat with sour orange and epis—a mixture of onions, garlic, parsley, and bell peppers that's the foundation of most Haitian dishes (and varies in ingredients depending on who's making it).
[Middle left] Sweet potatoes, fried till puffy and golden. Nau uses Japanese sweet potatoes, which have a white interior, purplish skin, and—he says—better flavor and consistency.
[Bottom left, in cup] Nau serves fried foods with pikliz, a spicy and vinegary slaw of cabbage, carrot, and habanero.
[Bottom] Bannann peze—flattened and fried plantains—are a typical pairing with griyo.
This article appears in our May 2021 issue.