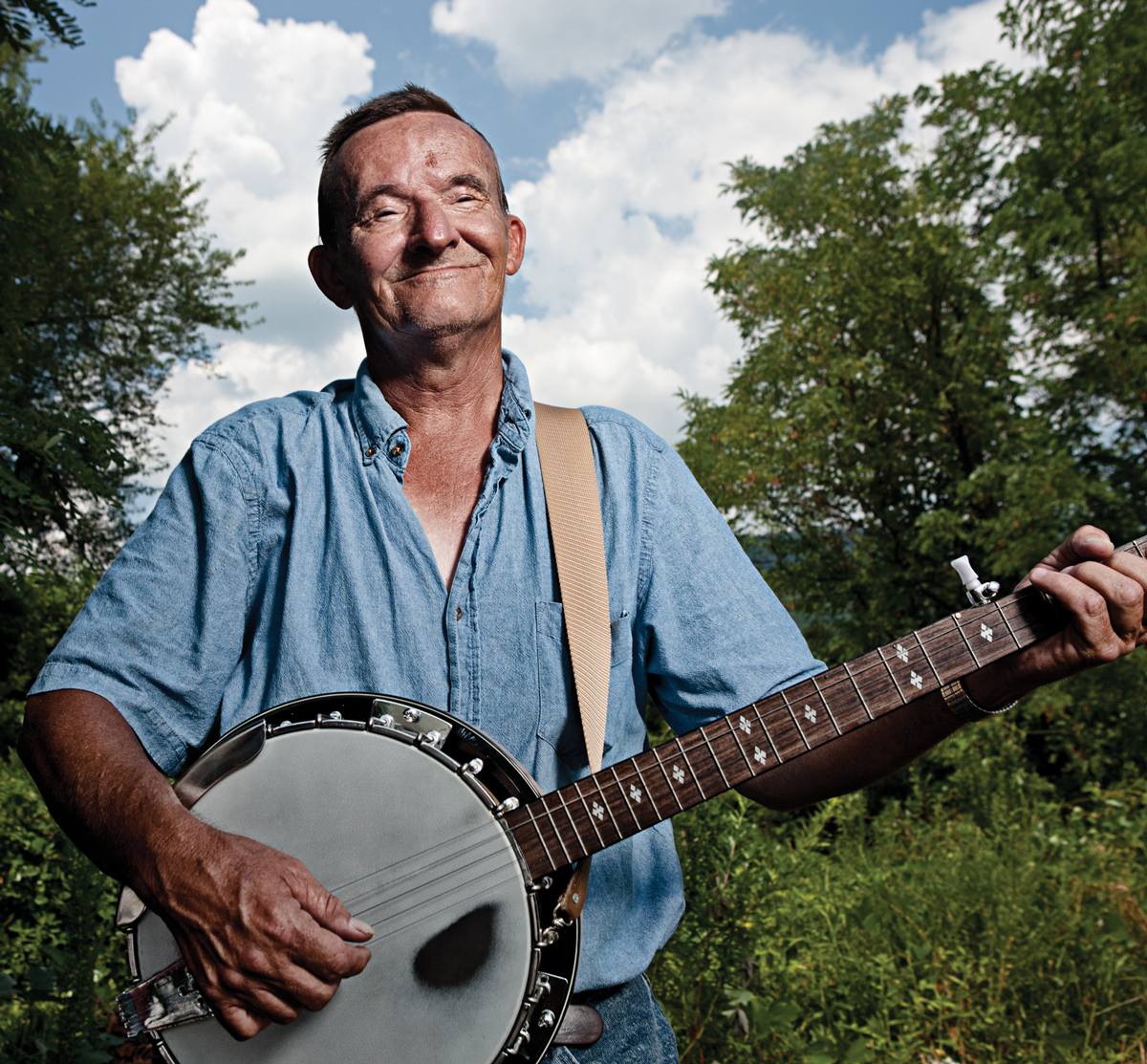 In the summer of 1971, Hollywood came to North Georgia to bring James Dickey's Deliverance to the silver screen. Over three months, the cast and crew battled relentless chiggers, stifling heat, a raging river, the author's drunken outbursts, and suspicious locals to film one of the most disturbing and powerful movies of the decade. In an oral history that includes Dickey's never-before-published correspondence, star Burt Reynolds and director John Boorman join more than a dozen others (including the creepy banjo player) in recalling the making of a movie that would forever change how the world sees Georgia.
It's near impossible to float down a river in Georgia without someone referencing Deliverance, usually exclaiming, in an exaggerated drawl, "Squeal like a pig!" That many of these giddy rivergoers—almost always from the Big City—have never seen the film or read James Dickey's 1970 novel, much less considered the horrific act that line conjures, is the point: Movie lines live a life of their own. Just visit squeallikeapig.com, the personal website of actor Bill McKinney, who uttered it. Or spend a few minutes on a summer Sunday watching the rafts plunge down Bull Sluice, the Chattooga River's main event, and listen for the jokes straining over the roar of the rapids. Is it the river that made the film, or the film that made the river?
James Dickey wrote a dark, muscular novel, which became an even darker, more unsettling film. It's about a canoe trip gone wrong on a remote river in North Georgia, but it's also about "the measures that decent people may—or must—take against the amoral human monsters that are constantly amongst us, whether in the woods of North Georgia or on the streets of New York," as Dickey wrote to William F. Buckley in September of 1972. When I first read the book, at seventeen, it felt like a portal to manhood.
Deliverance is a product of the male ego: the egos of the alcoholic-poet-turned-novelist (when the film was being made, Dickey wrote in a journal, "It seems to me that I am the bearer of some kind of immortal message to humankind"), a fearless English director, and, not least of all, a B-movie actor who grew up in Waycross, Georgia, whose name was Burton Leon Reynolds Jr. And then, still, the fictional egos of the four men in the two canoes who, led by the possessed Lewis, go down the fictional Cahulawassee "because it's there." There for now, that is. It's a disappearing river, about to be dammed to generate power for the civilized folks from Atlanta.
Instead of Roman Polanski or Sam Peckinpah, who were both discussed, Warner Brothers chose the lesser-known John Boorman to direct. He was a director on the rise, having done Point Blank and Hell in the Pacific—both starring Lee Marvin—in the previous four years. Warren Beatty, Robert Redford, Charlton Heston, Paul Newman, Jack Nicholson, Marlon Brando, Gene Hackman, and George C. Scott were all considered for parts that went to newcomers Jon Voight and Burt Reynolds. Nearly half the cast were local mountain people. It is something of a miracle, you begin to realize, that this bunch made a Hollywood film on a wild river that almost no one had canoed, in a state where movies weren't made, and that it became one of the most lasting depictions—to say nothing of its accuracy—of the rural South, and North Georgia in particular.
It also set in motion four decades of film production in Georgia. Reynolds ultimately appeared in eight films made in the state. For fiscal year 2011, the impact of the film industry in Georgia was $2.4 billion. How did this start? To compile this oral history of Georgia's cinematic big bang, Atlanta magazine interviewed more than twenty people who helped bring Deliverance to the big screen, and quoted from some of the memoirs and letters associated with the production.
James Dickey was born at Crawford Long hospital on February 2, 1923. Though he wanted to be a fighter pilot—and later said he was—Dickey was a flight navigator and weapons officer in World War II. He became an advertising executive and celebrated poet before publishing his first novel, Deliverance, in 1970. In Summer of Deliverance: A Memoir of Father and Son, Dickey's oldest son, Christopher, described his father as "the advertising man by day, the poet by night, the archer and canoer and tennis player on the weekends. He was the father in the armchair on Westminster [Circle], the half-rebellious son at Sunday dinners on West Wesley. He was lifting weights, still, in the carport, and cruising the Buckhead strip malls in the MGA sports car his mother bought him . . . He wanted to try everything."
• • •
Lewis King, eighty-three, was a friend of James Dickey's and a technical adviser for the film. He lives in Sautee-Nacoochee. Dickey dedicated the book to me because I took him canoeing. He enjoyed it, but he wasn't much of a paddler.
Doug Woodward, seventy-four, was a cofounder of Southeastern Expeditions guiding service and a technical adviser for the film. He lives in Franklin, North Carolina. From his memoir, Wherever Waters Flow: Dickey was an imposing figure of a man, and his presence filled the room. But it was much more than physical. There was a mystique about him—of things hidden, perhaps ominous—that he enjoyed perpetuating. There were references to the canoe trip which he and King had taken years before . . . Dickey would not describe details of that canoe trip. With a knowing smile, he would simply say, "There's a lot more truth in the story [Deliverance] than you might think."
King I had to go farther down the river to wait. I met a young guy and his father. The father said, "Stay with him, boy." I think he probably had a still down there. We waited. The man thought I shouldn't have been snooping around with a bunch of maps. I think Jim used that.
Burt Reynolds, seventy-five, played Lewis Medlock in the film. He now lives in Jupiter, Florida. Dickey and I didn't see eye to eye on a lot of things, but I did love the book. He said, "You know, it really happened. We didn't get there in time to kill the guy." I didn't ask him further. Do I think it's true? I don't know. Dickey was one of the great storytellers ever. And I don't mean liars.
Chris Dickey, sixty, was a stand-in. He lives in Paris, where he is the Paris bureau chief and Middle East regional editor for Newsweek. From Summer of Deliverance: Deliverance was just one of his projects, something to talk through on our long drives across two continents. And as I read it that night after my marriage, in a motel on the New Jersey Turnpike, I had to admit it was very damn good. Much as I wanted to, I couldn't put it down.
Dickey wrote a screenplay, which was heavily revised by director John Boorman. The revisions would be the subject of much acrimony.
James Dickey Letter to Eric Wallace, April 27, 1971: I first did a long "treatment" very heavily influenced by James Agee, and I thought it was very good, but it turned out to run about seven hours.
Woodward From Wherever Waters Flow: In King's living room, [Dickey] held a copy in his hand. He turned to me, motioning with the script, and asked, "It's a good book, don't you think? Do you really like it?" . . . As he tossed down more alcohol and the evening wore on, the question was repeated, until it became embarrassing.
James Dickey Letter to Edwin Peeples, January 1, 1971: I have a good director, though an Englishman, John Boorman. I took him over into North Georgia about six weeks ago, looking for locations, and damn near got him bit by a big copperhead. Now that would have been a touch of "authenticity." Imagine having an Englishman filming a novel about North Georgia in North Georgia, his veins full of North Georgia copperhead poison.
We have a good script, which I did, which John redid, and which I redid his redoing of. Anyway, we feel that we can legitimately claim equal credit, and that we have something which satisfies us both, which I guess is the point anyway.
John Boorman, seventy-eight, lives near Dublin, Ireland. He had a great sense of fantasy. When I first talked to him about the film, he said, "I'm going to tell you something that I've never told a living soul: Everything in that book happened to me." He told everyone else the same thing. Of course, nothing in that book actually happened to him.
Sarah Rickman, eighty-five, was married to Frank Rickman, now deceased, who built sets and found filming locations in North Georgia. She lives in Clayton. John Boorman had pink knitting thread holding his glasses. He was English and his wife was German.
Boorman I was pretty hot at the time. I read the manuscript and knew exactly how to do it. Burt and Jon were both not very hot at the time. Burt had done three TV series, which had all failed. Living in Ireland, I didn't realize that.
Voight had been in Midnight Cowboy, but little else of note. Reynolds had been in movies that, by his own account, "made you run out of the theater screaming if you saw them twice." These included Caine and Skullduggery. Voight and Reynolds were joined by two Shakespearean actors who'd never done movies: Ned Beatty and Ronny Cox. The film's budget was $1.8 million.
Chris Dickey Burt wanted respect. He wasn't coming from the stage, or from an Academy Award–winning film. He was a former stuntman, and he wanted to be a star.
Reynolds I was crazy and young and thought I was totally indomitable. Deliverance saved me in terms of being thought of as a serious actor.
Ed Spivia, seventy, was the state's first film commissioner and is now chairman of the Georgia Film, Video, and Music Advisory Commission. He lives on Lake Lanier. Dickey kept slapping Burt on the back and calling him Lewis. I think Burt punched him out.
Reynolds He was about six foot seven, 240. He didn't want to get physical with me. He was big, but I was crazy. After fighting the river, Dickey would have been a cinch.
The Chattooga was a dangerous, largely unknown river forty years ago. And the men expected to paddle down it were novices in canoes.
Boorman It was a location film, and I chose the river. It was the most suitable place to shoot, so we did it there. I've filmed in more remote places, like the Amazon.
Reynolds I hadn't paddled a river until we did the movie. None of us had. At that time, no one had done the Chattooga in a canoe. Just rafts that crashed and burned.
Buzz Williams, sixty-one, was an early paddler of the Chattooga. Now the executive director of the Chattooga Conservancy, he lives in Long Creek, South Carolina. In 1968 I was a high school senior in Pendleton, South Carolina. A couple fellas were transferred to a mill down here, and they had kayaks. Nobody here knew what a kayak was. They found this great river and asked me to go with them. It was the Chattooga.
Reynolds The first day the four of us went out, I had Ned Beatty in the front of my boat—which was not a good idea—and Jon had Ronny in the front of his boat and we were in this little pond and the boats tipped over. I remember two old paddlers sitting on the beach saying, "This is going to be a long summer."
Claude Terry, seventy-four, was a technical adviser and body double for Jon Voight. He cofounded American Rivers and Southeastern Expeditions guiding service. He lives in Atlanta. They had me up for a day to teach canoeing, and Burt wouldn't come. They had Fred Bear teach archery, and Burt wouldn't do that either.
Williams You could get seriously lost, or killed. It was one of the few remaining wild places in the southern Appalachians.
James Dickey Letter to Larry DuBois, April 8, 1971: This is going to be some thing, and some movie. If we just don't get everybody's brains knocked out on those rocks! They are pure murder, I can tell you.
Woodward From Wherever Waters Flow: We might be called on for technical advice, such as, "Where can we find a rock face with a swift current running past, that Jon Voight can be clawing at for a finger hold—and where we don't lose him down river!" Thus the naming of "Deliverance Rock."
Kyle Weisbrod, thirty-two, guided Southeastern Expeditions raft trips in 2000 and 2001. He lives in Seattle. Most of the Chattooga shots were from Deliverance Rock and Screaming Left Hand Turn. They use Screaming Left Hand Turn three or four times. They didn't touch Bull Sluice.
The set was a diverse place, as many of the smaller roles were filled by mountain people in North Georgia.
Betsy Fowler, seventy-six, was married to John Fowler, now deceased; in the film, he played a doctor who tends to the injured canoers. She has lived in Rabun County for the past forty-eight years. Boorman told Frank Rickman to go out and find all the people in Rabun County who were challenged in any way—physically and mentally.
Boorman Frank was a bulldozer man.
Spivia Frank knew those mountains and rivers better than anybody. His father was sheriff of Rabun County and used him as a catch dog for moonshiners. Frank found the buck dancer at the gas station. And he's the one that put the pig-squealing in it. Governor Carter ended up appointing him to the film commission.
Rickman They wanted a snake to swim through the river and hold its head up. Frank knew exactly which snake to get. Frank didn't go to the movies, but he liked making them.
Spivia He was a red-clay Michelangelo.
Billy Redden, fifteen years old at the time, played Lonnie, the creepy boy in the dueling banjos scene.
Billy Redden, fifty-six, lives in Dillard, Georgia, and works at Walmart. A couple casting directors came into our school and they picked me out. They just said, "Sit there and be natural." There was another local boy behind me, Mike Atlas, playing the banjo. I just had two scenes: sitting on the porch, then the bridge. The rest of the movie I don't know nothing about. I left.
Boorman [Redden] didn't play the banjo, you know. That was another boy, reaching through his sleeve. We didn't put him in the credits.
The set attracted a lot of attention; much of it came from Reynolds's harem of women, but there were also tourism officials interested in promoting the state.
Spivia I was editor of a little state publication called Georgia Progress. I went up to Clayton to see what they were doing with Deliverance. I nosed around and found out they were buying property along the river, and hotels, and food. Helping the community. It was an eye-opening experience. Georgia was having a downtime, and I thought more films would be a good way to get more money spent on Georgia.
Woodward From Wherever Waters Flow: Nightlife in Rabun County revolved around the Clayton Dairy Queen and the Tiger Drive-in Theatre. The Tiger showed grade-B films that were so bad they were actually good entertainment.
Reynolds I went to Atlanta a lot. I was dating a lovely lady and driving back at four in the morning to work on the weekends. Jon, he probably was out being a horticulturalist. I think he was testing plants. He's always trying to further his brain.
Rickman I was stacking wood out on the carport and Burt drove up. I said, "Hold on, Burt, don't come and don't try to kiss me, I'm all sweaty." He said, "I don't care."
Terry We went into his house and I looked over and there's a big stack of photographs of Burt in a wet suit top. He said, "Those are for autographs."
The director and principal actors stayed at Kingwood Country Club & Resort during the production, while the crew lodged at the Heart of Rabun Motel. Dickey and Boorman began to butt heads.
Chris Dickey From Summer of Deliverance: My father had been handed the shooting script that he thought he'd approved. But this one started with a terse note: "Scenes 1–19 omit." This was going to be an action movie that began and ended on the river. Real clean. Real simple.
Boorman Film is different from a novel.
Terry We were at Kingwood, having drinks. I was talking to Boorman and Jim Dickey comes in drunk. He flops down and says, "God, they're ruining my fucking movie, ain't they? They're not doing my book." I said, "I don't know, Jim." I look at Boorman, and Jim repeats, "They're ruining my book, ain't they?" Jim grabs me by the shoulders and says, "You look at me when I talk to you."
Boorman He was drunk a lot, and he had become very overbearing with the actors. Eventually I had to ask him to leave. We carried on.
Reynolds From his autobiography: I just couldn't handle his act—his Jim Bowie knife on his belt, cowboy hat, and fringed jacket.
Rickman Boorman and his wife, Christel, rented a house down at Kingwood, and boy, she threw the best parties. She'd go to Atlanta and get a complete hoop of blue cheese. She also bought all the lemons in town and made bowls of fresh lemonade that she took to the set. She rode around Clayton in a yellow convertible.
Conflict with locals began to brew. It became clear that the film wasn't going to be a pretty postcard from North Georgia.
Fowler Every character, with the exception of my husband [who played the doctor] and the four men going down the river, was portrayed as very limited. And that didn't make us feel good.
Williams There was already conflict between the people that traditionally used the river and people coming in from the outside. Deliverance was like dropping an atomic bomb on the whole thing.
Boorman When I was looking for locations up there, before we shot the film, I ran into the odd guy aiming a shotgun at me. But on the whole, they were very helpful.
Chris Dickey Life magazine asked my father to write something about the making of the movie, and he said, "Have my son write it." I was nineteen and thought it was a great chance. So I took tons of notes and sat down and wrote a few thousand words. They didn't publish it, but I kept the notes.
Boorman Chris was fourteen years old or something. It was a very happy shoot in my recollection. Everybody was very collegial. The locals were extremely helpful.
Woodward From Wherever Waters Flow: Warner Brothers had found their "perfect" backwoods cabin and gas pump location for shooting the "That river don't go to Aintree" scene. When they returned a week later, they were met by the owner who quickly sent them packing with, "I just read the book and you're not shooting that filthy story on my place!"
King The two things that really made Deliverance last are the concept of the modern man with the primitive weapon against the primitive man with the modern weapon. It was also an unprovoked attack by a rural element against an urban element.
Chris Dickey The book and the movie played with the tension between the new South and the old South. The new South was Atlanta. The old South up in the mountains was a whole different world. You didn't have to drive far to hit it.
Williams The whole history of the southern Appalachians is of impoverished people in a land that was just abused and worn out and overrun. That's why they're suspicious. Then, on top of all that suffering, to have someone come in and make fun of you? They deeply resented it.
Boorman Most of the people who lived up there were like that.
Chris Dickey From Summer of Deliverance: Hollywood paid these people and treated them as gently as it knew how to do, but it was hard to get over the feeling as the lights went on and the cameras rolled that souls were being stolen here.
As the production wore on, the risk-taking and off-set drama intensified. Voight climbed hundreds of feet above Tallulah Gorge, and Reynolds voluntarily slid down a waterfall.
Boorman Jon was in a very depressed state when I found him; he wanted to give up acting. He says that I saved his life and then spent the whole film trying to kill him.
James Dickey Letter to Jacques de Spoelberch, who edited Deliverance the novel, June 26, 1971: Yesterday we were filming the part where Ed climbs the rock-face, and if there was ever a harrowing piece of film-making, this was it. Jon Voight did as much of the actual climbing as he was able to, and wanted to do more, but Boorman was as frightened for his life as I was.
I am deathly afraid that somebody will get hurt on this film, because there is no doubt that it is the most dangerous one ever made. If we can just get out of the gorge.
King The woods represented a sort of mystery to Jim. He wasn't very comfortable.
Reynolds I was Southern, and the rest of the crew weren't. I had a real touch with those people. And not because I was trying to talk like Erskine Caldwell. There was no way we could have made that movie without their permission. They let us shoot. They weren't above blowing up canoes.
James Dickey Letter to Jacques de Spoelberch, June 26, 1971: Burt Reynolds, who plays Lewis, cascades down about ninety feet of hurricane-rushing water. Burt did this, and the shots of him doing it are hair-raising indeed.
Reynolds They sent a dummy over the waterfall and it looked like shit, like a dummy. So I went over the waterfall and hit a rock about a quarter of the way down and cracked my hip bone and my coccyx. They told me if I got caught in the hydro flow, swim to the bottom and it'll shoot you out. They didn't tell me that it would shoot me like a submarine torpedo! They couldn't find me for five minutes. A mile down the river, they saw this nude man stumbling, crawling towards them. I'd had on these high boots and they were gone, the pants were gone, the underwear was gone, the jacket was gone. I said to Boorman, "How's it look, John?" He said, "Like a dummy going over the waterfall."
Rickman Frank had built a walkway and put strong poles and a large rope along the sides of the gorge for you to hold on to. So there were some precautions.
Chris Dickey From Summer of Deliverance: To shoot that scene, a little deer was brought in from an animal park, and heavily tranquilized so it could be controlled. There was never any question of hurting it in any way. But it died. It had been given an overdose. Boorman and his assistants were in a quiet panic. "This is all we need," I remember one of them saying.
Reynolds You think that right in the middle of the fact that you may be drowning, somebody's going to say "cut" and you're going to be all right. I don't know if you could find four actors quite that crazy to do it now. And Boorman was right there with us most of the time.
Terry There were hours of hanging on the branch above a big rapid "waiting for cloud." The cinematographer wanted everything overcast and then put a brownish wash on the film to make it even darker. It seemed dark enough.
Filming the scene in which Ned Beatty's character is raped took more than a day. The set was closed.
Chris Dickey From Summer of Deliverance: It was a rain forest, right here in the mountains of Georgia. Its floor was so shadowed that small plants found it impossible to grow in the thick loam of the rotting leaves. The mountain laurel was not shrubbery but a collection of trees twisted like gnarled fingers reaching for the light. The whole effect was beautiful and threatening. This was where the rape scene was going to be filmed. The script called it "Resting Place."
Woodward From Wherever Waters Flow: [Chris] was to "stand-in" for Beatty at all the critical marks—climbing the leafy bank, bending over the log.
Chris Dickey Nobody was sure how far it would go, or how convincing it would be. I wasn't in my underwear. I was fully clothed. But it was a very unpleasant sensation, lying over a log with your ass up in the air in a scene that's eventually going to be a rape.
Rickman Frank [the local location scout] did say that was the thing to do. And they did it. Oh gosh. He was proud of it. He thought saying "squeal like a pig" was real funny.
Chris Dickey Herbert "Cowboy" Coward [who plays the "Toothless Man" in the rape scene] was not an actor at all. He'd try to get into the role and he would say the most ridiculous things. He ends up saying, "He's got a real pretty mouth, don't he?" But the first time they were blocking the scene, it was, "I'm gonna lay a big, long d— right in your mouth." Voight laughed. He looks around and says, "God? Burt? Somebody?"
Reynolds There must be some phallic thing here: The guy who did the raping was a tree-trimmer.
Rickman I didn't much care for that scene.
Chris Dickey From Summer of Deliverance: It was becoming what the movie was about, it was the thing everybody was going to remember. Not Lewis's survivalism, not the climb up the cliff, not Ed's conquest of his own fear.
Terry Chris was put through abuse to the point where when he left for France he said he'd never come back except to see his stepsister.
Chris Dickey It was a miserable time in my life. And my father didn't understand.
James Dickey Interview with Playboy, 1973: John turned to me and said, "Jim, we all want you to play the sheriff." I said I'd never acted in my life. "You can do it," he said. So I just played myself dressed up in a sheriff's uniform. After we made that scene, I wore the uniform back to where we were staying and had dinner. Somebody said to me, "Does your sheriff's outfit fit you OK?" I said, "Yeah, I haven't had it off all day. In fact, ever since I've had it on, I've been going around collecting graft from every whorehouse in Rabun County. And that isn't all I got, either."
Boorman When I told him to leave, I said he could come back to play the sheriff. He said, "Get yourself another boy." But he came back, of course. And did very well.
Reynolds No, we didn't take any precautions. It was crazy. Absolutely crazy. But we did it and I'm glad we did it. Would I do it again? Not for three million dollars.
Deliverance opened the Atlanta International Film Festival on August 11, 1972, taking the top award, the Golden Phoenix. It went on to be nominated for numerous other awards, including an Oscar for Best Picture, Best Film Editing, and Best Director.
Williams The book was big. But nobody had a clue whether the movie would flop. It just came like a bombshell out of the sky.
Rickman We went to Atlanta for the premiere. Frank was into it so deeply, it was strange for him watching the movie. I liked the scenery. But the story . . .
Fowler I still can't watch it all the way through.
Williams The first thing that struck me was the night sounds. What it sounded like on film was just like walking outside our house at night.
Rickman People said it put a bad picture of Rabun County to the world. Like that rape in the woods. I don't think mountain people do that.
Chris Dickey My father's sympathy with them was much greater than it comes across in the movie.
Stan Darnell, sixty-two, is the head of the Rabun County Board of Commissioners. He lives in Rabun County. Everybody up here was kind of up in arms. They didn't expect that one scene to be in there. But we got the rafting industry, and quite a few other movies came here and helped real estate, and other businesses around.
Spivia At the premiere, I sat behind Mr. and Mrs. Carter and Miss Lillian. When the actor lets out, "Yahoo, that's the wildest fucking river in the world," I went under my seat. Jimmy thought it was fine, though. He always said not to inject our feelings about anybody's movie. We were there to help them.
John Dillard, sixty-six, worked for the Dillard Motor Lodge in Clayton, which catered for the film set. His family now runs the Dillard House restaurant in Dillard, Georgia. Some people that didn't go to the trouble of understanding what Dickey was trying to portray may have been offended. He was showing how people's character, true character, comes out when placed in a different environment, a dangerous environment. It made for a great story.
James Dickey Letter to William F. Buckley Jr., September 18, 1972: Have you seen our movie yet? Has it been reviewed in National Review? If it hasn't, I have a suggestion or two. Most of the other reviewers have taken it as a critique of "machismo." But this needn't be the case. It can equally be taken as a political fable: law and order, or un-law and order (of a sort).
Reynolds I've always been amazed that he never wrote another book as good. My theory is that he didn't have another story in him that really happened that dramatic.
James Dickey Letter to John Boorman, September 22, 1972: When you see Burt in London, please have him tone down some of the public remarks he is making about me. I may be mythical to Burt in some way that has to do with his own psychological condition . . . I don't think Burt is doing any of us any good by his creation of this mythical character he refers to under the unlikely name of James Dickey. But tell the guy that I'm very high on him, for his guts and talent.
Reynolds It totally changed my career. It changed my life. It changed everything.
James Dickey Letter to John Foster West, October 20, 1972: You could say either that the four main characters are more or less based on people I knew—and still know. But it would probably be even more true to say that they are all aspects of myself.
Chris Dickey From Summer of Deliverance: The smell of alcohol would ooze from his pores. And he would stand in the long lines—even walk up and down the lines—as people waited for tickets. "You see that?" he'd say. "That's my movie."
Boorman I was very proud to have made it.
Fowler My husband worked one day, and I still get residuals of $6.14, two or three times a year.
According to U.S. Forest Service statistics, seventeen people were killed on the Chattooga in the four years after Deliverance came out. Raft companies also began sending people down the river.
Williams It was referred to as "Deliverance Syndrome." Everybody saw the movie and wanted to go do what Lewis did. They came up here ill-prepared and got on a very dangerous river in a very remote place, and they got killed in droves; they didn't have on life jackets or had no skill whatsoever. Some died of hypothermia. I love the river, and I love that people have the opportunity to enjoy it. But those brochures call it "The Deliverance River." Every time I see that, and all the trash, I get nauseated.
Dillard Billy Redden, it sort of made a permanent celebrity out of him.
Redden People recognize me in the store. I've had people from all over send me mail. After me and my wife divorced, I had my address changed, and I ain't got a check from Warner Brothers since. That was six years ago. They were giving me about twenty bucks a month. I just want to find their main office and get my address fixed. Twenty dollars is a lot, but it's not worth fighting my ex-wife for it.
Reynolds I wanted to hurry up and get the shot before my arms went down one day. I was pumping iron like crazy, and Billy came up and said, "Stud, my neighbor died." And I said, "Well, I'm sorry, Billy." And he said, "She ain't dead, 'cause I love her." And I thought, that's as good as it gets. I hope he liked us. We cherished him.
Redden He wasn't that nice. I tried to get along with him, but he was kind of a smart-ass.
Chris Dickey I couldn't get through to my father anymore, and wouldn't until more than twenty years later. If you're a writer, your ego is a big part of what you do. And if all of a sudden everybody's encouraging you to be crazy, hard-drinking, eccentric . . . you do that. And he did.
Boorman He was appreciative of my help, and he professed to be very happy with the film. He used to say to people it was better than the book. Later on, he felt that I, in some ways, had betrayed the book. In the late eighties, he tried to get Hollywood to remake the film with his screenplay.
Williams He would often say that he had tremendous regrets about the impact of that book on the river that we all loved. The last thing he said to me was, "Say goodbye to the river for me." And I said, "Why?" And he never answered.
James Dickey Interview with Playboy, 1973: I want to be buried on the west bank of the Chattooga River—if the state will allow it. Just dumped into a hole with no coffin. On a plain tombstone, there'll be this: JAMES DICKEY, 1923 TO 19 WHATEVER, AMERICAN POET AND NOVELIST, HERE SEEKS HIS DELIVERANCE.
James Dickey died on January 19, 1997, of complications of lung disease. He was seventy-three. He is buried on Pawleys Island, South Carolina. His tombstone includes the final line from his poem "In the Tree House at Night." It reads, "I move at the heart of the world."