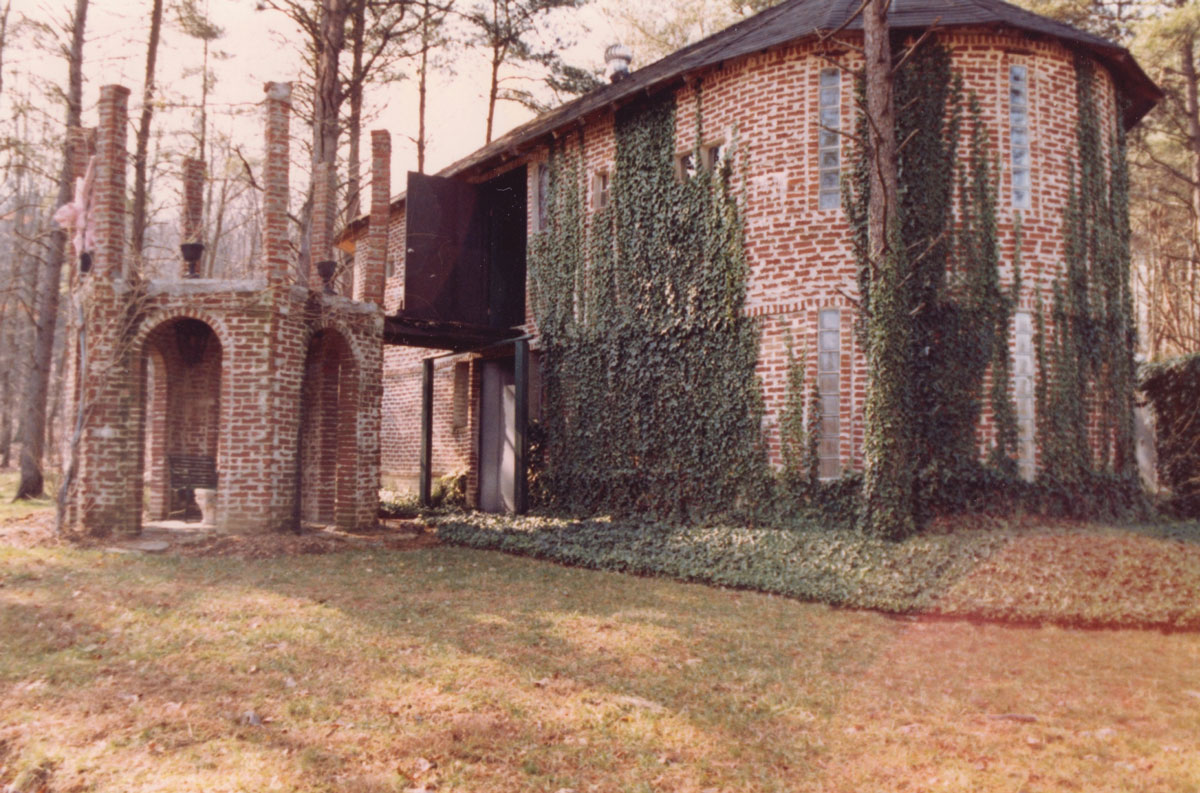 "You should do those gay devil worshippers in North Georgia next."
"Huh?" I typed back.
"Your next podcast should be about Corpsewood Manor," they responded. "Just google it."
I had this exchange over Instagram in early 2020, after I'd just published the final episode of my podcast Catlick, an Atlanta-based historical true crime saga.
Curious, I tapped "Corpsewood Manor" into my iPhone. I was spellbound.
I began reading the tale of two men who constructed a mysterious mountaintop compound on the outskirts of rural Trion, Georgia, in the late 1970s—replete with homosexuality, drugs, demonic entities, and a pleasure chamber. But, to me, the undercurrent of that sordid story was simpler: Two gay men moved to Georgia in search of a simpler and happier life. And they found it, for a while.
While some people move to the country to find peace, I moved to the city. I grew up as the deeply closeted son of a Southern Baptist pastor. Though I was raised in Alabama, I landed in Georgia in 2009, when I was in my late 20s. Like many queer folks before me, I migrated to Atlanta with the hope of something more. And years later, I found it. His name is Brett. Like me, he had also been a terrified gay boy in Alabama, growing up in the religious shadow of the Deep South. And, like me, he'd longed to move somewhere that could offer a fresh start and some peace. Brett's now my husband, and it feels like we found what we were looking for when we moved to Georgia.
That doesn't happen for a lot of people, and it didn't happen in this story. I wanted to visit Trion and walk the ruins of the life these men had built together. And I wanted to know what's changed since a pair of "gay devil worshippers" built their castle in the woods.
• • •
By the early 1970s, Charles Scudder was no stranger to academia. After studying zoology and languages as an undergraduate, he earned a PhD in pharmacology. Shortly thereafter, Loyola University in Chicago hired him as an associate professor of pharmacology. For more than a decade, he taught students while maintaining a fierce regimen of research. Colleagues described him as brilliant.
But he was worn down, complaining of unteachable students and colleagues consumed with catty university politics. His second marriage had dissolved, and his three children had grown up and moved out of his aging mansion on Chicago's west side. He and his longtime housekeeper and companion, Joseph Odom, were the only two residents left. Odom was 12 years younger than Scudder and had only a fifth-grade education, but, Scudder wrote of him once, in an article for Mother Earth News: "He'd learned far more about the world than I had with all my degrees, and, somewhere along the line, he'd developed a talent for whipping up meals fit for a king."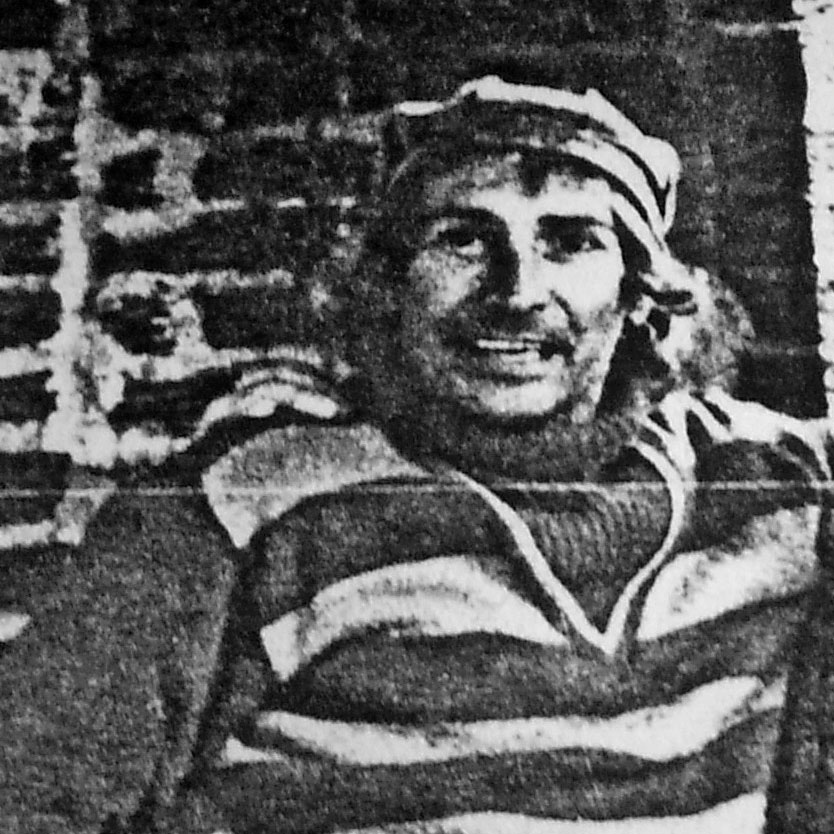 In 1976, Scudder received a modest inheritance after his mother died. This, he believed, was his ticket to a new life, far from the stresses of the city and the university. He began searching for a new place to call home, "some place in hilly country, with the glamour of four seasons but without super-cold winters," he wrote in Mother Earth News, extolling the virtues of moving back to the land, "with a good supply of pure water and wood for heating and cooking, and, most important, with a measure of isolation."
His search led him to the foothills of the Appalachian Mountains in North Georgia, where he discovered, and eventually purchased, a plot of 40 acres in Chattooga County. He drove 10 hours to scout the property and was enamored: "There I found hummingbirds, whippoor-wills, butterflies, bobcats, great oaks, fungi, and rolling mountain woodland," he wrote.
October 6, 1976, was Scudder's 50th birthday, and he celebrated by submitting his resignation letter to Loyola University. He immediately began liquidating his home. He auctioned off the mansion's baroque antique furniture and gave away anything with a plug, since their new home would have no electricity. He kept only a few essential items, including his golden harp. Weeks later, the house was sold. By January 1977, Scudder had fully dismantled his life in the heart of Chicago. He and Odom would move to Georgia where—brick by brick—they would build their life together.
Scudder, Odom, and their two English mastiffs arrived at their property in Georgia amid grueling conditions. The party of four had driven through a blizzard that had pounded the American Midwest and South. The first few nights in Georgia, they slept in their car and then a tent. But as the snow began to melt, the two men got to work. With a chainsaw, concrete mixer, and a garden cultivator, Scudder and Odom began constructing their mountain homestead. They cleared a plot of land, dug a well, and even excavated the structure's foundation by hand.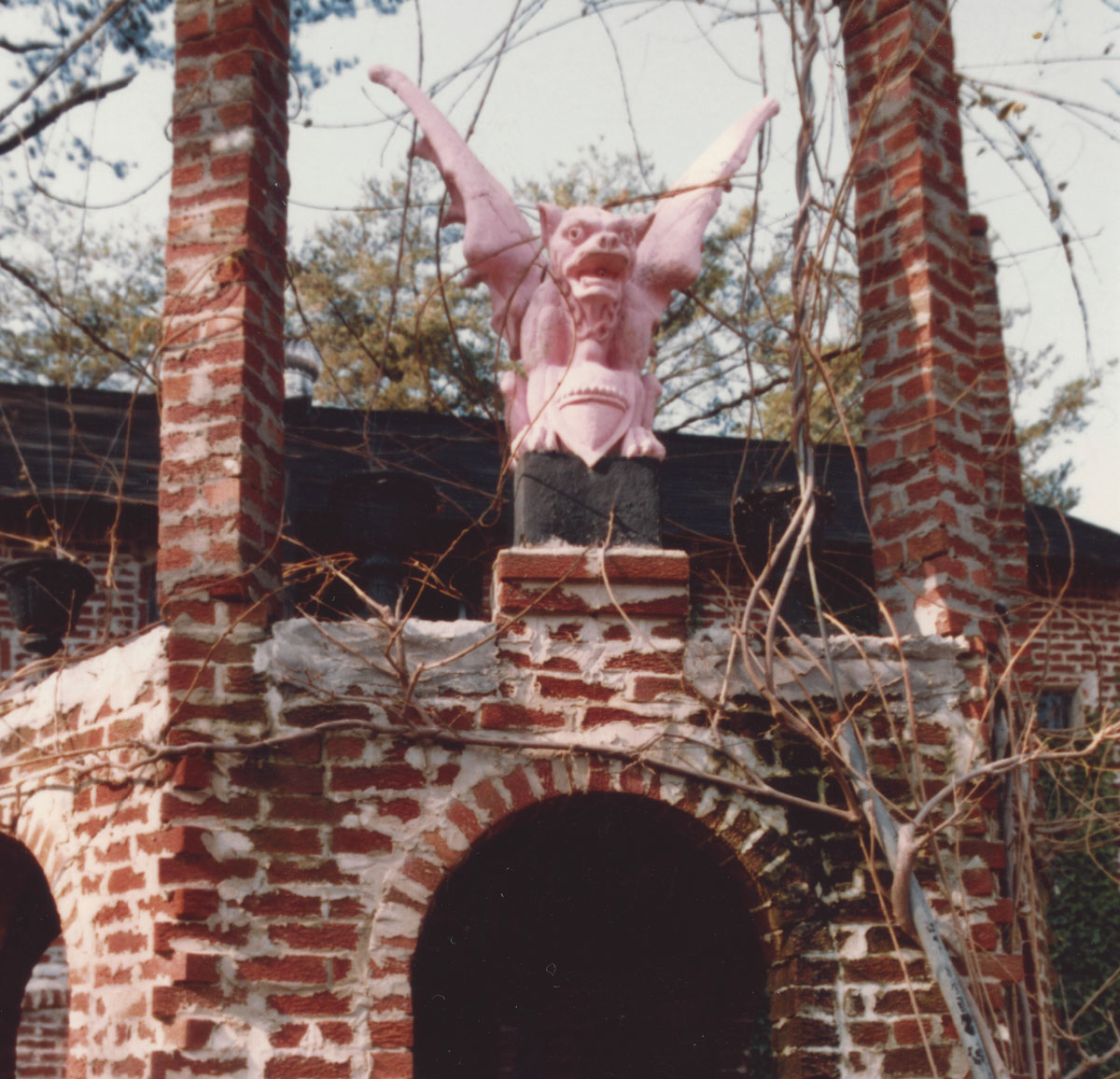 By summer, the first floor of the all-brick, castle-like structure was livable. Years later, a local investigator would tell the Atlanta Constitution that it had been built using "medieval building techniques," adding that "there are no square corners in the whole place."
But the structure's geometry was hardly its most interesting feature. Above the arched main entrance, Scudder erected a pink concrete gargoyle. He also created and installed macabre stained glass windows—one of them depicting a human skull, another featuring Baphomet, the demonic goat-headed deity that serves as the official symbol for the Church of Satan. In the late 1970s, the Church—founded less than a decade earlier by Anton LaVey, author of The Satanic Bible, in San Francisco—had a small but dedicated following. Members didn't believe in an actual spiritual entity named Satan; rather, they used the Christian notion of Satan to rally around their atheistic and hedonistic ideals. It's unclear when he joined, but records indicate Scudder was an official member of the organization. Though he never spoke publicly about his satanic beliefs, his life in North Georgia was filled with its symbology. He named one of his dogs after the legendary lord of darkness, Beelzebub. Even his new estate's moniker reflected Scudder's love for the macabre: The mysterious abundance of dead and dying trees on the property inspired him to name his castle in the country "Corpsewood Manor."
• • •
Earlier this year, I made the drive north from my home in East Atlanta to Chattooga County. A friend told me Sweet P's had the best lunch in Trion, so that was my first stop. Inside, I discovered a classic Southern buffet—fried pork chops, black-eyed peas, macaroni and cheese, and green beans. My Alabama heart was happy.
There, I struck up a conversation with my server, a young woman in her 20s.
"Have you ever heard of Corpsewood Manor?" I asked her.
She had, though she wasn't even alive when the Corpsewood saga went down in 1982. I mentioned that I was driving to the site.
"Well, you better bring a bat," she replied.
Corpsewood Manor was built atop a densely forested mountain ridge called Taylor's Ridge. But her friends don't call it that. They refer to it as "devil worshippers mountain" or "DW" for short. She said she once saw men with "machetes and machine guns" patrolling the area. Her most dramatic tale was of a friend who stole a brick from Corpsewood once and fell under a curse because of it.
We wrapped up our conversation, I paid my bill, and I made my way to the door. She was waiting there for me with a piece of red velvet cake in a to-go box. It was part of the buffet, and she didn't want me to miss out on it. She left me with two parting words: "Be safe."
I thanked her and got back into my car. Taylor's Ridge was my next stop.
• • •
As Scudder and Odom settled into their new life, rumors began to spread through the town about the two men in the castle on the ridge.
Though they relocated for privacy, Scudder and Odom made frequent trips into Trion. After navigating a winding dirt logging road, they could be at the main highway in minutes, and soon perusing the aisles of the local Hurley's grocery store. The men quickly earned a reputation as the new-to-town strangers who dressed like hippies and drove a black Jeep with a pentagram painted on the side. Curious Trionians began making the drive up Mountain View Road to investigate their strange new neighbors; at the entrance to the Corpsewood property, a wooden sign greeted them with a warning: "Beware of the Thing" (likely an Addams Family reference). Some townspeople said this was evidence Scudder had summoned a demon to guard the property. Others claimed to have seen robed figures holding seances in the woods.
There were larger cultural forces fueling the local gossip. By 1982, Scudder and Odom had been in Georgia for five years and the satanic panic was in full force—not just in Chattooga County. Pop culture was preoccupied by the devil and the occult: Less than a decade before, The Exorcist horrified moviegoers with scenes of levitation, projectile vomit, and vertebrae-cracking neck spins. Fantasy role-playing game Dungeons and Dragons debuted in 1974, scandalizing pastors and giving parents nightmares of their children falling under demonic spells. In 1978, a conspiracy theory claiming McDonald's was secretly funding satanic enterprises gained so much popularity that the company was forced to release a statement denying the rumors. (Its founder, Ray Kroc, reassured customers that he was "a God-fearing, God-loving man.") A bestselling book called Michelle Remembers burst into the zeitgeist, introducing readers to satanic ritual abuse. In the memoir, Michelle Smith, with help from her psychiatrist and eventual husband, told the harrowing—and eventually debunked—tale of being caged, tortured, and sexually molested by members of a satanic cult. And in 1982, Poltergeist depicted the haunting story of a family under siege by malevolent spirits.
Closer to home, this was also when the serial killings of several Black children and young men in Atlanta had gripped the state in fear. Amid the manhunt, one theory circulating was that a ring of homosexual pedophiles was responsible. Around the same time, newspapers began reporting on a terrifying new "gay disease." First identified in 1981, HIV was baffling scientists at the CDC and beyond. The topics of Satanism and homosexuality became increasingly common on evening news broadcasts.
As the home of two gay men, at least one of whom was a Satanist, Corpsewood Manor became a lightning rod for suspicion. But those who actually visited reported that its two barons were kind, often inviting guests to stay, eat, and share in homemade wine. As the two men made friends with locals, Corpsewood Manor became a social destination. Odom, an exceptional chef who loved to cook, prepared meals while Scudder served as effusive host, often playing his golden harp for guests. Candie Grogan, a Trion local, was called "one of Scudder's closest friends" by the Chicago Tribune. She described a candlelit dinner party at Corpsewood Manor that featured a five-course meal complete with wine served in silver goblets. "It was a fantasy," she told the paper in 1983.
But it was the after-dinner activities that sparked the most gossip. Next to the manor, the two men built a three-story wooden structure to house their chickens and store food. On the third floor of the Chicken House, though—accessible only by a ladder leading up to a narrow wooden opening—was a single room, painted pink. The room was sparsely furnished with gas lamps, a few old mattresses, and a considerable collection of pornography. Dubbed the Pink Room, it served as a personal pleasure chamber, and many evenings at Corpsewood Manor culminated there. Participants reported that encounters were consensual, free of judgment, and often fueled by heavy pours of homemade wine. A journal was available for guests to record their experiences and sexual preferences.
As stories from the Pink Room emerged, rumors about the two gay devil worshippers hosting sex parties at their mountainside castle billowed through the deeply conservative community of Trion. And it wouldn't be long until the wrong people found out.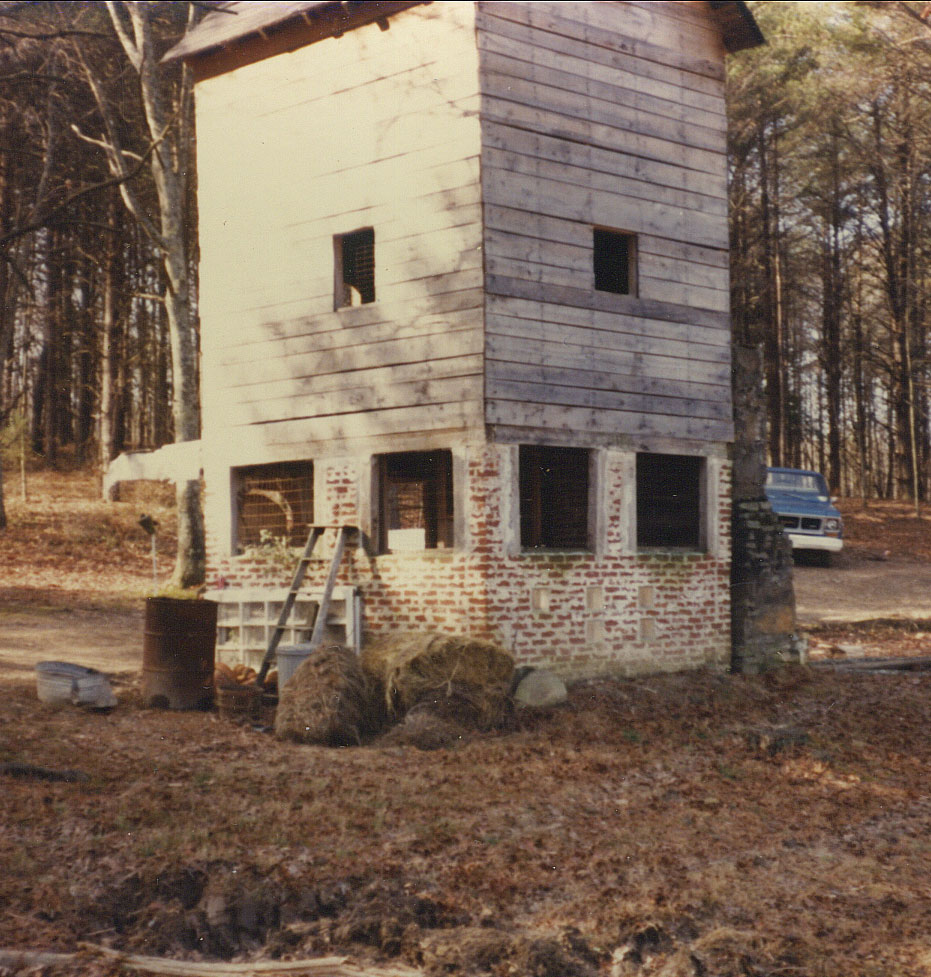 • • •
It was 1982 when a 17-year-old named Avery Brock wandered onto the Corpsewood property. Brock—an avid hunter from nearby Walker County—had lived a hard life already. According to Amy Petulla, author of the Corpsewood Manor Murders of North Georgia, Brock's father had kicked him out of his home at a young age. Scudder happily granted him permission to hunt on the land. Over time, Brock became friends with the two men and even joined them in the Pink Room.
After several visits to the Corpsewood property, Brock told his friend and roommate, Tony West, about the men on the mountain. At 30, West was much older than Brock and had his own history of trouble. Throughout his teens and 20s, he'd bounced between various jails and mental institutions.
Brock and West suspected that Scudder and Odom were wealthy and hiding their riches inside the manor. In the privacy of their shared trailer, Brock and West began devising a scheme to ambush and rob them.
On December 12, 1982, they invited two of Brock's teenage friends to accompany them to the home of Scudder and Odom. The two teens, oblivious to the plot, loaded into West's car alongside Brock, and the four began winding their way up Mountain View Road en route to Corpsewood Manor.
Minutes after their arrival, they were all climbing the ladder to the Pink Room, where a lantern, kerosene heater, and a couple of mattresses awaited them. Brock brought with him a can of "toot-a-loo," a homemade concoction of alcohol, paint thinner, and glue that could be huffed for a cheap high. Only Scudder joined them as Odom stayed in the main house to clean up after dinner.
After several minutes of small talk, Brock told the group he needed to fetch more toot-a-loo and disappeared down the ladder. Instead, he retrieved a rifle from the trunk of the car.
The plan was now in motion.
In courtroom testimony, witnesses reported that Scudder chuckled at the sight of Brock returning with the gun. He even made a joke, saying "bang, bang." Moments later, Brock lurched toward him, grabbed the former professor by the hair, pressed a knife against his neck, and began interrogating him about the hidden fortune. Scudder calmly explained that they didn't keep cash at Corpsewood and that what little money they had was in a local bank. Brock altered course. He descended the ladder and stormed toward the main house in search of Odom. Within seconds, the sound of gunshots echoed across Taylor's Ridge. Brock fired a volley of bullets at Odom and the two English mastiffs, executing them all at point-blank range. Hearing the shots, West forced Scudder and the two terrified teenagers down the ladder and into the castle. Once again, they demanded Scudder turn over his money. Overwhelmed at the sight of his beloved partner, Scudder pulled away from his interrogators. Another shot rang out, and Scudder fell to the floor.
Brock and West began their siege, ransacking the house and desperately searching for a hoard of cash. Finding none, they grabbed several items of little value and threw them inside Scudder's Jeep. They hauled Scudder's golden harp to the vehicle as well, though it didn't take long to realize it wouldn't fit. The four then left the crime scene and went to the trailer, where West threatened to kill the two teenagers if they told anyone about the murders.
Planning to flee to Mexico, Brock and West drove Scudder's Jeep through the night, eventually pulling into a dimly lit rest stop outside Vicksburg, Mississippi, where they decided to swap Scudder's Jeep for something more nondescript. They noticed Kirby Key Phelps, a 26-year-old Navy lieutenant who'd graduated from Georgia Tech a few years earlier, sleeping behind the wheel of a Toyota. They forced Phelps out of his car and led him into a grove of trees. When Phelps tried to escape, West shot and killed him.
Back in Georgia, four days passed before anyone knew something had gone wrong at Corpsewood Manor. A friend of Scudder's and Odom's stopped by for a visit, and, after discovering the gruesome crime scene, raced into town to notify the police. Deputies from the Chattooga County Sheriff's Office were at Corpsewood within the hour. Entering the house, they found blood-stained walls, overturned furniture, and bullet casings. Sheriff Gary McConnell called in the Georgia Bureau of Investigation and the state crime lab. Corpsewood Manor was under siege again, this time by a throng of police and forensic investigators.
Those who searched the house that day described a crime scene unlike any other—satanic statues and paintings, whips, chains, a woman's wig, pornography, vials of LSD, and human skulls. (Newspapers later reported that Scudder had swiped the skulls and LSD from his lab at Loyola.)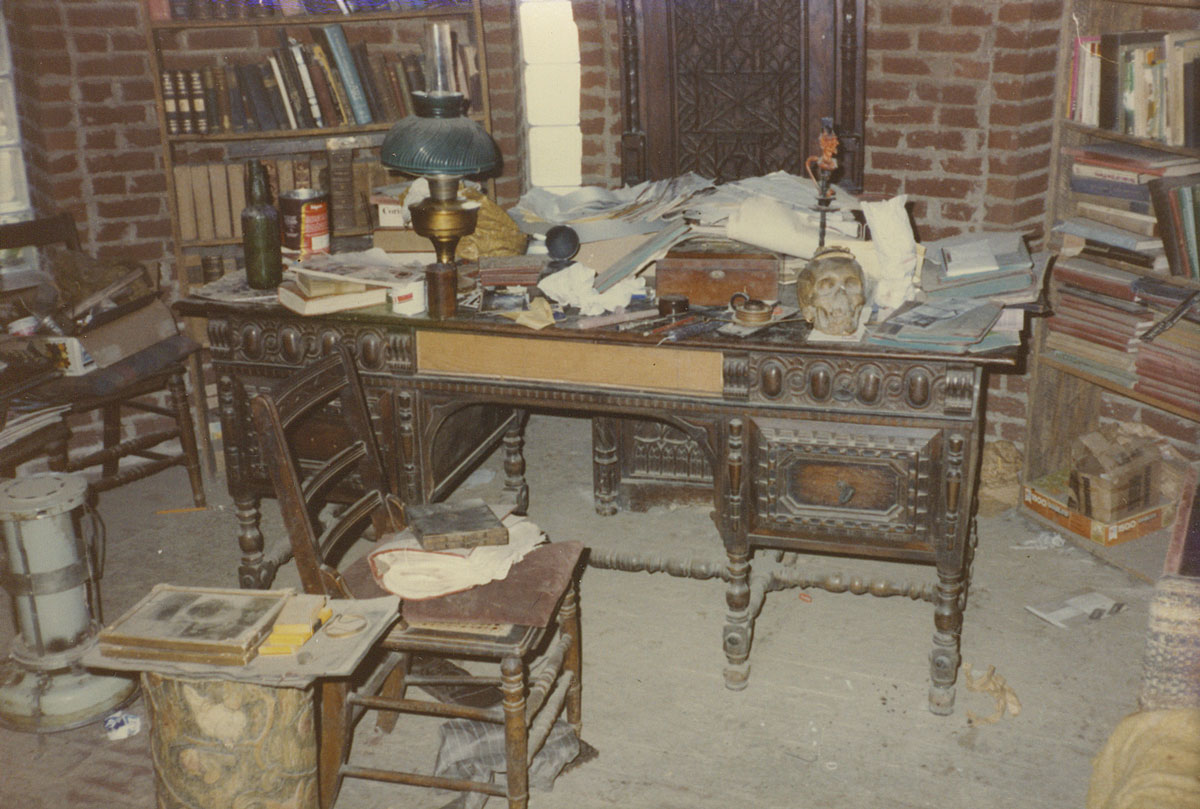 Word of the slayings began to spread. The Atlanta Constitution reported the story on December 18 with the headline "Slain 'devil-worshipers' were ex-college teacher, companion." The article quoted McConnell, saying, "It is a very bizarre murder . . . The gentlemen that lived in the house were devil-worshipers. We are a very small town, and we had known about that. That's just freedom of religion." The Atlanta Constitution seized on that detail in its reporting the next day when it referenced "the bizarre killing of two reclusive devil worshipers" and their "homosexual activity," while noting the discovery of "unusual sexual devices." The details of the case propelled Corpsewood Manor into the national news. Newspapers in Sacramento, Tucson, Billings, and Chicago reprinted the gory details and crime scene photos.
Meanwhile, Brock had begun hitchhiking back home after he and West had a falling out in Texas. Police in Louisiana recovered Scudder's abandoned Jeep, and—after a license plate check connected the vehicle to Chattooga County—gave Sheriff McConnell his first lead. Shortly after, one of the teen witnesses confided in McConnell. He immediately issued arrest warrants for Brock and West.
Brock's journey east led him just south of Chattooga County, to Marietta, where he called his mother, who told him about the warrant. Brock hung up and walked to a gas station where he told the attendant about what he'd done. Moments later, police swarmed the station, and Brock was taken into custody.
West made it to Missouri before deciding to reverse course and head back east. On Christmas Eve, passing through Chattanooga, he ran out of gas. Penniless and exhausted, he walked through the rain to a highway lounge, where he found a police officer and confessed to his crimes.
The day after Christmas, the Atlanta Constitution reported on the arrest of the second suspect in the killings but seemed more interested in villainizing the victims, offering its most dramatic description of the case yet: "Scudder and Odum [sic] were described by authorities as 'homosexual devil-worshipers' who lived in a dank, castle-like home cluttered with skulls, pornographic materials, an extensive occult library and statues of Satan, serpents, lizards, and frogs."
By February 1983, legal proceedings were underway. Brock admitted to killing Odom and was sentenced to three consecutive life terms. West was charged with murdering Scudder but pleaded innocent. According to case material, West claimed the murders were an act of "revenge for the embarrassment suffered by Brock when he had allowed Dr. Scudder to perform oral sex on him during an earlier visit." The case summary continues, "At trial, however, [West] contended the crimes were the product of hallucinations resulting from Dr. Scudder having spiked their wine with LSD." (Forensic analysis of the wine bottles revealed no traces of LSD.) His attorneys also claimed Scudder had bewitched their client, who had seen Scudder's golden harp pulsing with an evil glow. Throughout the trial, West's attorneys made scurrilous homophobic insinuations. After several days of testimony, the jury returned a verdict of guilt on all counts, and West was sentenced to death. The following year, he appealed and pleaded guilty in exchange for life in prison.
• • •
After leaving Sweet P's, I made my way to Taylor's Ridge. The area still feels astonishingly secluded. The narrow two-lane road leading up the mountain is flanked by towering oaks and evergreens. As I drove past a couple of houses, some of them shielded behind enormous gates, the paved road turned to gravel. That's when I knew I was getting close to Corpsewood.
Today, the property is privately owned, though lovers of the macabre still make pilgrimages to the site. Months after the murders, arsonists torched both Corpsewood Manor and the Chicken House. Over the years, souvenir hunters have pilfered the pink gargoyle and any remaining signs of devilry. One of the last remnants—standing amid piles of bricks, overgrown by the relentless Georgia wilderness—is Scudder's arched gazebo, now covered by snaking tendrils of ivy.
This year marks the 40th anniversary of the Corpsewood Manor killings. Brock remains behind bars at the Coffee Correctional Facility in Southern Georgia. He's 57 years old. West, now 70, also remains incarcerated. Both will likely die in jail.
The question of their motives was never fully resolved. Chattooga County Sheriff Gary McConnell once told the Atlanta Constitution that robbery was "probably 50 percent of the motive." The rest? Likely "the devil-worshiping and homosexuality." West's confession was even more revealing: "All I can say is they were devils and I killed them. That's how I feel about it."
After visiting Taylor's Ridge, I began my journey back down I-75 towards my home in Atlanta. I thought about Scudder's and Odom's desire for a simpler life in the woods of North Georgia and about the piece Scudder wrote for Mother Earth News less than two years before they died; in it, he was celebrating the life he and Odom had built together in Trion: "My message is that we older people are really free—even more so than are young folks—and, because of our experiences, perhaps at least a little more wise. If we want a different, fuller, more exciting life than we're leading—one closer to this beautiful earth—we can have it. Our only chains are those in our minds! Just promise me that you'll think about it seriously for a while . . . after all, wouldn't you like to live in your own kind of 'castle in the country'?"
Two hours later, I pulled into the driveway of our white-brick home in Atlanta. I parked the car and pushed through a picket-fence gate, passing underneath the small white pergola my husband built. I glanced across the front yard and noticed my neighbor, Andrew, mowing his lawn. We smiled and exchanged waves. I took a moment to inspect our garden, finally producing a harvest of lettuce, bell peppers, jalapeños, and okra.
I stepped inside our home and was greeted by our two cats and the smell of dinner on the stove. My husband—standing in the kitchen, wearing athletic shorts and a denim cooking apron—turned to me and smiled. "Welcome home, babe."
This article appears in our October 2022 issue.