In the spring of 1999, 18-year-old Clifford "Tip" Harris had a choice to make. He could continue to inhabit his comfort zone as a drug dealer on the streets of Atlanta's west side, or he could enter hostile territory of a different sort—a music industry that, statistically speaking, was all but certain to reject him. He was sitting in his cousin's East Point living room, across from two men who were lobbying hard for the latter. One of them was Aldrin Davis, a music producer known as DJ Toomp. He'd met Tip two years earlier and was amazed not just by his lyrical skills but by the flocks of women that descended on him in the gritty nightclubs of Bankhead. The camera-ready teenager could rap with the same rhythm and cadence as hip-hop's East Coast gods—Raekwon, Nas, Notorious B.I.G.—but with a uniquely Southern twang and a sensibility shaped by his neighborhood's brutalities. As far as Toomp was concerned, there was no artist in Atlanta like him.
Tip's potential was just as obvious to the other man seated across from him. Jason Geter worked at Patchwerk Recording Studios, where some of the South's most influential albums had been recorded: Goodie Mob's Soul Food, OutKast's Aquemini, Usher's My Way. Geter was on the hunt for an undiscovered star he might manage, someone who could prove that he had the instincts to compete in Atlanta's increasingly competitive hip-hop scene. He'd only recently met Tip in a barbershop and had been surprised to learn he was a rapper. The polo shirt Tip wore revealed not a single tattoo, and his smile was gleaming without any gold. The image he projected was a rare mix of clean-cut and street-credible. And he had no problem inhabiting the two facets of his persona.
Toomp and Geter told him they were worried that his drug-dealing, for which he'd already served time, was jeopardizing his chances of success. But Tip needed money now more than ever; he'd just learned his girlfriend was pregnant. He gave Toomp and Geter an ultimatum: "Take me somewhere right now where I can showcase my talent and show people what I can do and have a chance to get signed—and I'll stop." Toomp tried to lower the teenager's expectations; it's just not possible, he said, not today. Geter interrupted him: "I got somewhere."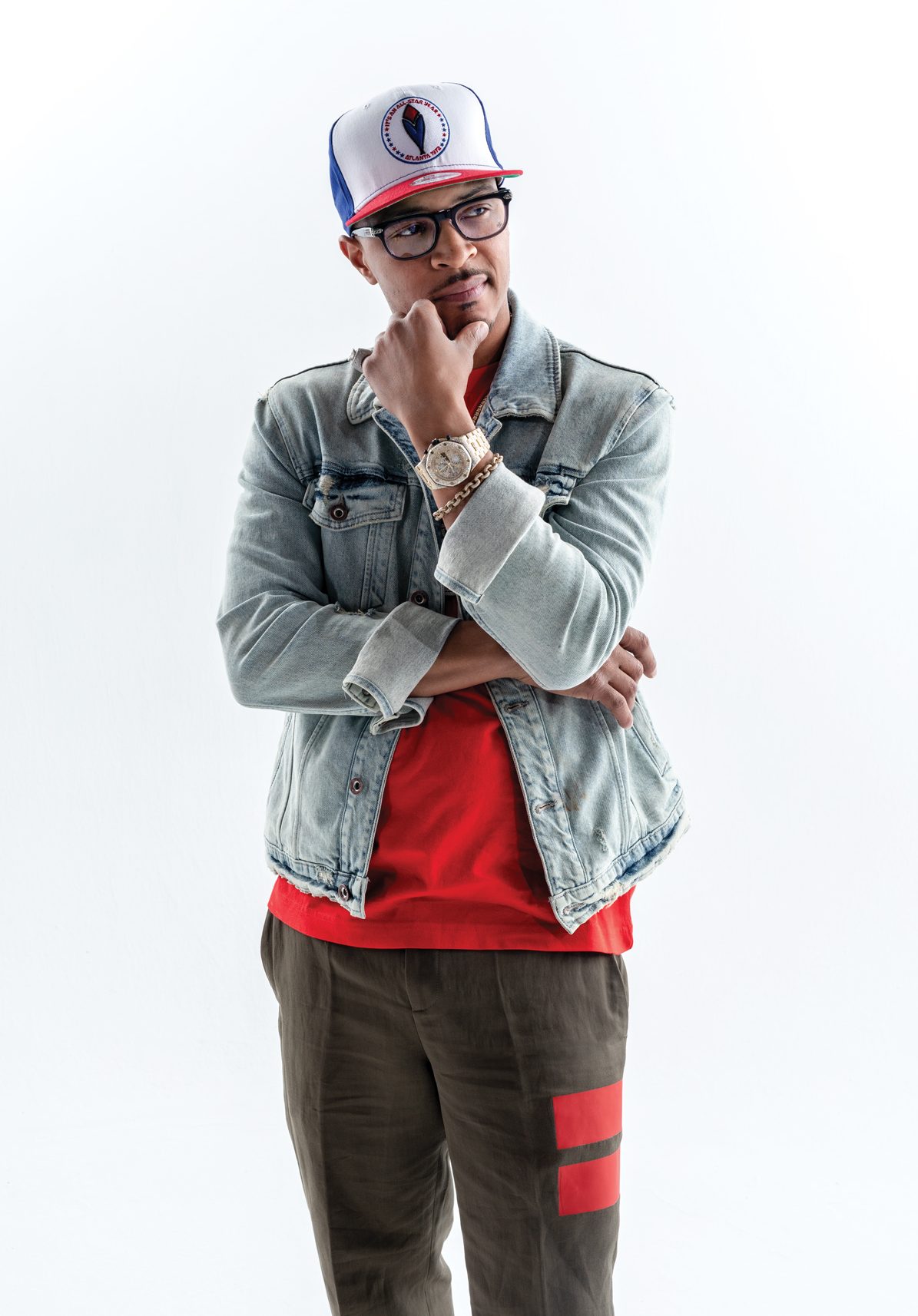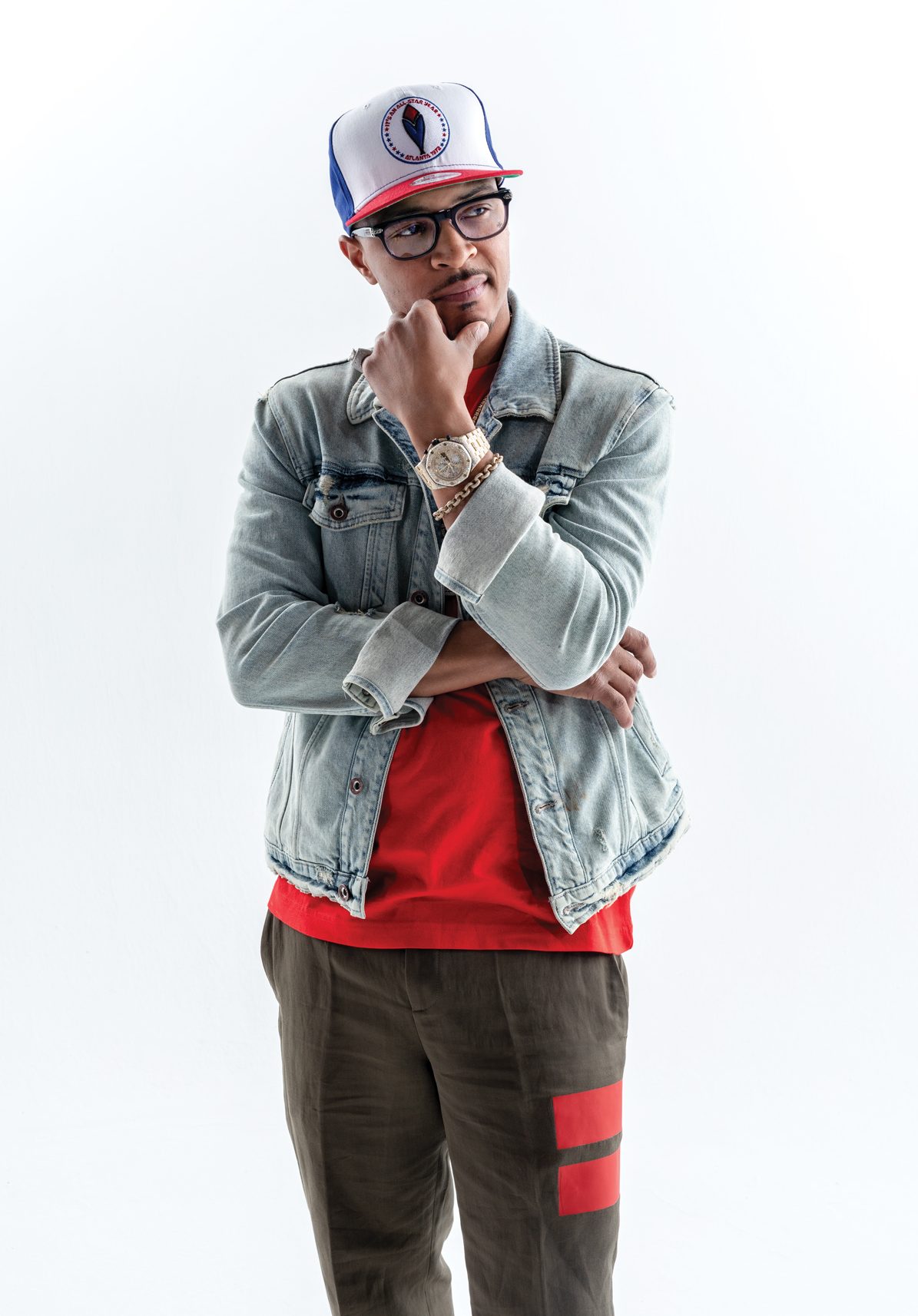 Geter walked him through the door at Patchwerk and introduced him to the group that was recording that day. One of its members turned to Tip and asked: "Can you rap on this beat?" He replied: "Where the booth?"
His flow of lyrics was instantaneous and impressive—and landed him an audience with an A&R rep at LaFace Records. Tip gave the guy his beeper number, certain that everything was falling into place. But nothing happened. A few weeks later, he decided it was time to return to his comfort zone. He rode his bike up and down Bankhead all through the night and into the morning, as long as there was demand for his supply. Then, one morning, he got a page. He rode to the pay phone and dialed the number. The person who picked up said, "LaFace Records."
The label invited him to attend the Source Awards in L.A. with Goodie Mob and OutKast. A few weeks later, he was on a tour bus in California and made his first television appearance, on BET's Rap City, freestyling alongside Goodie Mob's CeeLo Green.
"And I'm fresh out of the trap!" he recalls on a recent afternoon. "I was trapping days earlier; now, I'm here in Hollywood. And I said, 'I'm never selling crack again.'"
There's a reason why a place to buy drugs is called a "trap house" and the act of selling them "trapping"; once you're in that world, you're not supposed to get out. But through trap music—a genre that's now Atlanta's most significant cultural export, and which Tip claims to have invented—he got out.
Nearly 20 years after that trip to L.A., in which time he's released three consecutive number-one albums, won just as many Grammys, and built a $50 million fortune, the superstar now known as T.I. is comfortably reclined in the dim chill of the back seat of an Escalade, reminiscing on his early days and contemplating his next act. The two are more intertwined than one might think.
The SUV is coasting south on Northside Drive, the part of it that divides two Atlantas: wealthy from poor, bustling from neglected. As it crosses Bankhead Highway—now named Donald Lee Hollowell Parkway, but to those who grew up in these parts, it will always be Bankhead—T.I. points to three buildings in a row: black, yellow, and brown. They're on the outskirts of the open-air drug market known as the Bluff. "I already own the brown building," he says, "and the black building, I got under contract." The yellow building belongs to a guy he knows, so nearly all the pieces are in place. The structures are part of his larger initiative to revitalize Bankhead while maintaining its affordability; he's purchased properties across a large swath of the neighborhood. What does it feel like to literally own a portion of the streets where, 20 years ago, he sold crack rocks on the corner?
"It feels like I'm late," he says, referencing the real estate opportunities that arose after the market crashed. "I should've been doing this like in 2008. But I had other things going on around that time that kinda distracted me." Those other things included his 2007 arrest for attempting to purchase machine guns as a convicted felon, for which he served a year in prison. He later violated probation when police in L.A. stopped him in his Maybach and found marijuana and ecstasy, sending him back to prison for another 11 months.
T.I.'s certainly not the first artist to struggle with reconciling the demons of his past with the pressures of his present, nor is he the first to channel his street life into ruthless yet celebratory poetry. But few from the South have done it better. His fifth studio album, 2007's T.I. vs. T.I.P., explicitly explored that very dichotomy, with seven tracks told from the perspective of Tip, the drug dealer; seven from the perspective of T.I., the music mogul; and four channeling the showdown between the two. Or, as he put it on his no. 1 single "Live Your Life" off the album Paper Trail a year later: "I'm the opposite of moderate / Immaculately polished with / The spirit of a hustler / And the swagger of a college kid."
That was actually his last no. 1 single. In the decade since then, he's released just three albums and says he intends to make only a few more. These days, his music is an ever smaller portion of his livelihood. In addition to his sizable real estate portfolio on the west side, he owns a record label, a film and television production company, and two clothing lines. He's acted in a dozen films, including Marvel's newly released Ant-Man and the Wasp, and is the star of three reality TV shows, including BET's newly launched The Grand Hustle, his riff on The Apprentice. Then, there are his 37 million social followers across Facebook, Twitter, and Instagram—roughly the population of California and one of the three largest audiences belonging to any individual in Atlanta. (Only Usher and Ludacris can claim more followers.) T.I. uses the platforms for increasingly political purposes, specifically to draw attention to instances of police brutality and other social injustices.
That's not to say that he's steered clear of trouble; exactly one week before this ride through the west side in the Escalade, he was arrested after confronting a security guard who wouldn't let him into the gated community where he lives southeast of Atlanta. Even at age 37, he's still working to rehabilitate his image, despite the fact that the industry that brought him fame seems to prefer unrehabilitated ones—which is just a complicated way of suggesting that maybe it's time for him to come to terms with being a middle-aged man in a young man's game.
"After I did trap music, I was like, 'Okay, I'm bigger than this. I can go somewhere else,'" he says. "I've been spending time the last few years building the foundation for the next phase of my career, and I have haphazardly stumbled into a lot of different things: activism, politics, real estate. That's nothing I planned on. That was me responding to the needs within my community. My community helped me become who I am. That was my first audience."
"I was trapping days earlier; now, I'm here in Hollywood. And I said, 'I'm never selling crack again.'"
Now, his primary concern is the message he sends to a much smaller—but infinitely more crucial—audience than the one who shaped him two decades earlier: his seven children.
He scoots to the edge of the SUV's plush rear seat, trying to figure out where he's supposed to be going. Then, he sinks back to take a phone call. "Exactly where are you?" he says into the phone. "I think I know where you're talking about. Where am I? There's a little brick security booth right here." A pause. "I see you waving. Alright, buddy, coming right in."
As the driver steps out to open T.I.'s door, a young man approaches the vehicle. He's dressed in a black-and-white plaid shirt, blue jeans, tan boots. He's a little taller than T.I., but the likeness is undeniable. Born less than six months after T.I. made his big debut in L.A., he's the same age now that his father was then.
T.I. slings his arm around his eldest son, Messiah, and they disappear behind a door that reads: "Morehouse College, Office of Admissions and Recruitment."
•   •   •
When T.I. got his first signing bonus back in 2001, he gave half of it—about $22,000—to his uncle, who wanted to be sure that something good happened with the money. One day, he drove T.I. to a street not far from the one where the rapper grew up, in Bankhead. His uncle pointed out the window and said, "Look, we did that. That's our house."
"What do you mean, 'that's our house?'"
His uncle had bought the property, torn down the trap house that was on it, and built something better in its place. As T.I.'s career took off, he and his uncle went on to buy dozens of houses in the area. Then, the market crashed, and they got out of the real estate game—until Mercedes-Benz Stadium arrived and, with it, the threat of gentrification.
"I endured all the tough times. I got shot at, ran from the police on the streets of Bankhead, got my bike stole, had to fight. But then, white people decide to come in and say, 'Well, now this is valuable,'" T.I. says. "I'm going to take it and invest in it to turn it around and make it worth something. I want to build a community in an area that isn't supposed to have a community."
Now that the areas flanking Bankhead are changing, he feels like it's up to him to improve and protect it, as if he owes his neighborhood a debt for allowing him to tell its story through his music. His mission caught the attention of Keisha Lance Bottoms during her run for mayor; after she won, she appointed T.I. to her transition team, tasked in part with preserving and expanding affordable housing. "She's very, very much aware of the needs of the community, because she's a product of it," T.I. says of the mayor, who attended Douglass High School a decade before he did. "That is why I trust her intentions."
Bottoms recalls that when she met T.I. last year, the bond they formed over their shared commitment to the west side was instantaneous. "I love him like a brother, and I'm grateful to him," she says. "If you have someone like Tip who can invest their money anywhere in the world, quite literally, and they are choosing to make this investment on the west side, I think it really speaks to the possibilities."
She says she continues to be impressed by his devotion to her transition team. It's hard work that the public doesn't see—7:30 a.m. meetings, events where he's the last person to leave. "This is not for show," she says of his involvement. "This is not for any type of accolade. This is because he cares."
T.I.'s vision for the west side includes a four-story, mixed-income development on the outskirts of the Bluff. He owns several properties flanking one intersection there, and he wants to tear them down and replace them with new units—75 percent of them affordable (most mixed-income developments are 25 percent affordable). T.I. also owns a nearby abandoned Kmart. And just up the street from that is Bankhead Seafood, the recently shuttered restaurant he bought earlier this year with fellow rapper (and fellow mayoral transition-team member) Killer Mike, of Run the Jewels. His and T.I.'s plan is to demolish it and build a new restaurant in its place.
"I want to build a community in an area that isn't supposed to have a community."
"Tip and I just both recognized an opportunity," Killer Mike says. "It came up for sale, and he hit me and said, 'Hey, this is what they're selling it for. Do you want to go half on it?' And I immediately was like, 'Hell yeah.'"
Killer Mike grew up eating at Bankhead Seafood. His grandparents ate there. They would stand in line on the weekend for huge, $5 boxes of fish. Like T.I., he now owns properties across the neighborhood and hopes to be able to invest not just in its buildings but in its people.
"You can't save the whole neighborhood from whatever's happening in the next 15, 20 years," Killer Mike says. "But you can make sure your story doesn't end in a typical gentrification way. You can make sure your story isn't that of the typical rapper. And you can make sure your story is that two boys from this neighborhood did good, came back, and did the right thing by the neighborhood."
•   •   •
The Gathering Spot, an invitation-only private club off North Avenue in the shadow of the Coca-Cola headquarters, has become T.I.'s unofficial office. Populated by film industry types, entrepreneurs, politicians, and techies, it's a setting engineered for Atlanta's elite and those on their way to joining their rank. For T.I., it's the preferred place for carrying out one phase of his next act, over lowballs of Tito's vodka and orange juice, extra juice on the side.
One evening, a lanky 30-something with a bushy beard and hazel eyes approaches T.I.'s table. Kellon Akeem, co-owner of a fledgling film production company, is working on a movie that T.I. helped conceive; filming is scheduled to start at the end of the year, according to T.I. They catch up on the progress of the script. "We gotta find a way to bridge the gap to bring in the millennials," Akeem says.
"I got one guy," T.I says. "I gotta search through my text messages."
They switch gears to another thing they're working on, bigger and more mysterious than the first. "I'm not planning on putting my money up," T.I. says of this project. "Well, actually, I take that back. We're doing 20 raises at $775,000 apiece, so I'm going to do one of those." He later reveals a few clues: downtown Atlanta, 275,000 square feet, not a sound stage but a location. Stranger Things was recently filmed there. He wants to turn it into a backlot and tourism destination, like Universal, as well as an incubation hub for tech and music.
"We don't spread out the wealth and opportunities enough," T.I. complains of deals like these. "Everybody want to be the one and leave everybody else out. I'm guilty of it too."
He and Akeem are meeting the next day with at least one potential investor—at the ungodly hour of 10 a.m. "That's a way to get a quick no out of me," T.I. half-jokes. But he says he'll be there. "I'm excited about it. It's the biggest business deal I believe I've ever done."
In hip-hop, a rap sheet can bring credibility and helps move records. But for the type of deals T.I.'s trying to cut now, an arrest has the opposite effect. As for his arrest the week earlier, his first in eight years, he chalks it up to yet another instance of racial injustice at the hands of police—and complains that it's getting in the way of business.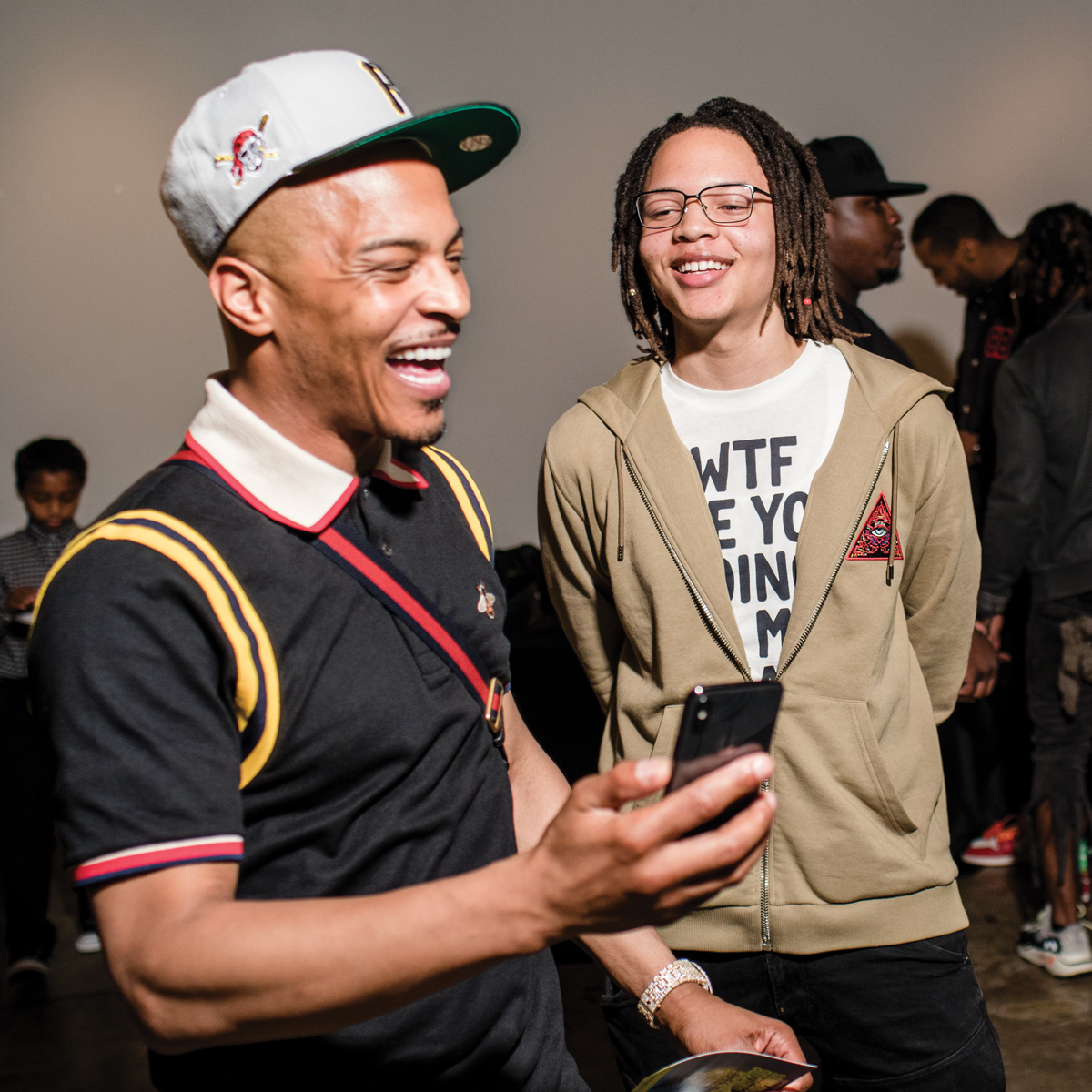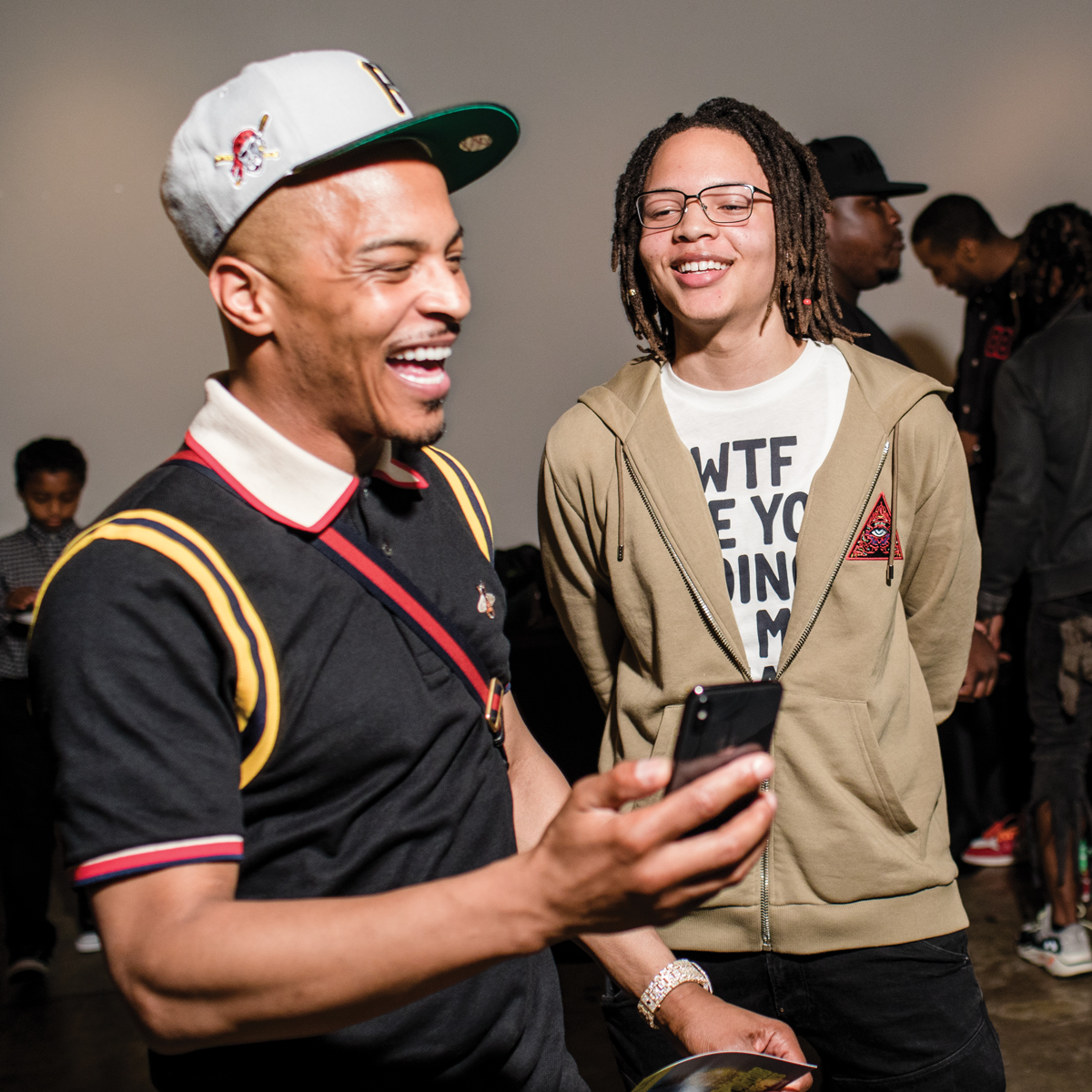 In the early morning hours of May 16, he arrived at the gate of the Henry County community where he lives. Eagles Landing boasts million-dollar homes, a 27-hole golf course, and "resort-style living." T.I. is one of its higher-profile residents, but the security guard didn't recognize him and wouldn't let him in because he didn't have his key. Eventually, T.I.'s wife of eight years, the R&B star Tameka "Tiny" Cottle, talked the guard into allowing him through. After he was home, he couldn't let it go; he decided to walk back to the security booth, where he told the guard, "Come outside so we can deal with this man to man." The guard called the cops, who arrested T.I. on charges of simple assault, disorderly conduct, and public drunkenness.
"The police officer locked me up because he got tired of hearing this black man talk about how much money he spent on his house," he says. "He literally said to me, 'I'm sick of hearing this shit,' and put my hands behind me. I was telling the two employees of the complex that I paid $3 million for my house, and I paid hundreds of thousands of dollars for homeowners association fees. Where's my money going? My money pays your salary. You work for me. You must report to me."
If the same thing had happened to a white resident of Eagle's Landing, he says, that person would not have been sitting in jail. He says that as a black man, each of your actions, from inconsequential to life-altering, is amplified. And he says that, as a black man who commands an audience as large as his, he's obligated to draw as much attention as possible to instances of prejudice, to "be the example of what should be done in times of crisis, adversity, and oppression." According to T.I., too many people fail to speak up. "I refuse to raise children in a world where that is the only type of person that exists."
•   •   •
In the spring of 2018, 18-year-old Messiah Harris has a choice to make. He could continue to inhabit his comfort zone as a child of privilege living in the shadow of celebrity, or he could submit himself to the rigors of an environment that would challenge those privileges—at a college that would prepare him for the harsh realities he might one day face. He is sitting in a Morehouse conference room, across from two men who are lobbying hard for the latter. One of them is his father. The other is Alvin Darden, associate dean of the first-year experience, who was at Morehouse in 1968 when the body of the Reverend Martin Luther King Jr. arrived on campus for Dr. Benjamin E. Mays's eulogy.
T.I. and his son have just wrapped up a two-hour private tour of Morehouse, and this sit-down is the grand finale. During the tour, they were schooled in the significance of "the Morehouse Man" (and the related Morehouse Mystique), as well as the Five Wells that the college demands of its students (well-read, well-spoken, well-traveled, well-dressed, well-balanced). Morehouse specializes in preparing young black men for success by instilling ethics, building character, establishing a network, and offering a litany of intangibles that equip its students to succeed in a world that's often hostile toward them. T.I. is well acquainted with those hostilities; his son, less so. That there is an institution devoted to overcoming them—an institution so physically close to the streets that reared him—is mesmerizing to T.I. At Morehouse, all the life lessons he learned the hard way could be instilled in his son more graciously. It's as close as he can get to a guarantee that his son will replicate his success without duplicating his mistakes.
With each passing hour of the visit, it is clear that T.I. is growing more and more enamored of Morehouse. Later, as the night wears on, he will recount to anyone who will listen—his best friend, his wife, his other children—the most granular details he heard that day, down to the GPA of the undergrad who led the tour, his passion intensifying with each retelling.
But it seems that the greater the father's conviction, the more entrenched the son's ambivalence.
"The reason I'm even thinking about going to college is learning about business," the mostly reticent Messiah explains early in the tour. "I want to know more about being my own boss."
He's talking to Keith Hollingsworth, PhD and cochair of Morehouse's Division of Business Administration, who points out that the lessons Messiah would be taught at Morehouse go far beyond Economics 101. "You need to learn to talk to someone like me: white, middle-aged, and overweight."
Hollingsworth goes on to explain that part of the Morehouse education is rooted in the classroom. The other part is rooted in a community that's built to understand the needs, the potential, and the challenges of black men in America. "One class could have the grandson of a Nobel laureate," Hollingsworth says, "and the son of a felon."
The slightest of grins crosses T.I.'s face as he nods and lets loose an affirmative "Mmm."
By the time father and son reach the conference room where Dean Darden is waiting, it seems as if T.I. will be the one signing up for classes. Messiah is all but silent as Darden makes the case that the more sacrifices he's willing to make now, the more likely he is to find fulfillment later.
Nodding at T.I., Darden notes that though the rapper's background might be unlike that of the traditional Morehouse Man, the similarities between the two are more profound than the differences. "He got where he is with a disciplined mind," Darden says.
Turning to Messiah, he says: "I want to ask you two things. What is your passion"—here he allows a long pause before lowering his voice to nearly a whisper—"and what is your purpose?"
"Music is my passion," Messiah replies. He hesitates over the second question. Darden assures Messiah he doesn't need to know his purpose quite yet. That's what Morehouse is for.
A thought occurs to T.I. "The trap house was my Morehouse," he announces, as if testing a lyric. "It was a group of brothers, and we showed up, challenged each other's ideas, and supported one another. The ideas might've been a bit different"—he breaks into a laugh—"but those things prepared me." He says the trap taught him that when someone gets in your way, the proper response is: "I'll tear your head off."
"You have to have that tenacity," he adds, "to maximize the potential of your greatness."
But first, Messiah needs to figure out where to look. "Where are you gonna find your greatness?" T.I. asks his son. "Outside your comfort zone."
This article appears in our August 2018 issue.