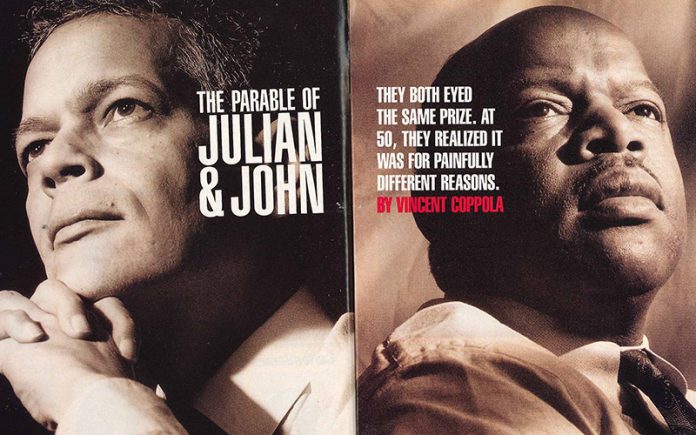 My father got his Ph.D. from the University of Chicago. He taught at a succession of black colleges. He was president of Fort Valley State College, president of Lincoln University in Pennsylvania, dean of education at Atlanta University. [At Lincoln University,] we had this great big old white house like a Southern plantation house. In our home were all the great figures of the day. I have a picture of me sitting on Paul Robeson's knee while Robeson sings to me. I have a picture of Albert Einstein. It was just an incredible life for a kid. . . . I never really knew what a segregated school was until high school. At George School [a Quaker institution in Pennsylvania], I started dating this white girl from Virginia. . . . We'd go into Philadelphia on Saturdays or Sundays, then get back to school around 6 or 7 in the evening. Then one afternoon, the dean of men called me into his office. . . . He looked like a tennis player or a country club golf pro who had just begun to age. He told me, in a very calm and polite voice, that he'd appreciate it if I didn't wear my school jacket on those trips to Philadelphia. It was just as though he had slapped me across the face. All of a sudden, you realize all the talk there's been, all the whispering. . . . And also that you're a Negro. That moment was the first time I realize realized it—that distance. . . . I simply couldn't speak anything to him. I just stood up and walked out of his office.
—Former State Sen. Julian Bond, from separate conversations with Marshall Frady and Vincent Coppola
My father couldn't afford a newspaper subscription. I'd walk half a mile to get my grandfather's paper after he got done reading it. I kept up with what was going on, reading that paper and listening to that radio. . . . We ordered everything from the Sears & Roebuck catalog. We called it 'the Wish Book.' . . . I was bused 18 miles to the Pike County Training School. Black schools were 'training schools'; whites went to high schools. We had old broken-down buses, ragged books, a rundown building. White students had new buses, nice painted buildings with the grounds kept up. . . . In Troy, they had a soda fountain where you could get Coca-Cola. We called it a combination. A black person could not take a seat. We had to stand at the end of the counter. 'May I have a combination?' You put your money down and went outside to the street corner to drink it. . . . As a young child I saw a difference. I resented it. Even the country road where I grew up—because black people owned the land, the road was left unpaved for many, many years. When it rained, the bus got stuck in the mud. That was life in Alabama.
—U.S. Rep. John Lewis
John Lewis and Julian Bond. Two men whose lives were shaped in the crucible of the civil rights movement, whose beings were transformed by the soaring energy and ringing eloquence of the man who came to symbolize that movement, Martin Luther King Jr., and whose major roles have been played out in the cold vacuum of his absence. Men whose youth was spent amid heat and tumult, roaring debate, clangor and public outcry, who now in their 50th year are trying to come to some assessment of themselves, to reaffirm or refix the stars that have guided them. Private men who live intensely public lives. Men so different as to be from other worlds, yet inextricably entwined. Bound at first by the color of their skin, and again by the essential rightness of their participation in the movement. Bound by friendship and the common struggle for human dignity.
Over time, they drifted apart. In 1986, they became rivals, then bitter enemies as they each sought the 5th District congressional seat; each struggle to wrest a prize that shimmered with grail-like significance. Bond, the long-anointed prince—a national figure in his 20s, the first black man ever nominated vice president by a major party—would find ascendancy in victory. Congress would be the field upon which his brilliant mind and intellectual passions would play. Lewis, the sharecropper's son, would take his dogged, determined pursuit of the Beloved Community to the national arena.
John Lewis won. Today, he works out of the Cannon Building on Capitol Hill in an office hung with movement memorabilia, including an almost-autobiographical voter registration poster. HANDS THAT PICK COTTON NOW CAN PICK OUR PUBLIC OFFICIALS. There is also a harrowing, March 1965 LIFE magazine cover, "The Savage Season Begins," showing Lewis and Hosea Williams—leading the march across Selma's Edmund Pettus Bridge—about to be overwhelmed by tear gas, mounted police and swirling clubs. Gone are the overalls and the speech impediment that once muffled his words, but never his eloquence. John Lewis now favors dark suits and muted ties; he displays the beginnings of a paunch. The big, rough farmer's hands are there, and they speak of a lifelong commitment to "tearing down barriers."
Julian Bond lost. He, too, lives in Washington, D.C., but carries his office in a nylon book bag on his shoulder. This spring, he'll be criss-crossing the country, speaking at colleges, recalling the movement years. Last fall, Bond taught a popular civil rights course and a seminar on Southern black politics at Harvard University. Observed there, crew-cut, slender, dressed in a light-gray suit with a turquoise shirt buttoned at the collar, he looked more like a fashion model than an academic. His voice—described by the Saturday Evening Post's Marshal Frady as "textured, it seemed, of flannel"—was as powerful, distinctive and resonant as King's or Kennedy's. A masterful teacher, Bond pointed out inconsistencies in his students' analyses, provided insights and "I was there" actualities. He held them in thrall, an elegant, ephemeral piece of history.
Bond watchers say he is history. The youthful promise he sustained like some middle-aged Peter Pan will never be realized. Julian Bond, they say, could have been Andrew Young or Jesse Jackson. Opportunities stretched endlessly before him. This telegenic man who hosted both Saturday Night Live! and Eyes on the Prize. He could have been the first black vice president, even president. He could have been the voice of a generation of Americans of every color and social class. They say the allegations of cocaine abuse, bruited (and then retracted) by wife Alice, and the subsequent media circus, signaled the destruction of Julian Bond the public figure. (He has never admitted to using drugs, nor has he been charged in any drug-related incident.) Bond has fled Atlanta, they whisper, his life a tatter of ruptured friendships and disorder.
"I love Julian like a brother," says John Lewis. "But he fumbled the ball. He had unbelievable opportunities. He just didn't take advantage."
Bond, sitting after class in an office in the Afro-American Studies Center, lights a Salem and dismisses—though not without bitterness—the scrutiny of his personal affairs. "I had 13 reporters assigned to me. You feel awful about it, but really, what can you do?" (Things had gotten chaotic. At one point Alice Bond filed charges against Carmen Lopez Butler, alleged to have been Bond's girlfriend, for hitting her in the head with a high-heeled shoe. Lopez was later convicted of drug dealing.) "It's the price you pay for being public," he says. "And you pay it sooner or later. You just try—and I'm determined—to keep going."
The issue of promise measured against achievement is less easily dismissed. "I've been cursed most of my life with this picture of the hesitant person," Bond says. "I think I've been kind of bold. . . . I can't do what other people want me to do. I'm absolutely content and fulfilled right now [teaching and lecturing]. It's enough for me. I'm confused as to why it's not enough for anyone else."
Given the religious framework upon which the civil rights movement was built, it would be easy to seize upon the Bible story of the servants, one of whom took the talent entrusted to him by his master and multiplied it while another kept his buried, as a metaphor for the personal and career odysseys of Lewis and Bond. Life is much more complex—a thousand decisions and indecisions, strung together by twists of fate and fortune. The outcome always uncertain. "Here I am teaching at Harvard without a Ph.D.," says Bond. "I think I'm doing really well."
Others say the twin tales of John Lewis and Julian Bond teach more secular lessons. "Julian Bond was spoiled," says one prominent Atlanta politician. "He indulged himself. I can remember sitting with him and Vernon Jordan and having some discussion. And Julian's eyes got to wandering. He wasn't interested in what we were talking about."
"One of the things the civil rights movement showed every man," adds Stanley Wise, a former executive secretary of the Student Nonviolent Coordinating Committee (SNCC), "was that a wealth of women of every race, class and description were completely at your beck and call. You had to fend them off in every city, village and farm. You kept bumping your head so hard and so often against this wall. It was impossible."
"Time magazine called John Lewis 'a saint,'" says Joseph Lowery, president of the Southern Christian Leadership Conference (SCLC). "I never heard anybody in the black community say that. . . . John Lewis gives the appearance of humility. I don't know whether he's humble or not, but white folk think he's humble. And white people tend to like humble black folk."
Looking back at their youths and the times that rounded their passage into maturity—talking to them and to those who knew them or marched beside them—it seems clear that the paths taken, the choices made, and the lives lived by John Lewis and Julian Bond were as preordained as Calvinist theology.
"The movement became a way of life, a part of me. Even if I wanted to separate myself, it would be difficult."
—John Lewis.
The third of ten children born to sharecropper Eddie Lewis and his wife, Willie Mae, John Lewis was out in the blistering Alabama fields at age 4, picking cotton, gathering peanuts, pulling corn. The family survived on the leavings after their white landlord deducted his rent in cash or crops. They lived in "Carter's Quarters," a tract that had been home to Willie Mae Carter's family since slavery days. Ironically, it was just a few miles from where John Lewis's great opponent, Gov. George Wallace, was raised.
Lewis was a stubborn, willful child. Some days when his father wanted him out in the fields, he'd get up early and hide under the house. "When the bus came I would run out and get on and go to school. I did that many, many times." He looked after the family chicken flock with evangelical zeal, preaching to them in the evenings, even baptizing a couple of birds. "My first nonviolent protest," Lewis says, "was against my mother and father when they wanted to kill some chickens or trade 'em to the rolling store for flour or sugar. Sometimes I'd take an egg from one hen and give it to another. I was never able to save the $18.95 to buy the cheapest incubator in the Sears & Roebuck catalog."
Somehow, his father scraped together $300 to buy 110 acres, land precious enough to John Lewis that he still trucks over fruit trees and flowers from Pike Nursery in Atlanta to plant there. At the time, Lewis felt otherwise. "I saw the life of my mother, my father, my grandfather, my great-grandfather had lived. I'd argue with my father. 'Why go through this year after year?' My mother would say, 'Why, Robert [Lewis's middle name], this is the only thing we can really do. It's what we go to do.' My desire was to get away from that. To do something better, but I didn't know what."
The fact that his parents' hopes were clouded by discrimination gnawed at Lewis. "In 1951, I went by car with my uncle and cousins to Buffalo, N.Y. I remember going into Sattler's department store and riding escalators for the first time. It was a different world. You saw white and black people in the same shops and restaurants." Back in Alabama, the treat of an occasional Saturday matinee with his cousins soured: "We had to go upstairs to the 'Buzzard's Roost,' the section marked 'Colored.' To this day, I don't like going to movies because of what I saw."
Over the crackle and static of the old vacuum-tube radio, Lewis heard the rolling thunder and reasoned passion of Martin Luther King's sermons as King led the 1955 Montgomery bus boycott. He felt a stirring in himself, "a calling, an obligation . . . to this holy, righteous cause." His mother, then working as a laundress in a white Baptist orphanage, brought home a newspaper article about work scholarships being offered Negro students by the American Baptist Seminary in Nashville. He was accepted in 1957, "and left home with this huge old trunk and $100 my Uncle Otis Carter handed to me," he says. "I'll never forget that as long as I live. It was the first time I had $100 solid in my hand." His father took him to the bus station. John Lewis submitted to riding in the back of the Greyhound to Nashville.
Lewis worked as a janitor and spent hours in the seminary kitchen "washing those big pots and pans." He began hitching across the Cumberland River to attend evening workshops on the philosophy and discipline of nonviolent protest, conducted by a man who would have a seminal influence on him—James M. Lawson Jr.—a black graduate student and Gandhian disciple who had spent three years in India. Over the next few years, the workshops blossomed into demonstrations against Nashville's segregated department stores and restaurants.
Lewis was always in the first ranks, taking incredible punishment, as if he believed his blood could somehow expiate the flaring hatreds. "He thinks it's possible to change the world," says former SNCC secretary Stanley Wise. "He didn't start off that way. He thought it was possible to change one restaurant or one voting pattern. At some point he began to believe the world could be changed through nonviolence. Therefore, you had to live that life. John Lewis decided to live free, regardless of whether he was free or not."
Wise recalls his first, unfortunate meeting with Lewis: "I was 19, a student at Howard University. I arrived in Nashville with students from Georgetown and other D.C.-area schools. . . . There was a restaurant four or five blocks from Fisk University. About 90 of us marched over there. There was a giant white fella—must have been 6-foot-7, 6-foot-8—a really husky dude. People would up to the door and attempt to enter. As soon as you grabbed the door, he would let go with all his force against your head. Kapow! It was just absolutely unbelievable.
"One of the group was a girl who had had polio. She had braces on both legs and walked with crutches. She was about the third or fourth person to walk up to the door and this guy was not running out of energy at all. She came up and he just slammed her so hard that her crutches flew out of her hands and she fell back against the glass. And she literally crawled back up to the door and he hit her again. Oh God! Her boyfriend came up, picked her up and put her aside. And he went to the door. It went on until this person tired and they locked the door. I had just never seen such brutality.
"A lot of people had not wanted to go to this particular restaurant, but John was determined. He decided the place should be done, even if he had to go alone."
"He wouldn't waver," says civil rights activist Will Campbell, recalling another Nashville episode. "There had been demonstrations outside the downtown movie theaters. Considerable violence had erupted the night before. Marchers had been chased and beaten. The Nashville Christian Leadership Council board [NCLC, a splinter of Martin Luther King's SCLC] was meeting. We made a pitch to John, who was a student representative on the board. We said we felt the city needed a cooling-off period. John was just sitting there very calm. He said, 'Yeah, but we're gonna march.'
"The next person made his speech. It went all around. I was the last one, and I was getting a little impatient. I said, 'John, it seems that you agree with everything everyone says, but you say, 'We're gonna march.' You agree there is probably going to be serious violence, but you're going to march? What it comes down to is your own stubbornness. Your own sin.' He looked at me, completely unflappable, and said, 'Yeah, but we're gonna march.'
"They marched and nothing happened."
"He's beyond driven," explains Stanley Wise. "Many times, I thought John might be killed. . . . We had many shouting matches where I felt he was too close to the line." One one occasion, Lewis did back off. In 1958, he decided to personally integrate Troy State University, whose campus lay a few miles from his home. Lewis met with Martin Luther King Jr. and Ralph Abernathy in Montgomery, seeking and winning their support. "I had a discussion with my mother and father when I got back," he says. "They were so terrified, so afraid, I dropped the whole thing."
In May 1961, Lewis was among the original 13 interracial "freedom riders" chosen by the Congress of Racial Equality (CORE) to test the U.S. Supreme Court decision outlawing segregation in the area of interstate travel. Prepping for the trip in Washington, D.C., Lewis, then 21, ate his first Chinese food. "Absolutely good stuff," he recalls. "Served in silver covered dishes. The best food I'd ever had." During the meal, someone announced, "Eat well because this might be the Last Supper."
Freedom Riders rode regularly scheduled buses, along with "regular" white and black passengers scrupulously following segregation's dictates. Lewis go to Rock Hill, S.C., where he and his seatmate, Albert Bigelow, were attacked trying to enter a "whites only" waiting room. Then Lewis was called away from the trip. While he was gone, his Greyhound bus was attacked and burned in Anniston, Ala.; other freedom riders traveling on a Trailways bus were set upon in Birmingham. CORE's James Farmer called off the trip.
Lewis rushed back to Nashville, where he pleaded with Campbell and other NCLC board members for money to buy 10 bus tickets to New Orleans. Lewis got the money. They left on Wednesday morning, May 17, and got as far as Birmingham, where public safety commissioner Eugene "Bull" Connor wrapped them in protective custody and dumped them back on the Tennessee state line. Again they tried, making for Montgomery with Bobby Kennedy's Justice Department scrambling to guarantee their safety. The bus rolled with a highway patrol car alongside and a spotter plane overhead. Lewis picks up the story:
"It was the strangest feeling at the Montgomery bus station. You didn't see any people. Just nothing. We started down the steps. An angry mob, maybe 2,000 people with baseball bats, lead pipes and chains, rushed at us. I was hit on the head with a wooden crate, left lying in the street semiconscious. Most of the police just disappeared. Floyd Mann, the Alabama state patrol public safety director, came and stood over us. He fired his gun up in the air two three times saying, 'There'll be no killing here today! There'll be no killing here today!'
"A week ago, I saw Floyd for the first time since 1961, in Montgomery," continues Lewis. "He walked up, shook my hand and gave me a hug. He said, 'John Lewis, do you know who I am?' I said, 'Yes, Mr. Mann.' He said, 'I wanted to say congratulations. I've followed you all the years of your career.' I said, 'Your saving my life made it possible.'"
The ride continued, after rioting whites surrounded Ralph Abernathy's First Baptist Church, where the riders had taken shelter after John F. Kennedy clamped the city under martial law and sent National Guard troops to the rescue. It ended in Jackson, Miss., where the protesters were arrested and eventually packed off to the infamous Mississippi State Penitentiary in Parchman. "I spent 37 days in jail," says Lewis. "I missed my own graduation. . . . On the way to Parchman, one of the deputies looked me over and said, 'We got niggers in there that will eat you up.'"
"Look at that girl shake that thing.
We cannot all be Martin Luther King."
—from an early poem written by Julian Bond
In his memorable 1967 profile, Marshall Frady captured what may have been the essential Julian Bond, a tall, boyishly handsome, "whimsically improbably revolutionary . . . [who] suggested one of those languid, leisurely, bright, introspective and exquisitely detached young men in Henry James novels, always preferring to dwell on the periphery of passionate events and conflicts . . ."
Unfortunately, no one—including Bond himself—seems to have paid Frady much attention.
At the time, Julian Bond, 27, the son of Horace Mann Bond, Ph.D. (one of the most distinguished educators in the country), had dropped out of Morehouse College a bare semester from graduating. He left school to write sports and an advance to the lovelorn column for the Atlanta Inquirer, a black weekly newspaper. Bond had begun, then abandoned, an autobiography and had written—in Frady's words—"a few slight verses of a somewhat diaphanous excellence that were published in several anthologies." Some years before, he'd run off to north Georgia and married a bright, attractive college coed named Alice Clopton and by 1967 had fathered three children. (He and Alice later had two more children.)
Bond had also managed to offend and infuriate most of the stalwarts in the Georgia House of Representatives, to which he'd won election, only to be denied his seat after refusing to disavow anti-war remarks (the Vietnam debate was raging) made by fellow members of SNCC. Bond was reinstated twice in special elections—to no avail. "They can keep on electing him til Gabriel blows his trumpet," thundered one rural Georgia politician at the time. "But they ain't ever gonna get him in here."
The U.S. Supreme Court ruled otherwise: Bond had been unfairly deprived and would have to be reinstated. The legislators imagined some furious amalgam of H. Rap Brown, Huey P. Newton and Jomo Kenyatta invading their domain. Instead, Bond showed up polite and soft-spoken, dressed—according to Frady—in a somber blue suit with vest, chain and a pocketwatch, looking like a "fledgling banker."
Bond proved to be no bomb thrower. Over time he grew comfortable with the intellectual process of crafting legislation and the precise rituals of parliamentary procedure. In 1974, he moved to the state Senate, eventually becoming chairman of the Fulton County delegation. And there he remained—serving, all told, 10 terms in both houses—before resigning to square off against John Lewis in the 1986 5th District election. Ironically, Bond waged a two-year battle in the courts and legislature to create the black-majority congressional district that Lewis took away from him.
The years in the Statehouse took their toll. The media image of Bond was the Man of Promise, a gentleman-scholar-statesman on the move. In reality, he was a young, inexperienced legislator thrust into the indelicate world of cigar smoke, backslapping, and back-room dealmaking.
In 1968, during the tempestuous Democratic National Convention in Chicago, Bond was again propelled into the national limelight. A delegate, wanting to get anti-war activist Allard Lowenstein to the podium, nominated Julian Bond—the co-chairman of a group of insurgent Georgia delegates—for vice president. Lowenstein was to give the seconding speech. Bond, basking in the glow of the television cameras, was forced to explain in his crisp, perfectly articulated phrasing, that though honored, he was in fact too young for the job.
Long after the election was captured by Richard Nixon's Republicans, Bond traveled the country making personal appearances, giving speeches, seemingly building support for some great quest. The country was hurting. King and the Kennedys were gone: the sun was setting on the liberal agenda. Bond was young, gifted and black. His father's career was a testimony that "those who had some advantage or opportunity had a responsibility to others." According to Bond, his mother, a "sweet, very soft, retiring person," contributed another characteristic. "From her I get this feeling that if you wait and choose your moment, your chance will come. It'll be there."
So Julian Bond waited. Pursuing, he says, his father's commitment to the "life of the mind … the world to be found in books … in argument, discussion and theories. An entire life that could be lived in your mind." And he waited. People grew impatient. "I was struck by the number of people who knew me," he says, in his Harvard office, "but really didn't know me. They'd seen me on TV. They were sitting in their underwear drinking beer and I was, in effect, there with them. That was the first shock. The second shock was they began saying, 'Why don't you do this? Why don't you do that?' . . . People in New York and California saw me on TV and said, 'That guy's going some place. We expect him to be governor of Georgia.'
"Well, it's iffy whether Andy Young is going to be governor, 20 years later. They had an unrealistic expectation of what was possible. … I still meet people who are real flattering and say, 'Gee, we thought you'd be governor by now.' I say, 'Gee, it's something I never thought about.' I neither thought about nor wanted to be governor of Georgia. . . . I've had a multiplicity of interests for the last 25 years of my life, and I want to have them for the next 25."
"Multiplicity of interests" can also mean a lack of focus, the kind of singleminded determination that drives a John Lewis. Will Campbell, who knew the late Horace Bond, and knows both John and Julian, gently suggests the privileged, well-educated Bond simply "did not know as much of what it meant to be black as John Lewis did."
Campbell then carries his analysis a giant step further: "In terms of this total makeup and accomplishments, Julian Bond would have been better off if the civil rights movement had never happened. It was inevitable that he become involved when it hit. He had no choice but to be involved—and I know he has no regrets—but it sapped a lot of his energies for a number of years. He might very well have gone a lot further as a journalist or writer or political figure."
In fact, Bond's plunge into the movement began rather diffidently, particularly when compared to John Lewis's "We're gonna march" directness:
"On Feb. 3, 1960," says Bond, "I was a Morehouse student, sitting in the Yates and Milton drugstore. Lonnie King, a schoolmate, showed me a copy of the Atlanta Daily World that read, 'Students Sit In at Greensboro for Third Day.'
"Lonnie asked, 'What do you think?'
"I said, 'I think it's great.'
"'Do you think it ought to happen here?'
"'I'm sure it will happen here.'
"'Don't you think we ought to make it happen here?'
"'What do you mean we?'
"He said, 'You take this side of the drugstore and I'll take that side, and we'll organize a meeting.' I agreed, and it changed the whole course of my life. . . . I was a 20-year-old college junior with no career plans other than perhaps being a writer of some kind. My only goal was to finish college and get some kind of job. I was fairly aimless, purposeless. It was possible to be that way. It mayn't have been six months from then, but it was then. Montgomery had been four years before. There was a little civil rights activity, but I thought that was something you had to be older to do. It was nothing I could do. I'd seen TV pictures of high school students in Little Rock in '57 integrating the schools. I thought how brave and courageous they were, and I wished I could do something like that. But I neither had the opportunity nor did I see the opportunity. I didn't look for anything. If Lonnie King had not come along, who's to say what would have happened?"
According to Marshall Frady, Bond, queried about the Freedom Rides, remarked, "You'd have to be a fool to want to go on a bus trip through those states."
Even Bond's 1965 entrance into politics had more to do with intellectual curiosity than fire-in-the-belly commitment. "A friend of mine was running for the House in the district adjacent to the one I eventually ran in. I remember him urging me to do it. It was at his urging that I did it. It was something that I'd thought about."
Lewis and Bond became fast friends in the '60s. As SNCC officers they traveled the South organizing the Voter Education Project. In 1964, as part of a SNCC delegation, they spend three weeks together in Africa. "We were close friends, dear friends," says Lewis. "Alice and Julian would come to visit Lillian and me, and the four of us would stay up until 1 or 2 a.m. playing Scrabble. We'd have so much fun."
In 1969, Lewis wrote a remarkable letter to Bond, telling Julian his "presence [had] filled a vacuum" left by the deaths of Robert Kennedy and Martin Luther King. "You became the hope of millions who had previously identified with these two great men. . . . Julian, you have an obligation to the youth of today to use your influence."
Lewis wanted Bond to go after the 5th District congressional seat then held by Fletcher Thompson: "You should seriously consider running and run like you have never run before!" the letter continued. "If you do decide to run, you cannot afford to let the luxury of being a political celebrity and in demand throughout the country keep you from tackling the 'nitty-gritty' and difficult problems. . . . "
"Somehow, someway," says Lewis, shaking his head, "Julian made the decision not to run. Andy Young called me late one night from Harry Belafonte's apartment in New York after he'd read my letter. He said, "If Julian fails to do it, I will do it."
Bond tells a somewhat different version of the story. "It was a rainy night. Andy had driven me home from some meeting. We sat in the car outside my house. I thought he had the better chance. He had the ability to raise money. I thought he could get white votes I couldn't get. He didn't carry the negative burden I had. Remember, this was a few years away from my being the draft-card burner. I was the militant in the state legislature.
"Of course, we'll never know. Andy ran and lost. Then ran and won [in 1972]."
In 1981, John Lewis was elected to the Atlanta City Council. By most accounts his record of legislative achievements was dismal. In part, his ineffectiveness reflected his overriding interest in national and international human rights issues. He also wanted unending ethics-in-government campaigns, thundering against council President Marvin Arrington and other council members with the righteous indignation he'd mustered for Ross Barnett, George Wallace and P.W. Botha. Lewis, of course, believed every word he said, and didn't hesitate to say 'em before TV cameras and packed galleries. Arrington worked more quietly, effectively guaranteeing that any measure with Lewis's name on it would stay locked in some committee until South Africa froze over.
"It's not easy to get into local politics and be the kind of person who has to deal with water, sewers and roads," says DeKalb County Chief Executive Officer Manuel Maloof, a longtime Lewis observer. "John Lewis was never cut out for that. He's a visionary. Visionaries don't make good local officials. I would not say that John Lewis was a good local official, but he was the goddamn conscience of that council. He used to make those bastards so mad, they didn't know what to do!"
In February 1986, Lewis announced he was running for Congress. "A lot of people laughed," says SCLC president Joseph Lowery. "They said, 'We're surprised he made the City Council, now he's talking about Congress!" Lowery adds, "John soon got their attention with his unrelenting pursuit." Twenty years earlier, Lowery had watched a painfully shy Lewis, hampered by a speech impediment, force himself to address crowds and meetings. "Whatever was in him just had to come out."
Meanwhile, Julian Bond was finally making his move. "I'd created the seat, drawn the lines myself," he says. "I'd made it possible for a black person to be elected. I wanted badly to be there. I could see myself there. It seemed natural to me, the next step."
Bond banked on his celebrity. Jazzman Miles Davis and Washington Mayor Marion Barry scheduled benefits in his behalf (in retrospect not such great ideas). Media consultant David Garth, who had run campaigns for New York Gov. Mario Cuomo and Los Angeles Mayor Tom Bradley, signed on, as did Eugene Duffy, Andrew Young's right-hand man. Marvin Arrington threw a party.
Insiders say Bond's supporters had already started mapping his congressional agenda. "I thought Julian was the kind of figure that would be needed, given the waning of liberal influence in the country," says Stanley Wise, who abandoned Lewis for Bond. "I thought Julian would become chairman of the Congressional Black Caucus. He could put something on the agenda, move them in new directions. They had even anticipated his coming . . . had indicated they were willing to sublimate their egos. . . . America tends to listen when its sharpest minds can articulate a position. That's the kind of nuance Julian's election posed."
When the two were forced into a runoff, Lewis says, "I knew I'd win. I'd outwork him." Lewis, Time magazine's "living saint," also showed he could hit below the belt. When Bond challenged him in one debate on an alleged conflict involving campaign contributions ("If it looks like a duck, walks like a duck, it must be a duck"), Lewis responded that Bond was ducking the drug-test issue. (Lewis still maintains he had not heard any rumors about Bond's alleged cocaine use.) Thus began the "Jar Wars" stage of the campaign. Bond refused to be tested. Instead, it was their 25-year friendship that went down the toilet. The two men did not speak again until the fall of 1989.
Julian Bond (who won a majority among blacks) says whites cost him the election. "I had the reputation of being a race man," he says. "I think many white voters said, 'If Bond gets into office, he's only going to be worried about them and not about us. John Lewis will worry about us all. He'll be worried about everyone.' That was a correct analysis for them to have. They were right."
In the black churches the issue was whether Julian Bond was a "man of faith." Other voters found his confidence off-putting. Stanley Wise argues that Bond might have been "too sophisticated for the electorate." Manuel Maloof, never one to pull punches, says "the people recognized that Bond had never contributed much. The only thing I can remember him doing is burning his draft card. . . . As for coming up with meaningful legislation, being a leader, resolving issues that blacks felt were important . . . no, he did not do that. . . . And John pounded him on it."
The defeat was devastating. "You feel people have individually rejected you," says Bond. "Each one standing in your face saying, 'No, we don't like you.'" Bond had given up his state Senate seat. He was without income for nine months during the campaign. "He needed to move on," says one close friend unwilling to be identified. "What kind of options did he have? He seriously wanted to be executive director of the NAACP. The personal problems were boiling."
In the months after the election, Bond was observed a number of times in southside discos with Carmen Lopez Butler (who sold jewelry at many of the clubs) and other individuals one would not expect to find in his company. On March 19, 1987, Alice Bond walked into the Atlanta Police Bureau's Narcotics Squad office on Martin Luther King Jr. Drive, described Carmen Lopez Butler as her husband's drug supplier and implicated a number of prominent Atlantans as drug users. She later withdrew her allegations in the press. "In 25 years, I have never ever seen Julian Bond take drugs," says Stanley Wise. "It came as a total shock to me. But given all the sources, you just couldn't say that all of it was nonsense. That's what was so tragic about it."
Later that year, Julian Bond moved to Washington. His marriage ended in divorce.
Two years later, on a bright, warm autumn afternoon, Julian Bond cuts across Harvard Yard heading for the subway that will carry him to the airport and back to Washington. He speaks animatedly about a play he's "about halfway through … about a black political person. Some of the things have happened to me or I saw or heard about them happening to other people. Things I don't think I could have made up." He's writing a detective novel, but admits to being "about a page-and-a-half into it." He's hosting America's Black Forum, a syndicated TV show, and will spend the next few months on the lecture circuit: "I have something to do almost every day," he says. Bond won't discuss his personal life, or a paternity suit recently filed against him in Atlanta by a woman named Deborah Kaye Moore.
He has mixed feelings about leaving Atlanta. "I miss Culver Kidd. I miss hearing the lieutenant governor pound that gavel. I miss those faces I served with all those years … the secretaries, the people who hang around the Capitol. I miss the ambience. . . . But I wouldn't go back to it to save my soul. . . . You find yourself in different circumstances. You begin to make new friends. You find that life goes on. You've got to move on. I've moved on."
This article originally appeared in our March 1990 issue.