Like all cyclists in Atlanta, Black folks who ride bicycles are accustomed to irate car horns and hurled expletives. But it's also not uncommon for them to receive a surprisingly warm reception—an encouraging gratitude that even the United States' first cycling world champion, a Black man named Marshall "Major" Taylor, was denied during the height of his career at the turn of the 20th century.
"There are kids coming off of their porch with their bikes trying to ride with us, people clapping and cheering and smiling, and people feeling motivated," says Zahra Alabanza, 40, cofounder of the Atlanta chapter of Red, Bike, & Green, which hosts a ride the second Saturday of every month from April to October. "There's just joy in it: Those people [on bikes] look happy doing that, and that makes me happy."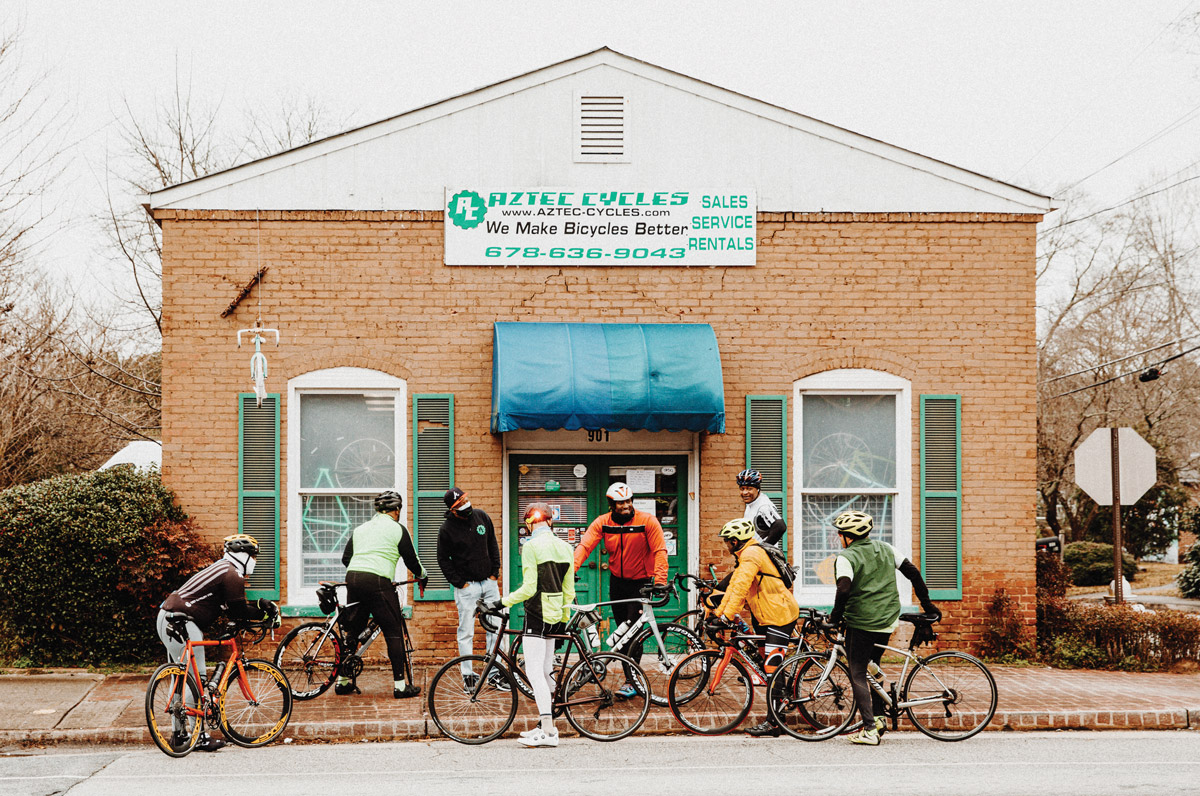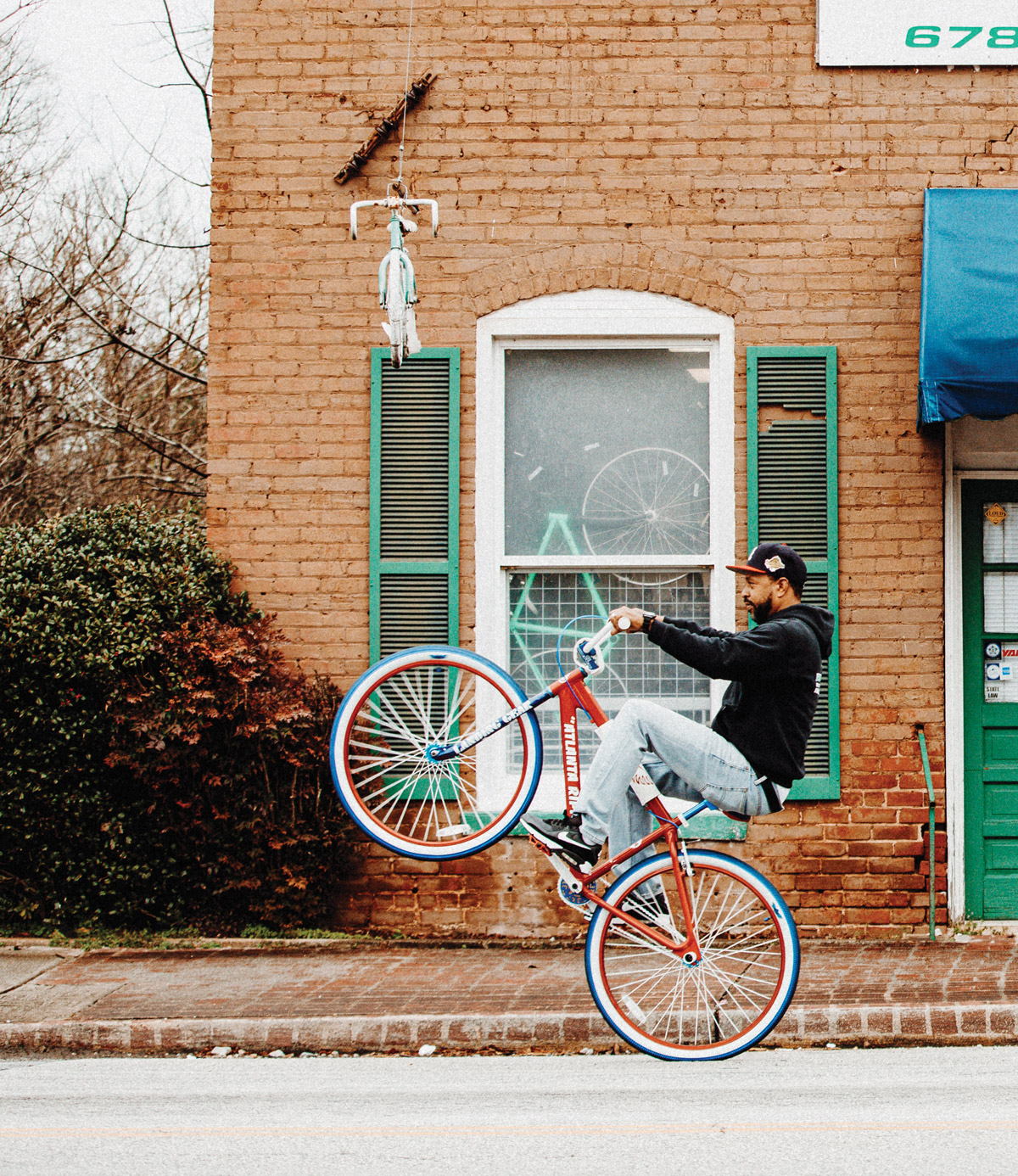 Black cyclists have long drawn attention while riding through Atlanta, says Kevin Price, president of Velo Atlanta Cycling Club, one of the city's more established majority-Black bicycle groups. "It's amazing where sometimes we'll be riding and we'll hear, Oh wow, they're all Black!" Price, 48, says. "And people will take their phones out to get a video because they're not used to seeing that."
Our society's narrow construct of what constitutes "Black culture" makes it inspiring to see Black folks participating in activities that are "not stuff we do," says Kris Dunbar, owner of Aztec Cycles in Stone Mountain, and A/C Clutch Bicycle Shop along the Westside BeltLine. Dunbar, 43, developed a lifelong passion for bikes by the time he was a teenager, tinkering with his own ride and becoming his neighborhood's young mechanic.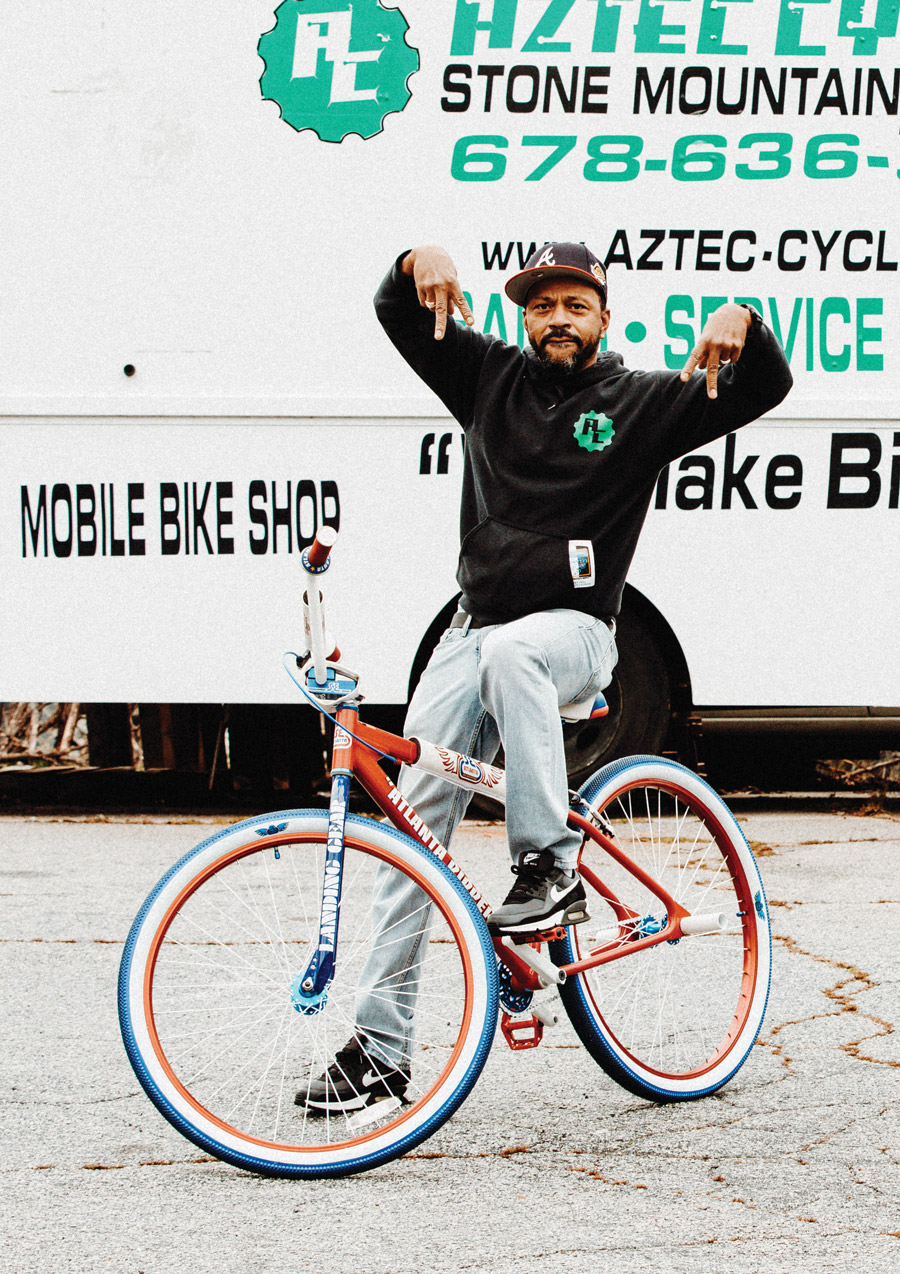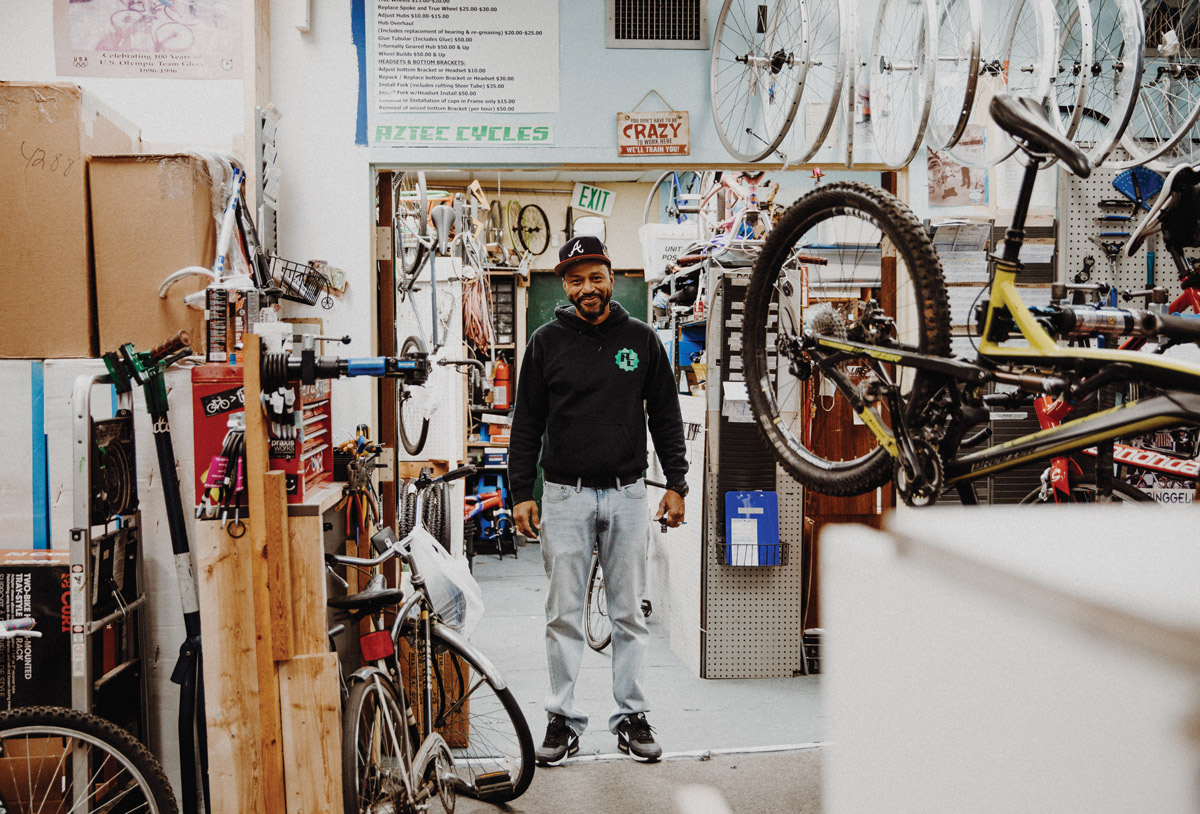 "When you walk into our Stone Mountain location, you walk into my 12-year-old [self's] dream come true," says Dunbar, who marvels at how Atlanta's Black cycling culture has evolved since he arrived in 1996. "The seeds have been planted and watered, and things are starting to bloom."
If Dunbar's two bike shops are the hub of Atlanta's Black cycling scene, the spokes are the almost dozen cycling clubs that encourage folks to explore the metro on two wheels. From the O.G.'s at Metro Atlanta Cycling Club, which started in 1986, to Covid-era upstarts like ATL Pedal Bikers, the area's Black cycling groups are broadening perceptions of who rides bicycles and creating social circles centered around healthy living. "Instagram is also part of this, because a lot of people are seeing the groups online and they want to be there," says Nedra Deadwyler, founder of Civil Bikes, who also attributes the uptick in Black people riding bicycles to BeltLine fever.
While most of the Black cycling clubs are social-fitness outlets rather than advocacy organizations, their presence alone helps contradict notions about a hobby and sport heavily associated with white people. Plus, the groups have led get-out-the-vote rides, clothing and school supply drives, and MACC's annual "One Love" Century ride has raised roughly $100,000 for organizations supporting underprivileged youth since 2006.
As more Black cycling clubs are created and grow, Alabanza of Red, Bike, & Green hopes traversing the city by bike also instills a new vision in the cyclists so they can empower communities in which the arrival of bike lanes is commonly perceived as an unwelcome harbinger of gentrification and displacement.
"This year, we did an urban farm tour, and the west side likely has the highest concentration of Black urban growing spaces in this entire country. People won't know that because they're not necessarily looking for it," Alabanza says. "Once you show them that, they're like, I didn't know I could buy from a Black farmer right down the street from wherever I live on the west side."
Who's who when it comes to Black cycling clubs in Atlanta

MACC & Velo
@metroatlantacyclingclub
@veloatl
When members of the Metro Atlanta Cycling Club first participated in events in the 1980s like the Bike Ride Across Georgia, they attracted the attention of small-town reporters who had never seen a group of Black cyclists. "They wanted to interview us because we were different," says Greg Masterson, 61, the group's board president. Since then, MACC has developed a reputation among hardcore cyclists that drew more than 1,350 riders from across the country to its 2019 One Love century ride. Members of MACC and Velo Atlanta Cycling Club, started in 2011 by members of MACC, often ride together.
Dope Pedalers
@dopepedalers
Known for showcasing some of the sexiest bicycles in Atlanta, the Dope Pedalers Bike Club, founded in 2014, has humble origins. "I went to Walmart and bought six bikes for me and these young ladies to ride the BeltLine," says founder Jay Reid. Social media attracted more riders, and Dope Pedalers was born. "We gave that visibility to the culture that people could say, That's something I can get into," Reid says.
Similar Clubs: L.I.P.S. (@lips_west_side_cycling), Rolling Peach Bandits (@rollingpeachbandits)
M.O.B.B. ATL
@mobbatl
Attracting new demographics to cycling depends as much on how you look as how you ride, a mindset that has fueled the growth of M.O.B.B. ATL since Tahra Chatard founded the primarily fixed-gear cycling club in 2012. "We are Black people, colorful people, and we gotta be fresh," says Chatard. "Yes, there is a [cycling] culture here in the Southeast, and because this is a predominantly Black city, we need to be a representation of that culture, too."
Similar Clubs: Fixed Gear ATL (@fixedgearatl), Stoned + Fixed Supply Co. (@stonedandfixed)
Bonafide Riders
@bonafideriderscc
As the Black cycling population continues to rise across the metro area, Bonafide Riders Cycling Club also hopes to elevate the community's cycling knowledge. "It's about helping people become actual cyclists," says Mark Christian, the group's founder. In addition to its weekly rides, the nonprofit endowed a scholarship for one of its members going off to college last year.
Similar Clubs: BLKPedals (@blkpedals)
Sistas on Bikes
@sistasonbikes
With cycling typically considered a white, male-dominated activity, it can be intimidating for Black women to find a comfortable space. "Some women are nervous about getting out and riding," says Veyla Barnes, 40, who created Sistas on Bikes in 2020. "I wanted to make a safe space for women to get out and be active, ride your bike and socialize. It's not based upon what someone's wearing, what type of bike you have. It's just a real chill vibe."
Similar Clubs: L.I.P.S. (@lips_west_side_cycling), Rolling Peach Bandits (@rollingpeachbandits)
This article appears in our March 2021 issue.