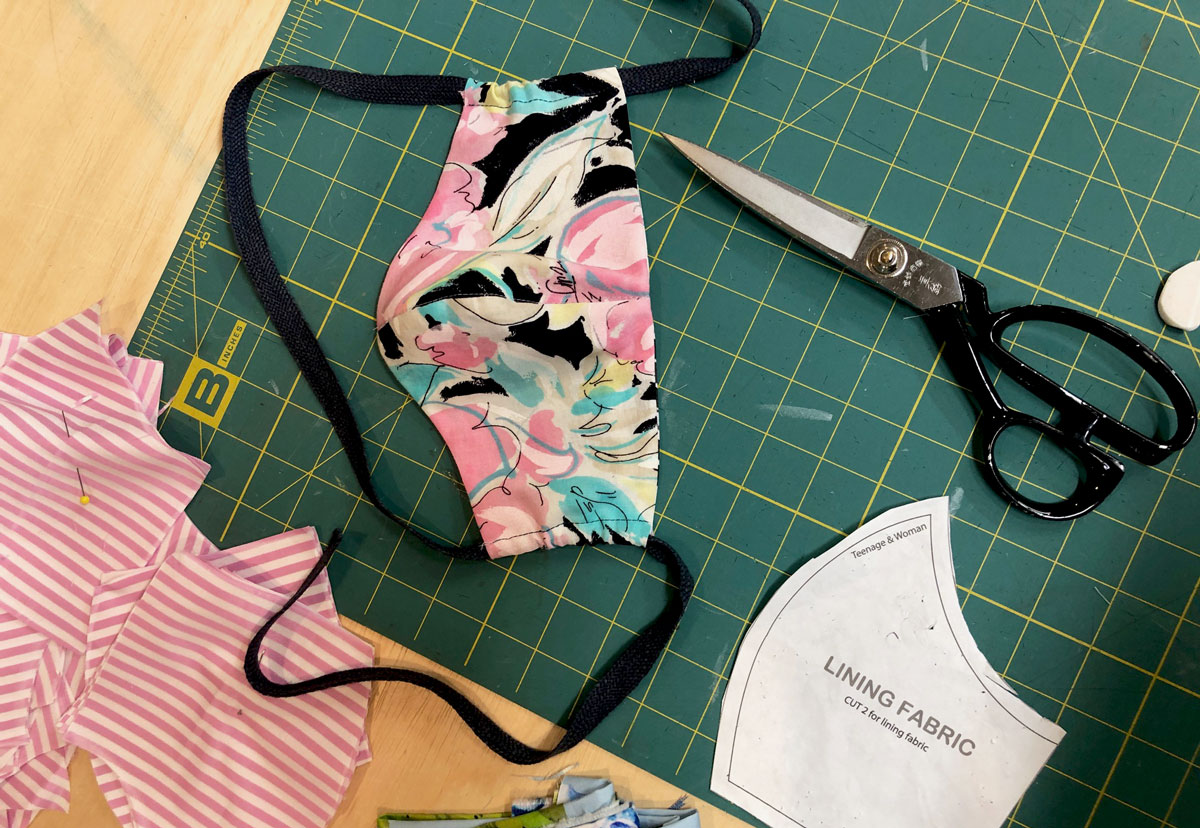 When Kirsten Hawkins heard that hospitals were running short on personal protective equipment (PPE), the local fashion designer linked up with fellow Atlantans Kayla Hittig and Gina Livingston on Facebook and launched Sewing Masks for Area Hospitals (SMAH). The three women have never met in person, but in a matter of weeks, they grew a sewing network of over 8,000 volunteers that started in Atlanta and grew into Georgia.
"It's almost like this group of home sewing volunteers has just been activated," says Hawkins. "We've got everyone from little kids sewing at home as an activity that they can do to pass the time in self-isolation, all the way to grandmas who can crank out 1,000 masks in a week. That fulfills an entire facility's order."
As of April 3, the CDC recommends that everyone, whether symptomatic or not, should wear a cloth face mask when out in public. This, combined with the nationwide PPE shortage, has created an all-hands-on-deck situation to get masks in the hands of those that need them.
Hobbyists aren't the only ones who have gotten involved in mask-making efforts. Costume designers and prop artists at local theatrical outfits, including the Alliance Theatre and Atlanta Ballet, are making masks in their homes for doctors to wear over N95 respirators and surgical masks to help extend their usability.
"I think everybody feels really helpless right now, and I think that it is nice to have something you can do where you feel like you're being helpful," says Spencer Henderson, director of costume shop and wardrobe at the Alliance Theatre. "I think a lot of us, being trapped at home, want to do something that is a forward motion."
While the medical community needs masks the most, cloth masks are quickly becoming a new normal for all of us. Here's what to know about masks and how to get involved.
Why should I wear a cloth mask in public . . . and when?
It's less about you, and more about the people around you. Cloth masks are meant to help reduce asymptomatic transmission of COVID-19. Dr. Marybeth Sexton, an assistant professor of medicine at Emory who specializes in infectious diseases, explains: "It's possible that some people are contagious without ever knowing they are sick, either because they have no symptoms or because the symptoms are so mild. In that setting, it may be helpful to have people wear masks so that they do not spread the virus to the people around them without knowing it."
Masks are most effective when you're in a public space close to other people, especially if it's indoors. Trips to the grocery store and picking up takeout are great times to wear a mask. "When you're out in open air and not coming within six feet of other people, wearing a mask is probably not necessary," says Sexton. So if you're walking your dog in a quiet neighborhood, or sitting in an empty park field, you can likely forgo the mask. But if you're in your apartment building's courtyard with multiple people around, you should wear one.
The protection that cloth masks offer isn't as well-studied as medical masks, but Sexton says it's likely they help prevent people from spreading infected particles when they talk, breathe, or cough. Please note that wearing a mask in public doesn't supersede other recommended health precautions. You still need to maintain a distance of six feet from others and frequently wash your hands for at least 20 seconds.
How can I get a mask?
If you have a sewing machine, Leigh Metcalf, owner of Topstitch in Ponce City Market, suggests using this pattern on Craft Passion. She also likes this style by Trista Roland of Sugardale Patterns, who has a tutorial saved on her Instagram stories.
For the less craft enthused, there are plenty of tutorials that teach you how to fold bandanas into masks, like this one on YouTube, or this one that uses a handkerchief and hair ties (especially helpful if you can't get your hands on elastic, which some stores are sold out of). Or, try this no-sew method demonstrated by U.S. Surgeon General Jerome Adams. All you need is a T-shirt and two rubber bands.
If you prefer to buy a mask, there are many of options, including on craft stalwart Etsy. Locally, Morningside seamstress Lindsey Long is selling masks for $15 via Instagram and on her website. Boutique owner Abbey Glass is making masks with leftover designer fabric—for now you can purchase one in a medium or large size for $12 through her Instagram messages. Popular apron company Hedley & Bennett has converted their factory into a mask making facility and is selling them for $22 each. They're taking the Tom's approach and donating a mask to a front line worker (i.e. medical professional, restaurant employee, grocery store worker) for each mask purchased.
However you acquire a mask, keep in mind that the best material is cotton. Sexton says, "Cotton is most highly recommended because of its thickness and ability to be washed. Per the CDC guidance, a mask with several fabric layers works best to prevent viral particles from leaving your mouth or nose and moving into the air around you."
How can I help make and donate masks?
While Sewing Masks for Area Hospitals has produced thousands of masks in the past two weeks, Hawkins says their work isn't done yet. Hospitals and medical facilities seek out the organization and request masks be made to certain specifications, then volunteers work to fulfill the order. Not only are they looking for people to sew masks, but they also need help distributing them to the medical facilities and admin support. They can also tell you which hospitals are looking for donations if you've already made masks. People interested in getting involved can start by joining their Facebook group.
Another grassroots effort has sprung out of Sandy Springs, where Max Seidel and Nathan Eads, home from their freshman years at Northeastern University and the University of Alabama respectively, have started crafting face shields for medical professionals. "I just saw some designs online for the 3D-printed face shields [and thought] Hey, maybe I could print some of these," explains Seidel, a mechanical engineering major. He connected with Eads, also an engineering major, and put out a call to makers.
With the support of groups like Tikkun Olam Makers and Atlanta Beats Covid and well as their own fundraising page they've been able to purchase necessary equipment and supplies—like 20 gallons of isopropyl alcohol—and have assembled volunteers to print and construct the face shields. In four hours, they can produce about 300 shields. They are looking for more volunteers and donations.
"I'm 19, and this is just something that sprung up out of nowhere. We don't have experience managing something at this level, but we stepped up to what we had to do, and that's what we're working on now," says Seidel.
Not all hospitals are accepting donated PPE, but a lot are, and Emory has even set up a drive-thru drop-off. If you have surgical masks, procedure masks, or N95 respirators, Sexton recommends donating those to medical professionals because they can be worn during patient care. "However, we also really appreciate donation of cloth masks from the community. We can use them to cover medical-grade masks to extend the life of the mask, and we can wear them in non-patient care settings in the hospital" Sexton says.