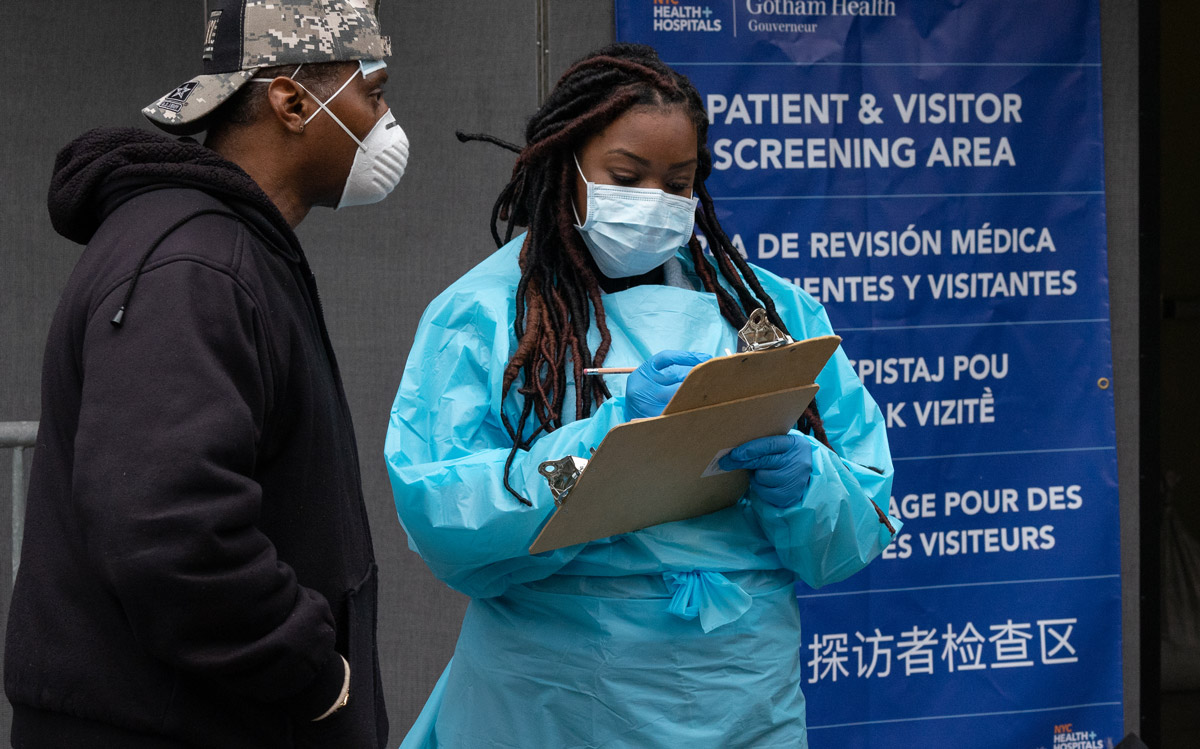 Atlantans are feeling the impact of COVID-19 unequally—and not just because low-paid service workers have returned to their jobs in newly opened restaurants, hair salons, and spas. Even in March, when the coronavirus first spread stealthily before bursting into outbreaks across metro Atlanta, people of color were more likely to end up in the hospital with severe symptoms. That racial disparity has also been found in other states.
When epidemiologists from the Centers for Disease Control (CDC) looked at 305 cases from March at seven metro Atlanta hospitals and one in Albany, they found that 83 percent of the COVID-19 patients were black. As of 12:25 p.m. Monday, the Georgia Department of Public Health reported 29,177 COVID cases; half were among black Georgians. (Racial demographics aren't available for about one-quarter of the state's cases.)
Both COVID-19 cases and hospitalizations outstrip the area's demographics; about 32 percent of the metro population is black. "All the statistics point to the fact that we're more likely to be affected than the general population," says Shelby Wilkes, an ophthalmologist and president of the Georgia State Medical Association, an organization of black physicians.
The question, of course, is why? The study didn't explore that, but the authors suggest that "social and economic factors (including occupational exposures)" may play a role. CDC is continuing to analyze the racial disparities, the study's senior author Brendan Jackson told Atlanta. "Health differences between racial and ethnic groups are often due to economic and social conditions that are more common among some racial and ethnic groups," Jackson, a CDC medical epidemiologist, said by email. He cited "living conditions, work circumstances, underlying health conditions, and less access to care."
Social and health disparities have long shaped life in Atlanta, which has the worst income inequality in the country. COVID-19 has simply laid bare the consequences, in a life-and-death context.
"If there was ever a time to make some changes, now would be the time to do it," says Wilkes, who argues that the state needs to ramp up testing, make masks more accessible, and promote social distancing, especially in disadvantaged neighborhoods.
Interestingly, black patients who were hospitalized with COVID-19 were not more likely to have some high-risk medical conditions, such as diabetes, heart disease, or lung disorders, according to the CDC study. Overall, they had a higher average body-mass index, but they weren't more likely to have severe obesity, which has been associated with more severe COVID-19 illness.
Health disparities still may have influenced the COVID-19 patterns, particularly if the diseases were not well-controlled because of inadequate healthcare, says Robert Mayberry, professor and epidemiologist at the Morehouse School of Medicine. "We don't have the detailed information about those underlying conditions that I think would be critically important to know," he says.
The CDC study is just a snapshot—a "convenience sample" of cases at selected hospitals that was not designed to be representative of COVID-19 cases overall. But the 305 cases made up a large portion of the total; as of March 30, the state reported 771 COVID-19 hospitalizations.
Mayberry cautions that demographic data shouldn't be used to paint COVID-19 as a disease of people of color. The virus doesn't discriminate—we are all equally susceptible. Race is likely just a clue to other differences and inequities, such as income and job status. "When we ask race and ethnicity, we should also ask more specific questions, such as where do you live? Where do you work? How frequently do you come into contact with others?" he says.
There is one encouraging finding in the otherwise troubling report. While black patients were more likely to end up in the hospital with severe COVID-19 symptoms, they recovered at the same rate as other patients. In other words, the disparity stopped at the hospital door. That provides a valuable lesson for our healthcare system in general. "If African Americans are treated according to need, then we should see fewer health inequities and health disparities," says Mayberry.