In metro Atlanta, there's no shortage of patient-centered care. At these hospitals and medical practices, compassion meets innovation for healthcare you can trust.
Advanced Urology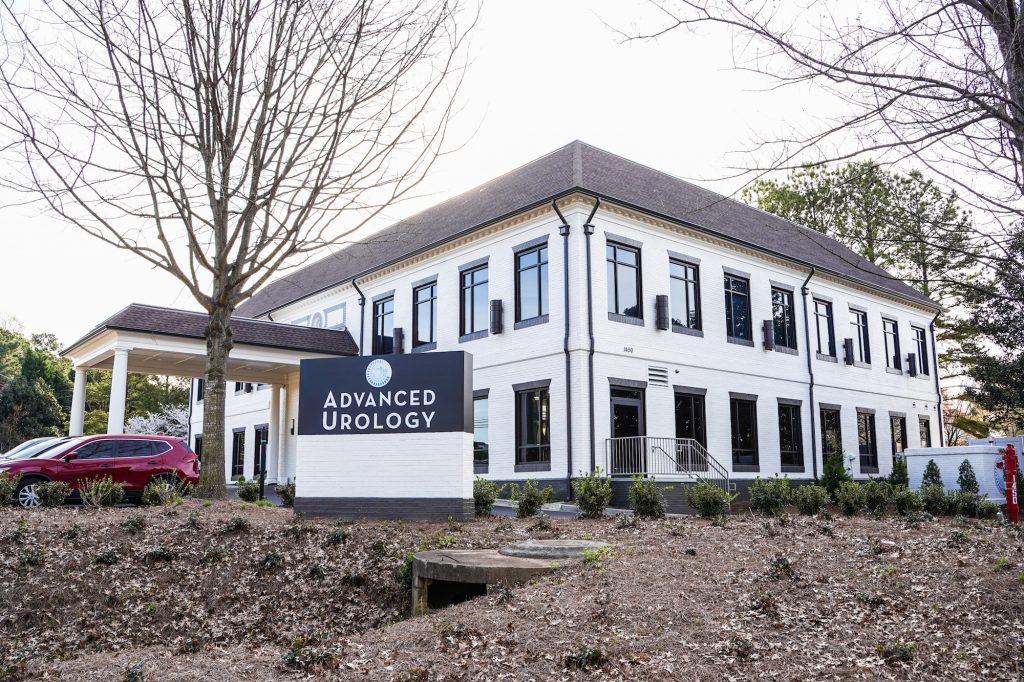 About half of all women and one-third of all men have bladder control issues at some point in life, according to the National Institutes of Health. Millions more struggle with other urology-related concerns. While urologic problems tend to be swept under the rug, the fact is that they have a powerful impact on a person's quality of life. The exceptional physicians at Advanced Urology are dedicated to providing the most innovative and cutting-edge treatments for life-threatening and life-complicating urologic conditions alike.
Advanced Urology is an expansive and revered practice with highly regarded physicians, as well as physician assistants and knowledgeable nurse practitioners. In addition to male-focused conditions such as prostate cancer and erectile dysfunction, the Advanced Urology team also provides the highest standard of care for urological conditions in men and women, such as overactive bladder, incontinence, urinary tract infections, and more.
Advanced Urology takes pride in bringing state-of-the-art treatments to all patients, opening the door to a healthier and more symptom-free life. One of the latest innovations they're proud to offer is InterStim. In many patients with bladder control issues, the problem lies in the nerve signals that are supposed to tell their bladder when to hold and when to release. InterStim is an implantable device that stimulates precise nerves in the area to give the patient more predictable, comfortable bladder control without medication.
While technology like InterStim goes a long way, the true difference that separates Advanced Urology from other similar specialists is the talent of their providers. With physicians who have won national awards and regularly present at conferences across the globe, Advanced Urology offers the gold standard of urological care to make their patients feel comfortable and understood.
Advanced Urology has locations in six cities throughout the Atlanta area, including their newest centers in Sandy Springs and Roswell. To find the nearest location to you, visit advancedurology.com.
Gwinnett Medical Center
It isn't just the advanced medical technology, the latest treatment options, or the extensive range of specialties that set Gwinnett Medical Center apart. It's the compassionate, personalized care, coupled with an emphasis on convenience and accessibility that makes GMC so unique.
This exceptional level of care doesn't happen overnight. At Gwinnett Medical Center, it has been in the making for more than 75 years, when we first started serving the community. Whether it's providing patient-centered cancer care for more than 1,900 patients annually, or caring for athletes with the largest sports medicine program in the state, GMC is continually growing and developing its services.
In order to help make diagnostic services and comprehensive treatment options even more accessible for you and your family, GMC has partnered with ChoiceOne Urgent Care. In addition to the Hamilton Mill and Sugar Hill centers, their new center in Grayson just opened in July.
GMC's cardiothoracic surgeons, with more than 50 years of experience, are not only renowned throughout the region, they also provide some of the nation's top surgical care. When it comes to coronary artery bypass grafting, GMC has earned the highest ranking possible for clinical quality, ranking in the top 15 percent in the U.S.
The GMC Primary Care & Specialty Centers, located in the heart of Hamilton Mill and Suwanee, and coming soon to Peachtree Corners, offer top-tier health services in a healing, spa-like environment. To care for all of your health and wellness needs, these centers provide everything from primary care, gastroenterology, and cancer care to OB/GYN, orthopedic care, and imaging services.
Call or visit gwinnettmedicalcenter.org to find out more about how we can care for you.
Peachtree Orthopedics
In 1962, Peachtree Orthopedics founder, Dr. Joseph H. Dimon III, performed Georgia's first total hip replacement surgery. Since then, we have been at the forefront of the field. And now, our fellowship-trained joint surgeons—Drs. Gupta, McDonald, Royster, Henry, Smith, York, and Thomas—are pleased to offer outpatient total joint replacement surgery as an option for their patients.
Traditionally performed as an inpatient procedure, outpatient total joint replacement—meaning patients can go home the same day—has been made possible by recent advances in anesthesia, minimally invasive surgical techniques, and intense physical therapy soon after surgery. Peachtree Orthopedics surgeons utilize advanced techniques and the latest technology so outpatient total joint replacement may be offered to most patients.
There are many benefits to outpatient joint replacement. Outpatient surgery centers are less intimidating and can help to alleviate the anxiety associated with surgery. Less invasive surgical techniques use a tissue sparing approach to minimize damage to muscle or tendon. Patients have less scarring, fewer complications, and a quicker return to mobility and activities.
With improved pain management techniques, patients have fewer narcotic requirements during recovery, thereby resulting in fewer medication side effects. The end result is that patients can return home the same day or stay overnight and receive one-on-one nursing care.
Peachtree Orthopedics offers outpatient total joint replacement with the leading doctors, using the latest technology, and, in most cases, at a lower cost to patients. The end result is a streamlined procedure and recovery leading to the best possible outcome. Learn more at peachtreeorthopedics.com.
Cancer Treatment Centers of America, Atlanta
Built on a vision of healing and hope, Cancer Treatment Centers of America (CTCA), Atlanta, believes every cancer patient deserves the care we'd want for our own families. We call this principle the "mother standard" of care, and it guides everything that we do.
Part of this care is taking a whole-patient approach to cancer treatment. At CTCA, we know that it takes a team of experts to fight a complex disease like cancer. As a hospital solely focused on cancer care, we provide each patient with a group of specialists dedicated to their unique needs.
Our highly trained physicians and clinicians deliver a coordinated approach to adult cancer care that combines surgery, radiation, chemotherapy, and immunotherapy. CTCA provides precision cancer treatment and supportive therapies designed to manage side effects and enhance quality of life, both during and after treatment.
Cancer carries an unrivaled sense of urgency to find the right care at the right place at the right time. That's why we developed disease-focused centers, which bring together multidisciplinary teams of clinicians focused on specific cancer types. As a comprehensive cancer care and research center, CTCA Atlanta also offers qualified patients advanced genomic testing and a range of clinical trials that may reveal new treatment options.
Visit cancercenter.com/atlanta to see how our team puts patients first.
WellStar

When patients expect medical treatment at the highest level and care that's personal, they turn to WellStar. WellStar is one of Georgia's leading healthcare providers, with 11 hospitals, three health parks, 15 urgent care centers, and more than 250 other facilities. With its top specialists and cutting-edge technology, WellStar cares for the whole person—and nowhere is that more important than in the critical areas of cardiology, oncology, and neurology.
WellStar was recently designated Georgia's first Certified Comprehensive Cardiac Care Center by the Joint Commission and the American Heart Association. With its network of 80 physicians and 50 advanced-practice providers, WellStar gives patients access to innovative procedures and technologies close to home. From preventive screenings to complex surgeries, WellStar offers one of the most complete cardiovascular programs available.
Every fight against cancer is unique, and WellStar takes a collaborative, patient-centered approach. A team of specialists consults on every case to deliver a faster diagnosis and tailored treatment plan—along with unparalleled expertise and support. "One of the most important things for patients is getting treatment started quickly," said Michelle Kellett, director of diagnostic services at WellStar Douglas Hospital. "The goal is for treatment to start in days, not weeks or months."
WellStar is a premier destination for neurological treatments, especially those involving stroke and spinal care. Home to one of only four top-level comprehensive stroke centers in Georgia, WellStar offers the latest procedures to help stroke patients not just survive but avoid devastating side effects and return to a normal life.
Affiliated with the Mayo Clinic, WellStar is a not-for-profit dedicated to providing world-class care with a personal touch. To learn more about WellStar's services and comprehensive care, visit wellstar.org.
Emory Proton Therapy Center
The latest tool to fight cancer is here in Atlanta. The new Emory Proton Therapy Center offers the most advanced radiation treatment available, under the care and expertise of renowned specialists at Winship Cancer Institute of Emory University, Georgia's only National Cancer Institute–designated Comprehensive Cancer Center.
Proton therapy combines advances in radiation technology, engineering, and medical physics to deliver a treatment precisely where needed—with less spillover to adjacent healthy tissue. That means less radiation exposure to normal tissues and the potential for fewer side effects and complications, especially for cancers near sensitive organs and for children whose tissues are still developing.
The Emory Proton Therapy Center, located just two blocks from Emory University Hospital Midtown, is the only facility of its kind in the state of Georgia, and one of only a few in the Southeast to offer this leading-edge type of radiation treatment.
In addition to being one of the newest proton centers in the country, "we are opening with enviable technology," says medical director Mark McDonald. He's particularly pleased that every treatment room has pencil-beam scanning—a technology in only a limited number of centers that delivers small spots of radiation that match the shape of the target and adjusts to the different depths and contours of a tumor in a plan personalized for each patient.
Research at the center is already underway on how to improve proton therapy, broaden its applications, and expand the understanding of which patients will benefit most from this therapy.
Proton therapy is here now in Georgia, and its role in treating patients with cancer is only just beginning. Learn more at emoryhealthcare.org/proton.
First Medical Care
The medical team at First Medical Care believes that good health comes from treating the mind, body, and soul. They provide primary care for all ages, ensuring all patients
are provided with the best care possible and treated with respect and dignity.
Dr. Bassam Tomeh, CEO of First Medical Care and a 2019 Atlanta magazine Top Doctor, has a special interest in disease prevention. He is a graduate of the Medical College of Georgia in Augusta, where he served as chief resident from 2006–2007.
He is joined by Dr. Syed Ullah, who received his medical degree from Moscow State University of Medicine and Dentistry and completed his residency training in 2011 at Wichita Falls Family Practice Residency Program.
Also integral to the team is Jocelyn Castellano, an advanced practice registered nurse and adult gerontology nurse practitioner focused on treating adolescents through adult ages and into advanced age, and Anita Khimani, a critical care registered nurse and family nurse practitioner. Learn more at firstmedicalcareinc.com.