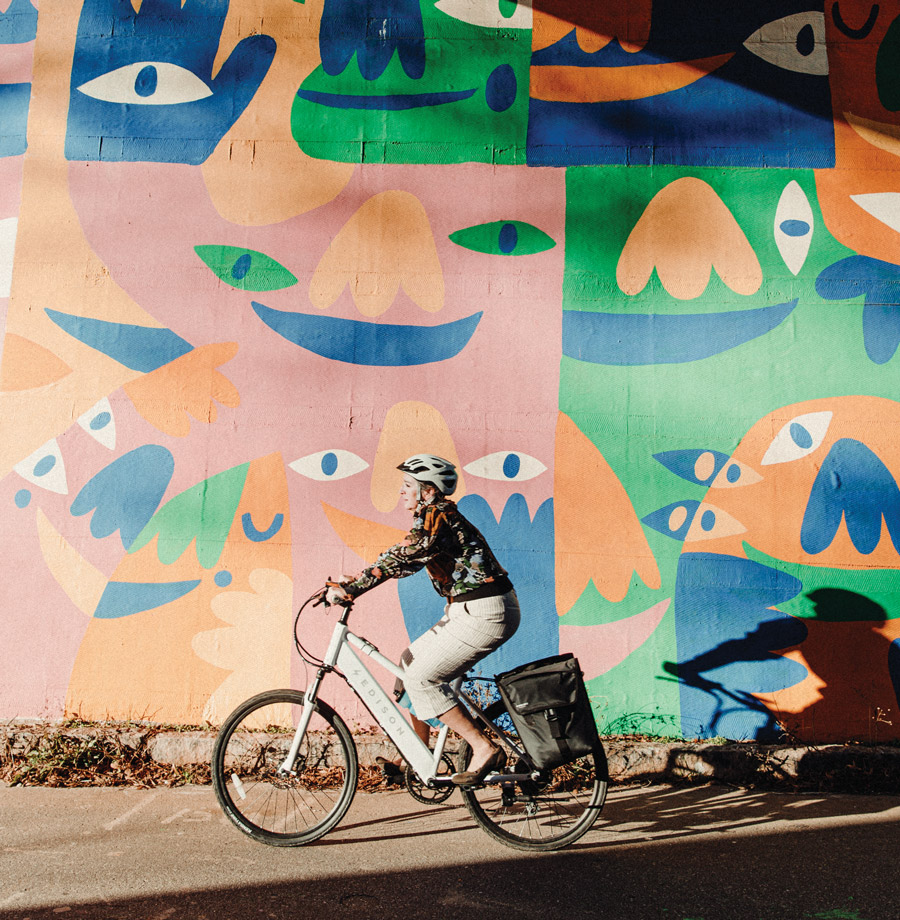 McKenzie Wren, a 56-year-old equity facilitator and consultant, had long relied on a bicycle to get around Atlanta. However, as traffic delays worsened, she grew weary of showing up to client meetings sweating like an ultramarathon runner in July. Fortunately, a little over four years ago, she discovered Edison, then a brand new Kirkwood-based company that's still Atlanta's only electric motor–assisted bike builder. Edison's vehicles quietly zip along at more than 20 mph, for up to 40 miles per charge, zooming up hills with little effort from the rider, although pedaling does increase mileage and provide a better workout. Purchasing one of these bikes changed Wren's life and helped preserve her professional image. "I'm proud to say I was an early adopter," she says.
Recently, e-bikes have been enjoying an explosion in popularity that defies demographic categorization. Fans of all ages are weekend joyriders, devout commuters, families consolidating to a single car, or avid cyclists recovering from injuries. Metro Atlanta's ubiquitous hills, months of steamy temperatures, burgeoning tech community, and growing system of protected bike lanes and paved trails are all factors that have fueled the local market.
Edison bikes were developed from scratch by owner Ryan Hersh, a former motorcycle and BMX racer who spent years honing or outsourcing each component, from the lightweight frame to the welds. Since the official launch with its current vehicles in 2017, four-employee Edison has managed to sell more than 1,200 bikes, mostly to ITP clients at $2,199 apiece (or two from $4,098). "It's been really wild to see the [sales] trajectory," says Hersh, 35, who maintains a full-time job as an IT professional and assembles each bike with Edison's two mechanics in his Kirkwood garage. "Every single year, it's bigger. September was the busiest month we've ever had." Sales for Edison tend to peak in spring and fall months. While pandemic-induced equipment shortages caused longer waits for bikes last year, Hersh typically has his two variations—the size of the bikes is based on the height of the rider—in stock.
Business is equally gangbusters at ElectroBike Georgia, which opened five years ago in Brookhaven as the city's first full-service e-bike shop (the shop only works on brands it also sells) and recently doubled showroom space to accommodate demand. They're typically stocked with nine e-bike brands (including a new iteration from Mercedes-Benz), ranging from $1,500 to about $5,500. "We've definitely seen a boom, especially during the pandemic," says Caroline Hunger, vice president of sales. "We've had a lot of sales with people desperate to get outside, to get moving."
E-variations include folding bikes, long-tailed cargo bikes for lugging groceries (or kids), comfy beach-style cruisers, road bikes, and even some resembling vintage motorcycles. Recent innovations like aircraft-grade aluminum and internalized battery components have made e-bikes lighter, stronger, and safer. "If you said 'electric bike' five years ago, you'd think of some kind of clunky thing," says Hersh. "Now, there's so much elegance and innovation."
The craze hasn't been relegated to e-bike buyers, as other riders have rented them via apps for exercise and last-mile connectivity. In 2019, Uber pulled its Jump e-bikes out of Atlanta, and plans for rolling out a citywide e-bike fleet to replace Relay Bike Share's nonelectric bikes didn't materialize; but the city has granted a one-year operating permit to a new player, micromobility company Helbiz, which dispatched rentable e-bikes locally in November. Elsewhere, along the BeltLine's Eastside Trail, ElectroBike rents e-powered options for $15 per hour at Atlanta Bicycle Barn.
Another convert, Tyler Riberdy, ditched his BMW to commute exclusively on Edison, though he hadn't ridden a bike since his teens. He's since logged 18,000 miles on the same e-bike. And that's earned him "superuser" status in the eyes of Hersh, who hired Riberdy to help run the boutique Kirkwood shop. "On your e-bike, you're excited to go wherever you're going, even if it's raining," says Riberdy, who advocates for fenders and a good rain jacket to deflect nasty weather. "You get to know all the side streets, see all the smaller neighborhoods. You start to see familiar people. You feel more welcome in places; in a car, it just blows by, and you don't notice it. On a bike, you get to know the city in such a different way. I feel more alert, and there's an undeniable difference in your daily attitude."
This article appears in our March 2021 issue.