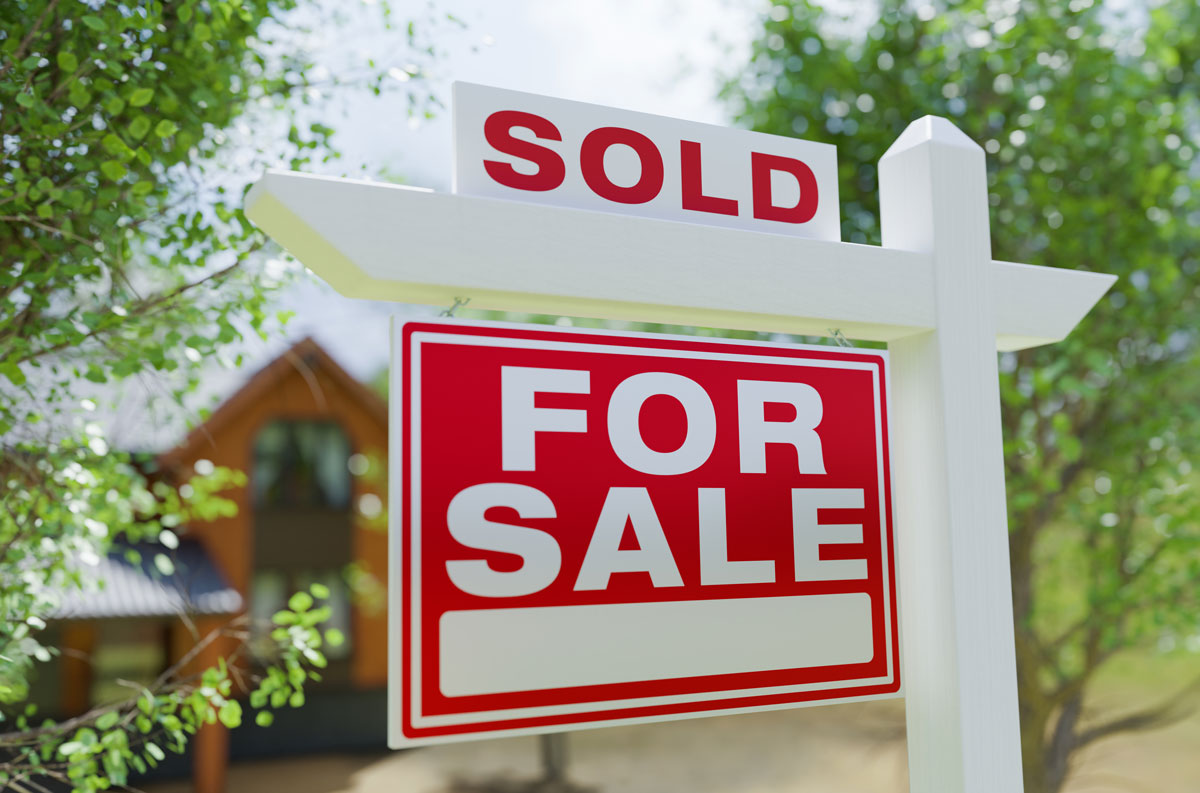 If you're watching the Atlanta real estate market with plans to buy or sell a home, you might be wondering, What exactly is going on here? After a two-year pandemic boom that saw homebuyers tripping over themselves to line the pockets of sellers, rising interest rates are finally pumping the brakes on the frenzy—more than a typical end-of-summer slowdown. Houses are sitting on the market longer, inventory doesn't feel as scant, buyers seem less likely to sign away their firstborn to win a bidding war. Now, you're a lot less likely to encounter a bidding war at all. (The latest report from Redfin marks the first year-over-year increase in "stale" inventory—houses that have been on the market for more than 30 days—since the beginning of the pandemic.) As the market cools off but rates rise, what does a slower climate mean for you if you're looking to buy or sell?
"'Slowdown' is relative," says Anna Kilinski, CEO of Anna K Intown/Keller Williams Intown. "I would describe it as 'coming back down to earth.' We're coming off a market that didn't make sense on paper, and we're moving more toward a normal market. Nobody should be fearful of that."
We spoke with five agents around town—who, it should be noted, have an interest in seeing homes continue to be bought and sold—for perspective on navigating this changing housing landscape. Here are the takeaways.
Competition is down; buyers may finally be able to take a breather.
The frenetically hot housing climate of the last two years saw the confluence of cheap cash (low interest rates), high emotions (pandemic stress), and a housing shortage (stalled construction, in part). Prices skyrocketed, and according to one widely cited study, Atlanta became one of the most inflated, overpriced markets in the country. But buyers still raced to slam down offers with uber-cushy terms that had sellers calling all the shots. Multiple offers over asking price became the norm, with houses going under contract in mere days. Now, with rates up and the pace chilled, buyers may have more time to thoughtfully consider the biggest purchase of their lives.
As Kam Williams, broker and owner of Kam Williams Realty Group put it: "The days of having a listing come on at 5 o'clock, and having to see it by 5:05, and having 40 offers on one property—we're not having that anymore," she says. "Now buyers are a bit relieved. If they see something, they don't have to run out in the next two seconds. They can go to open houses on the weekend; they're not feeling as much pressure."
The competition at the peak of the market spurred rash decisions—now the source of much buyer's remorse—for overpaying, for compromising too much, for waiving too many terms found in a typical contract.
"People were waiving everything," says Kilinski, "and then finding there were major electrical, plumbing, and health and safety issues."
The agents we spoke with now recommend keeping contingencies that hinge on inspections and appraisals intact. There are a few more prudent things a buyer can offer should they find themselves in a competitive situation. "It really comes down to your own risk aversion," says Brendan Wright of Atlanta Fine Homes Sotheby's International Realty. His recommendations are: asking for shorter due diligence periods (he pushes for five days), putting down substantial earnest money (which you'll get back if you land the house), and offering temporary occupancy for the owner at no cost to the seller (often 60 days). These concessions should be enough to sweeten the deal if needed in this new climate.
But rising interest rates mean there's a new affordability ceiling.
Basically: Since monthly payments will be higher, your budget doesn't go as far, unless you're buying in cash. The difference a buyer once might have paid over asking to land a house might now get sucked up by a higher rate. By all accounts, those looking for homes under $500,000 and first-time home buyers are going to feel the sting the hardest, and rents have skyrocketed as well.
"The interest rate environment is scaring some people, who are worried rates will continue to go up," says Chad Polazzo with Re/Max Metro Atlanta Cityside. "But that means it's working—they're having their intended effect. It will slow things down, which is the intent."
Ideally, the result of hiked rates is a more stable, more typical market; inflation did, in fact, slow over the last month.
"With these rates, a lot of people right now are very focused on managing risk," says Polazzo, who specializes in the east side intown neighborhoods. It may price buyers out of dream homes that were until recently in their budget and push them toward smaller homes or different neighborhoods, which could shift what the local housing landscape looks like further.
Inventory is inching up.
According to a recent Redfin report, Atlanta's year-over-year change for houses on the market for more than 30 days (so-called "stale" listings) was up by 12.8 percent. This newfound relative abundance of offerings will give buyers more to choose from and a leg up in what was recently a hyper-strong seller's market.
New construction, however, still lags.
"There are still lingering challenges from supply chain issues," says Polazzo. "Builders are still having somewhat of a hard time, and that's impacting inventory."
In general, though, as homes sit on the market longer, there are more options for buyers. Price reductions are even a thing again. Consider asking your agent to set up a search for homes with a recent price drop, which "indicates motivation," says Kilinski.
But high prices remain the norm, and hot neighborhoods are still hopping.
Homebuyers may be disappointed to hear that as of yet, Atlanta isn't seeing much in the way of lowered prices from the sky-high inflated rates they reached at the peak.
"I don't see listing prices decreasing—they are stable," says Williams. "We could be stuck with these for a minute."
But some experts suggest prices may drop as inventory continues to tick up, and there may be some correction ahead—or at least a slowing in price growth. "There is an expectation for home price growth to slow," says Danielle Hale, chief economist at Realtor.com. "Every dollar costs that much more. People are paying 50 percent more than this time last year. It will slow price growth back to normal."
While price growth may drop, the prices themselves may show less movement, especially in the most competitive areas.
"I mostly work in intown Atlanta, and if it's a good product that's priced well, there will generally still be multiple offers," says Kyle Jackson with Compass. According to several agents, homes in these neighborhoods—such as Inman Park, Candler Park, Ansley Park, and Morningside—remain in demand, particularly properties under $1 million. It's also these areas that are still seeing a lot of out-of-state buyer interest (data from Hale at Realtor.com indicates more than one-third of buyers in Fulton County are coming from out of state, many from New York and California, for whom Atlanta prices are a relief). In other neighborhoods and at higher price points, things may move more slowly.
"I think we're going to see some things in the $2–3 million range, like in Buckhead, stagnate," says Kilinski. For some higher-end buyers, this might signal opportunity.
Sellers should adjust their expectations, and may have to work harder to prep their homes to list.
While many areas remain quite strong for sellers, others are swinging toward a buyer's market, so sellers may need to kick it into high gear.
"A lot of sellers still feel like they don't have to do anything, but buyers have more options now," says Kilinski. "Don't skimp on the preparation of the house. You're entering a competition; price competitively."
In addition to any major necessary repairs that might come up in an inspection, Jackson suggests a few relatively painless things sellers can do to maximize success: fresh paint, professional staging and styling, and good photography for the listing. "Don't get caught up in the weeds of the little stuff," he says.
Polazzo adds: "People are looking for turnkey properties right now that don't require a bunch of work. They don't want to deal with supply chain issues and inflation to do work on a house."
Though sellers may list at the same price as their neighbors over the past year, they may not land as high. This means buyers don't have to worry as much about homes appraising for what they're offering, which could mean having to pay cash to cover the difference, which some buyers aren't prepared to do. Plus, sellers are more willing to make terms appealing.
"We don't have that appraisal gap we were seeing," says Williams. "Sellers are being a little bit more compassionate with concessions—when it comes to inspections, closing costs—we're noticing that big time as shift."
Kilinski emphasizes the shrinking gap between list price and sales price: "Before, the seller would say they wouldn't take less than $800,000 for a house. We would price at $750,000 and get $850,000," she says. "Not anymore. Now, we'd still price it at $750,000, and we'd get $750,000. So there needs to be a recalibration of expectations.
"It used to be that if you didn't have an offer after the first weekend, it was priced wrong," continues Kilinski, who is encouraging sellers to look at every offer. "Now, if you don't have an offer after the first weekend, hold steady."
Even in the hottest neighborhoods, says Wright: "Instead of buyers being willing to throw everything away, maybe they're just willing to throw most things away." Or—"instead of 10 offers, maybe you'll see five."
"Sellers have to be more patient now," adds Williams.
So are there any new advantages for sellers?
"If buyers are in this market, they are serious buyers," says Kilinski. "They're not just seeing what's out there, like people were doing for a while." And, in certain situations, it may be a great time to sell, even if you're trading a lower rate for a higher rate. "If you're downsizing, because of kids going to college or other reasons, it may be the time to capitalize on your equity. A year from now, you may have less control," she says. "It's equity preservation." Plus, it's not a bad time for cash offers, which sellers often appreciate.
Don't try to time home buying—or selling—to rates. Do plan on local financing, and know refinancing is an option in the future.
"There's a reason they say you 'date the rate and marry the house,'" says Kilinski. "Interest rates fluctuate, but if you find a house that works for your life and your family, you're going to say 'I wish I would have.' Don't wait for interest rates to come down. It's unlikely prices will come down; it's more likely interest rates will go up 1 or 2 percent." And as for nerves about a repeat of the 2008 crash—experts and economists agree that's not imminent.
"I don't think we're going to go backward," says Kilinski. "If you buy now and you're looking to stay for seven years, there's no question. If you're looking to sell in three years, you might ask, am I going to get my money back?"
In any case, the type of financing you get matters.
"The advice I give my buyers is you need to jump on the train when you can," says Williams. "You need to have the right realtor or broker or agent because at the end of the day, they need to have relationships with lenders that will get creative with financing."
Local financing and appraisals are key. "To buyers I'd ask, How confident are you in your lender?" says Polazzo. "One of the worst things that can happen is an unknown lender."
The agents we spoke with recommended exploring alternative financing strategies: adjustable rate mortgages (ARMs), which will come with lower rates for a set number of years (particularly useful if you're planning on selling in the near future), buying down your rate, or putting less money down than the presupposed 20 percent.
"You can get into homeownership with just 3 or 5 percent down," says Kilinski. "A lot of people don't understand that."
Kilinski also suggests a 2-1 buydown, in which a buyer can have a lower payment for two years before increasing to the regular rate—"ideal for people who are maybe getting a raise every year or anticipating making more money in the future."
And if rates go down, you can refinance.
"A lot of buyers are kicking themselves for not putting themselves in a position to purchase when rates were low," says Williams. "I think interest rates may go up again, and the whole waiting thing may end up pricing you out."