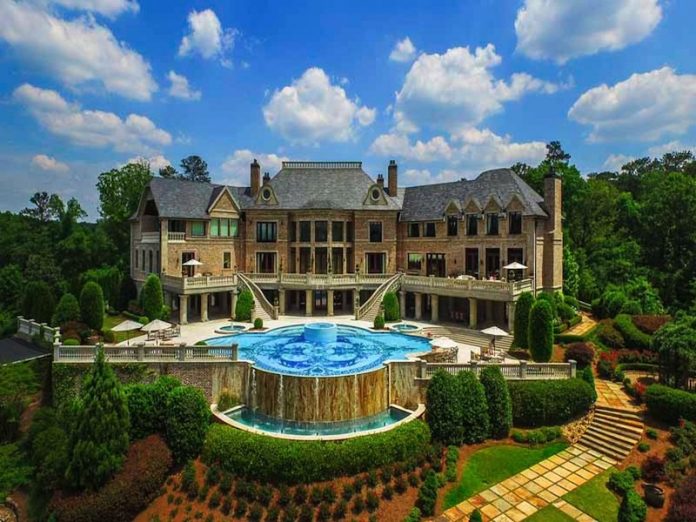 Update: In June 2018, this house was listed for sale by its new owner, once again for $25,000. Curbed Atlanta reports that Perry sold the house in 2016 for $17.5 million, making it the most expensive house in Georgia.
An enormous infinity-edge pool with poolside bar, a lighted tennis court atop a multi-level garage, and 17-acres of lush gardens and riverfront land — you'd be forgiven for thinking the home belonging to Tyler Perry was an exclusive resort rather than a private residence. Yet the movie mogul, actor, author, and playwright has lived in the 34,688-square-foot mansion with his long-time girlfriend, Gelila Bekele, since it was built in 2007. In November 2014, they added a son to their family, reducing the amount of space for each of them to a meager 11,562 square feet each.
The star recently put the seven-bedroom, 14-bath estate on the market for $25 million. The listing makes the bold claim that the lavish Chattahoochee-side property is "perhaps the most compelling private residence to ever be offered to market in the history of Atlanta."
It features all the perks and amenities one would expect of a home belonging to the man Forbes named 2011's highest-paid entertainer (with an income of $130 million): a gym that would rival most high-end fitness centers, a luxurious spa, a sizable wine cellar, elevators, a helipad, and, of course, a movie theater for Madea marathons.
Balconies provide views of the Buckhead skyline as well as views over the well-manicured gardens and hedge maze. A lavish bar showcases stained glass. Car-sized chandeliers, hand-painted murals in the dining room, soaring ceilings throughout, and enormous stone fireplaces large enough to stand up in add to the extravagance. An underground ballroom with its own catering kitchen is ideal for special get-togethers at the house, which has hosted guests such as Obama, Oprah, Kanye, and Kim Kardashian.
With guests like those, security is a priority. Guard houses and towers, "presidential-level security," and a generator mighty enough to power the entire estate ensure the New Orleans native and his guests are well taken care of.
In 2010, Perry also paid $9 million for Dean Gardens, a garish home on 58 acres in Johns Creek. He never lived on that property and is now reportedly in talks to sell it to a developer who would demolish it to build a subdivision. He plans to build his new personal headquarters on 1,000 acres in Douglas County, not far from Six Flags.
Anyone interested in taking on the roughly $91,000/month mortgage for Perry's current estate can contact Josh Reeves (404-547-3622, joshreeves@atlantafinehomes.com) for more information.
Update: For the 2018 listing, check out buying information here from Atlanta Fine Homes Sotheby's International Realty.
This article was originally titled House Envy: A look inside Tyler Perry's sprawling estate. It was updated on July 6, 2018.