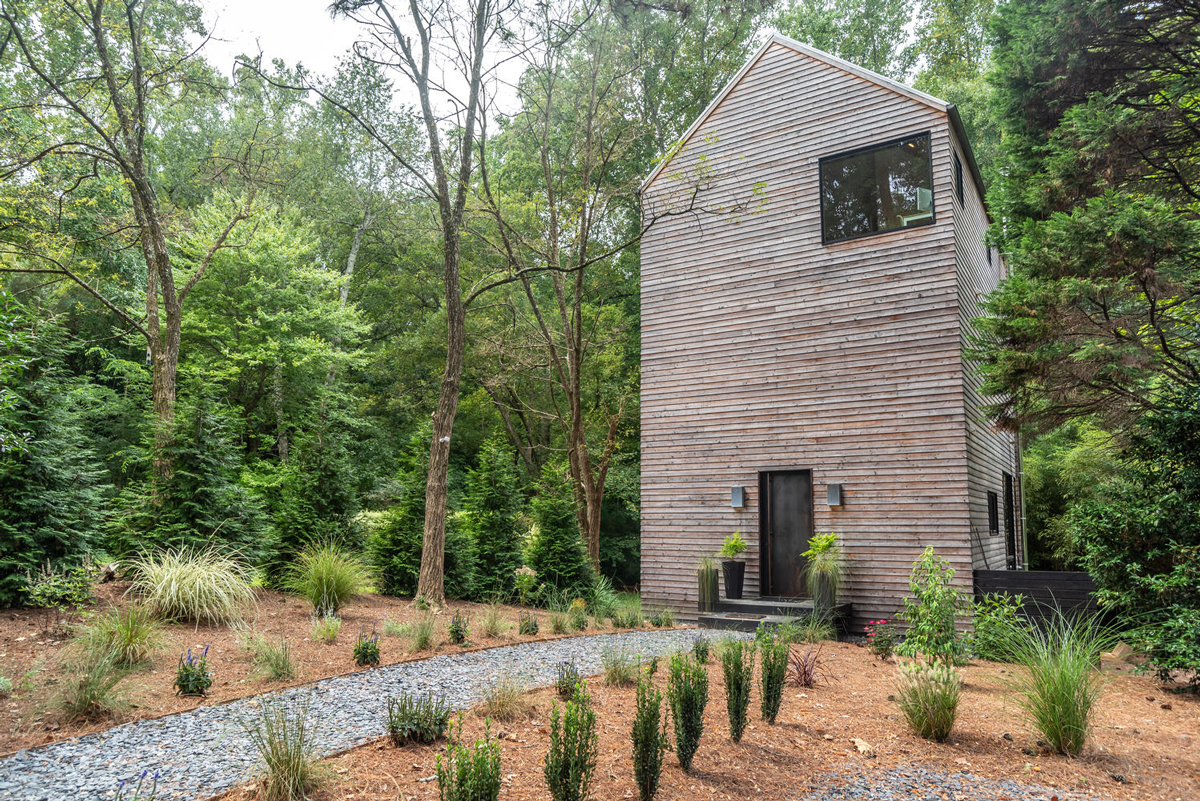 Cherie Restler says one of her favorite comments that she's heard about her unique Lake Claire house was from a delivery man who said he felt like he was in Game of Thrones. After all, it's not every day you approach a house via iron-spike-lined footbridge and knock on a windowless steel door. After first being drawn to the plot of land in 2013, Cherie and her husband built the one-of-a-kind house at 530 Lakeshore Drive over the course of three years, having moved in only in 2016.
Cherie says the .3-acre property gave them the "opportunity for privacy not normally afforded in traditional Atlanta neighborhoods," thanks to the close proximity to nature, with two creeks and a rear property line that abuts the Frazer Center, a permanent greenspace.
The house they built there is the stuff of modern, minimalist dreams. After entering through that steel door (which, other than one upstairs window, is the only ornamentation on the otherwise bare wood-sided front facade of the house), you're greeted by a bright, open interior. Cherie says that the materials used and the overall layout of the space—designed by Atlanta-based architect Andy Rutledge—were inspired by wabi-sabi and hygge aesthetics, which emphasize simplicity and asymmetry, and coziness and comfort, respectively.
Whereas the front facade of the house is plain and a bit spartan, the back side of the first floor is encased in huge windows that look out onto lush trees and plants and is bathed in sunshine. By keeping a relatively small footprint (the whole house is 2,100 square feet; the first floor is just over 700), the house maintains that cozy feel Cherie desired for her family's home.
A sculptural banister made of iron rods accents the staircase that loops from the first floor up to the third. A luxurious master suite takes up most of the second floor, and there are two more bedrooms, a bathroom, and an entertainment room on the third floor. Every room benefits from great natural light, and the simple, light materials used throughout the design emphasizes an interaction with nature—one of Cherie's favorite parts of living here.
As much as Cherie and her family love their home and its trendy east-side neighborhood, they've decided it's time for someone else to enjoy the special home. Both Atlanta natives, she and her husband plan to stay in the area, and will soon be on the hunt for a new plot of land where they hope to build a micro house in the near future.
The Lake Claire home, located at 530 Lakeshore Drive, is on the market for $835,000. For more information, contact Jeffrey Hagy of Lewis and Redwine Properties at 404-216-1592 or jadh.mail@gmail.com.