For obvious reasons, the last couple of years have seen a boom in home entertaining. Many Atlantans have gotten especially creative with their basements, installing bunk rooms, game tables, home gyms, wine rooms, even entire kitchens. Here, two families take different approaches to decorating their terrace levels—one going dark and cozy, the other light and bright. Both make for inviting places to hang out.
Neutral Territory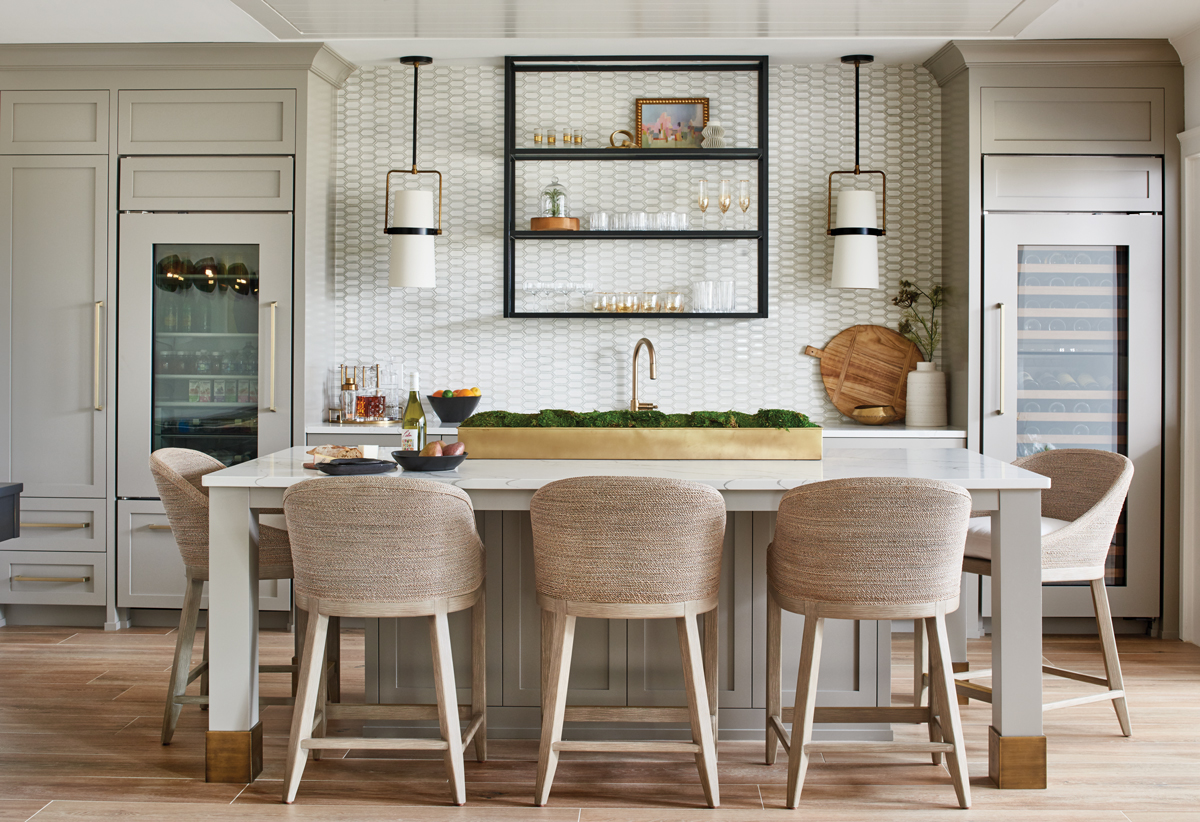 Some days, this Oak Grove basement is a cozy place for book club and cocktails. Other days, Heather and Jonathan Lively's terrace level hosts birthday parties, relatives, or just their family of five—with video games and shuffleboard rounds tapping into everybody's competitive mode. Interior designer Becky Vocaire carved 1,500 unfinished square feet into a living room, dining area, billiards room, exercise space, and guest bedroom and bath.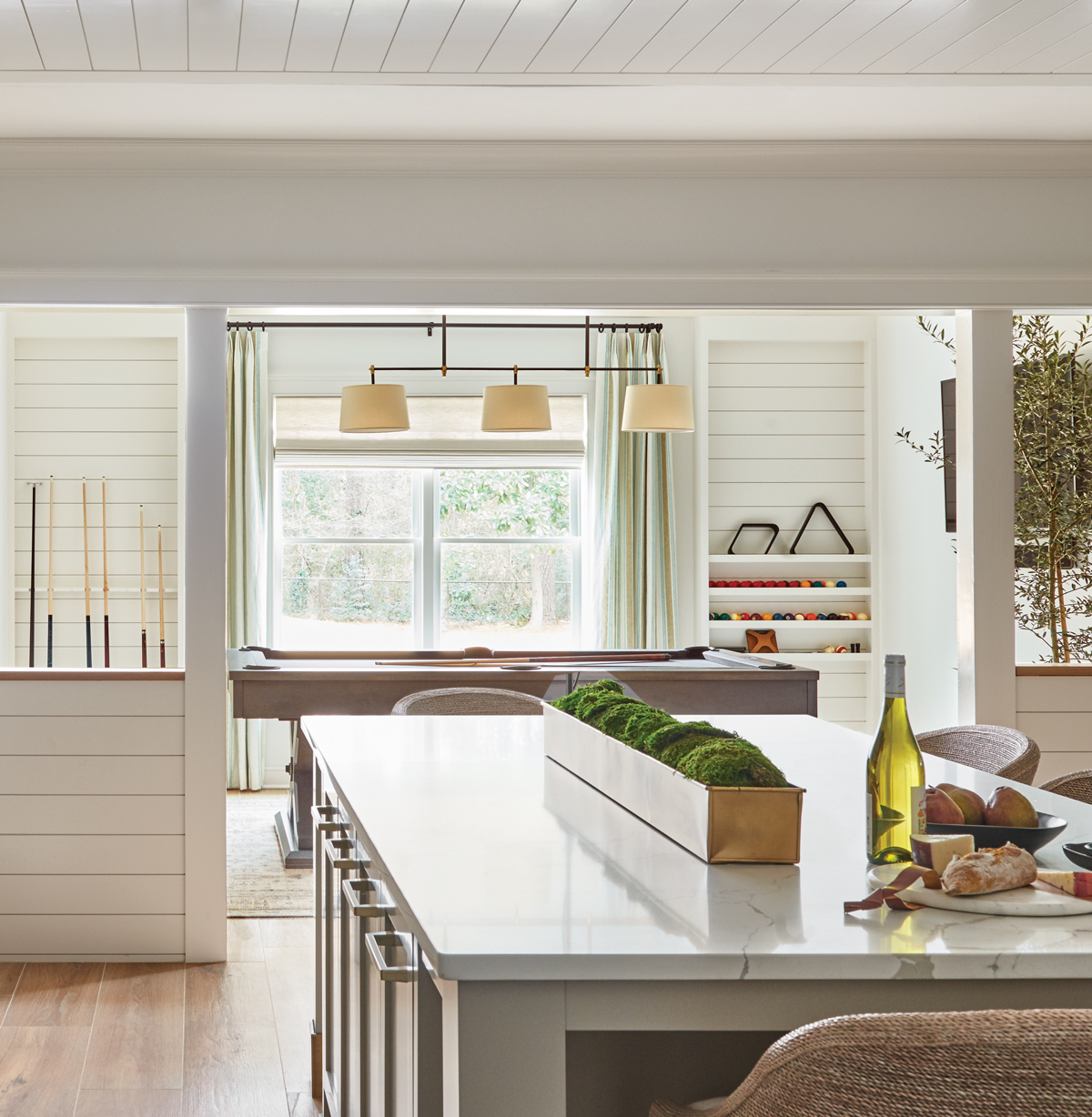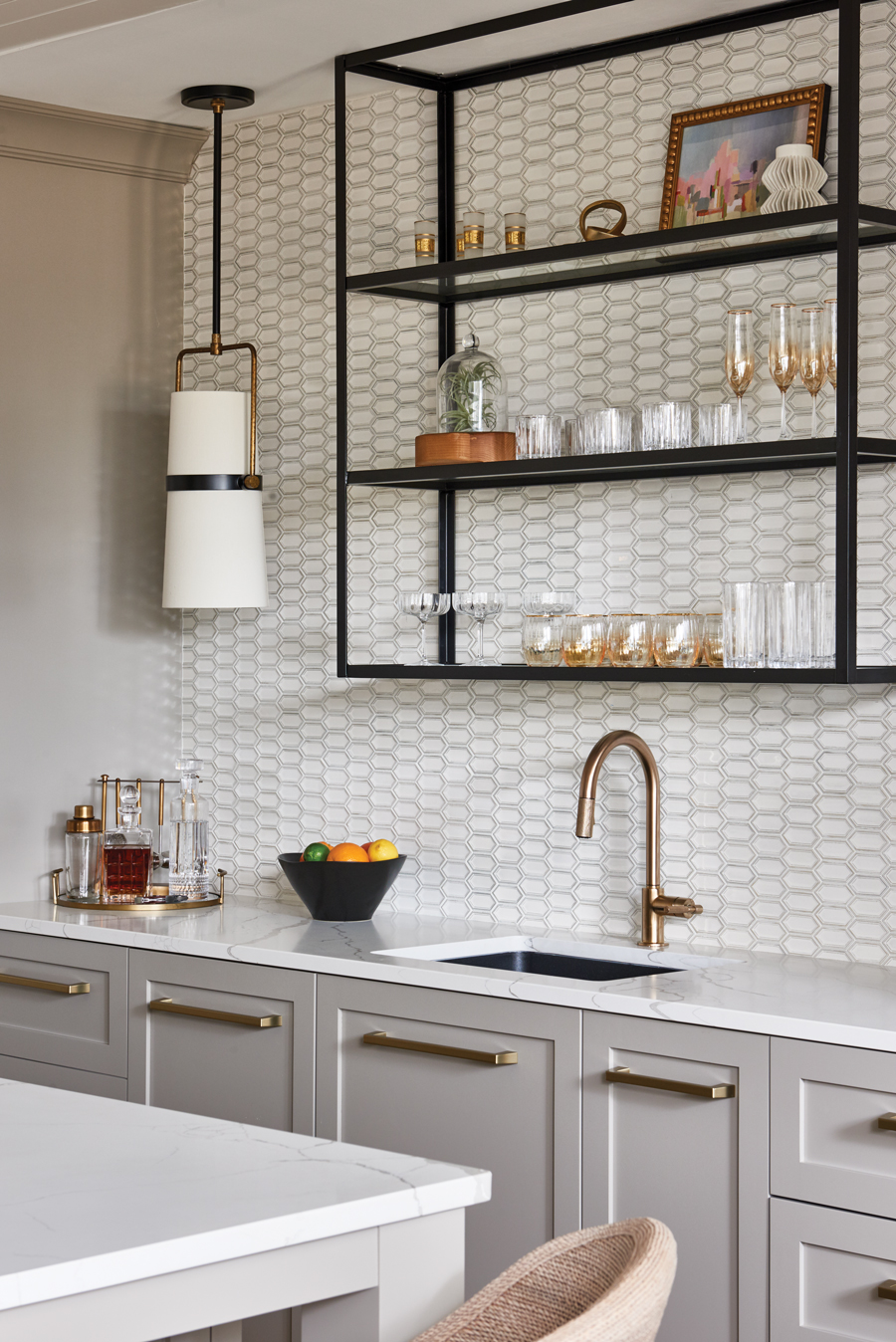 "We didn't want this to feel like a basement," says Becky. "We went with a brighter and more modern look than upstairs but added some warmth." As part of its light-colored vibe, the designer created a custom kitchenette made of natural white oak painted a soothing "Functional Gray" by Sherwin-Williams. Special features include custom metal shelves in the kitchenette and planked walls and ceilings.
As in any well-planned basement, practicality rules. Phase Two of the Livelys' lower level will include an outdoor pool, so the designer chose flooring that's durable porcelain but looks like wood. French doors already in place will be the in-and-out point for swimmers. Colors that resemble sand and sea glass give the space a beachy vibe.
Blue Beauty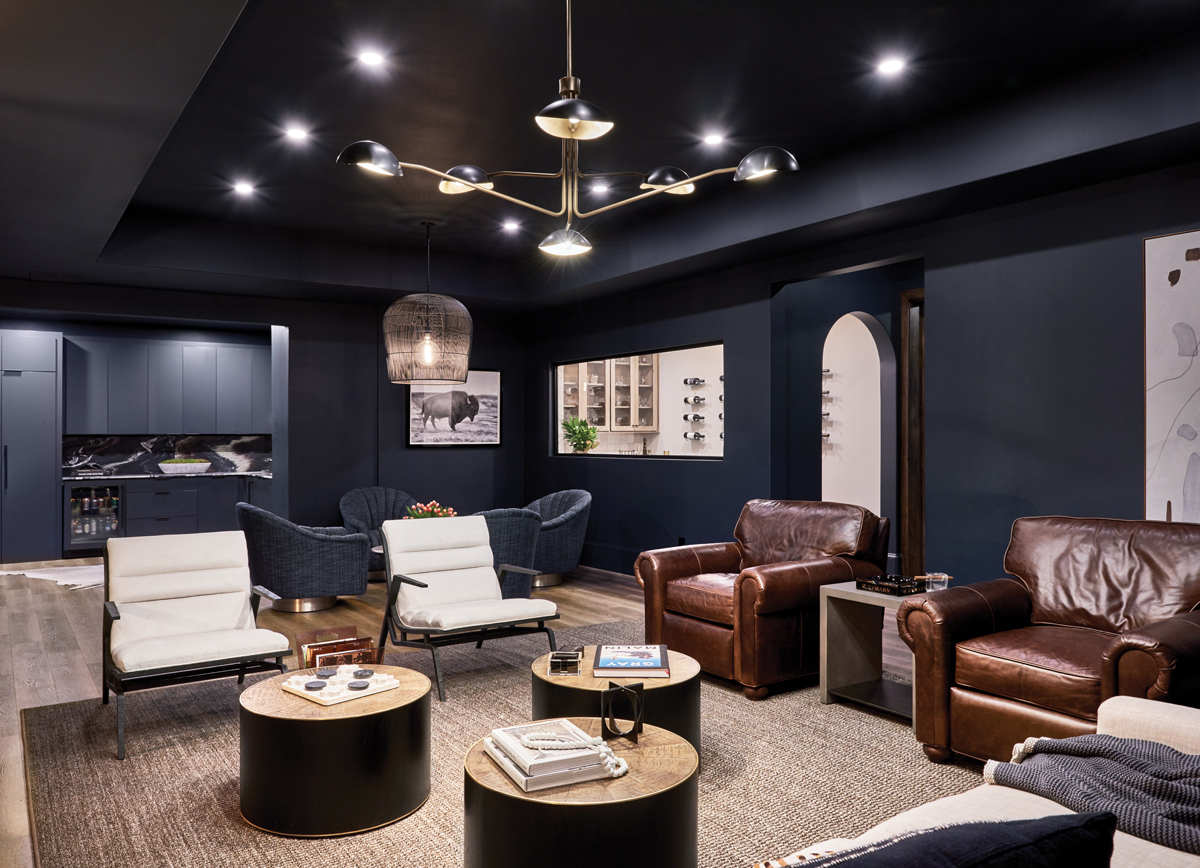 After living in their Buckhead home for four years, homeowners Erika and Tim Zulawski finally figured out a plan for their unfinished basement. With Tim's job as senior VP and chief revenue officer for the Atlanta Falcons, Atlanta United, and Mercedes-Benz Stadium, a memorable entertainment space had always been high on the list. They landed on something like their own speakeasy.
Chelsea Barry, their interior designer, says, "The Zulawskis gave me an inspiration photo of an entertaining area that was dark blue and had a secret door to it so that you didn't know it existed. Their basement was a fairly large area, so we were able to outfit the space with a lot of things: a man cave, ladies lounge, wine room, kitchenette/bar, kids playroom with bunks, a guest room, and a gym."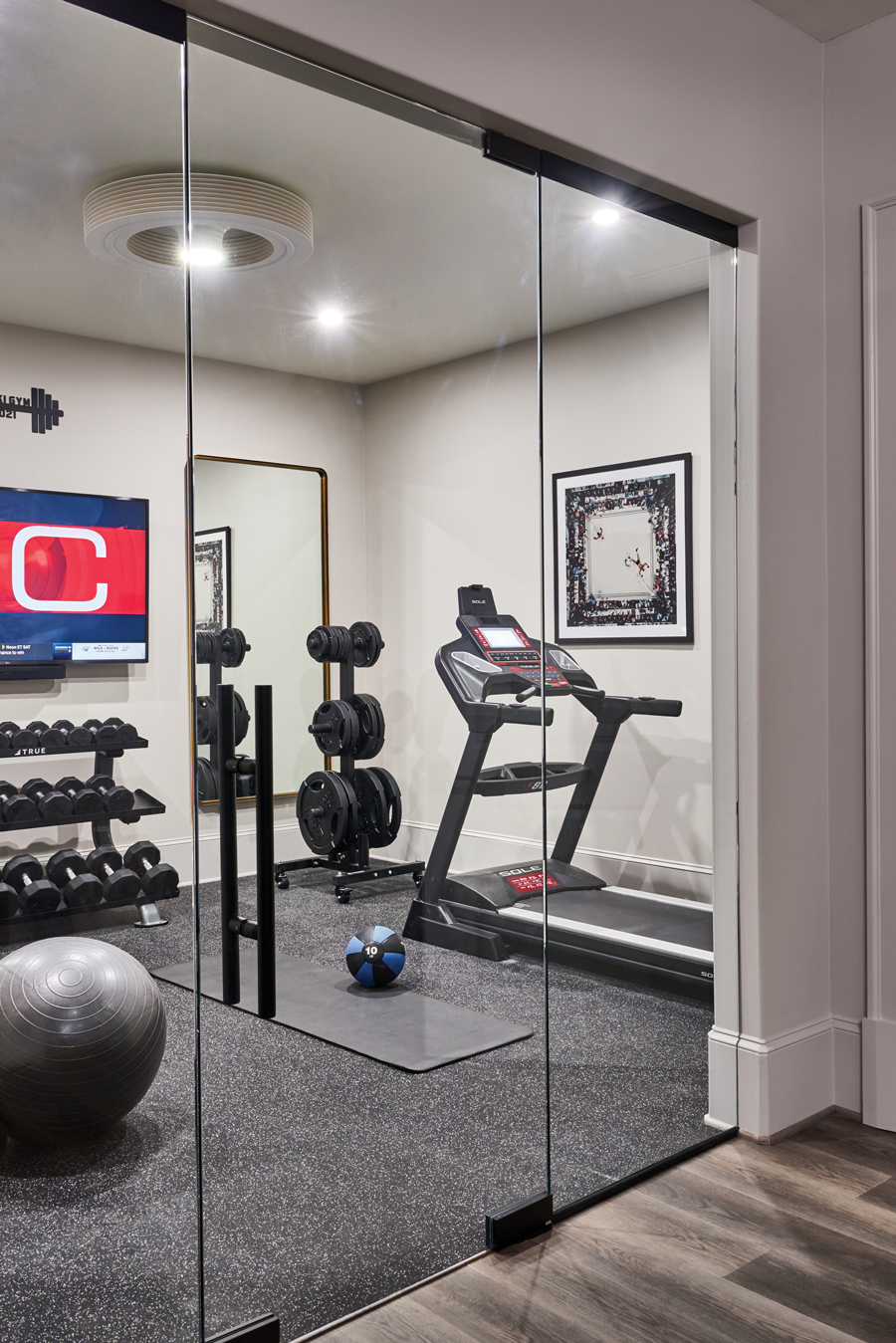 The long main room is divided into a media-watching section with another group of four chairs off a kitchenette and wine area. "Erika wanted a space to sit with her girlfriends if the guys were occupying the media area during a game," says Chelsea. The chairs swivel in case everyone wants to watch TV. Custom paneling is stained in the sultry "Blue Note" by Sherwin-Williams.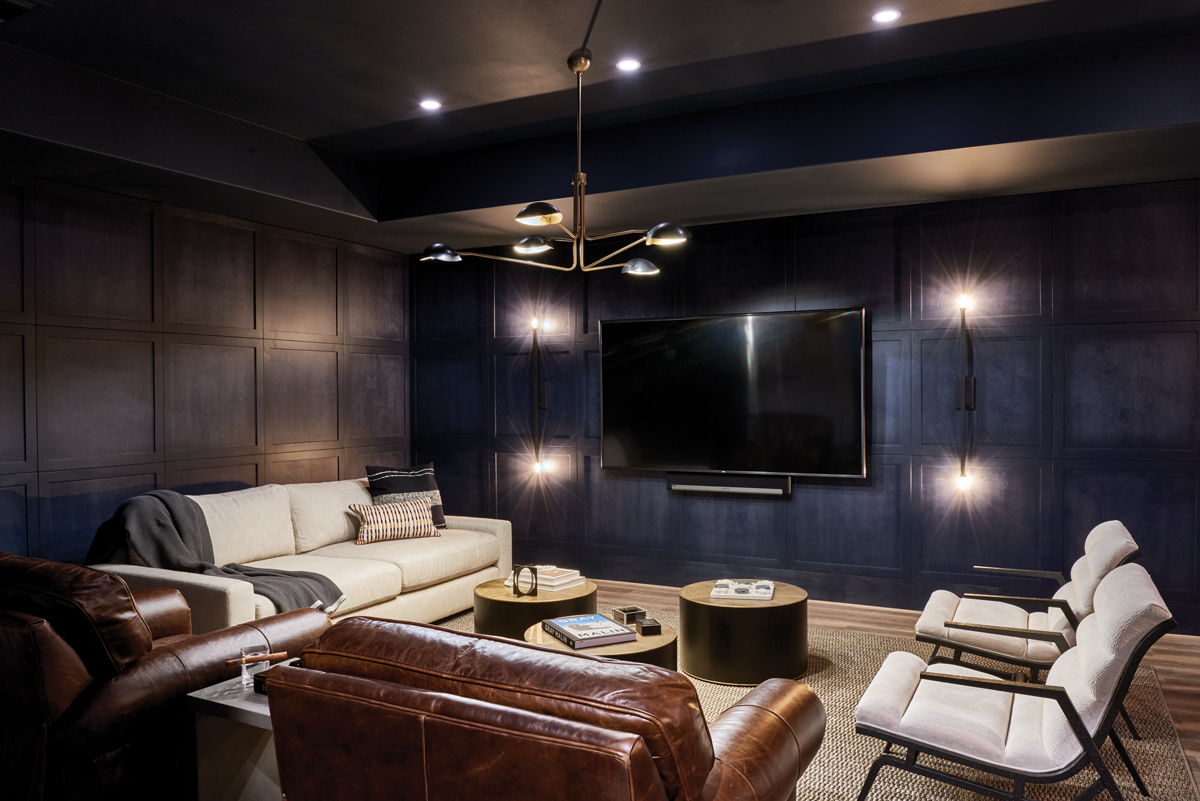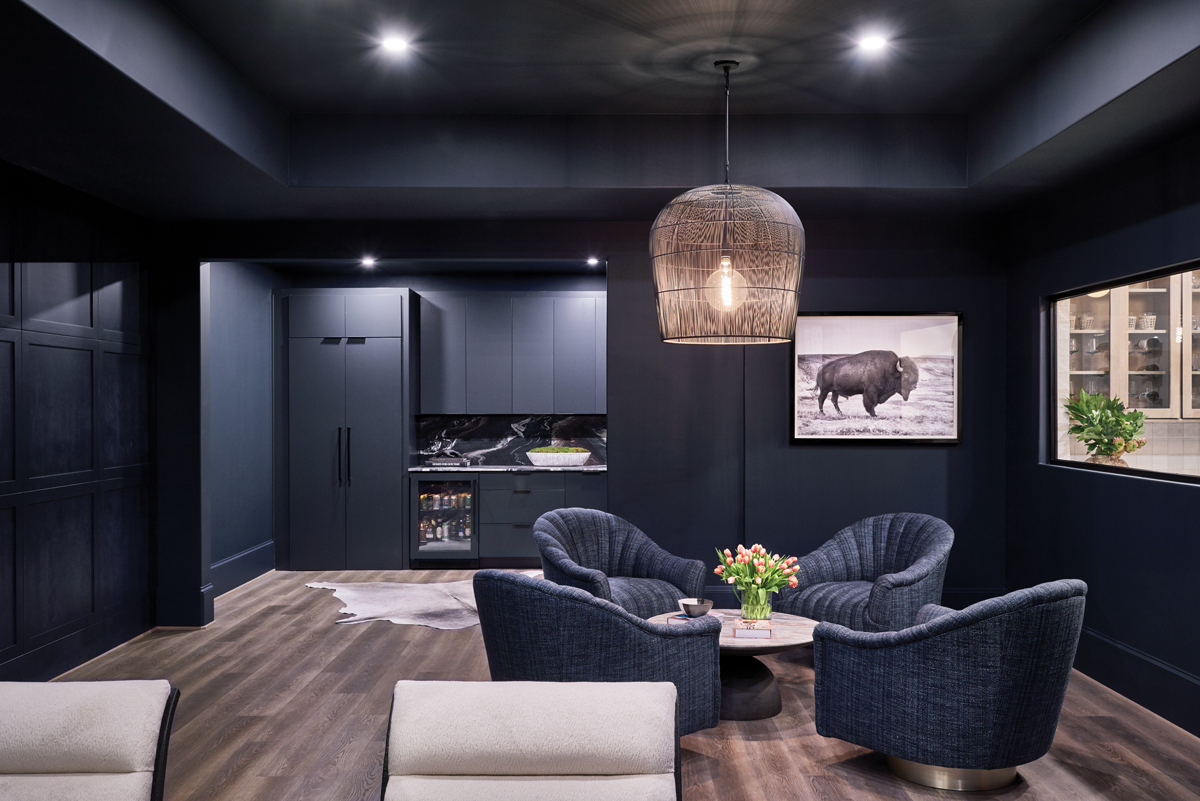 The other spaces in the 1,900-square-foot level get a lot of use, too, but the expansive entertaining room steals the show. In fact, it's got a James Bond–type feature or two: Guests enter via a secret door disguised as a bookcase. Another door hidden in the paneling conceals equipment. "The hidden doors give the basement a fun and secretive feel, and I also felt like it gave my clients a lot of bang for their buck, design-wise," says Chelsea. "Plus, their kids love showing people the hidden doors, and Dad got his dream of having this 'secret' space."
This article appears in our Fall 2022 issue of Atlanta Magazine's HOME.