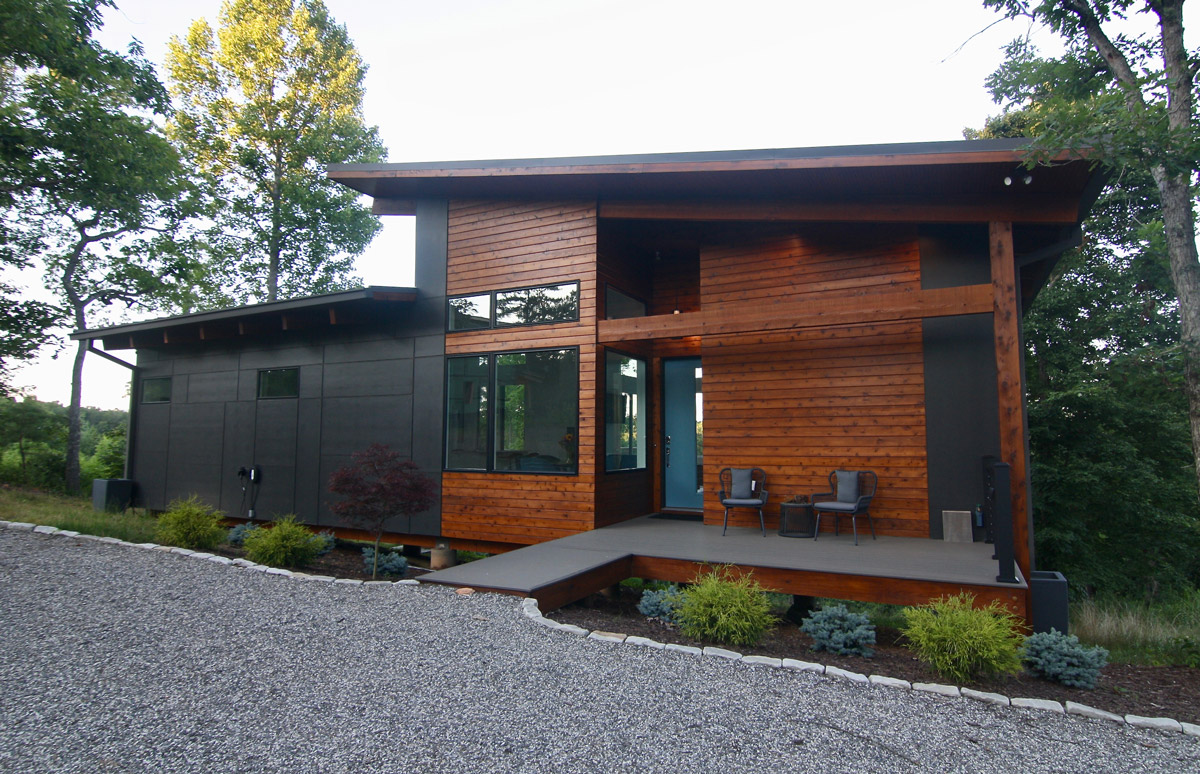 Since girlhood, Paige Thornton has swooned over the modernistic but approachable home designs of Frank Lloyd Wright. And since uprooting from Sandy Springs to become a North Georgia mountains real estate agent in 2004, she's been awaiting the right opportunity—despite pessimism from her colleagues—to launch a hub of her own modern homes in a bucolic place where few might expect to find them.
"One-hundred percent of the Realtors I know thought I was crazy," says Thornton, a Union Realty associate broker based in Blairsville. "They said, 'You're not going to find anybody that wants this and [who's] going to be able to pay [for] it.' But I'm pretty stubborn, and I've been waiting for this chance my whole life."
The connection that set Thornton's plans in motion came a few years ago when she met Atlanta tiny home advocate Kim Bucciero while both were volunteering with the MicroLife Institute (formerly Tiny House Atlanta). Thornton led Bucciero on tours of her mountainous home turf until, after about six months of searching, they found what seemed an ideal site 15 minutes north of Blairsville: 42 acres with long-range mountain views but no dramatic, difficult cliffs. The property was still owned by a subdivision developer who'd put in roads and other infrastructure just before the foreclosure crisis squashed those plans.
Bucciero, acting as developer, lined up financing and closed on the property in early 2018. The oval of land, flanked by a babbling creek, was re-platted into 37 lots, each spanning between three-quarters and two and a half acres, with privacy and views in mind. Then the real work began on an eco-conscious, solar-augmented project the two say is unlike anything else in the region. But high design in high places, they soon discovered, doesn't come cheap—and the more attainable price points they'd initially envisioned weren't quite realistic.
A few years ago, many builders in Georgia's mountainous counties began eschewing the log-cabin approach that's fit for kitschy decor (think: Americana and carved bears) for homes more in the Craftsman vein, Thornton says. A smattering of truly modern dwellings does exist, including a well-known, multi-dwelling complex by esteemed Atlanta architects Mack Scogin and Merrill Elam that's currently for sale at $1.85 million. But in terms of a full community of contemporary houses, the only comp Thornton can point to is a rising development by Gnarly Home Crafters in Blue Ridge, albeit with a more rough-hewn, rustic bent.
For what they've named The Nest at Brannon Ridge Reserve, Thornton and Bucciero envisioned a tucked-away respite with design and home efficiency on par with almost anything in Atlanta. To design the model unit, they enlisted Patrick Chopson, of Atlanta-based architecture firm Pattern R+D, whose portfolio includes work on green buildings at Emory University and Georgia Tech. Chopson collaborated with Atlanta designer David Bucciero (Kim's brother), who sketched the community's other two floorplans. Each house comes with at least 10 solar panels on the roof that cover most power needs, though they're connected to the local utility grid for power at night or on cloudy days. Spray-foam in ceilings and floors boosts insulation, and wall-mounted, Mitsubishi mini-split HVAC systems allow for more efficient temperature control in each room.
Outside, cement board options for the walls (with cedar shiplap for mountain flair) are designed to be low-maintenance. Annual HOA fees of $400 cover the upkeep of common areas, including a communal fire pit and picnic area, and landscaping that's meant to be simple, low-hassle, and natural-looking. Thornton takes pride in noting the community will never be gated. "I've had a lot of people from Florida and Atlanta ask, but we're not that," she says. "We're all about bringing the outdoors into your living room and no fancy, prudish stuff."
Indeed, a recent visit to the model home—a two-bedroom, two-bathroom option of just 1,086 square feet called "The Finch"—lent a sense of being connected with the gorgeous setting from virtually every room. A bounty of windows that frame treetops, ceilings that climb to twice the height of entry doors, so much bright-white paint, and even the direction of the optional white oak flooring (running the length of rooms, to make them feel longer) enhance the illusion of space.
"Using every square inch, and not having needless hallways that waste square footage, it's just kind of well thought-out," says Bucciero. Adds Thornton: "You feel like you're in 3,000 square feet." The model is joined by three larger homes under construction, with a fourth scheduled to break ground last week. Buyers seeking homes for vacation, as secondary residences, or rentable properties (capped at 30 consecutive days) have come from as far as San Diego. And The Nest's model design was enough to garner an invite to be featured on the 2020 MA! Architecture Tour as part of Atlanta Design Festival, now rescheduled as a virtual event in September.
But even before the COVID-19 pandemic, building an architectural anomaly in a remote location proved difficult in numerous ways. Union County's population of less than 30,000 means the labor pool—which is prone to disappear during hunting season, Thornton says—is small. And a hot building market, combined with aspects such as complex ceiling angles and window arrangements, means construction costs have effectively doubled since The Nest was conceived. Labor and supplies in the mountains, per Thornton, are roughly 20 percent more expensive than metro Atlanta, where costs are already relatively high.
The going rate now for Nest lots themselves is $50,000, or $70,000 for a handful deemed premium. The smallest one-level floorplan, which initially was planned to start from $275,000, now costs $399,000 before upgrades. The next step up is The Wren, a two-bedroom priced at $429,000 for 1,302 square feet and an extra half-bathroom.
The largest option, The Starling, asks $449,000 for 1,500 square feet and up to three bedrooms and two and a half bathrooms. (Basements of roughly 900 square feet can be added, for $100,000 and up, Thornton says.)
"For really modern," says Bucciero, "I think [the pricing is] still really competitive."
Lingering economic concerns related to COVID-19 have given several prospective buyers cold feet for the time being, Bucciero says, and a wave of expected contracts has yet to materialize. But Thornton is excited by progress thus far, and the feeling that her long-held, somewhat quixotic idea is being validated.
"The market," she says, "has proven itself like crazy."