Back in 1958, a Georgia Tech dropout named Robert Green sent his drawings to Taliesin West, architect Frank Lloyd Wright's winter home and school outside Phoenix. Built of indigenous stones and topped by beautiful wood framing and translucent canvas, the desert masterpiece was Green's favorite Wright building—literally the subject of his dreams. At Tech, Green had been disenchanted with the starker, glassy buildings of Ludwig Mies van der Rohe but was enthralled when he discovered Wright in the School of Architecture library. Then 23, he was granted a meeting with the 90-year-old Wright, whose 150th birth anniversary was celebrated this year.
When Green arrived at Taliesin West, he fearlessly approached Wright, and later recalled the exchange as follows:
"Well, Robert," said Wright, "do you want to live out here in the desert where it's cold at night and hot in the day? Amongst the snakes and things?"
"Yes sir," said Green, before offering to sleep in his car.
Wright laughed, according to Green, and made the unusual call to admit Green on the spot. He became one of Wright's last apprentices as a Taliesin West Fellow.
Green slept in a tent and enjoyed Wright personally sketching changes and advice on his drawings, but the apprenticeship was short-lived; Wright would die within about six months. Green soon headed back to Atlanta, where he'd moved from Savannah at age 14, and started a 40-year career, establishing himself as the closest thing to Wright this city has produced—in a state with no buildings by the American icon.
Green wasn't the only Atlantan accepted to Wright's prestigious Taliesin school. Others included Richard and Molly Aeck, the parents of Atlanta architect Tony Aeck (of the Lord Aeck Sargent firm), whose godfather was Wright. Stronger Wright connections do exist, as Wright's great-granddaughter, interior designer Melissa Galt, lives in Atlanta. And Wright's influences are certainly seen in work by more celebrated local architects, including John Portman. But Green was unique in that his practice remained devoted to what he directly learned from Wright, whom he called "The Master."
"[Green] was so progressive, even today, I don't think any [Atlanta] architect has been able to understand the site as innately as he did," says William Carpenter, Kennesaw State University architecture and urbanism professor and president of the Lightroom firm. "Unlike a lot of the disciples who tried to copy Wright's work, what he was doing was more original. Every project was a very special work of art."
When Green returned to Atlanta from Taliesin, he quickly began work on the home currently owned by architect James Choate, which would be regarded as one of Green's finest designs and still stands in pristine condition among the rolling topography and tony traditional houses of Collier Hills. Down a steep driveway and beside a great magnolia, Choate was pointing one afternoon to his home's stacked cantilevers, in awe. These bold cliffs form the decks, upper levels, and eaves, punctuated around the top with decorative dentils. The design's Wrightian harmony makes a house built in 1960 still look cutting-edge.
"It's the closest thing to pure Frank Lloyd Wright that we have," says Choate, who, as a principal with Surber, Barber, Choate and Hertlein architects, has racked up the most AIA awards for single-family houses in Georgia history.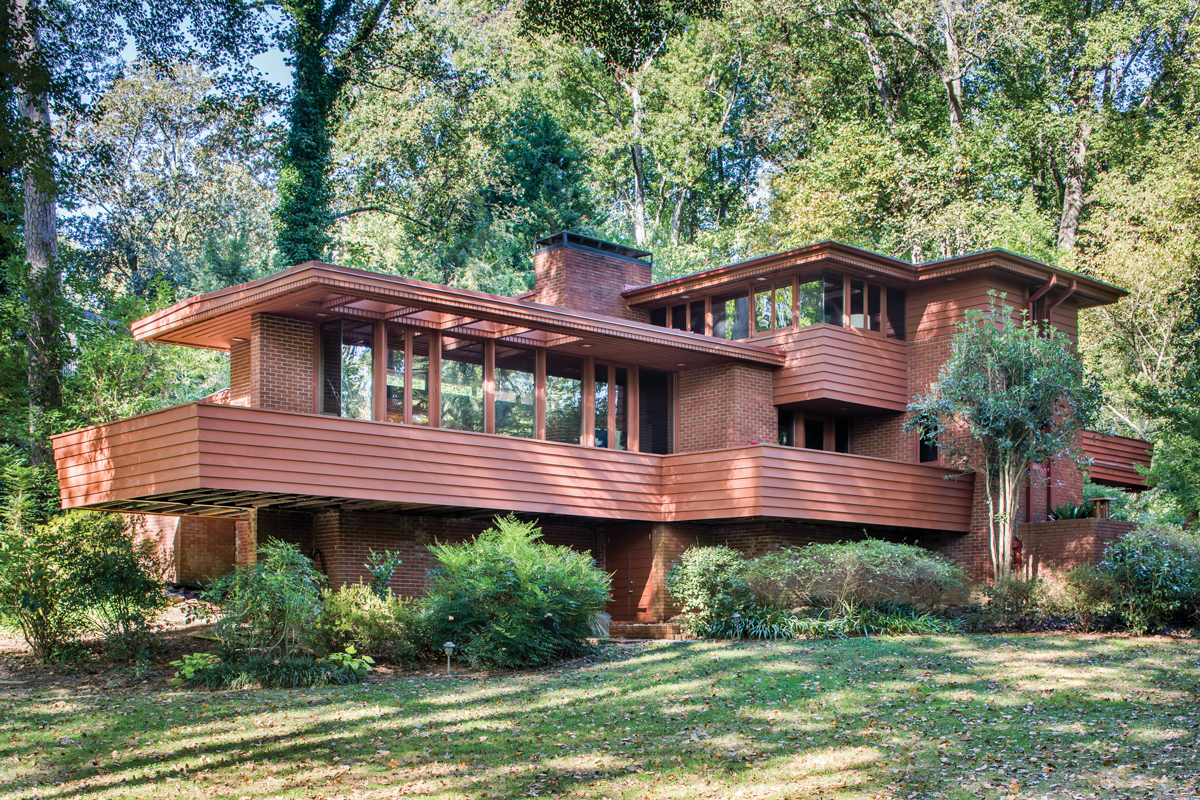 Choate's home—named the "Copeland House" for the C&S Bank executive who commissioned it—has been shortlisted by the Society of Architectural Historians as one of Atlanta's 21 most significant buildings, alongside the Fox Theatre and High Museum of Art. Green's last project was the Donges House, a smaller commission near Stone Mountain completed in 2001, two years before Green died of an aortic aneurysm at age 68.
Between those bookends is a diverse portfolio—some of it demolished or burned—concentrated mostly in northern Atlanta that includes maybe a couple of dozen homes, which often employ Wright's organic and Usonian principles, striving to be in tune with their surroundings, with little tolerance for ostentation. Other projects included suburban apartment complexes, schools, offices, a church, movie theater, car wash in Buckhead and pizza joint (Gigi's, destroyed) in Athens. Green loved Atlanta's trees and challenging topography, but not the city's resistance to daring modernist designs, which made banks reluctant to finance his projects and cast Green into persistent financial difficulties. 
Not even Green's friends and scholars seem clear on exactly how many of his homes still stand. His online presence is scant. He has no Wikipedia page. Like many organic modernists, Green's work remains unsung—but not unloved.
In September, architect Nelson Brackin, a friend of Green's who's become his de facto archivist, led a tour of Green's homes that snaked through the Amberwood community near Northlake Mall, which has the largest concentration of Green work. Each home, now decades old, is still striking, utilizing massive amounts of stone for warmth, huge glass panes to bring the outdoors in, and interior planked ceilings that continue seamlessly outdoors. 
Homeowner Barry Rosenbaum greeted the tour group at his house with a central wigwam overlooking a tranquil creek, where he's lived since 1976.
"I love this home," he says, raising his arms. "There's just no other way of putting it."
This article originally appeared in our Winter 2017 issue of Atlanta Magazine's HOME.