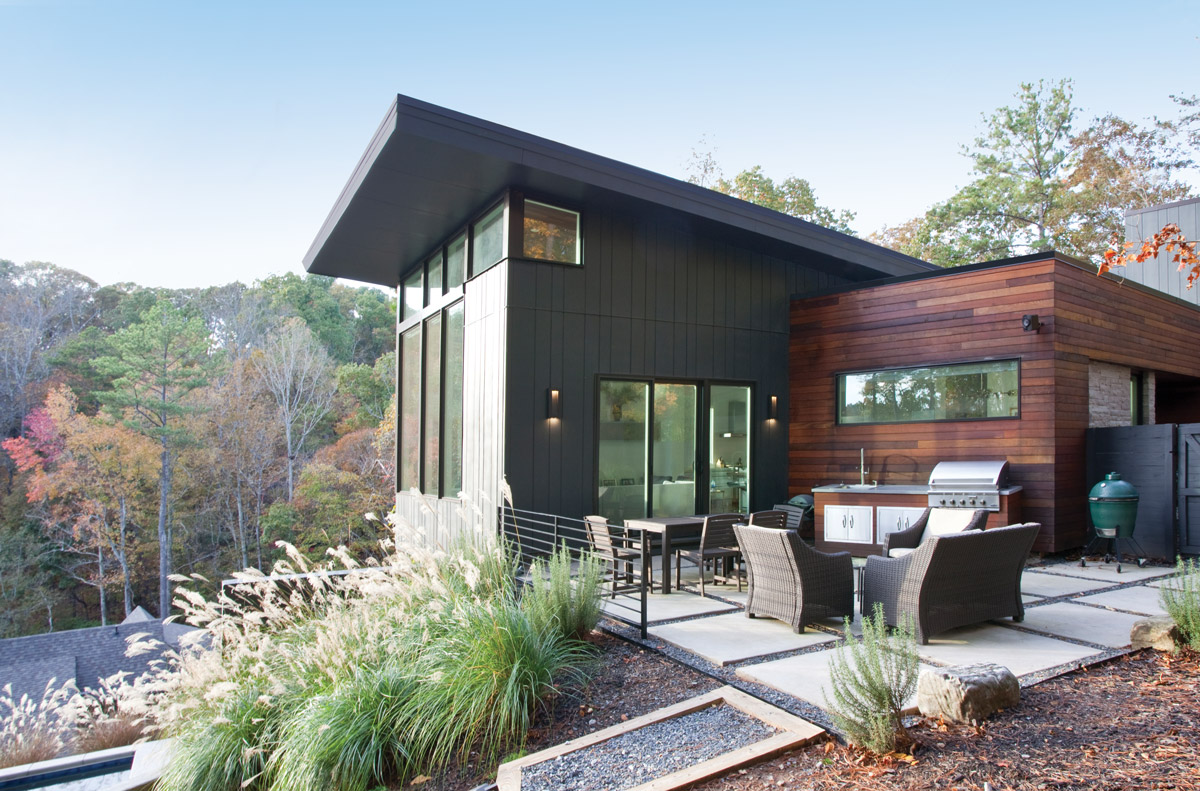 For more than a decade, Andrea and Jerry Freeman lived in a Craftsman-style bungalow intown, but they decided it was time for a change—both geographic and architectural. School and sports opportunities for their two children, Jordan and Jerry Jr., were luring them to the suburbs. Then, there was their growing interest in the modern houses they'd seen going up around Atlanta, featuring clean lines and efficient space-planning. "We're not modern purists, but we like the general aesthetic," says Jerry.
When they found an empty lot in Roswell overlooking the Chattahoochee River, the Freemans got their opportunity to give suburban living their own twist. The goal: build a modern but warm sanctuary embracing the wooded surroundings. The couple gathered together a team of interior designer Stephanie Andrews with Balance Design Atlanta, with whom they'd worked on houses past, architect Nathan Kirkman with DNK development, and Anthony Bondhus of Principle Builders Group.
The sloping, pie-shaped property provided challenges and opportunities. "The emphasis for the design was to minimally impact the topography, maintain as much of the existing tree canopy as possible, and maximize the view of the Chattahoochee River below," says Nathan. He achieved this by shrinking the footprint of the driveway to bring the house to the edge of the hill, minimizing the use of retaining walls. A sloping roofline helped define the main living area and open views to the river, he adds.
Wood was embraced inside and out, echoing the trees all around. The exterior combines limestone, fiber-cement panels, and ipe, chosen for warmth and durability. Inside, white oak was used for the floors as well as accents like the floating bench in the living room and the cantilevered kitchen island. Stephanie found art and furniture that likewise celebrate the outdoors. The result is a house that's both dynamic and soothing—and a big hit with visitors. Says Andrea, "People always comment that they feel like we live in a treehouse."
This article appears in our Fall 2019 issue of Atlanta Magazine's HOME.