Home
3 Atlanta professionals on how they get the job done without setting...
3 Atlanta professionals on how they get the job done without setting foot in an office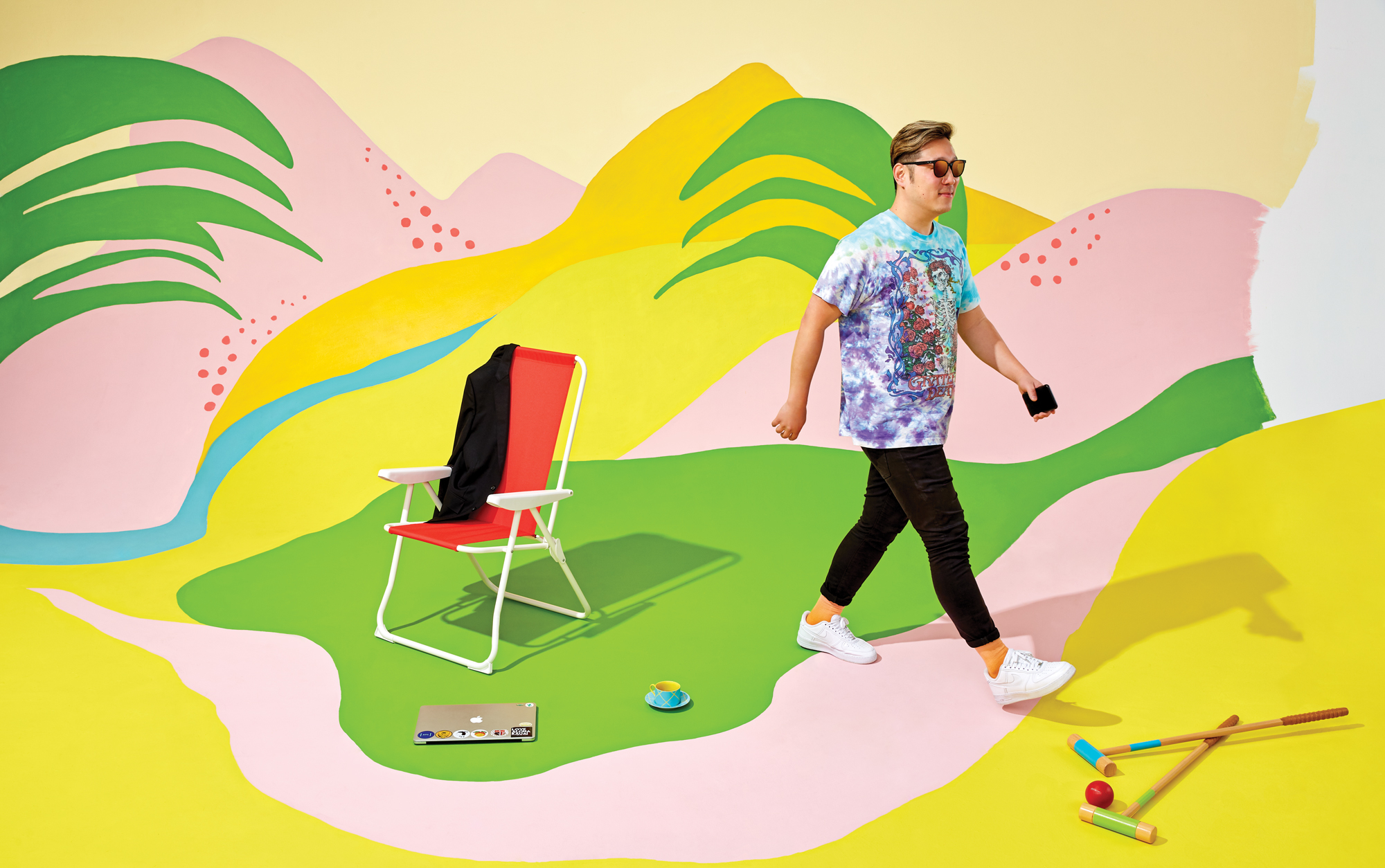 The Digital Nomad | Larry Luk
Head of brand and design, Localeur
I do creative work, and I'm not always creative nine-to-five. I experienced burnout when I was required to be at an agency for 40-plus hours a week, where tasks could just be thrown my way at any time, day or night, weekends or holidays. Working from home allows me to work when the inspiration hits—and also go to the gym, doctor's appointments, sign for package delivery, or run errands as I need to.
I make coffee every morning, and I have music playing 90 percent of the time when I'm working. Most days, I make an effort to step out of the house to meet up with a friend or seek inspiration outside. The "from home" part is also a really flexible term at my company [an online network of local recommendations for travelers]. Last year, I worked from Salt Lake City, New York, Dallas, and Montreal—my wife and I went to see an Atlanta United game there—and I even spent a month in Hawaii working "from home." It's great to be able to get your work done, while also exploring a new city, and not have to use your PTO.
We have weekly check-ins and team meetings, usually on a video chat. We don't use Slack or any of the other technologies that nag the shit out of people you work with. We pick up the phone and talk to each other.
The Hybrid Creative | Ruby Velle
UX architect and designer for global consulting firm EY
I work as a UX architect and designer [which means facilitating how people interact with a website or app] for EY, but I'm also a professional songwriter, film and television writer, vocalist, producer, and changemaker on the boards of Girls Rock Camp ATL and the Dream Warriors Foundation. For the past 13 years, I've had a band, Ruby Velle & the Soulphonics, and I also have had some solo efforts. I knew that a nine-to-five, 40-hours-a-week gig wouldn't allow me the flexibility to pursue all my personal endeavors. The job search had been so grueling over a year and a half that I started being open to anything. When this job came up from a recruiter, it was the perfect situation for me.
My workday and my downtime is structured, so I am some strange hybrid of creative. I enjoy, on a good day, waking up at 6:30 a.m. and centering myself for the day—meditation, a walk, pulling some tarot cards, lighting a candle, and making an intention for the day. I start the day for EY by 9 a.m. and will devote my lunch to keeping up with the business side of music, like managing my social media. Then, it's back to work until around 6 p.m. I try to turn off after cooking dinner, but I'm still working on getting to bed at a decent hour. If people are thinking about working from home, I always suggest that they write down everything they do for a month. It's a great way to see how you spend your time and how efficient you are.
The Boss | Doreen Linneman
CEO and founder, the Riverbend Group
I launched my company out of my home in 2002. At the time, I was trying to minimize startup costs. I remember waiting one day for the mailman, just prayerful my client's check would come. The second it did, I sped to the bank to deposit it—there wasn't mobile banking then—but the bank was just closing. I begged them to let me deposit it so I could pay my mortgage, and thankfully, it worked.
As the company grew, the work-from-home structure was more about efficiency: no time lost driving to and from work. You can even get a load of laundry going between tasks. We're a service business—consulting, professional development—so we're always going to our clients anyway. I've gotten amazing talent because of our flexibility. The moms on my team are all professionals who didn't want to commit to an office full time. We stay in touch with Skype and Zoom, but there's nothing that replaces face-to-face meetings. I'll have my team to my house and serve them coffee, or we'll step out and have a walking meeting, and it's nice. It takes out that corporate feeling.
The hardest thing for me about working from home is shutting off. That's why I have huge discipline around my morning routine. I'm up around 5:30 a.m., go downstairs and get coffee, do my devotional, go to the gym, review all my goals for the week and month, and then identify and do what I call an "ATV"—action to value—which is a task so important that, if nothing else gets done that day, I'll already be successful. Then, I pull up my email. The second you open email, the day is no longer yours—you've given it to other people.