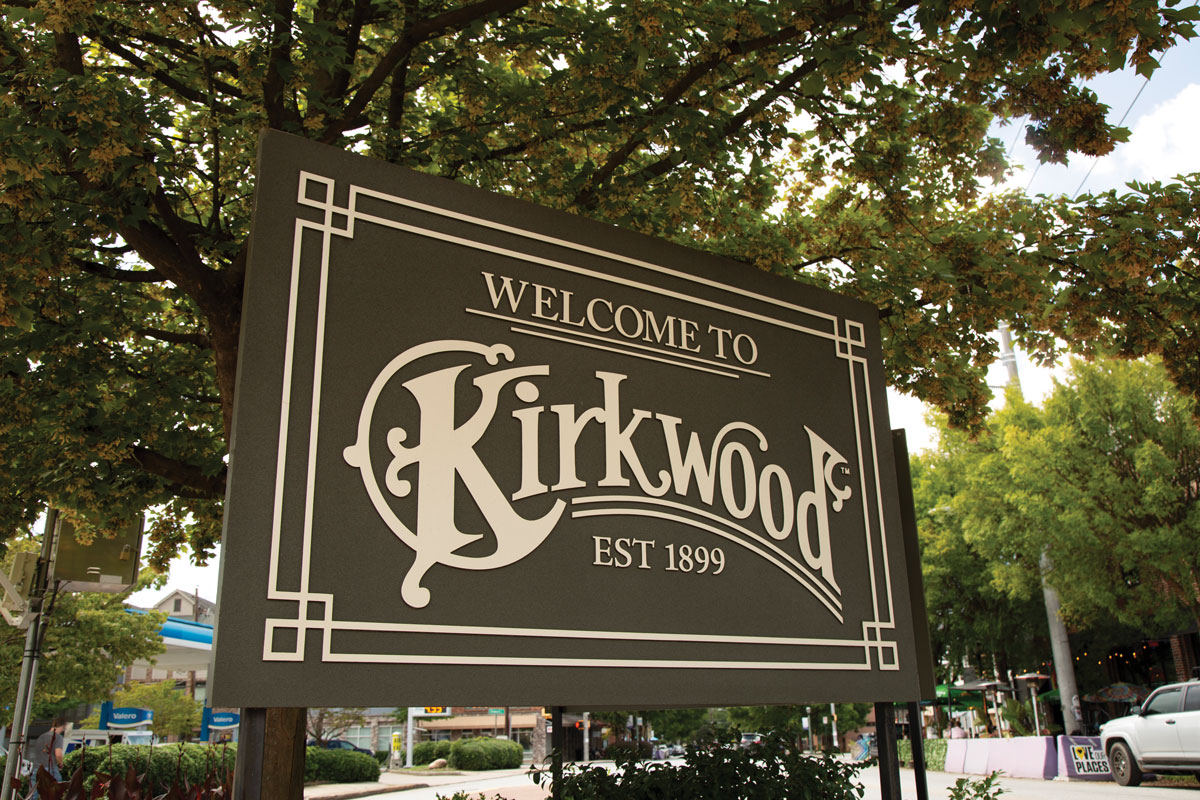 Situated between downtown Atlanta and Decatur, Kirkwood is listed on the National Register of Historic Places. This original streetcar suburb is home to a diverse community, a rich variety of Victorian and Craftsman-style houses, strong community associations, nearby MARTA stations, and half a dozen parks, with additional bragging rights as the place where world-famous rapper Future grew up. Conversely (and not coincidentally), it's also a hotbed of skyrocketing housing costs.
Keith Forrester, who's lived in Kirkwood for six years, left corporate America to open Poppa Corn's Gourmet Popcorn in 2017, a whimsical corner shop with 50 popcorn flavors and a galaxy of vintage candy and soda pops. (Forrester's official title: "Chief Popper and Welcoming Agent.") He and his fundraising consultant wife, Sumarie, moved from Oakhurst to renovate a century-old bungalow that was once a farmhouse. "There's a lot of nice, older architecture in Kirkwood, and I love the new modern stuff, too, all the variety," he says.
Forrester sells one popcorn flavor called the Kirkwood Mix, and a percentage of its sales go toward Neighbors in Need, a nonprofit that helps seniors remain in the area. "The dynamics of the neighborhood have changed a lot around some people who've been long-term residents, and the organization helps them with anything from lawn work to, more often, bigger projects like new roofs and plumbing," says Forrester.
What's to love?
Bessie Branham Park
This centrally located, seven-acre greenspace serves as Kirkwood's communal nucleus for birthday parties (frequently at the large urban "treehouse"), pickup basketball, and games of tag around the rubber-matted playground area. Additional perks are baseball diamonds, tennis courts, and a $2 million rec center.
Taproom Coffee
This social hub in what's considered downtown Kirkwood has all the makings of a perfect WFH alternative: reliable Wi-Fi, plenty of seating (including a new outdoor parklet), and locally based Opo Coffee. Try the Beerspresso, a nonalcoholic nitro iced coffee with malt syrup. When the workday ends, there's a selection of craft beer on tap, both local and from afar.
Three distinctive neighborhood festivals
Kirkwood boasts a major festival for almost every season. Festivities start in January with Lanta Gras, a New Orleans–style parade and music festival with dozens of krewes and hundreds of revelers that raises money for student music scholarships. Next comes Kirkwood Spring Fling and Tour of Homes in May, a celebration of music, local food, and art that will mark its 20th anniversary next year. Lastly, one night in September, the Kirkwood Wine Stroll features more than 50 pouring stations, vino from around the world, and raucous revelry—all culminating in a dance party at the local car wash.
Anna's BBQ
Voted the city's best barbecue by this magazine's readers in 2019, the female-owned, family-operated shack is in the middle of Kirkwood's central commercial district. It's known for pulled pork, brisket, and succulent Brunswick stew, but don't sleep on the Kirkwood, a pulled chicken sandwich topped with ranch dressing and fried pickles.
Direct BeltLine connection (soon)
Kirkwood may not be adjacent to the BeltLine like some other east-side communities, but it'll soon have a protected multiuse trail linking to it. In July, the PATH Foundation broke ground on the Eastside Trolley Trail, a 1.1-mile connection between an existing trail and Reynoldstown—with a name that pays homage to those streetcars of old.
This article appears in our October 2022 issue.