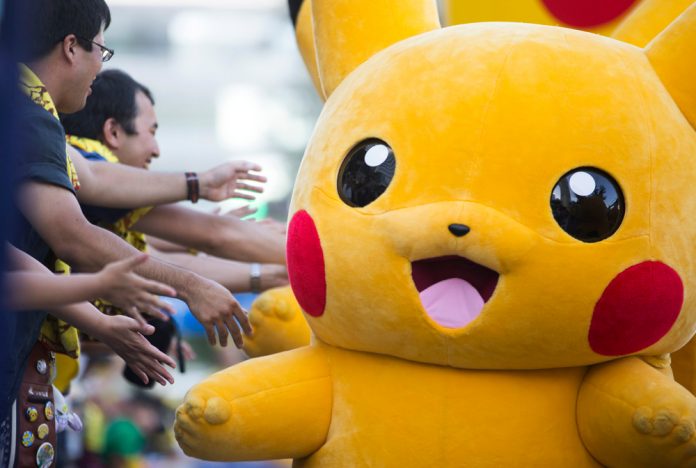 Photograph by Tomohiro Ohsumi/Getty Images
This year's hit app Pokémon GO provided a blast of nostalgia for 20-somethings, who grew up playing the original video games, and their parents, who had to hunt down that rare holographic card before Christmas. But while mainstream Pokémon popularity has ebbed and flowed, the franchise has maintained a devoted following over its 20-year history.
February 27, 1996
The first generation of Pokémon video games, Pokémon Red and Green, are released in Japan.
October 1996
The Pokémon Trading Card Game hits stores in Japan and quickly becomes a worldwide phenomenon.
April 1, 1997
The Pokémon animated show premieres in Japan. On September 5, 1998, American children are introduced to Ash Ketchum and Pikachu, whose adventures continue to this day.
December 16, 1997
More than 700 viewers are sent to hospitals in Japan after an episode of the show featured flashing red and blue lights that caused dizziness, headaches, nausea, and seizures.
November 1999
Pokémon the Movie: Mewtwo Strikes Back is released in the U.S. and becomes the country's 25th-highest-grossing film of the year.
September 2000
Pokémon Live!, a musical centered on the characters from the original animated series, tours through several U.S. cities, including Atlanta.
November 2001
An enormous Pikachu balloon is added to the Macy's Thanksgiving Day Parade. He has appeared in the parade every year since.
2005
A New York researcher nicknames a cancer-causing gene "Pokemon" in the scientific journal Nature. (The Pokémon Company reportedly threatens legal action.)
February 12, 2014
More than 1 million people join to play Pokémon Red on Twitch, a gaming video platform, earning a Guinness World Record for Most Participants in a Single-Player Online Video Game.
March 14, 2010
Six years before Pokémon GO sent gamers into the streets, Pokémon HeartGold and SoulSilver are released with the Pokéwalker, a pedometer that encourages players to walk.
July 6, 2016
The Pokémon GO game is officially released in the U.S., setting an Apple App Store record for the most downloads in the first week of release and sparking a media sensation not seen since Pokémon's original heyday in the late 1990s.
Want even more Pokémania?
On Saturday, Cobb Energy Centre hosts Pokémon: Symphonic Evolutions, an orchestral concert featuring music and game play from the Pokémon video games.
This article originally appeared in our November 2016 issue.