Her home state of Georgia is never far from Brenda Lee's mind. It's referenced in the first sentence on the first page of the singer's rollicking autobiography, Little Miss Dynamite: The Life and Times of Brenda Lee.
Back in 2001, in a room brimming with national media types, all covering the dedication ceremonies of the new multi-million-dollar Country Music Hall of Fame in Nashville, she spied the Atlanta press credentials dangling around my neck, patted the seat next to her in the front row, and insisted I sit beside her.
Lee, a 1997 inductee into the Country Music Hall of Fame and a 2002 Rock n Roll Hall of Fame inductee (the only woman inducted into both) was so distraught when house painters dropped and broke her 1982 Georgia Music Hall of Fame Award, she cried. Then, she picked up the phone and called then-Georgia governor Zell Miller to ask him for help to replace it. (He did.)
Since her daughter Julie is a University of Georgia graduate, Lee has spent considerable time in Athens and even had a photo op with Uga, the school's mascot bulldog.
And the only time the pop, rock, and country icon got emotional during a recent 30-minute interview with Atlanta magazine was when she discussed what receiving the inaugural Georgia Public Broadcasting Georgia Legend Award from her home state means. The award will be presented to her during a gala in her honor this Saturday night at one of her favorite childhood concert venues, the Fox Theatre (some tickets remain: go to GPB.org for details).
The performer, now 74, who was born in the charity ward of Emory University Hospital, sang at her first talent contest at the age of seven in Conyers. Soon, she was a regular on the country variety program TV Ranch, hosted by John Farmer on Atlanta's WAGA-TV.
By 1956, she had a record contract with Nashville's Decca Records, recording with famed record producer Owen Bradley (who also worked with Kitty Wells, Loretta Lynn, Patsy Cline, and Whisperin' Bill Anderson, a former UGA journalism student who was raised in Decatur). A year later, she made her debut on the Grand Ole Opry stage and danced in the wings with one of her fans, Elvis Presley.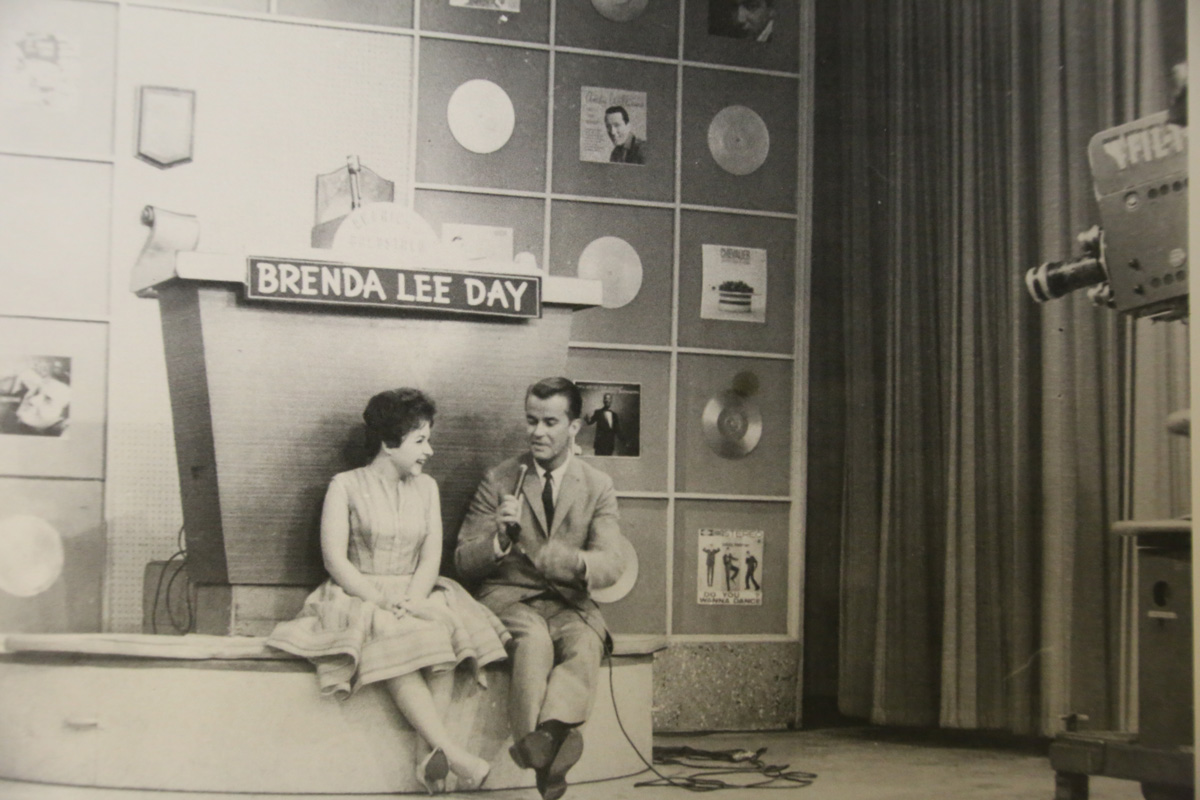 Her song "I'm Sorry" hit number one on the Billboard charts in 1960. By the time she was 18, the Beatles were opening for her rockabilly act at the Star Club in Hamburg, Germany. Lee would go on to sell more than 100 million records worldwide, including the enduring yuletide hit "Rockin' Around The Christmas Tree," charting 46 hits on the Billboard charts throughout the 1960s, ranking right up there with Elvis, the Beatles, and Ray Charles. Lee is also one of the trailblazing stars interviewed for the upcoming 16-hour Ken Burns PBS documentary Country Music, which debuts on GPB on September 15 at 8 p.m.
In a wide-ranging interview by phone last week, Lee discussed all this and more.

On participating in the Country Music documentary:
It was absolutely wonderful. I [recorded] my part at least five years ago. We did the interview in a big house up on Belle Meade Blvd [in Nashville]. Oh good lord, I talked about everything. My roots, all the genres of music I've been in—rockabilly, country, rock n roll, pop. The hiccupping [vocal technique] in my songs and who invented it. It's really a compliment being included in this.
On working with legendary Nashville record producer Owen Bradley:
Even though I was a child when we started working together, Owen never treated me like a kid. He and the musicians always treated me as an artist and as a peer. I was always asked my opinion. I still remember the day [in 1961] when the Wilburn Brothers brought Loretta Lynn into the office. Owen and I were listening to a song. They brought her in with a song they pitched to Owen called "Fool Number One." Owen said, "I'll tell you what, you give me that song for Brenda Lee, and I'll sign Loretta to a recording contract." So we both won. I got a hit record and the record company won big time getting Loretta!
On her friend and fan Elvis Presley:
One afternoon, my record label got a call saying Elvis Presley wanted an autographed photo and could I sign one for him? They thought it was a prank until Elvis sent a car to pick it up! I still can't believe it happened, but it did. We had done the [Grand Ole] Opry together and just became fast friends. When I met Priscilla, she said the first time she had gone to visit Elvis in his apartment in Germany, he was playing [Lee's hit 1959 song] "Sweet Nothins" on the stereo.
On her first encounter with the Beatles when they opened for her in 1962 at the Star Club in Hamburg, Germany:
I was backstage watching these cute boys in suits and listening to their songs, thinking, "I don't know that song. Or that one. Or that one." But they were all great. Why didn't I know these songs? I was friendly with John. He was my favorite. So when they came off the stage I asked him, "Good lord, John, where did those songs come from?" Very nonchalantly, very unaffected, he said, "Oh, we write 'em!' I thought, "Oh my lord!" So I asked, "Do you mind if one night I tape-record a portion of your set?" I also took a photo of them. I brought the tape and the photo to my record company in New York. I'll never forget this as long as I live. The people at the record company—I call 'em the suits—they listened to it and then they looked at me. I was so excited. I said, "What do you think?" They said, "This look will never happen and neither will this sound." And honey, don't you know, several months later, the world was astounded. I just remember thinking, "You idiots."
On campaigning for fellow Georgian Jimmy Carter for president in 1976:
I flew into Atlanta on election night to go to his party. There was so much excitement because nobody thought he had a chance. It was magical. Here we were with a president out of Georgia and he's a peanut farmer! My uncle Ralph was a peanut farmer. I thought it was the greatest night ever. A Georgia peanut farmer can become president of the United States!
What it means to come back to her home state to receive the inaugural GPB Georgia Legend Award:
It's hard to put into words, the fabric of my being is Georgia. Everything I am is Georgia born and bred. My loved ones, my daddy, my mama, and my sister are all in that wonderful deep red clay. To be honored like this, I don't have any words because Georgia was so good to me. Everything I know I learned as a child I learned on stage in Georgia or at WAGA-TV. Everything I know about singing I owe to coming up in Georgia.