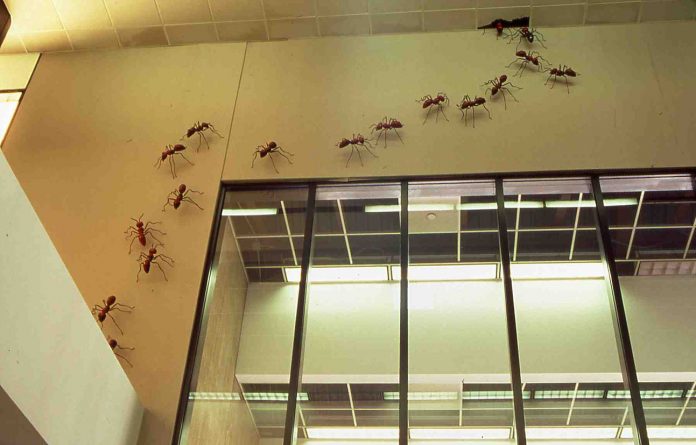 Courtesy Joe Peragine
If this past week you passed through Hartsfield-Jackson Atlanta International Airport, you might've noticed something was missing above the luggage circling the baggage carousels. Yes, the ceiling ants—the hard-to-miss art installation of one-foot-long red-and-black ants scurrying across the white paint—are gone, possibly for good.
Late last week airport officials removed the ants, formally titled "Brute Neighbors," from the main domestic terminal as the hub's $6 billion modernization gets underway. Of more than 250 artworks, "Brute Neighbors" is arguably the airport's most iconic—or at least the most recognizable—a surreal oddity in an otherwise sleek and sterile space. The installation, created by artist Joe Peragine for $56,000 in 2001, features approximately 200 individual ants and was designed specifically for the terminal.
On Sunday afternoon, as Peragine waited for a traffic light to turn green on the way to an appointment, he read an email from a friend: The ants are gone.
"I didn't believe it," said Peragine, who headed straight to the airport to see it for himself. "They couldn't be taking it down without contacting me—without explanation."
According to Peragine, "Brute Neighbors," inspired by transcendentalist writer Henry Thoreau, represents the millions of individual travelers bustling through the world's busiest airport. In previous years, airport officials had notified him before temporarily taking the sculpture down for upgrades. This time, he had to call to see what had happened. Peragine says airport officials "talked [him] off the ledge" by inviting him to pick potential alternate sites for the sculpture.
A year ago, the airport first covered up Deborah Whitehouse's well-known 70-foot-wide "Spirit of Atlanta" mural—the one of children playing in the Centennial Park fountains—with a billboard-sized ad to be followed eventually by a giant digital screen (The mural has been uncovered in short stints between ad campaigns). Peragine has similar fears about his artwork being shoved out of sight.
Reese McCranie, a spokesperson for the Atlanta Airport, says "Brute Neighbors" is now being stored in a "secure temperature-controlled environment" as officials figure out whether to relocate the ants during the modernization effort, which is expected to last up to eight years. Will the ants return to their ceiling spot? "That hasn't been determined yet," McCranie said.