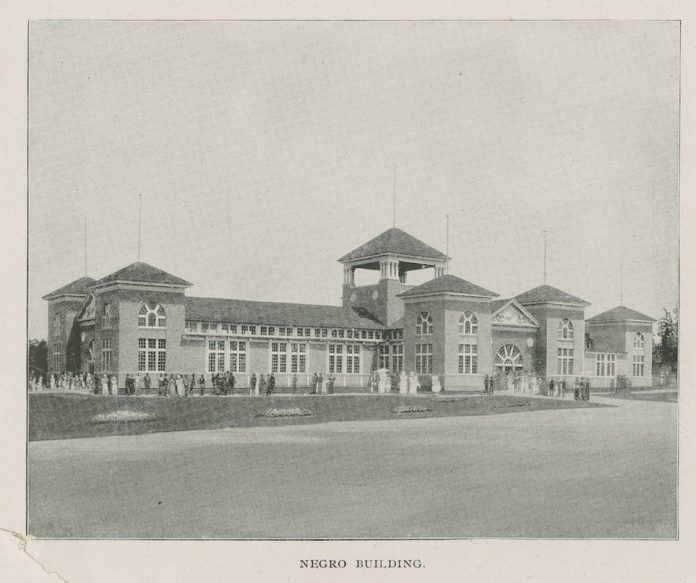 When Booker T. Washington delivered his famous, "Atlanta Compromise," speech inside Gilbert's Auditorium on opening day of the 1895 Cotton States and International Exposition, it was the first time an African-American addressed a mixed (albeit separately seated) audience in the South. The Exposition Committee, which was comprised of wealthy Southern businessmen, including Samuel Inman and Charles Collier, appointed Washington to help tout the New South movement.
This "New South," had traded in its plantations for a technological and agricultural industry, and was ready to showcase its achievements to the world. In addition, as host of the Atlanta Exposition, Atlanta used the fair to position itself as "Capital of the South."
But for the New South to thrive, it had to convince visitors that it was no longer racially divided, and fair organizers believed that Washington's speech, with its pragmatic statement, "separate as the fingers but one as the hand in all things;" solved the race problem by legitimizing a separate but equal society.
However, as nearly 1 million people poured through Piedmont Park from September 18 through December 31, 1895, it was not the "Atlanta Compromise," or Fine Arts Building, or even the Transportation or Woman's buildings, which legitimized the New South. Rather, it was an unfamiliar pavilion, located on the outskirts of the fairgrounds called the Negro Building that helped push the New South, and make Atlanta its regional hub.
Opening on October 21, 1895, a month after the Exposition began, the Negro Building was the first designated space, since Emancipation, for the showcase of African-American achievement in a white-dominated setting. Without it, the Exposition committee could have not received federal backing, and those funds appropriated from Congress, are what helped make the fair an international success. Strategically located at the Jackson Street entrance to Piedmont Park (what is now Charles Allen Drive), the Negro Building may have been purposely segregated, as its entrance led directly south through the Fourth Ward and Auburn Avenue; two of Atlanta's predominantly black districts.
Despite its obscure location, the Negro Building featured hundreds of designs, sculptures, art pieces, and performance art, by black students from more than two dozen Southern colleges including Atlanta Baptist Seminary (now Morehouse College), Atlanta Baptist Female Seminary (now Spelman College), Howard University, and Washington's Tuskegee Institute. Not just students, but hundreds of black businessperson, artists, philanthropists, and entrepreneurs also used the Negro Building to exhibit their work.
Aside from its exhibits, the Negro Building served as a gathering place for dozens of civil rights leaders, religious leaders, and philanthropists. They held conferences, caucuses, debates, and discussions surrounding the African-American movement in America.
While Atlanta dubbed itself the Southern capital, the Negro Building solidified its title. At the same time, as an international audience stood witness, the Negro Building helped promote the New South, which in turn, helped revitalize the economy. Despite all this, the Negro Building remains largely forgotten history.